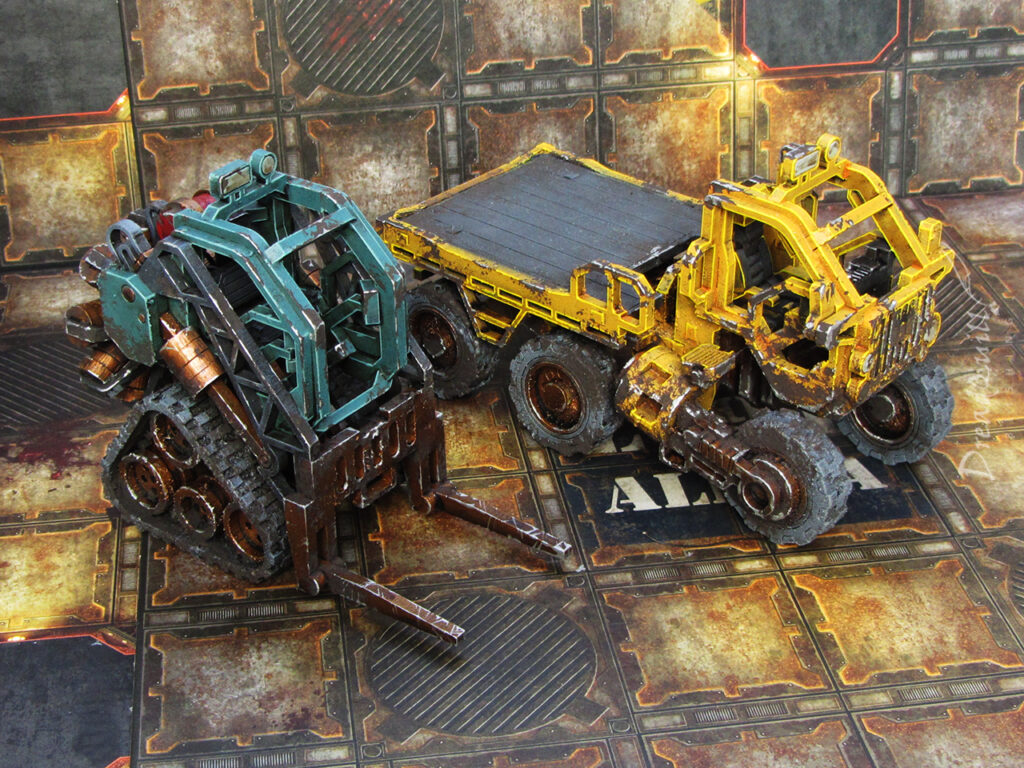 Eagle-eyed viewers noticed a narratively-important piece of getaway scenery in last week's Inquisitor battle report, and here it is in its full glory!
These are MDF kits from the australian company MiniatureScenery.com, which aside from having an awful name to try and remember, has the best MDF vehicle kits on the market.
The two I picked up are the Heavy Industrial Forklift and Humpt1 Mk2 flatbed truck, although I've just noticed they now do a Humpt1 Hauler…
I picked these because a) they looked really cool and b) they looked completely scale-agnostic. I play lots of Necromunda and Inquisitor, both separate scales, and it's difficult to maintain separate terrain collections for them. Vehicles are particularly tricky, so when I can find something that looks convincing enough at either size, it's a must-have.
Assembly
It unsurprisingly took a while to arrive, what with the company being the other side of the world and my silly little island deciding to make all imports harder so we can have a different coloured passport.
I was impressed at how compact the sprues were – the forklift was just over a sheet of A4. I consider myself an experienced builder, and combined with the impressive design and layout of most model kits these days, makes it straightforward to figure out what goes where. This was the first kit in a long, long time I had to knuckle down and follow the instructions step by step.
These were complex. Not difficult to follow mind, just lots of parts that I couldn't spatially process how they'd go together.
For example, the truck wheels were each assembled from four different pieces, each slightly offset from each other to produce the wheel tread. Of course muggins here didn't read the instructions and didn't realise some of the wheels are oriented differently because of the front suspension arm doohickey and had to prise them back apart.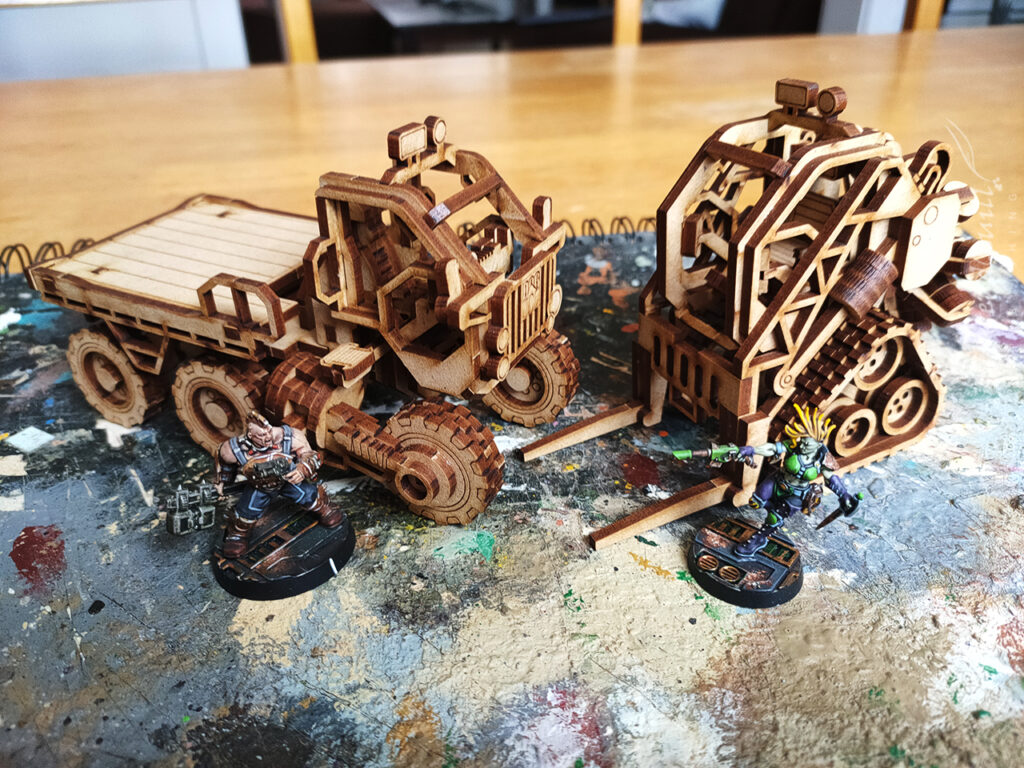 Ultimately though, these were lovely kits to build, and really showing off how versatile MDF can be as a hobby material.
The instructions did say where to pause construction and paint the interior, but sub-assemblies are for cowards and I pressed on.
There was no need to add extra details, so after a healthy dollop of textured paint it was time to hit the rattlecans.
Flat colours
As is now tradition for MDF pieces, I gave them both two coats of black undercoat to start with. MDF is a thirsty, thirsty boy, and saturating it with a (cheaper) undercoat helps the other paints go on easier, and makes washes go further rather than just soaking straight into the wood.
After black, I tend to give a zenithal highlight before painting. The forklift had a simple grey highlight, while the truck took a blast of Venetian Tan by TTcombat, which comes out much more yellow than it appears in pictures. I always intended the truck to be yellow and figured that would be a better starting point.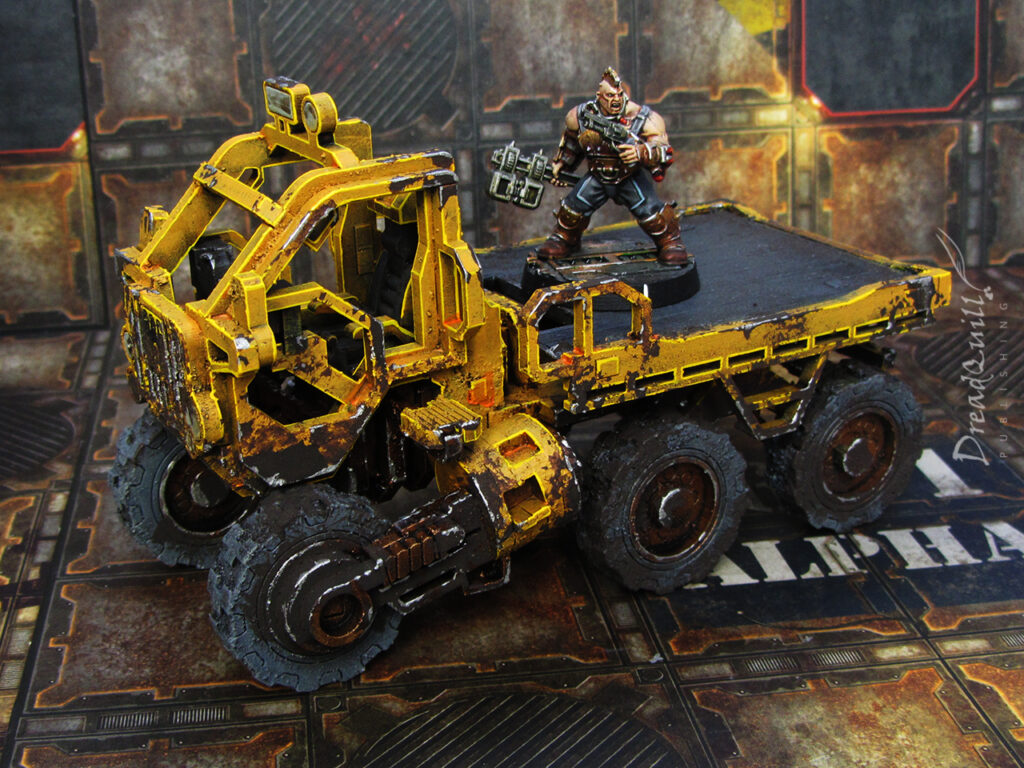 Both vehicles were painted with a similar technique, just different colours used. First, the entire chassis gets overbrushed with a lighter colour – Averland Sunset for the truck, Horus Green for the forklift
Tyes, tracks and flatbed get picked out with Eshin Grey, metallic parts get Warplock Bronze. Other base colours are layered on to pick out details, like lights or fuel pods.
Everything except the chassis gets a heavy wash of Agrax Earthshade, while the chassis of the truck got a little watered down orange applied to recesses.
The chassis gets an edge highlight of a slightly lighter colour, and then it's on with the weathering!
Typhus Corrosion gets liberally applied to just about everywhere, concentrated on moving parts or areas likely to get bumped a lot during use.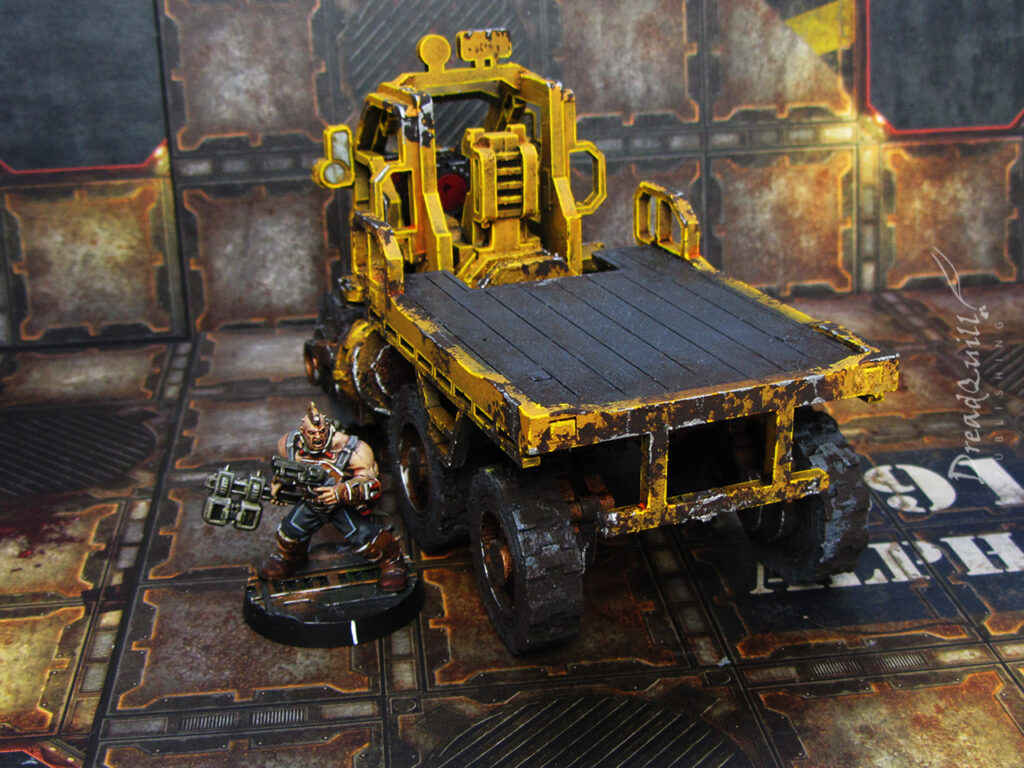 Once that had dried, the final touch was to apply a very rough stipple/edge highlight of silver to areas most heavily affected by wear and tear. Rough splodges or scratch marks help sell the idea of badly-treated machinery.
Simple and effective, and helps to visually isolate the shape of the wheels compared to the rest of the vehicle.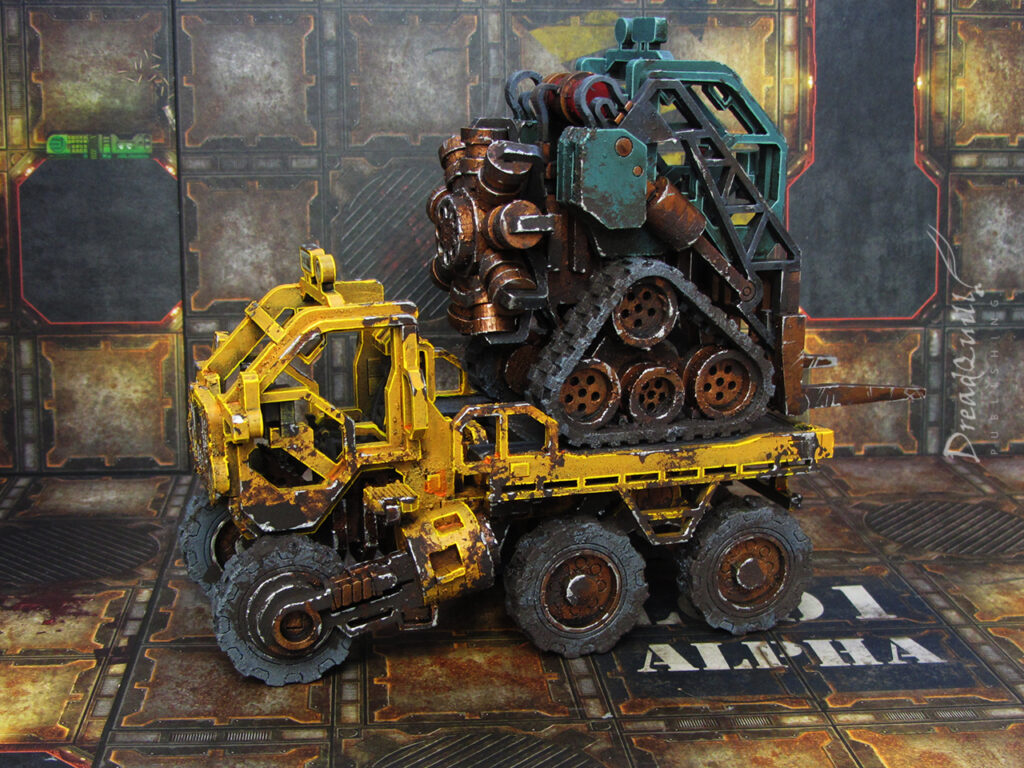 And they were done! I'm always intimidated painting vehicles – I still haven't developed a satisfying technique for weathering things larger than single figures, so I fall back on my usual technique and just scale it up. It produces nice results, but it is time-consuming (and uses a lot of expensive technical paints!).
Overall though, I'm extremely happy with how they came out. I used them almost immediately after finishing them in my latest Inquisitor battle report, and they're likely to get re-used many times over. They're such versatile pieces of scatter terrain that I can see them popping up in all kinds of scenarios.
Now, about that larger truck they sell…