It is the first scenario of the Crown of Bones Inquisitor campaign, and we're starting with a bang.
This is an Annex mission, specifically one to test out some new character concepts that, in some cases, don't have full miniatures yet. You don't need perfectly painted minis to enjoy Inquisitor – when I got started, we would play with plastic Space Marine dreadnoughts and the cave troll from Balin's Tomb. Don't let perfect be the enemy of fun!
In this scenario, a newly-minted Ordo Hereticus Explicator team and a warband of Chaos Undivided descend on a busy distribution centre on Gehanna. Their target: a munitions depot.
Setting the scene
Distro-19 is a bustling distribution centre, similar to dozens of others scattered across the planet's dig sites. Supplies flow in, archeological artefacts flow out.
Distro-19 maintains a reinforced munitions depot storing high explosives for blasting through bedrock, personally looked after by Foreman Ashford. With all this new Navigator coin flowing through the distribution centre he has secured each case with top-of-the-range shock-proof designs, and they can endure fire, shocks, or even gunshots. He often boasts "You'd have to blow 'em up to blow 'em up."
Unfortunately for his paymasters he already has plans for these munitions, and he's about to void a lot of warranties.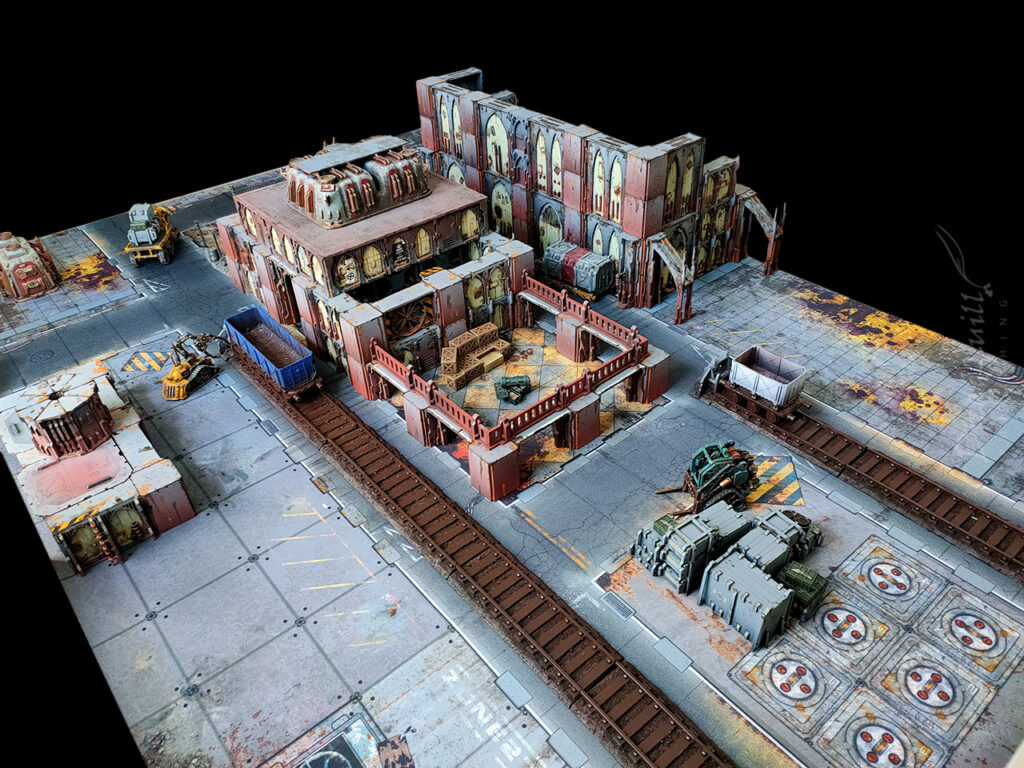 The munitions depot has two entrances and an interior roof ladder. The west entrance is next to the blue railcar, with the east entrance being opposite in the alley.
The warbands
Firstly is Ashford's stevedore gang, a group of overworked, underpaid labourers of House Dacien who have been dealing with a spate of disappearances from their ranks. Through his network of contacts Ashford has sourced some weapons to arm his fellow stevedores, and they intend to take matters into their own hands.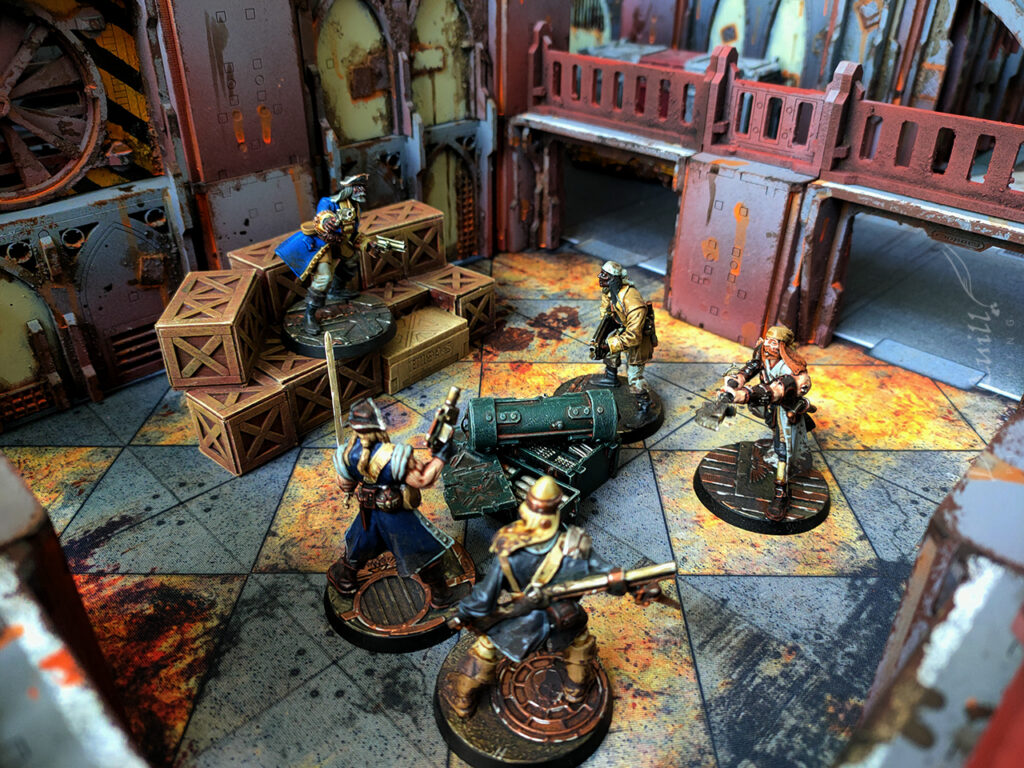 Explicator Stigg and Rogue Trader Phaelon make up the Inquisitorial representation, with faithful cyber-construct Gnasher in tow. Stigg is a freshly-minted Interrogator who has negotiated the use of Phaelon's vessel and crew to investigate the Crown of Bones. What Phaelon gets in return is between him and the Explicator, but it's reasonable to assume it's not out the goodness of his own heart.
They are investigating a strange energy signature coming from Distro-19, a discordant but unmistakably similar energy signature that was present on the Ius Soli when it arrived in the system. Stigg has an auspex specifically tuned to this energy signature, which appears to be emanating from inside the munitions depot.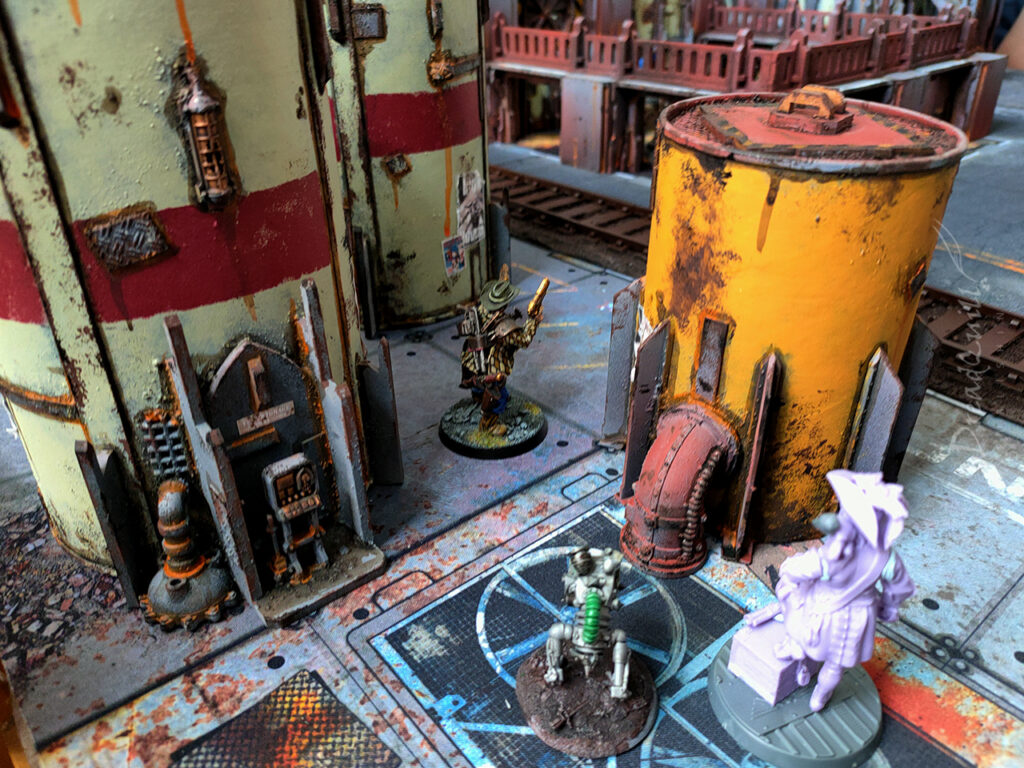 The Chaos warband is lead by a daemon sword-wielding mute called Crowblade, and is accompanied by an assortment of pit fighters who don't display any outward signs of Chaos influence. Crowblade is bargaining on their relatively normal appearance to help him carry out his mission.
Crowblade also seeks the Crown of Bones, but is finding it extremely difficult to move about with so many rival agents in the system. He's cooked up a few plans to keep authorities distracted so he can operate a bit more freely, and it starts with a bit of insurrection.
He has supplied a local disgruntled workforce with some small arms, and intends to carry out a false flag attack on their munitions depot to help galvanise them into action. They're already on the brink with little trust left in their so-called protectors, and all it would take is a teeny-weeny explosion to set them down the correct path. Just as planned.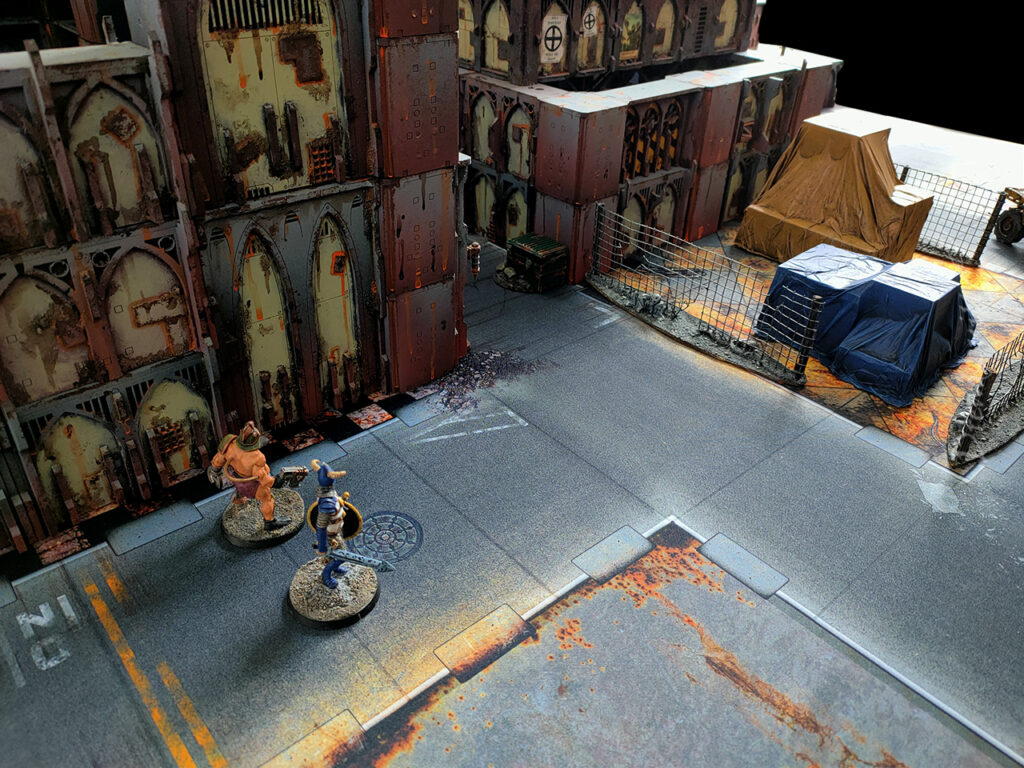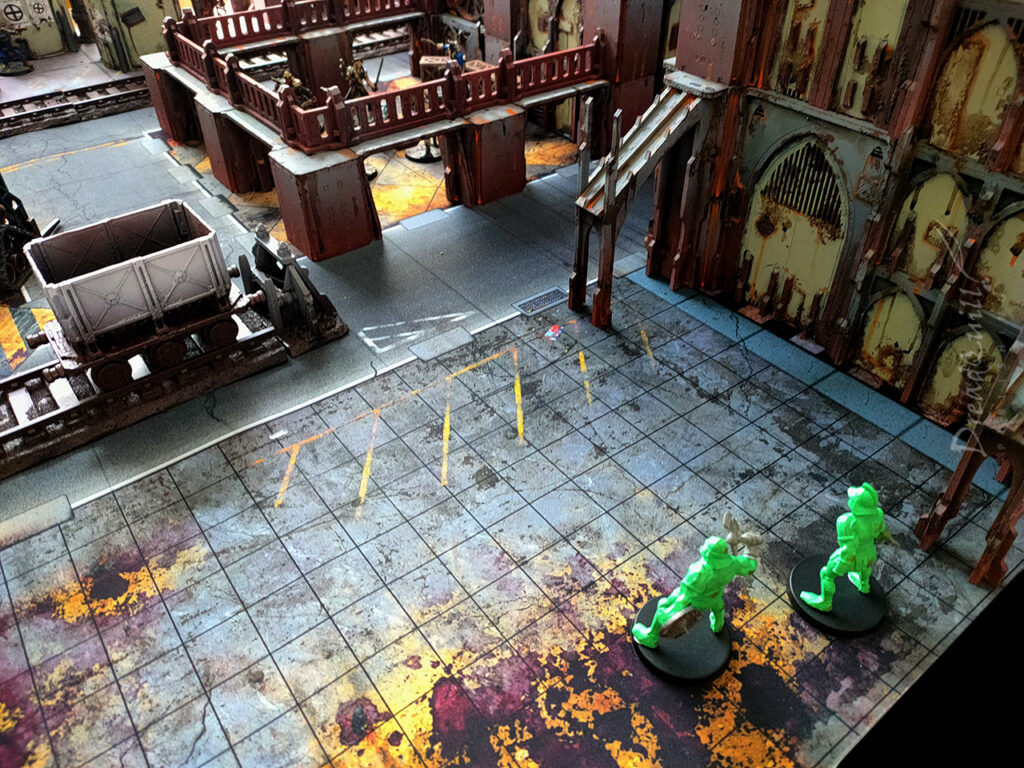 Setting the scene
Gehenna is a sun-baked wasteland (not to be confused with the UK during a heatwave whose own sun kept blowing out my photos), and the tarmac surfaces of Distro-19 would be no exception. Although the game would take place during midday, the nauseating heat haze would require Initiative checks to spot anyone not obviously out in the open.
Not only that, but Distro-19 and its surroundings are still very much in operation. The clamour of rails, servo-lifters and machinery creates such a din that any listening checks would be halved.
Game on
Explicator Stigg and Rogue Trader Phaelon approach Distro-19 on the trail of a strange energy signature, but as they arrive things are not as they expect. Rather than the labourers going about their business, they are arming themselves in a courtyard while one of their number shouts about taking matters into their own hands.
Where these stevedores got so many weapons, and what matters they feel they need to be armed to deal with, are not his concern right now. His auspex is pointed squarely at the munitions depot in the middle of the distribution centre, and with all the labourers gathered in the courtyard, it is completely unguarded.
He pulls a small leather box from his pocket, pressing his thumb to the bio-coder to unlock it. Inside is a shard of mirror with a disturbing depth to its reflection. A haunting face leers back in the distance. A fragment of a daemon, bound to a mirror and broken apart. It hates the Explicator, but it hates the prospect of having a shard lost or broken into even more pieces, so it begrudgingly uses its powers to help while it bides its time.
With a hoarse cackle the mirror daemon reveals the presence of another daemonic entity near the distro centre, knowing Stigg would be compelled to investigate, and offers to commune with it to find out more. The Explicator hastily stuffs the shard back in its warded leather box. Stigg almost died preventing this daemon escaping from its mirror prison – he wouldn't give it another chance.
He beckons Phaelon and Gnasher to follow and he breaks cover for a nearby railcar.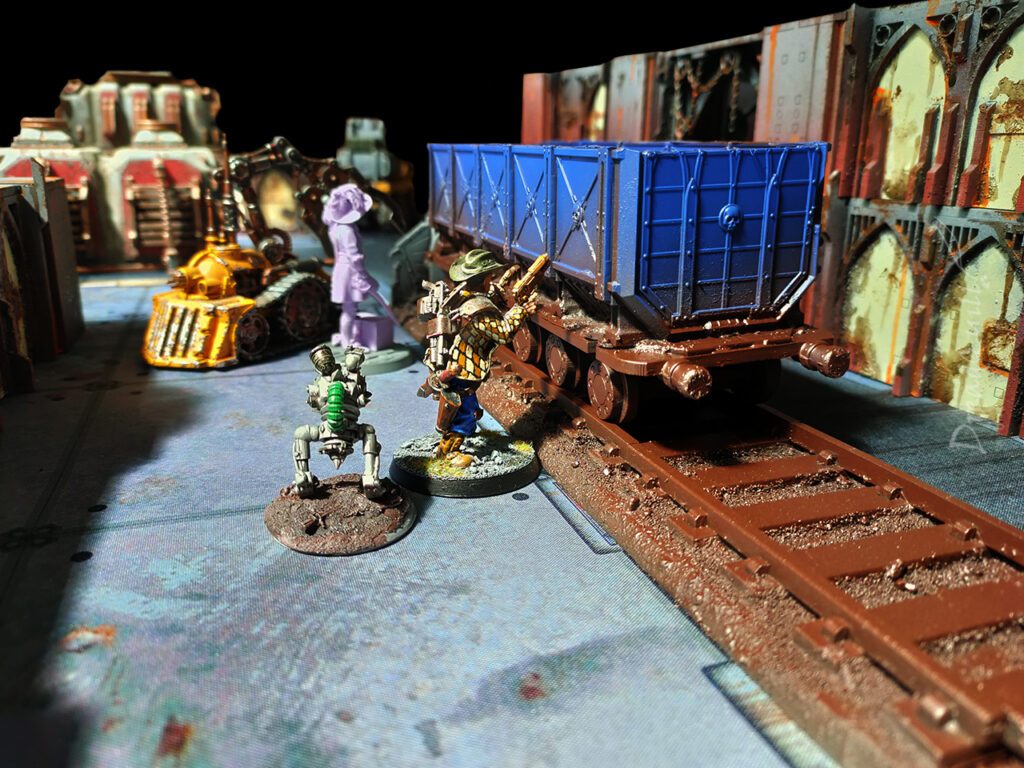 On the other side of the board, Crowblade's daemon sword hums and squirms in his hand. He can sense the agitation of the workers here, and judging from the shouts coming from the courtyard up ahead, his supply of weapons has found their intended owners. He hears a voice in his soul. Yes… just as planned…
With his distraction in place, he makes his way to the munitions depot to weigh his options for havoc. Sadly these workers were better equipped than he'd thought. The explosives are reinforced for industrial-grade accidents, and nothing short of plunging his warpfire sword into them would set them off.
He'd need to find the remote detonator, usually in an office or with a foreman. He suspected he knew just where to find such a man…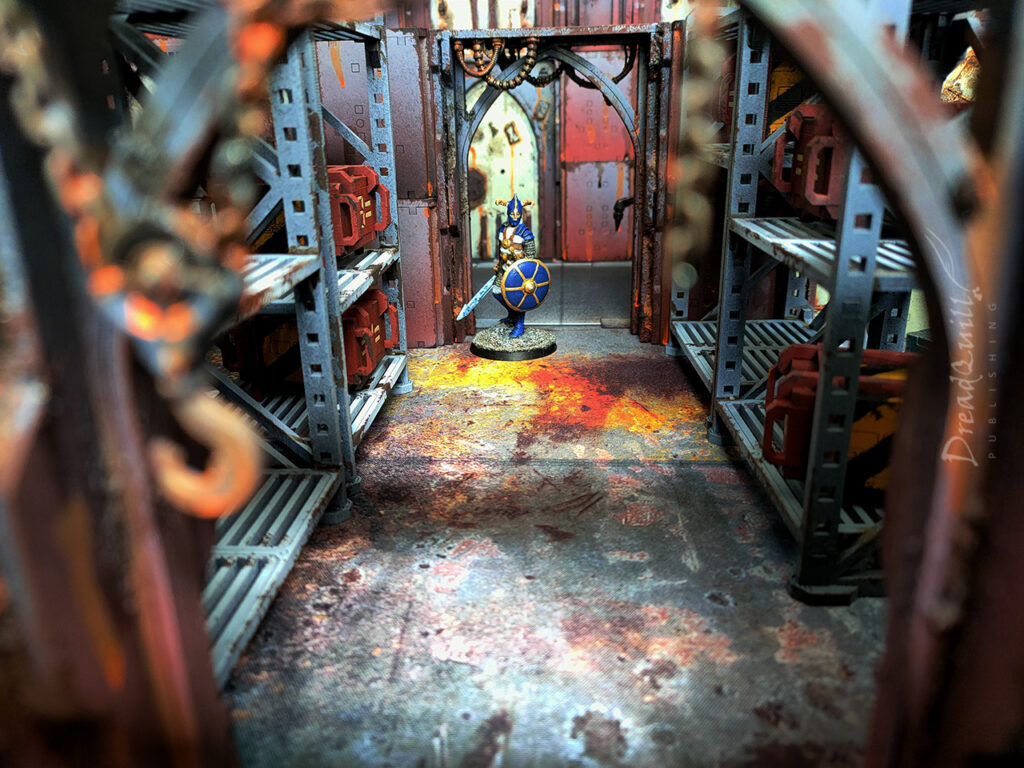 While the rallying cries for safer working conditions continue, two more of Crowblades' retinue approach the stevedores. Pit Boss, the more charismatic of the two, clears his throat. All the workers turn their heads to these augmented fighters.
He makes an impassioned plea to join their insurrection, citing vague similarities with his own non-descript working conditions, and that he works vaguely off over there somewhere, gesturing wildly. His Leadership check to convince them is appalling, and the stevedores look at each other nervously.
Gunny, another augmented pit fighter with guns for hands, staggers over to them screaming "LOOK WHAT THEY DID TO MY HANDS!". He rolls a 001 for his persuasion, and against everyone's expectation of how the game was going to play out, the stevedores welcome these two new augmented comrades into their fold with open arms.
Ashford cites these two as further examples of the cruelty that House Dacien can inflict on their workforce, with the two pit fighters nodding along. He explains they're about to take all the explosives, load them onto the truck and ride to the next Distro centre, where they'll bring their message of solidarity to the next lot of workers.
Ashford shouts that they'll use the weapons of House Dacien against them, and asks Pit Boss and Gunny to use their augmented strength to help carry the munitions. Agape with how well this is going, they both agree and set off to the east entrance.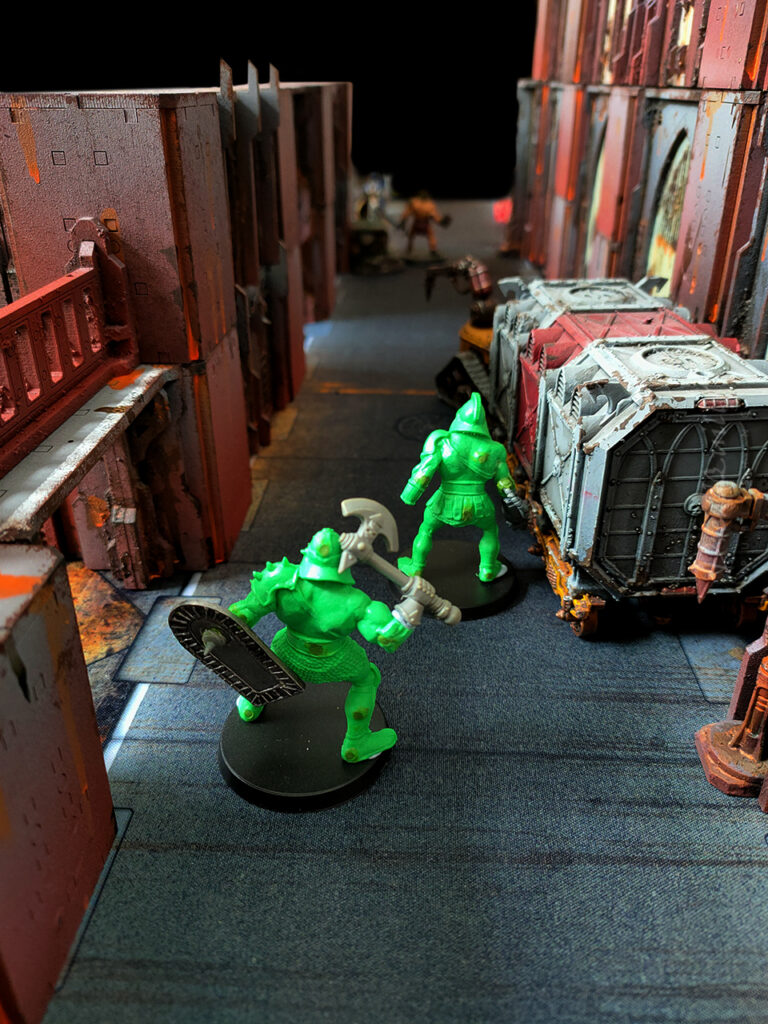 They spot Shipka and Crowblade in the distance, and signal that everything is going perfectly. Shipka and Crowblade double back, intending to check the covered containers for any more detonators.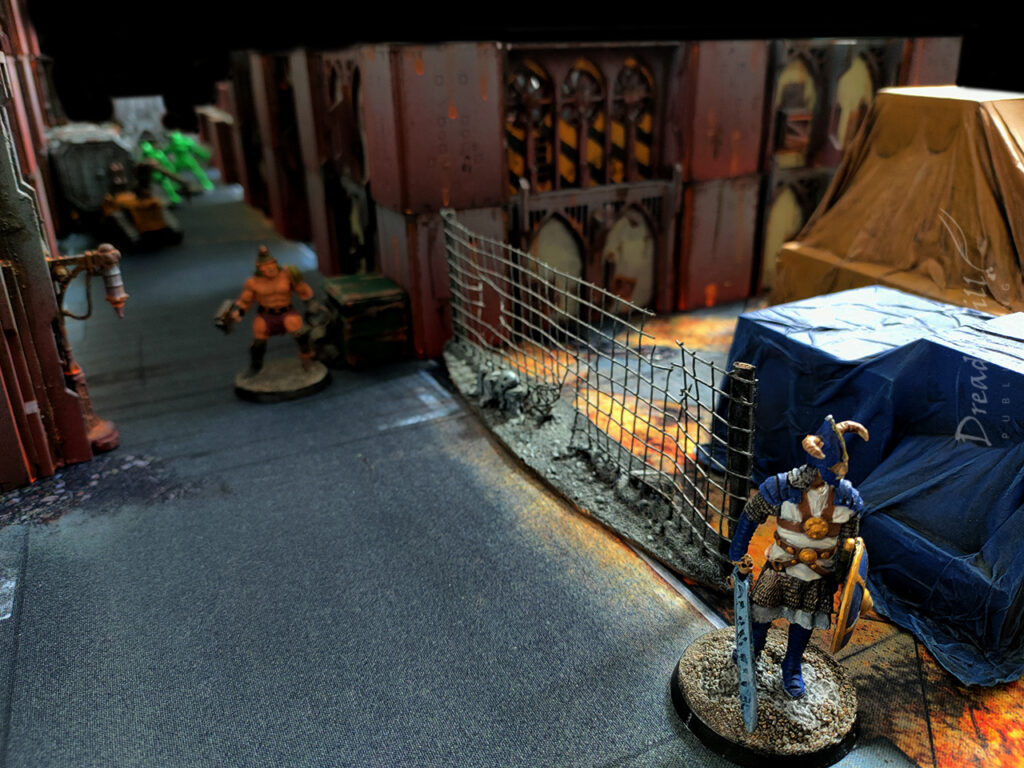 Back on the other side of the depot, Phaelon and Stigg have moved swiftly and silently towards their target. Gnasher, on the other hand, has moved neither swiftly nor silently and his clanking alerts one of the stevedores, Drummer.
He shouts some demands at it, but it ignores his requests and clanks off into the distance. Drummer alerts Ashford, who orders Diogo to accompany Drummer and check it out.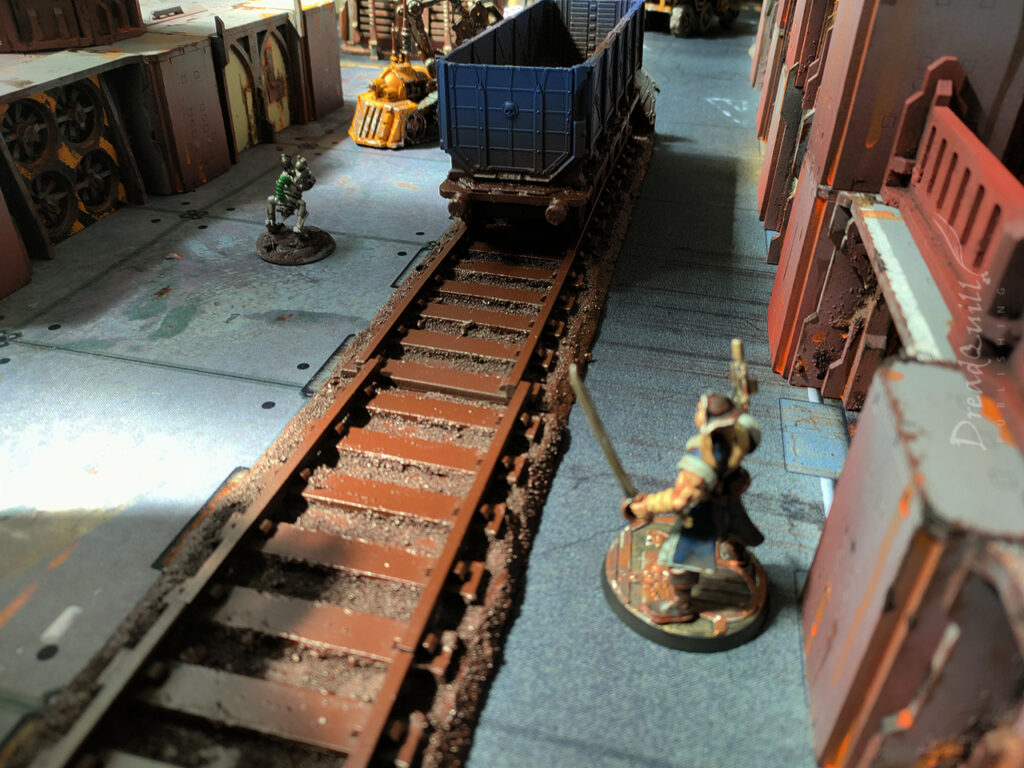 Ashford stops Pit Boss and Gunny in their tracks with a click of his revolvers. "How many of you are there?"
Eager to please, the pit fighters insist it's just the three of them. Ashford remains unconvinced, but time pressures mean he'll have to give them the benefit of the doubt for now, and asks Staz to keep an eye on them while they load the trucks. Ashford takes Grigori with him round to the east side of the depot.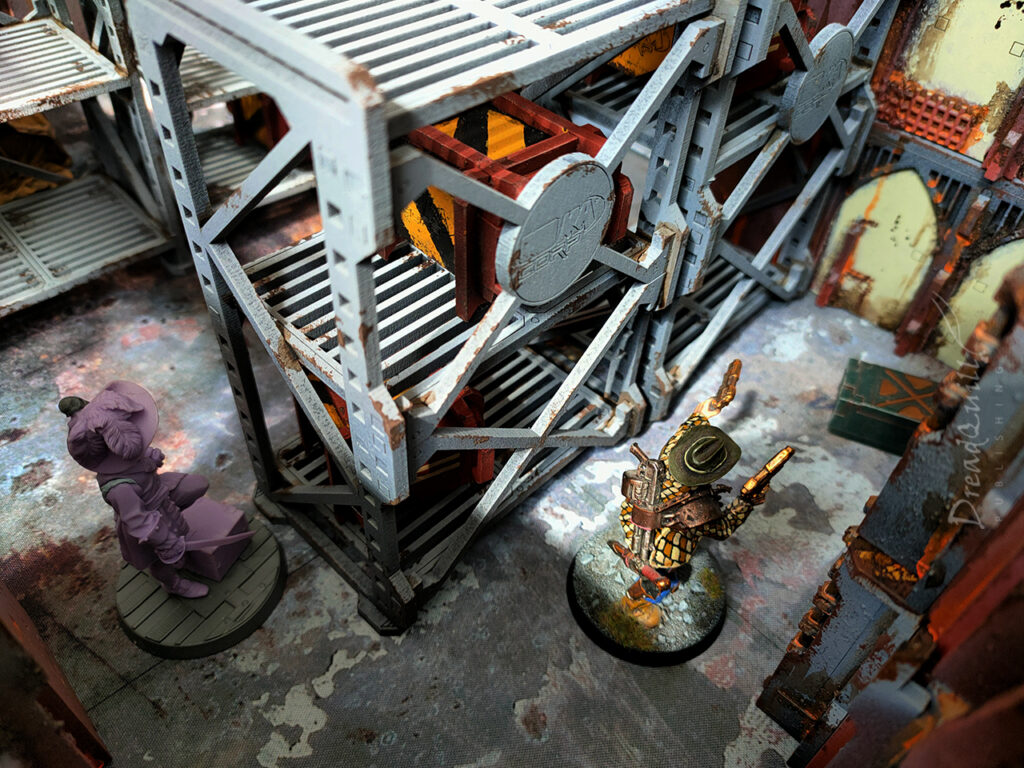 Largely oblivious to the unfolding drama, Stigg and Phaelon slip into the munitions dump. Phaelon orders Gnasher to keep watch, setting him to sound an alarm if anyone gets close to the entrance.
The auspex leads them to a keypad-locked container – the energy signature is coming from whatever is inside it. The Rogue Trader pushes past the Explicator to get a better look – there isn't a lock he can't crack.
At this moment exact moment Drummer appears at the west door, accompanied by Diogo, Pit Boss and Gunny. Gnasher's bark-sirens go off, alarm lights beaming from his eyes.
Drummer bellows "Looks like we got company, boss! I think it's a stitch-up!"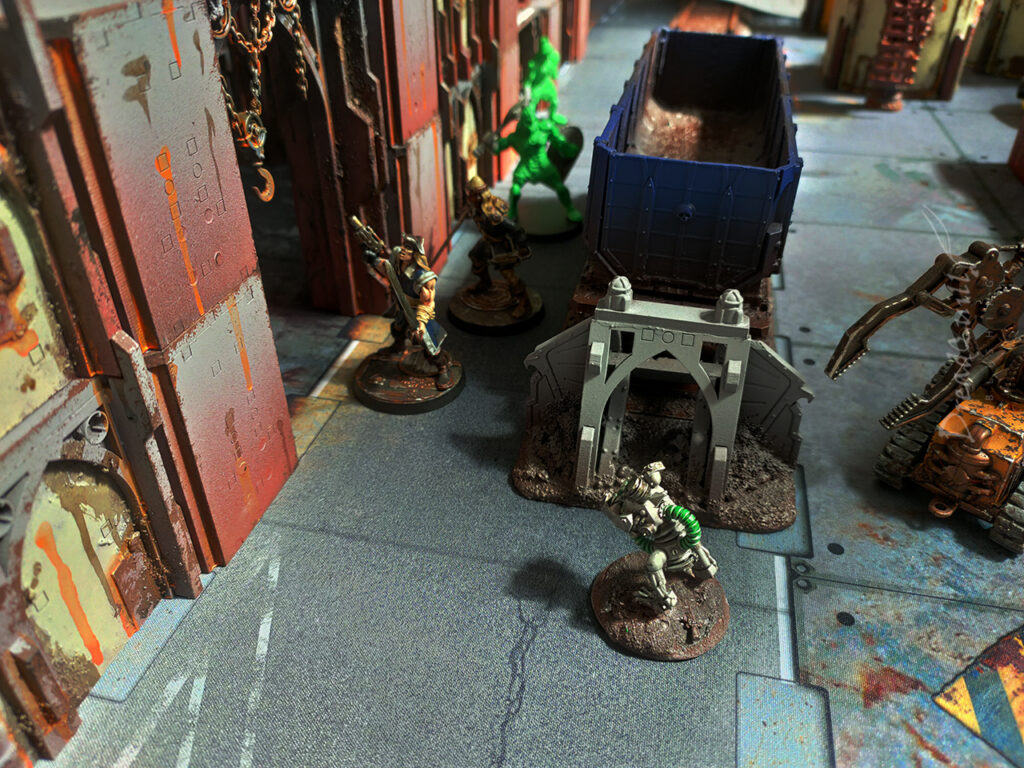 Ashford barrels into the depot, scanning the gloomy corners for signs of trouble. Phaelon realises both their exits are blocked, so the ladder next to them is the only option. With a successful Sagacity check, he spots some precariously-stacked girders in the corner.
With a flick of the wrist, he slices through their bindings and they topple, as predicted, towards the racking. Explosives clatter to the floor as the racking dominos across the room to the opposite racking. Ashford and Grigori dive clear of the crushing metal, Ashford ending up inside the depot, while Grigori is trapped outside the east entrance.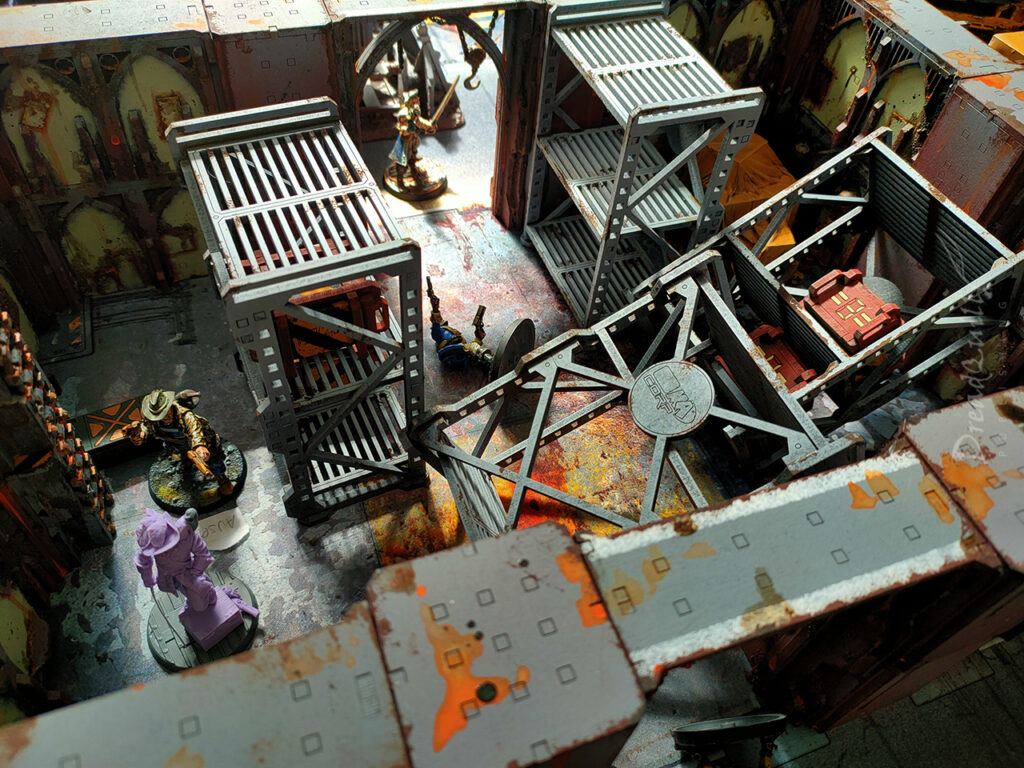 Phaelon tosses the box to Stigg, who drops his auspex to free up his hands. "Time to move!"
Crawling out from under the wreckage, Ashford is cursing like a sailor. "They gotta be House Dacien! They've sent some scum to finish us off! Shoot anyone who ain't us!"
Phaelon didn't like the sound of that, and sends a command to Gnasher to occupy Ashford long enough for them to make their escape.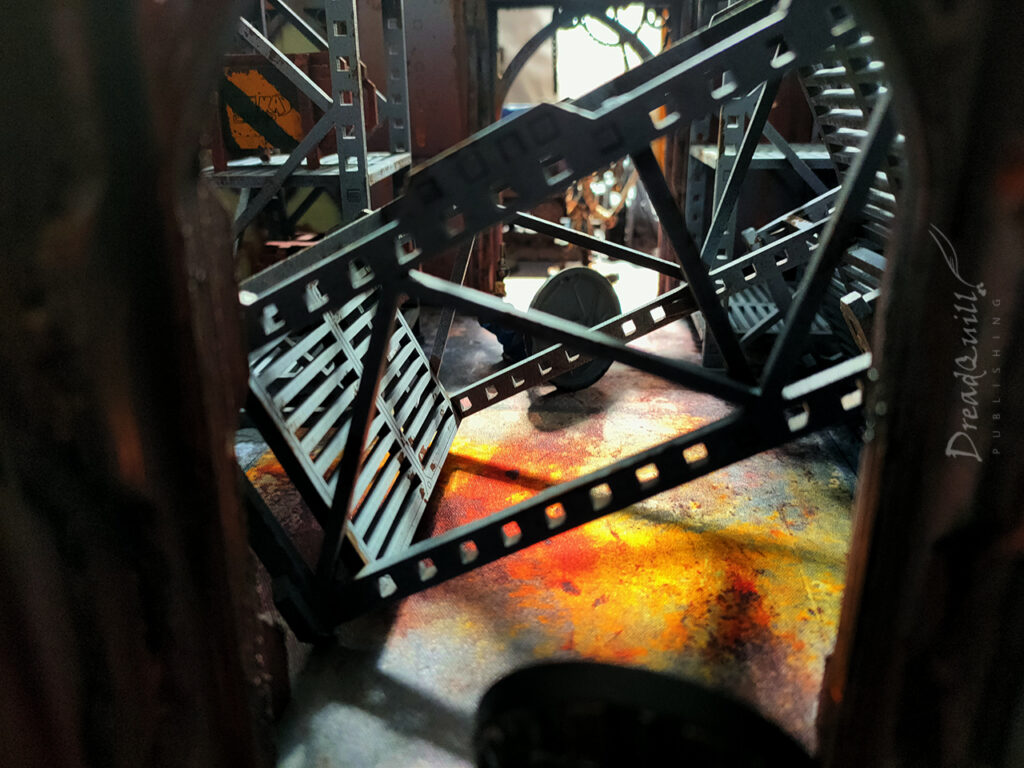 Stigg knows stacked odds when he sees them and sets about creating an equaliser. He whips out an incendiary grenade in one hand, flicks the pin out with his thumb and rolls it into the west entrance. Drummers' eyes widen. "Watch out, boss!"
Drummer throws himself onto the grenade, the blast punching through his gut, killing him instantly.
With the flames filling the doorway and temporarily equalising the fight, Stigg clambers up the ladder to the roof.
Ashford wails in anguish from the floor. He's been around enough industrial accidents to know an instant death when he sees one. He fires his revolvers wildly at Stigg clambering up the ladder, shots pinging harmlessly off the racking.
"The Man is here, and he's trying to kill us! Take 'em out boys!" He bellows, limping across the room and slamming a fist onto the emergency sprinkler system.
As the sprinklers burst to life, a horrible two-legged cybernetic construct launches itself at Ashford, its metal maw snapping.
Diogo pulls Drummer's lifeless body free from the flames. Sobbing, he looks up at his new friend Pit Boss. He takes his shotgun off his shoulder and tearfully raises it at Pit Boss.
"I'm sorry, Boss says I gotta shoot you…"
Pit Boss somehow manages another convincing argument, explaining that The Man is the ones in there blowing things up, not the ones out here trying to help carry stuff. Diogo glumly nods and pulls himself to his feet.
Shipka, who had snuck up behind Diogo just in case, makes a "shall I kill this guy?" motion at Pit Boss. Pit Boss replies with a "No, definitely don't kill this guy" motion while Diogo is isn't watching.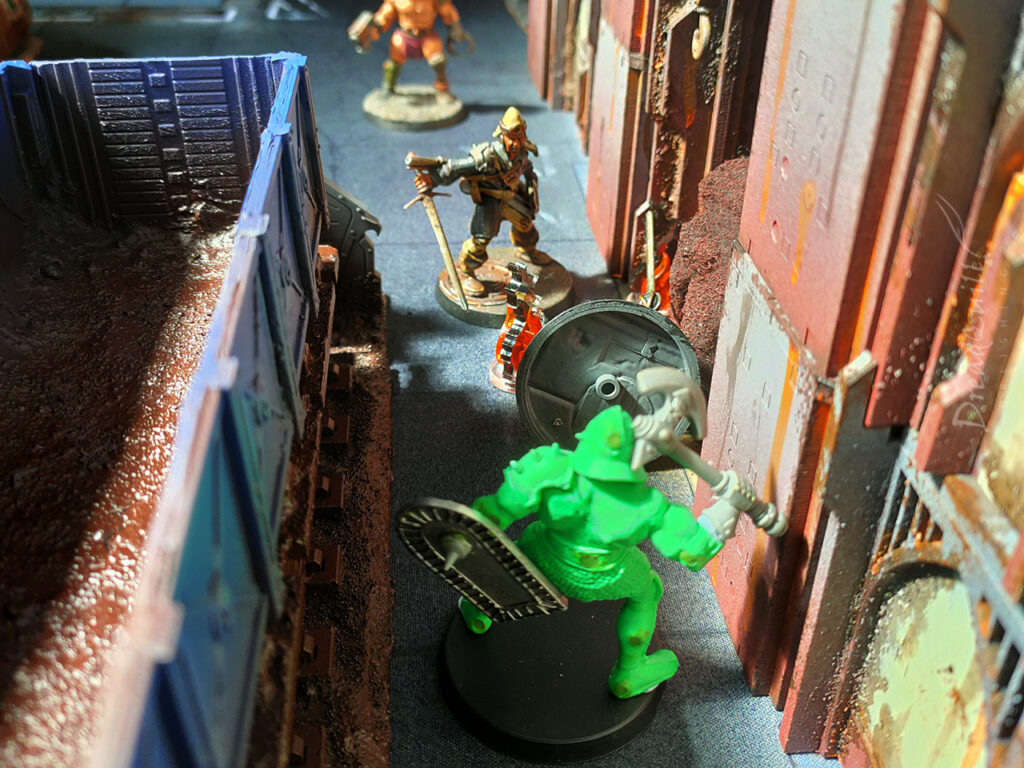 Staz and Gunny have been at an impasse in the courtyard. Ashford shouted something about shooting people, but Staz would always measure twice, cut once. He had his combat shotgun trained on Gunny, and sweat was rolling down his face. He didn't sign up for this level of decision-making.
Suddenly Stigg pops the hatch on the munitions depot, followed by a plume of black smoke. In a panic, Staz wheels his shotgun around to the newcomer and lets a few rounds fly. They all ping off the lip of the depot and Stigg dives for cover.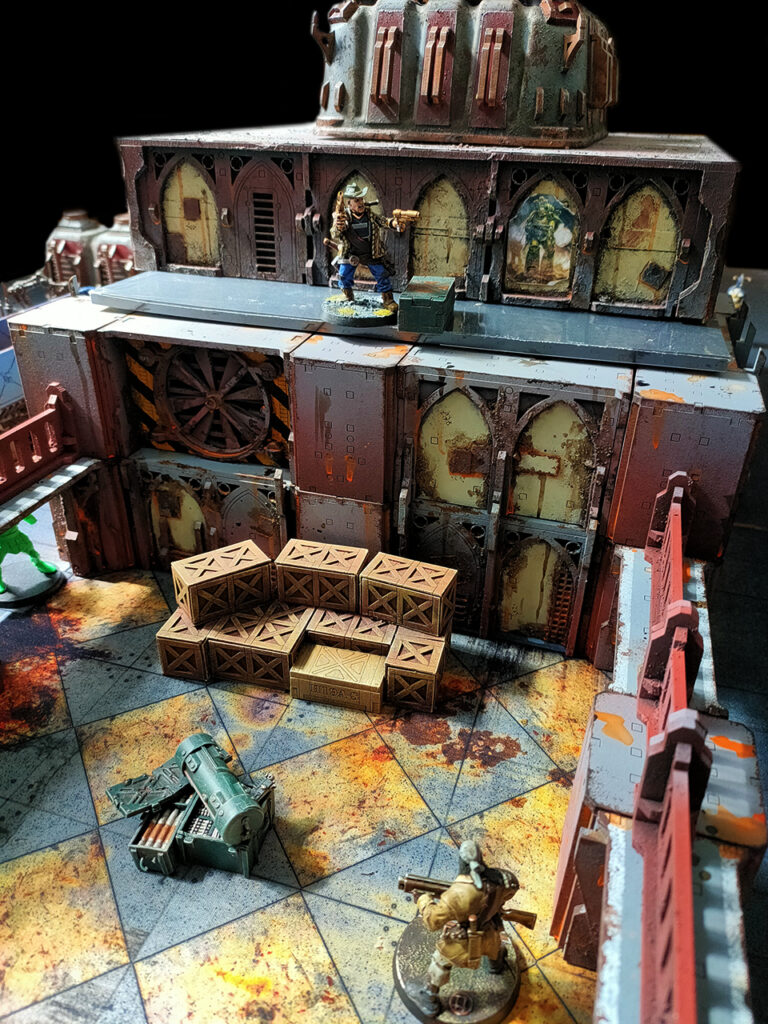 There is carnage inside the depot as Gnasher gnaws at Ashford, who is doing his best to avoid getting bitten. As the fire is extinguished, Diogo and Pit Boss leap into the fray to take out the ravening machine, who keeps dancing around his increasingly-frustrated opponents.
This continues for many, many turns.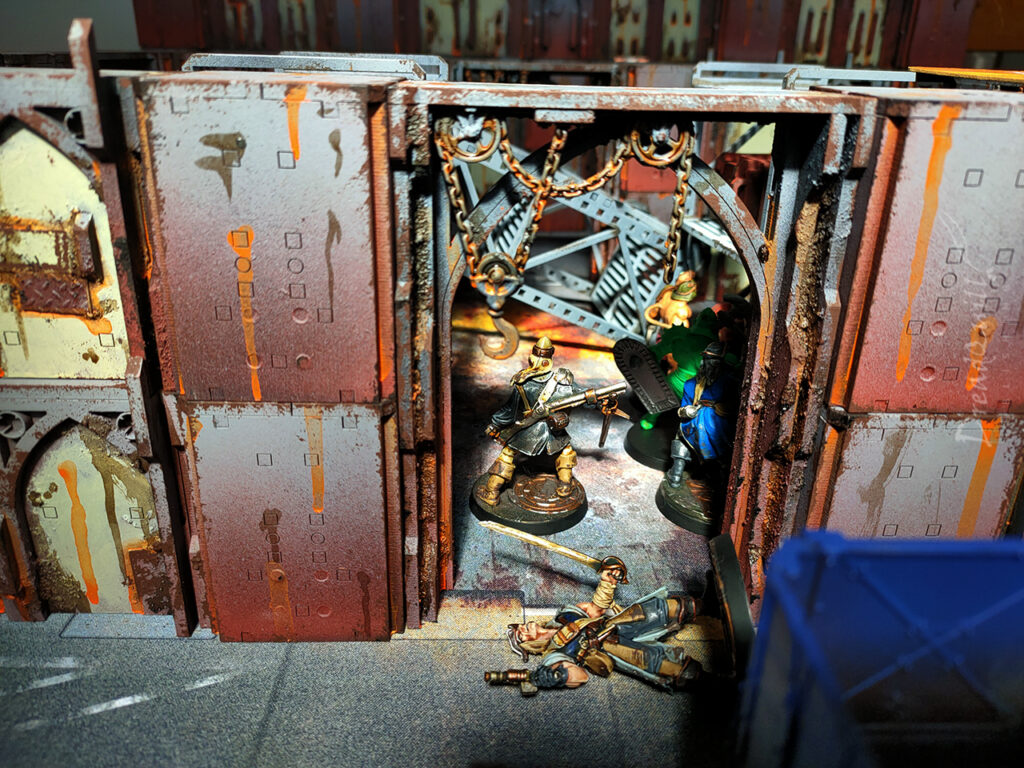 Phaelon finally surfaces under a hail of shotgun fire from Staz, and following Stigg's example keeps his head down to flee across the roof.
Gunny circles around the couryard to get a better angle for his guns, takes aim, and…
The injector rig on his back whirrs into life, a cocktail of drugs spinning in their frame like pinwheel. The games have begun!
A stray shot from Ashford's revolver clipped Pit Boss' injector rig, which has signalled to the other Pit Fighters' rigs to activate too. As part of their creation they were fitted with a form of Stimm Roulette for the entertainment of the crowds. Nobody knew what kind of combat drug they'd be dealt once activated, and they could all be activated remotely from the master rig.
Drugs flood Gunny's system and a red haze descends. He no longer wants to shoot, he wants to rend flesh from bone, to tear at limbs with his bare teeth. He has rolled Psychon, causing him to be subject to Frenzy, and he launched himself at the wall to clamber up after Phaelon and Stigg.
Even with guns instead of hands, his sheer bloody-minded determination to climb a wall saw him through, and with a wolf-cry of victory, gave chase across the roof.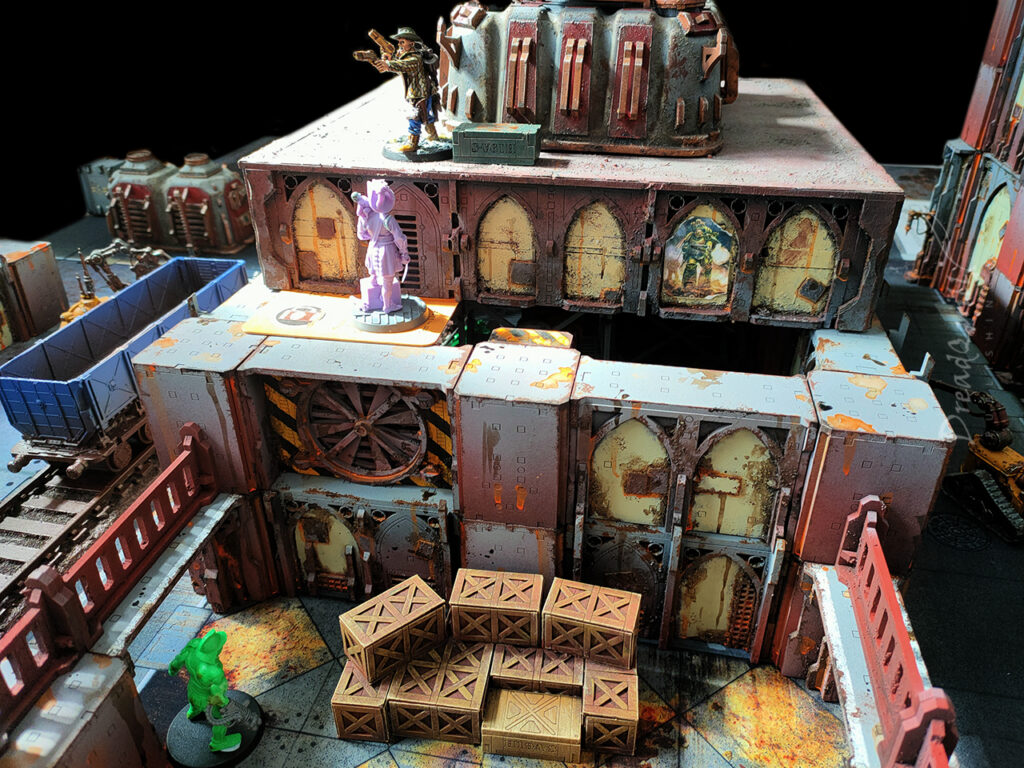 Back in the alley, Grigori had picked himself up from the fallen racking. He barely had time to figure out what to do before a horrifying figure in a horned helmet came bearing down on him with a flaming sword.
He slashed Grigori across the chest, and even as Grigori tried desperately to reason and plea, the assailant kept silent. He simply stepped forward, parrying Grigori's clumsy blows, and delivering more glancing hits on the stevedore, as though he wanted to take him apart piece by piece.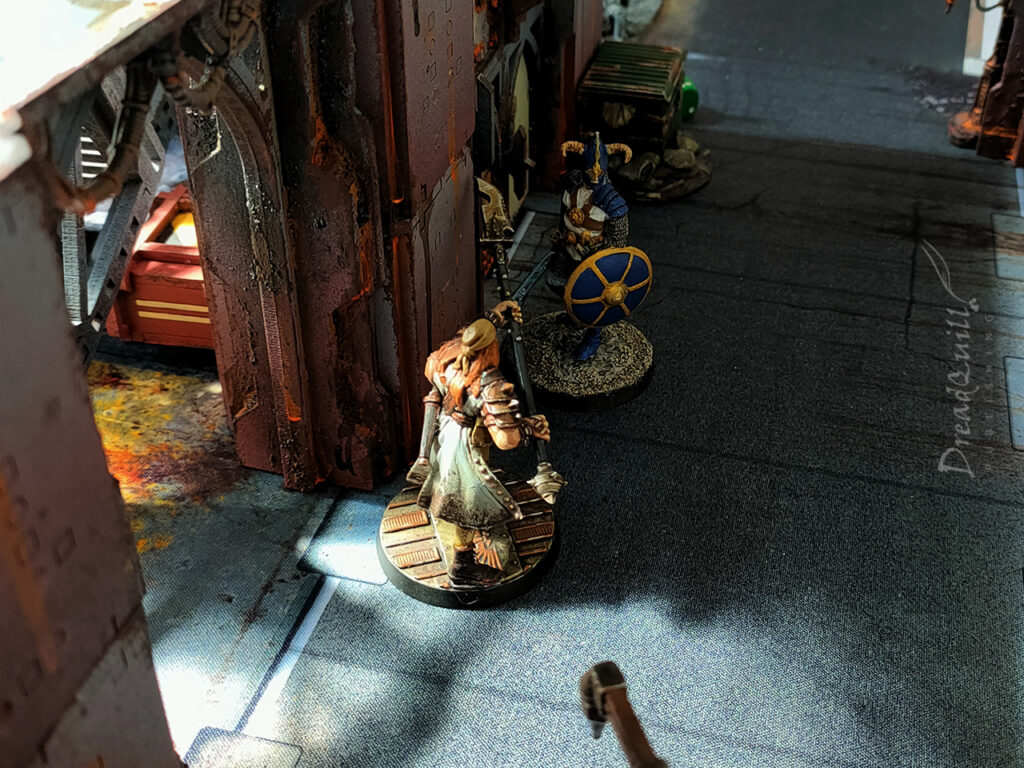 By now, Staz had run out of ammunition firing at the assumed House Dacien agents on the rooftop, and had retreated to a pillar in the alleyway to reload. He turned just in time to see an armoured warrior plunge a fiery blade through Grigori's sternum, who slumped to the ground.
Panicking even more, Staz's unpractised fingers fumble the magazine, and by the time he looked back down the alley, the horned fighter had disappeared.
Crowblade, annoyed at his botched silent assassination of the worker, had ducked behind a nearby shipping container. He wasn't sure he could cover the distance between him and the gunman before he reloaded, and no amount of faith in the Changer of Ways can hold your organs together after a close-range gutfull of lead.
The chances of him getting hold of detonators at this point seemed slim at best, but circumstances had proven more favourable than he'd thought. A third party was somewhere else in Distro-19 stirring up trouble, and his minions had ingratiated themselves into the workforce better than he could have dreamed. He didn't even need to create a false flag attack – someone else had done it for him.
While the gunner was distracted with reloading, he sprinted away down the alley and off the board. His work was done.
A voice cawed in his soul again. Just as planned…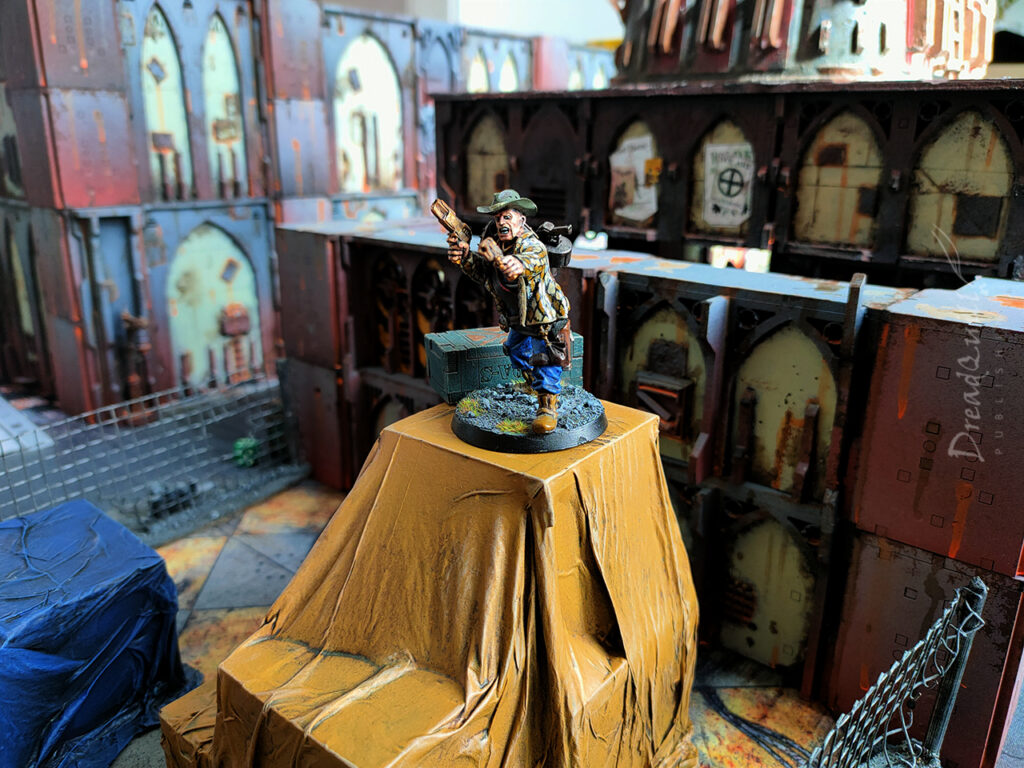 With the crate firmly in hand, Stigg leaps from the depot rooftop onto some nearby crates. Checking over his shoulder, Phaelon is close by, followed by a frothing aug with guns for hands, clambering up onto the roof by sheer force of will.
Stigg wasn't sure why the madman hadn't taken a shot yet, but it wasn't time to question. He slid down the tarpaulin and took cover near a flatbed truck.
By this point, everyone can hear sirens wailing in the distance. Authorities had clearly been alerted to the fire alarm in the depot and there was limited time left to make a getaway.
Stigg threw a hopeful glance at the truck. The keys were in the ignition…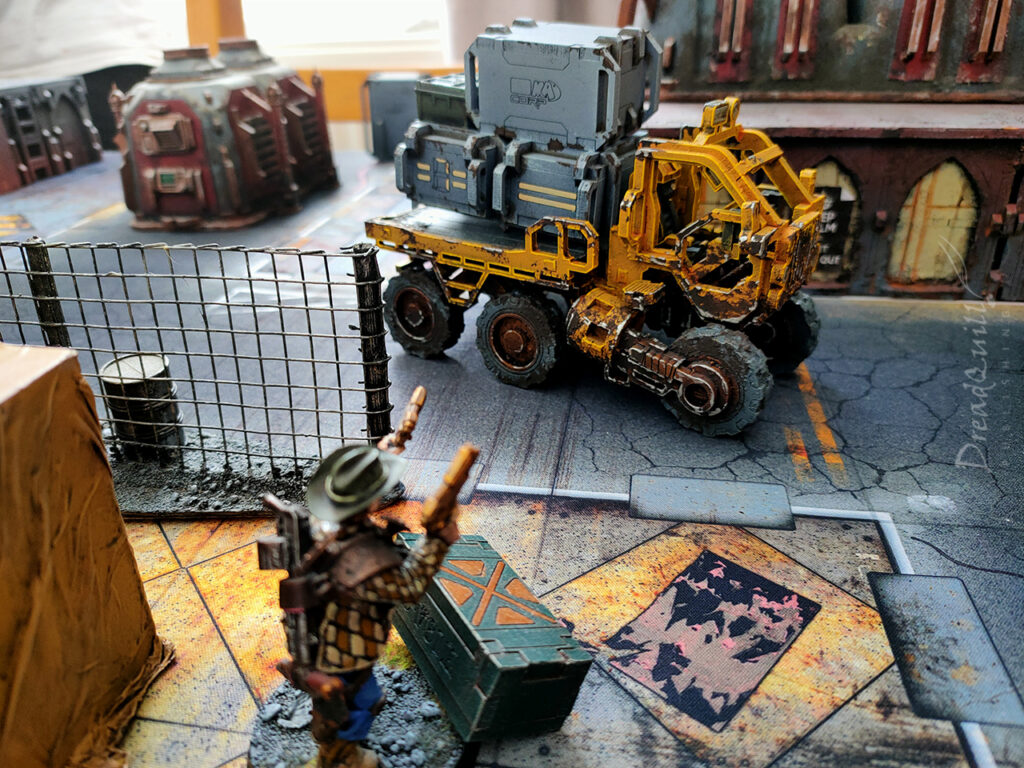 Pit Boss, now juiced up on Reflex, finally puts an end to Gnasher. They take a moment to take stock of their situation, all of them battered and bruised but surprisingly unharmed.
Ashford clocks the sirens in the distance and signals to Diogo to grab some munitions. He points a revolver at Pit Boss, saying "I still don't trust you, but we can deal with that later. Right now we have to grab these crates and scarper before more House Dacien thugs turn up."
Pit Boss, overjoyed that his gossamer-thin cover story was somehow still intact, excitedly grabs a couple of crates and jogs towards the truck.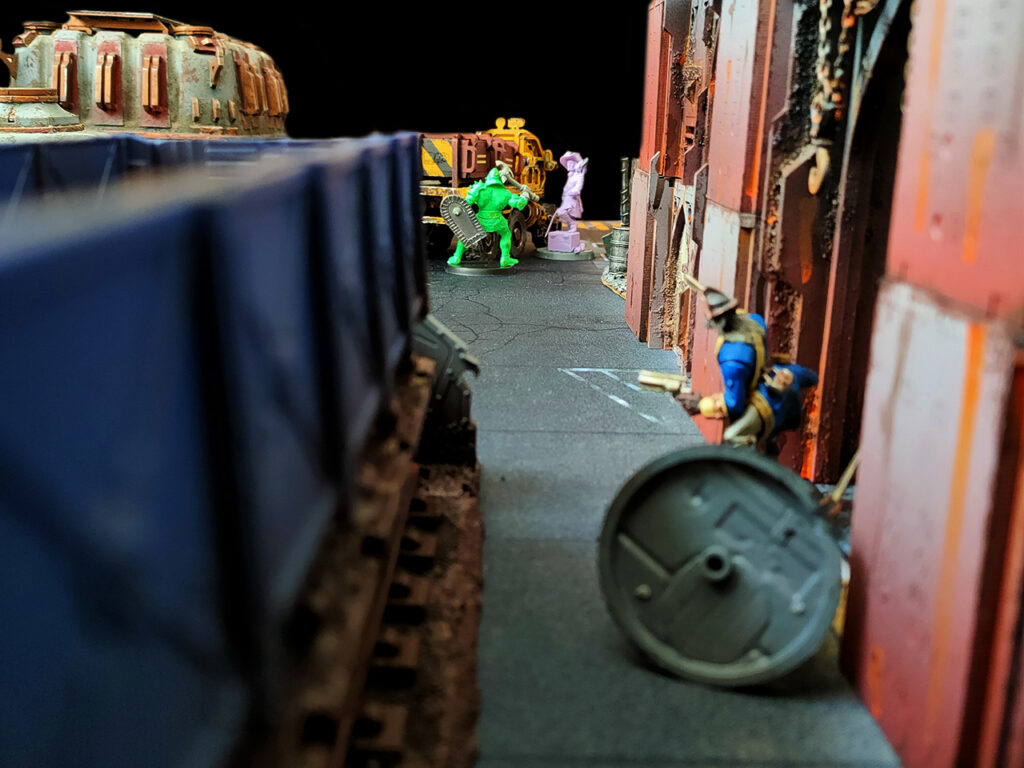 As Pit Boss loads his crates onto the truck, Phaelon steps out from behind his crate with a strange-looking flintlock pistol raised. He shoots, barely winging the brute, who turns to take a swing at the Rogue Trader.
As he does so, Pit Boss realises his hands aren't hands anymore, but a mess of writhing tentacles. He panics and screams, looking around for help, dropping his axe in the process.
Ashford darts out the depot looking for the commotion and sees Pit Boss screaming at his (perfectly normal) hands. He doesn't recognise the person in the fancy hat, but he looks ruling class, so has to be House Dacien. He aims carefully and squeezes off a shot with his revolver.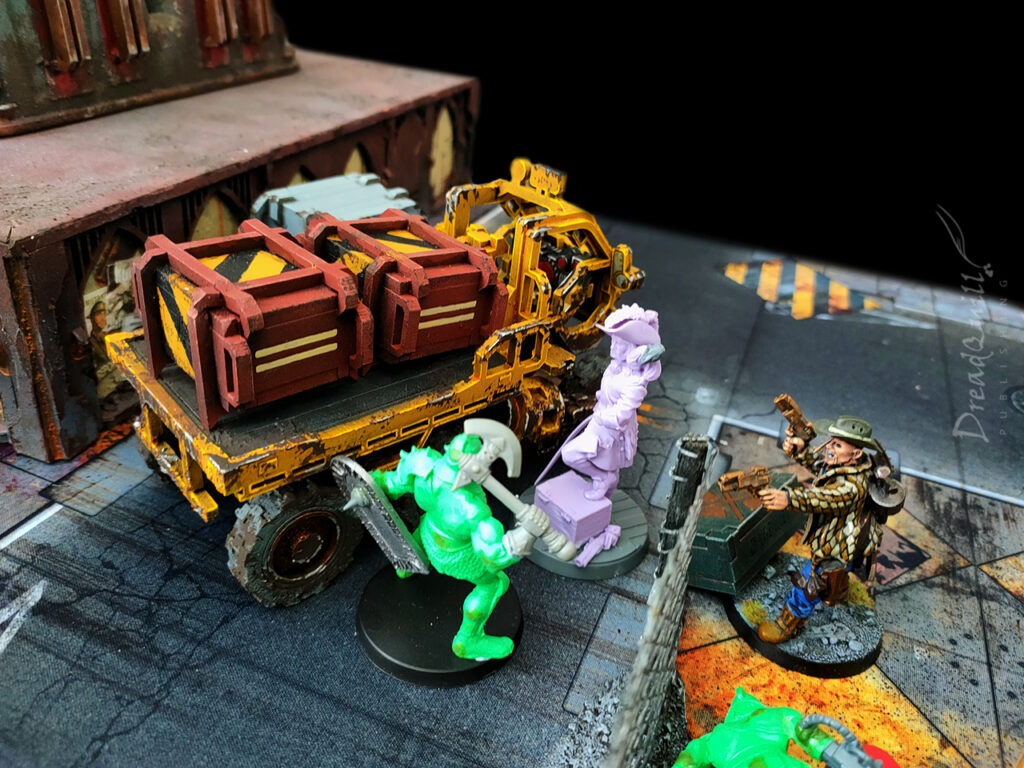 Bang! Phaelon's conversion field absorbs the shot, firing off a blinding burst of energy in retaliation. Everyone passes their Initiative checks to avoid being blinded… except Stigg. He finds himself stunned for a dangerous number of turns with so many pit fighters bearing down on them.
Gunny had caught up with them, but in his frenzied pursuit had thrown himself off the roof and landed on his head, putting himself out of action for the remainder of the game.
The Rogue Trader had no choice but to draw his phase sword and duel with the pit fighter. Pit Boss realised his hands were fine after all and grabbed his axe to cut down this interloper. The Rogue Trader was well but his fencing days were behind him, and there's only so much fancy footwork you can do against such raw strength and aggression.
In the midst of the cut and thrust, Phaelon managed to grab Stigg by the scruff and throw him onto the back of the truck. Sweeping the Pit Fighter's leg, he dived into the cockpit and prayed it would start.
While the truck spluttered and coughed into life, Stigg's vision had returned enough for him to draw his laspistol and fire wildly at the menacing blurry figures that had surrounded the truck.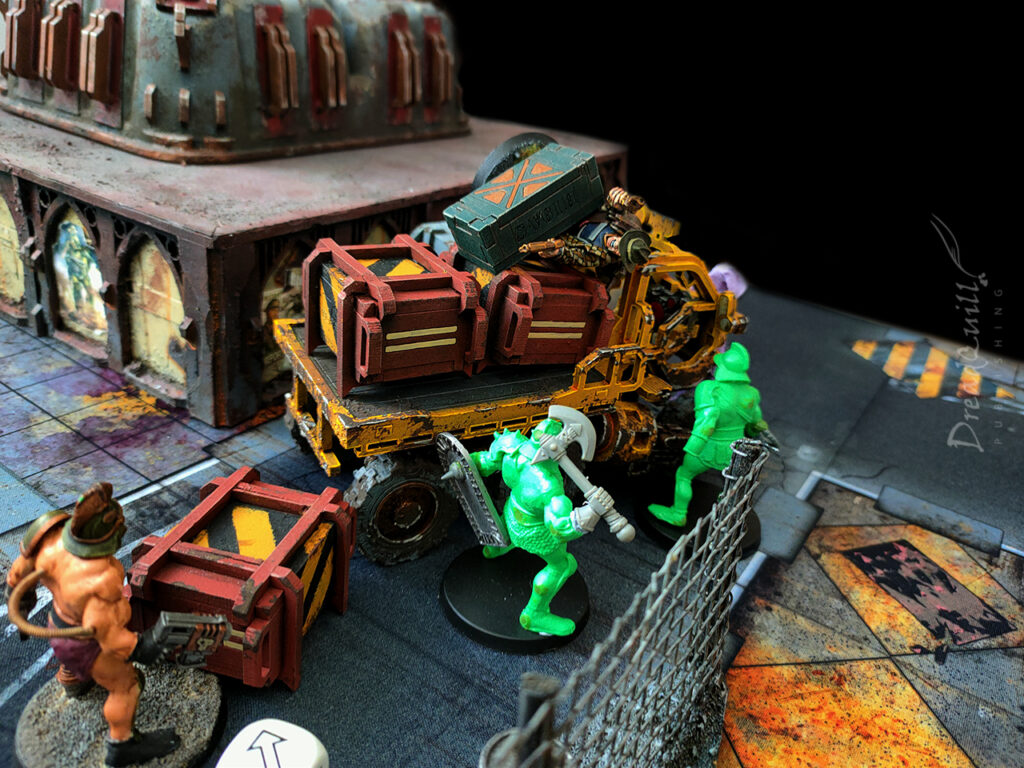 The truck roared into life, and Phaelon slammed his foot on the accelerator. They left Distro-19 in the dust.
Pit Boss ran back to Ashford, demanding he detonate explosives on the truck. After a tense back and forth, Ashford finally agreed to part with those munitions (they were lost now anyway) and configured the detonator to explode only the ones on the truck.
Despite them being some distance away by now (well off the board), Stigg and Phaelon noticed the priming lights change just in time and threw themselves from the truck. With a thunderous explosion the mining charges tore the truck to shreds, setting off a small mushroom cloud of dust on the horizon.
Stigg and Phaelon disappeared into the wastes with their prize, and while all the workers and pit fighters at the distro were convinced House Dacien's agents had been killed, Crowblade watched on from a vantage point. He didn't know who they were, but he was sure he'd be seeing them again in the future.
Just as planned.
The wrap up
Both warbands were awarded 1 Resource for completing their objectives. Explicator Stigg made off with the source of the energy signature, and even though Crowblade didn't blow up the munitions depot, he managed to infiltrate the stevedore's gang so perfectly he didn't need any other provocation.
Only a couple of pit fighters took any hits on the players' side – and even then, only light or heavy injuries. Stigg and Phaelon never took any injuries at all! As per the campaign mechanics for injuries they both walk away with clean slates, but the same couldn't be said for poor Gnasher.
We discussed afterwards that Gnasher is a good piece of wargear, but a carbon copy of the cyber mastiff rules didn't fit his intended use as well as we'd hoped. He'll be getting some slight tweaks for his next iteration – discussions were had about giving him a photon flash attack, or some kind of area denial effect like a webber or grease bomb.
The player would use the Resource he won from this mission to build a new Gnasher back on Phaelon's ship, harder, faster, better, stronger. We look forward to seeing what Gnasher mk.2 looks like!
Next scenario