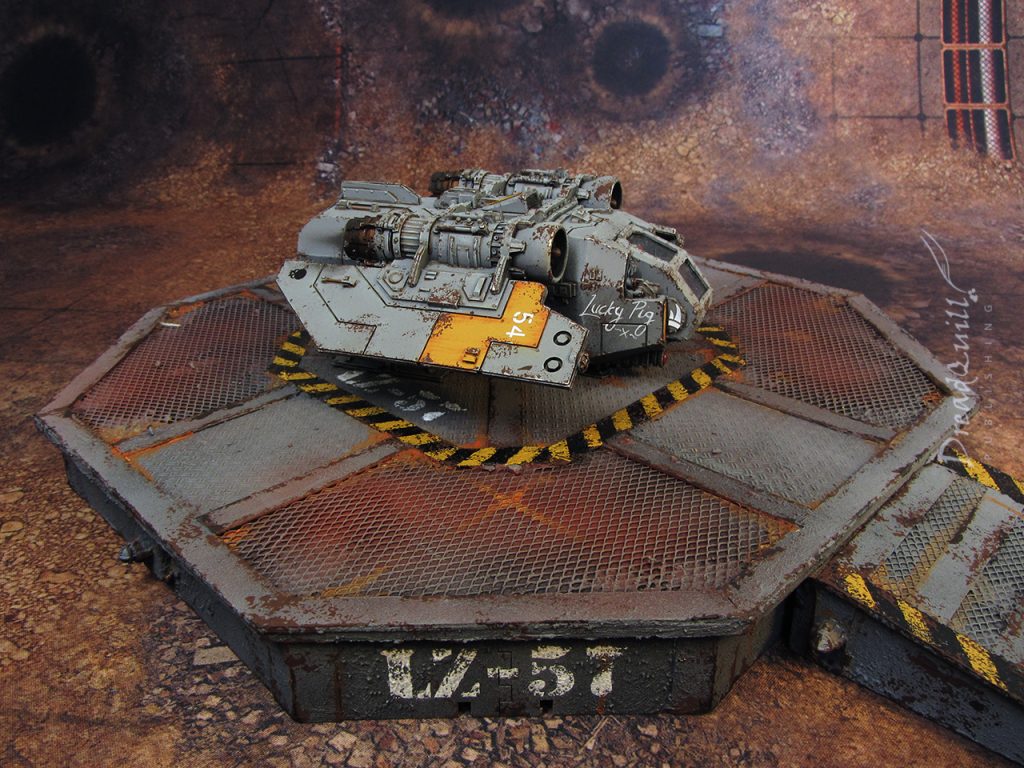 Many moons ago I was fortunate enough to get an Arvus Lighter kit on the cheap and decided over lockdown to put some colour on it. Getting to the chopper is an iconic moment in many games, and owning the equivalent 40k miniature seemed sensible. Plus, the Arvus is indisputably the best and cutest spaceship in existence, and that is scientific fact.
Having an atmospheric brick is great, but what is a spaceship without a landing pad? I still had a bunch of MDF board tiles from my Celestine Wharf build, and with no intention of building any more Celestine tiles, I figured I could press them into service as simple landing pads.
Cutting corners
The first task was simple – knocking the corners off to make it more landing paddy. I had to google what landing pads looked like and it turns out they're quite boring, so I took some inspiration from the OOP forgeworld landing pad.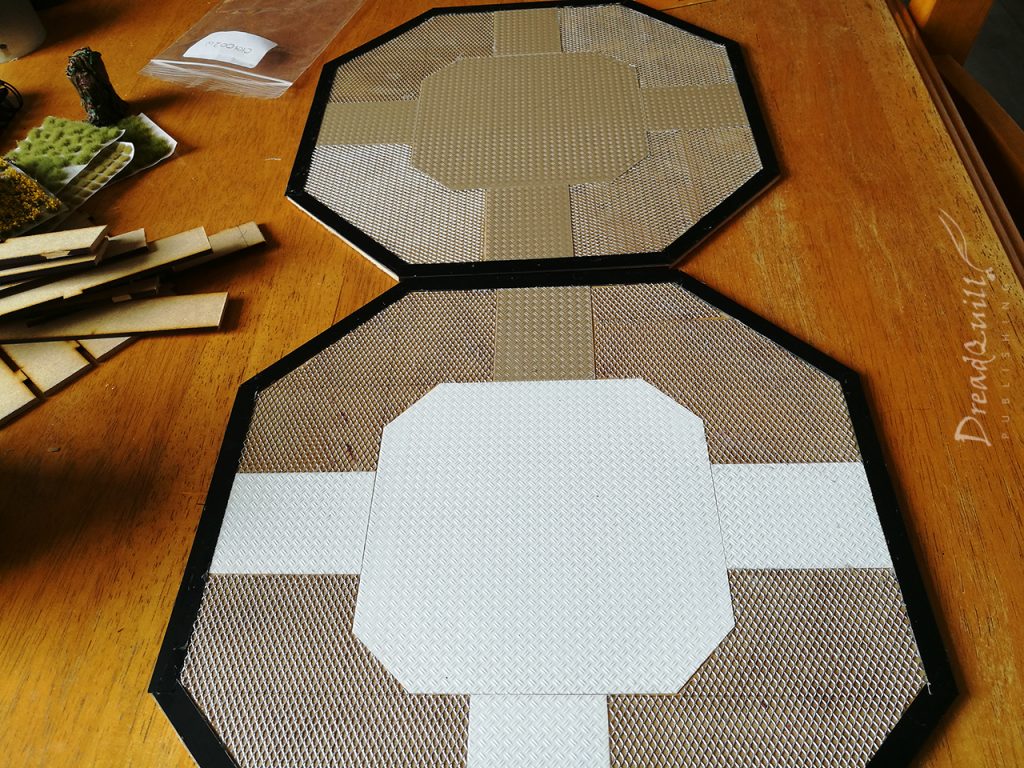 I used a mix of embossed plasticard and modelling mesh to break up the surface, and went for a 'pad within a pad' design. Thicker plasticard ran the edges to neaten it up.
When it came to gluing these bits down I roughed up the back of the plasticard sheets and glued them down with PVA rather than waste a tonne of superglue. The mesh went down with PVA as well, although I dabbed bits of superglue in the corners and raised areas to help it dry flat, as getting modelling mesh perfectly flat is a Sisyphian task.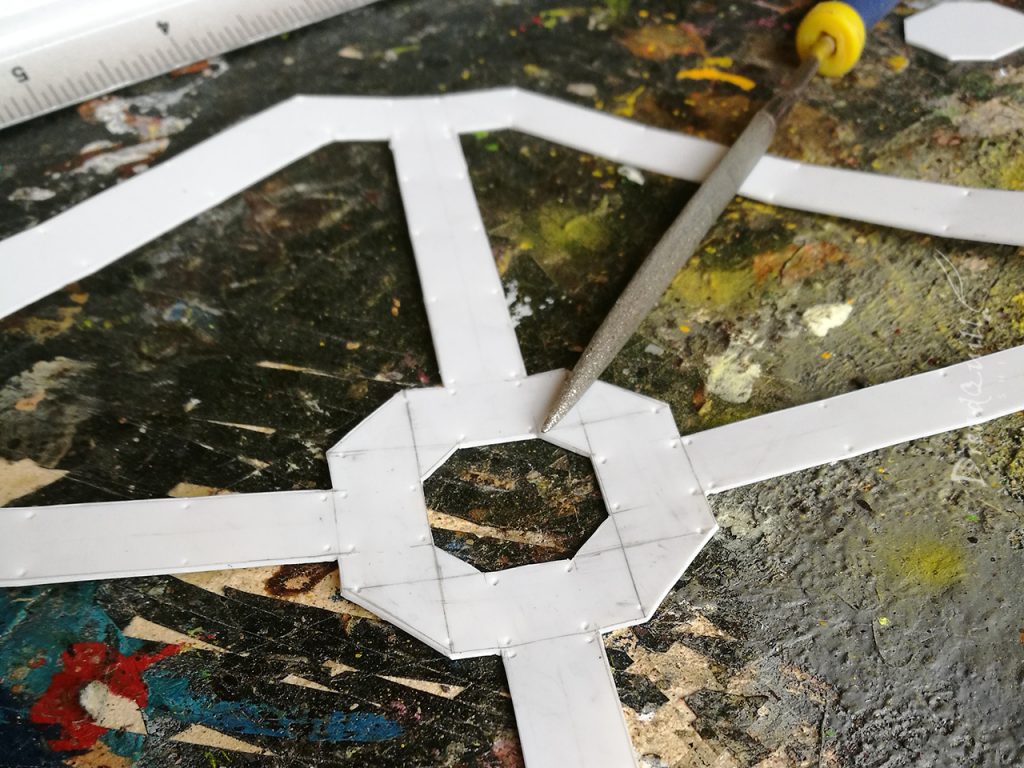 With the ol' pencil and ruler I knocked up a frame out of plasticard (it took hours, I'm so bad at geometry) to overlay the landing pads.
I wanted big chunky rivets for that industrial feel but I have neither the resources nor patience to glue them on by hand, so I grabbed a pointy-but-blunt coping file and jabbed it hard into the back of the plasticard. It was thin enough to emboss, and stabbing a pair of rivets every couple of centimetres did the job.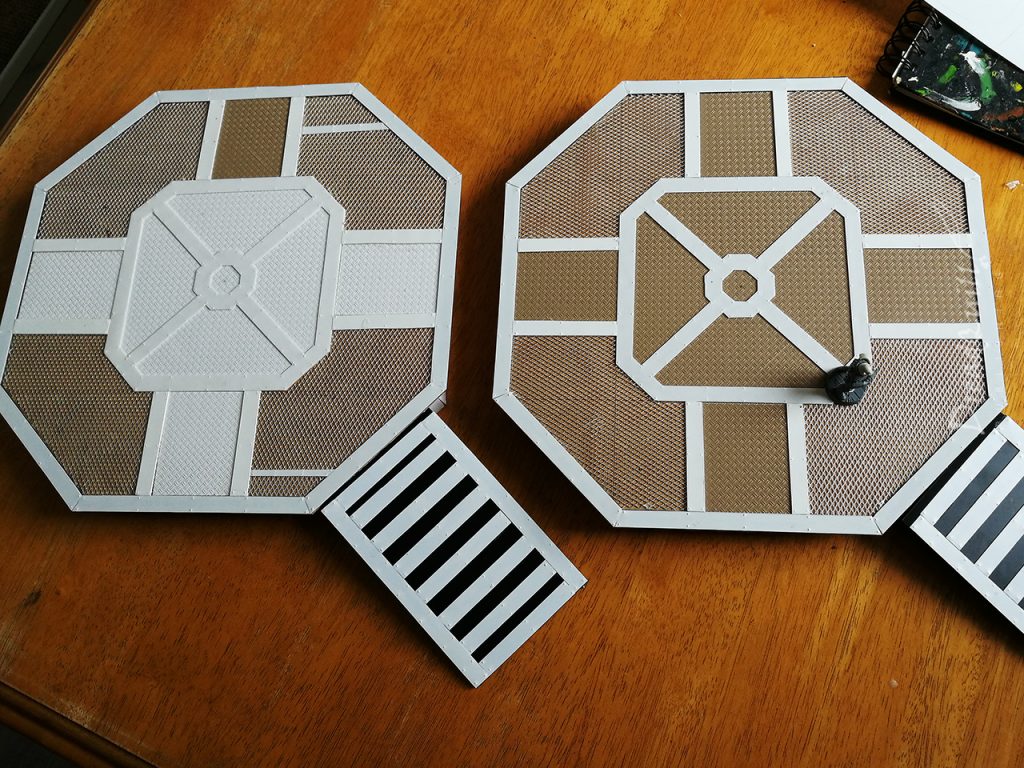 Some extra strips of plasticard were cut to make the central frame meet the edges, and a few thin strips were added to cover any holes I made in the modelling mesh during assembly.
I also constructed some ramps out of thick plasticard – I did some slip tests to see what the shortest ramp was I could get away with before models start slipping down, so lots of plasticard strips and mesh were added to help give the bases some traction to avoid mid-game slippage.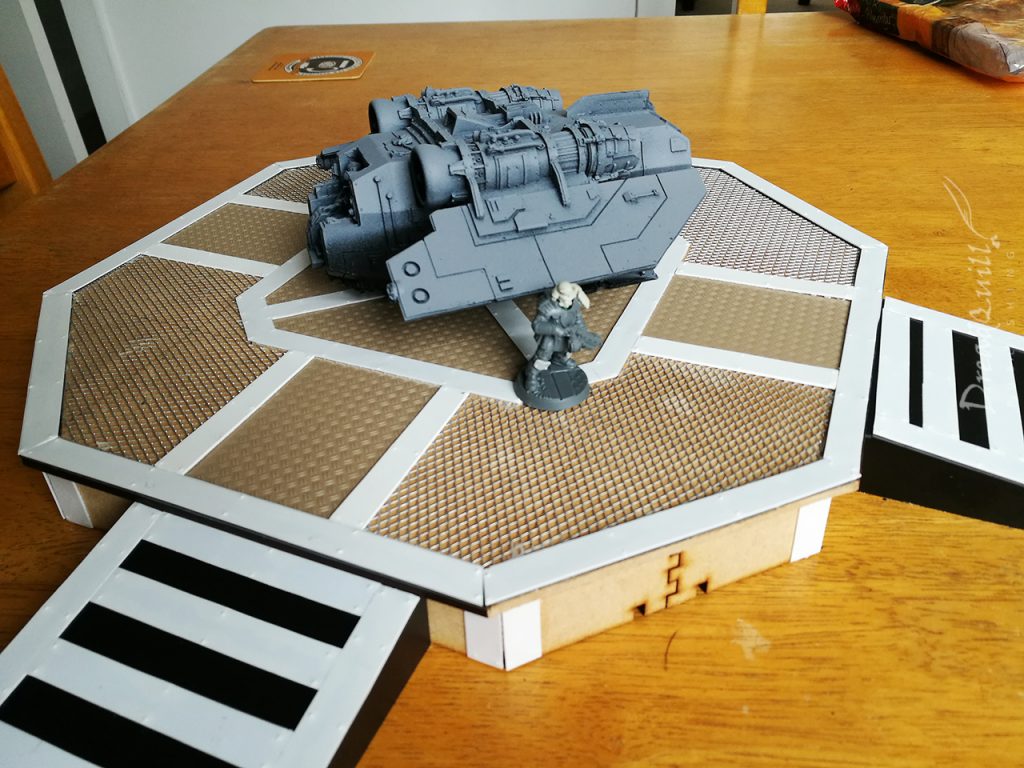 It all fit together! At this point the Arvus had been largely assembled (with the canopy kept off to paint the pilot) and awaiting its turn on the paint station. There was lots of time to work on other projects during this build – most of the time was spent waiting for PVA to dry weighted under piles of books.
The ramps were designed to fit any of the sides, and were hollow at one end to accommodate the little lights I glued onto the exterior of the landing pad.
The last thing to go on is my textured paint signature dish – a mix of PVA, brown paint, ready-mix filler, sand, and whatever cuttings I've swept from my desk. Globbed on to make it interesting to paint and provide crucial extra grippy material on the ramp. After it had dried, it was time for the rattlecans!
painting the pad
All four pieces got several liberal coats of black rattlecan to saturate the MDF, then the walkway sections got a dusting of grey, and the mesh sections got a blast of red.
After they dried, the red becomes more crimson and rusty, while the grey takes on a ghostly blue.
The whole thing was drybrushed grey to pick out the raised sections, and watered-down orange paint splashed liberally into recesses to emulate rust and water damage. Brown paint was dabbed onto extreme edges and corners to look like chipped paint.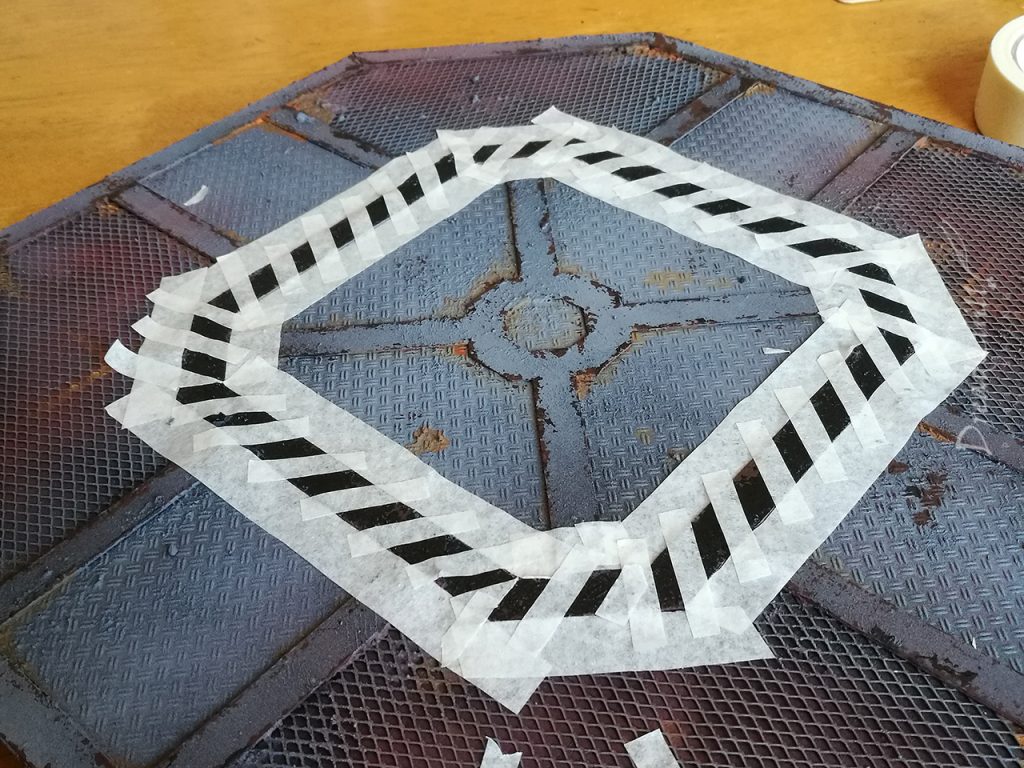 Can't be a landing pad without hazard stripes! Black paint was sponged on as a base, and the areas to be yellow were meticulously marked out with masking tape.
Iyanden Darksun was sponged on with a small piece of foam, and the tape peeled off while it was still wet.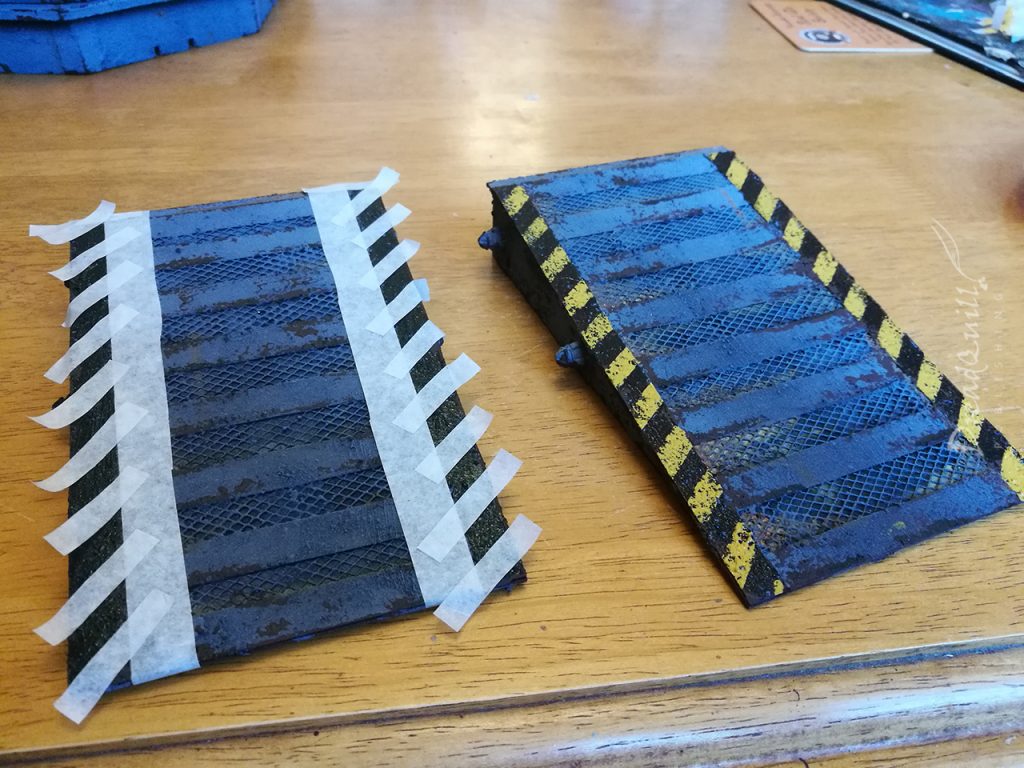 Halfway through constructing these fiddly masked patterns I always wonder if it's worth the faff – surely it's quicker to just eyeball it, or brush it on, or make touchups after you've finished?
I can confidently tell my past self (and reaffirm to my future self if you're reading this) it absolutely is worth it. Once the tape is on, it takes 30 seconds to sponge the yellow, and another 30 seconds to peel it off. You get a wonderful chipped-paint texture and there is never any clean up.
Repeat after me, future self: ALWAYS MASK YOUR HAZARD STRIPES.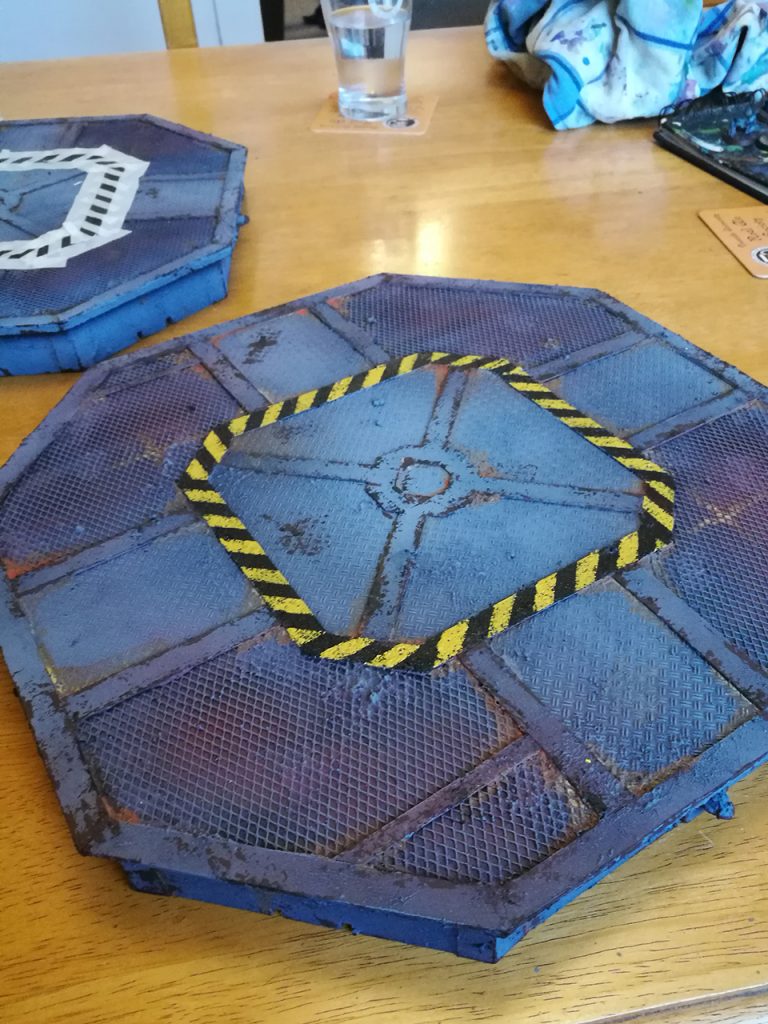 The only extra I did was re-up the brown paint sponge chipping from an earlier step – the yellow and black stood out too much and needed blending in with the rest of the piece. A good reminder to paint all your block colours before you do your weathering!
The only bit left to do was stencil on some big letters and numbers to make it look more industrial. I opted for LZ for landing zone, then some other numbers that looked nice. Big numbers help your environmental storytelling, implying there are loads more landing pads just like this.
The Arvus was painted in a very similar manner, lots of drybrushing and sponging on brown paint for chipping. Transfers came from old Imperial Guard tank sheets, and the teeth from an old Warhammer Fantasy Orc transfer sheet.
Finally it needed a name, and knowing that the ground crews tended to nickname the Arvus "little hog" for obvious reasons, the name came very easily.
All that's left is to roll the gallery!
5-by-5, we're in the pipe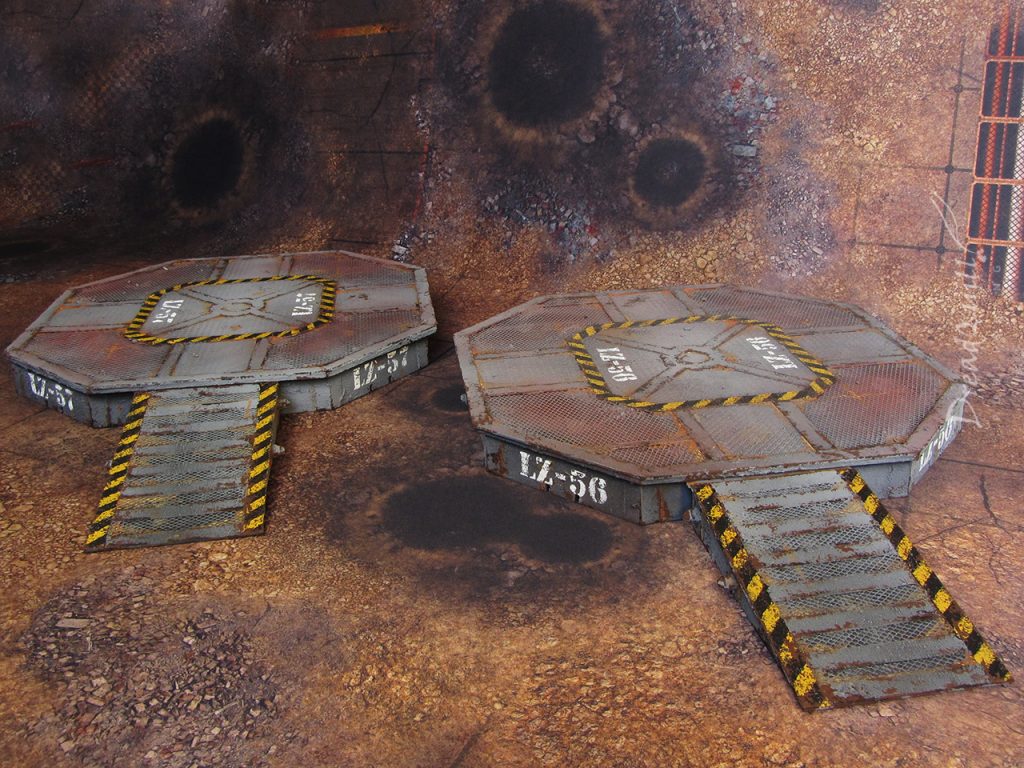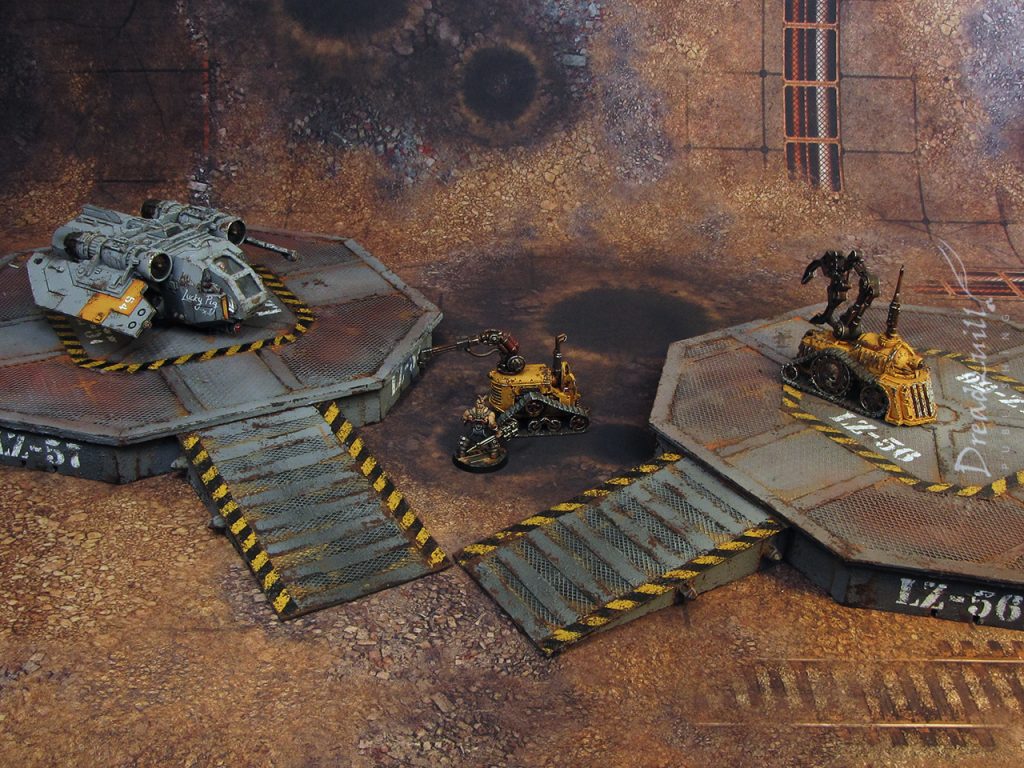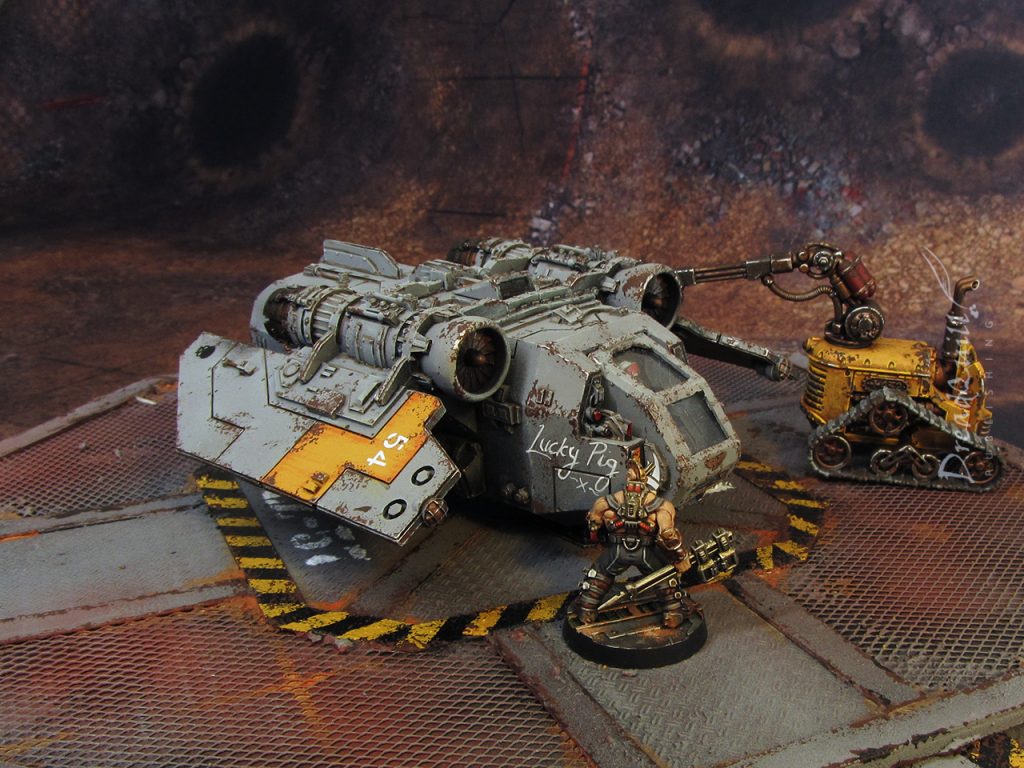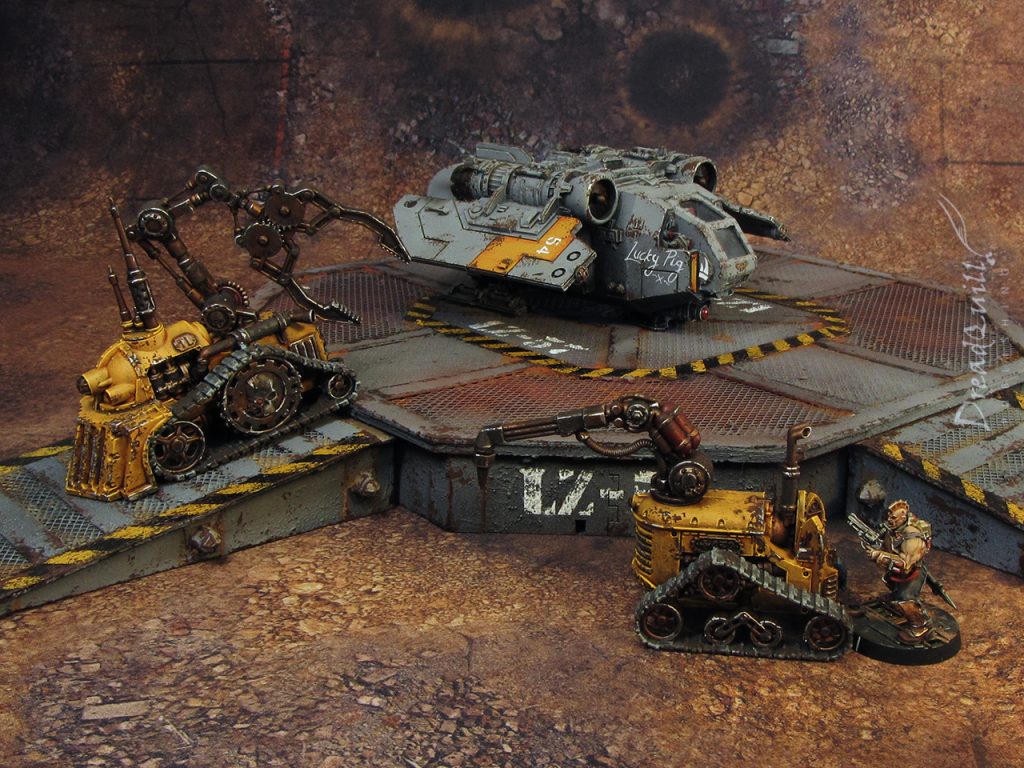 And to top it all off, while I was painting the Arvus I had a lovely message from the Warhammer Community team to host Lucky Pig on the hobby roundup.
What a lovely time in the sun she's had!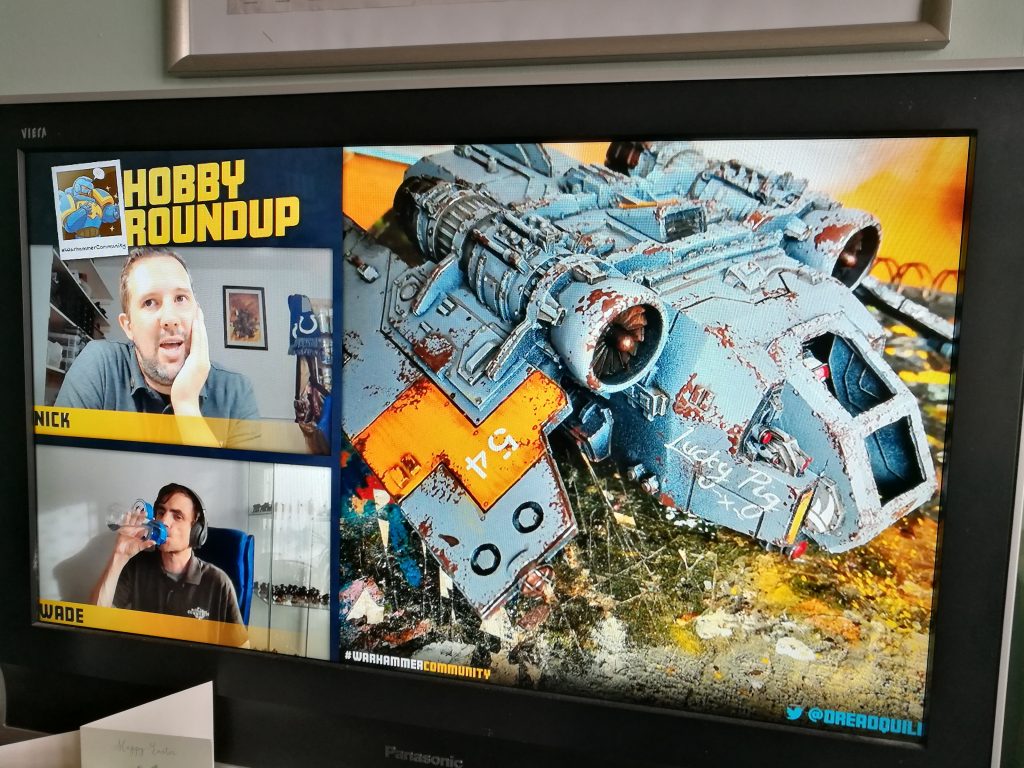 I'm very happy with this project, both getting the Arvus painted and finding a use for those mdf tiles. Landing pads are a great focus for games so they'll see plenty of use, and they can act as risers for other buildings if needs be.
And it means I can finally make airplane noises while playing with my toy soldiers – and isn't that what the hobby is all about?