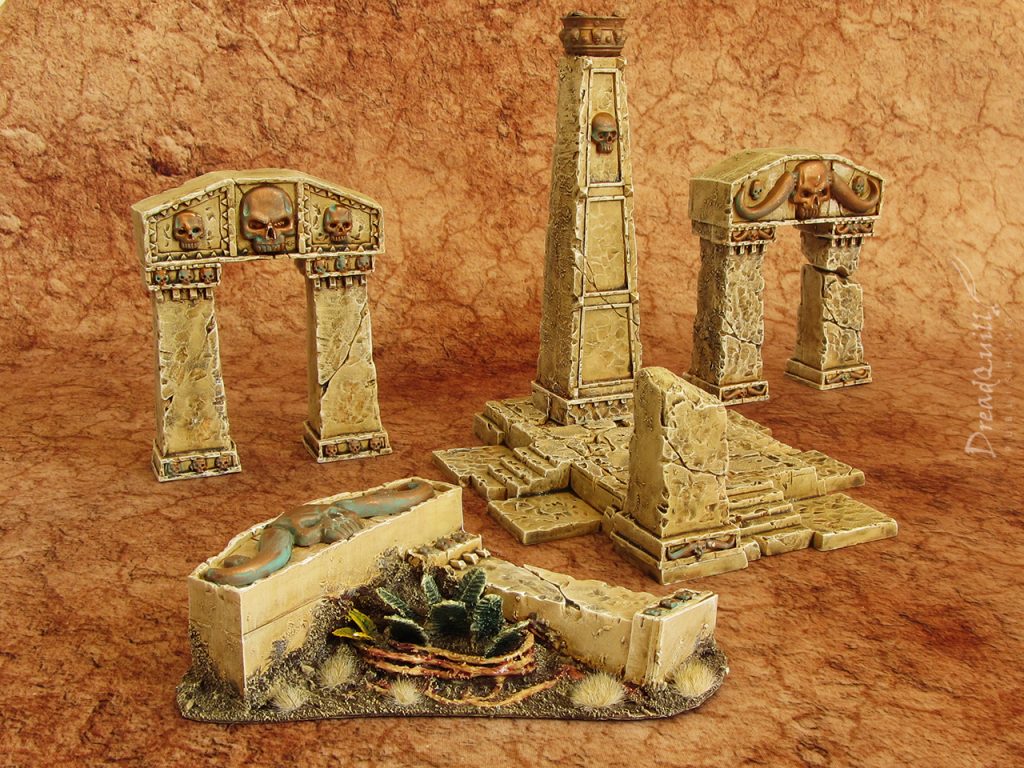 I guess there's a theme with recent MOTBs, so it's a good time to post ruins! Truth be told, I've had these ruins ready for quite some time, but having only just purchased a lovely new battle mat from Pwork Games it was a great time to get some photos done.
Out with the old
I must have owned this kit for over a decade, getting dragged around between uni, house moves and all sorts. A few years ago I had a weekend spare and I wanted to finally get it from sprue to battlefield.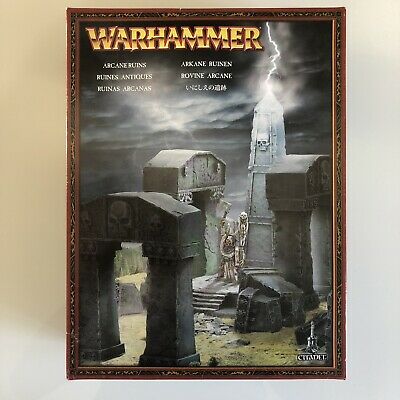 I had a tiny problem – much of the kit had been lost to the annals of time I was missing at least one whole upright pillar, the top of the monolith and at least one bit of broken pillar. I'd need to get creative.
In with the new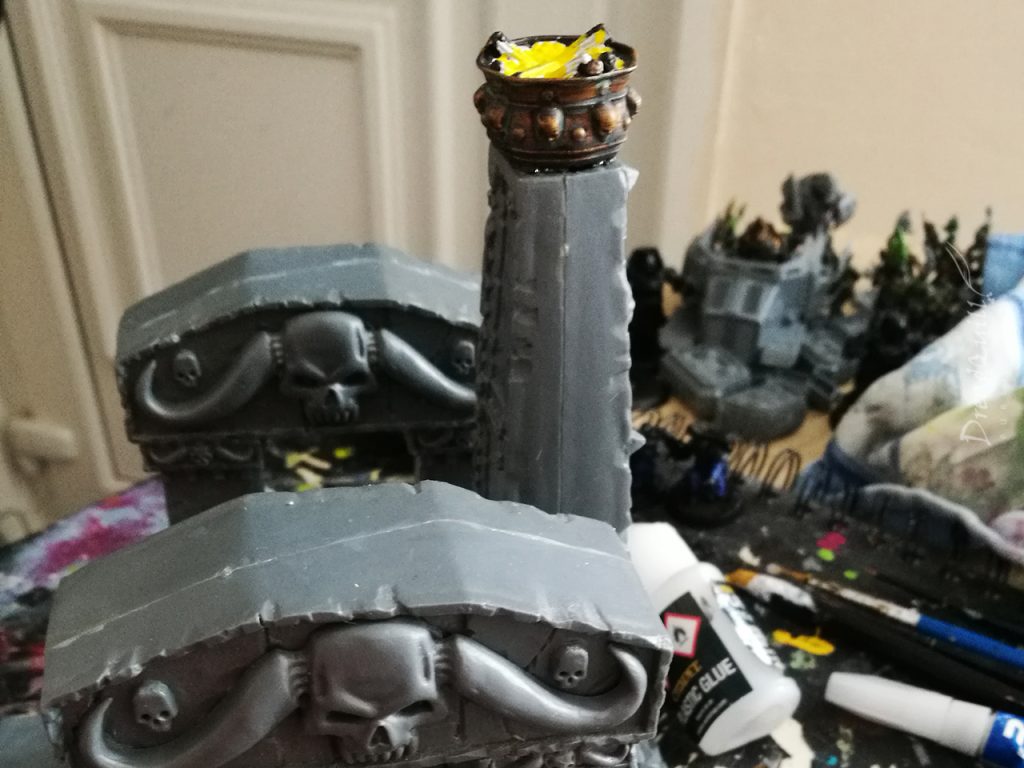 Luckily my pals at Hobgoblin 3D had me covered. I'd been doing some work for them and I was paid in scatter terrain (can all my paychecks be in scatter terrain please?) and I found the dungeon brazier fit perfectly in the gap at the top. Result!
I'd been using it for practising painting techniques, so it wouldn't matter if it was getting repainted.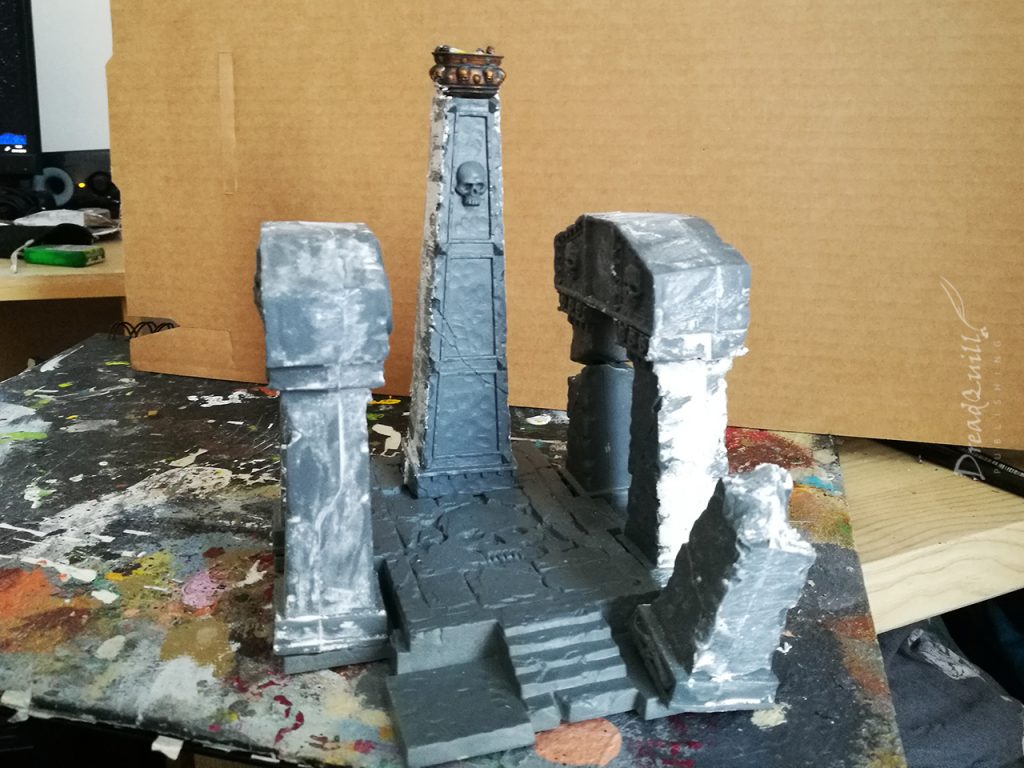 They were quite impressive all assembled. I'd used a cheap readymix DIY filler and smeared it all over, giving the flat edges a bit of texture and tidying up some of the more heinous mould lines.
It was a shame I was missing a few pieces, but it's supposed to be ruins so the mismatched appearance would be fine.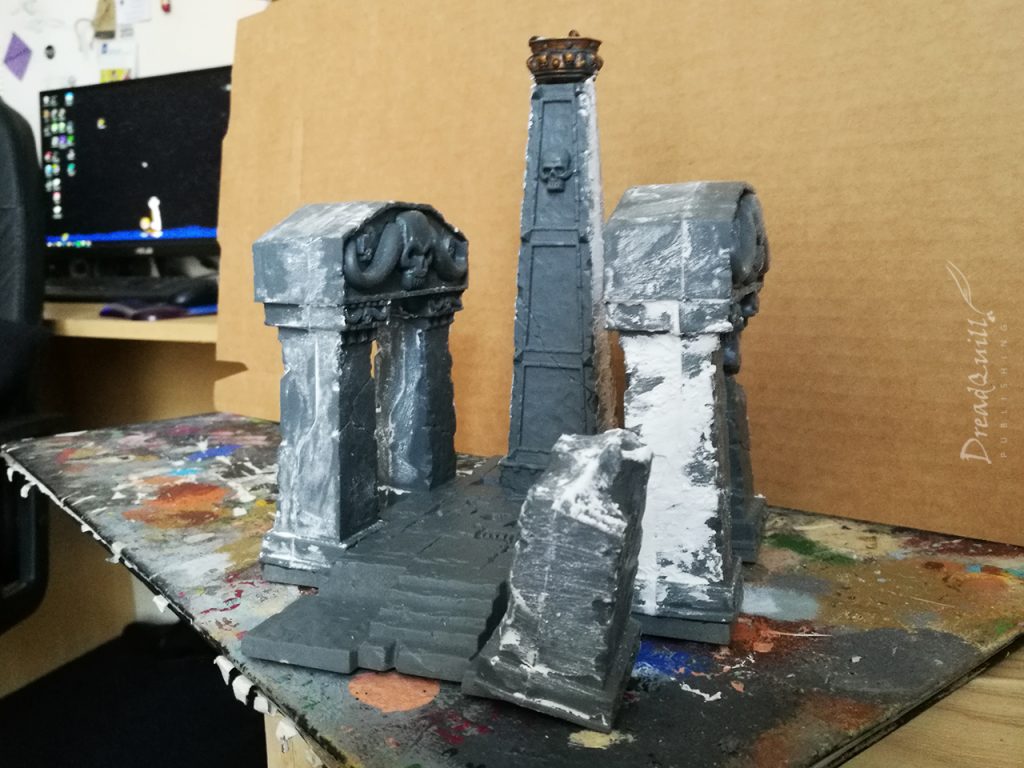 Weirdly the bits I was missing the most was upright pillars, and the ones I did have tended to be two of the same half, so they didn't fit together particularly well. Plenty of hacking and filling was needed to finish them off, and the final upright was made from two chunks of ruins glued on top of each other. It ended up with a very wonky appearance… but ruins!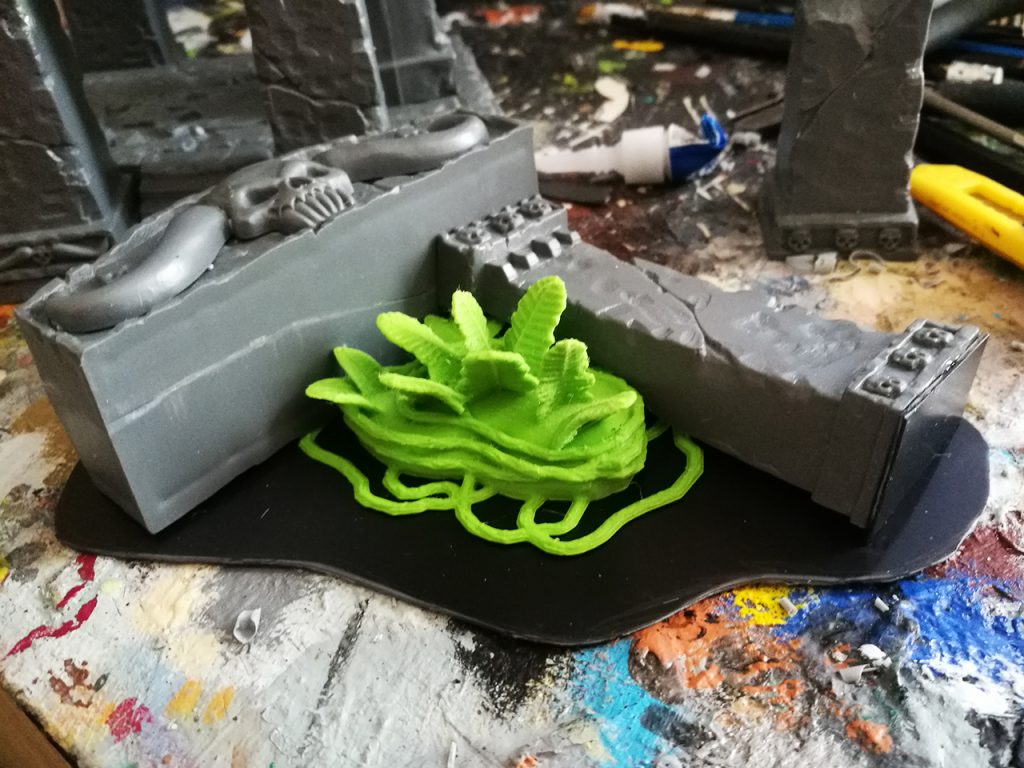 The final upright didn't have a back half at all, and with not enough pieces to bodge together a second upright, the final freestanding ruin had to be laid down. I wanted to make it look like it was being reclaimed by the earth, and I had some more plants from Hobgoblin to fill the gap and make it a more rounded piece of scatter.
With plenty more filler applied and a long drying time, it was on to the undercoat!
All white on the night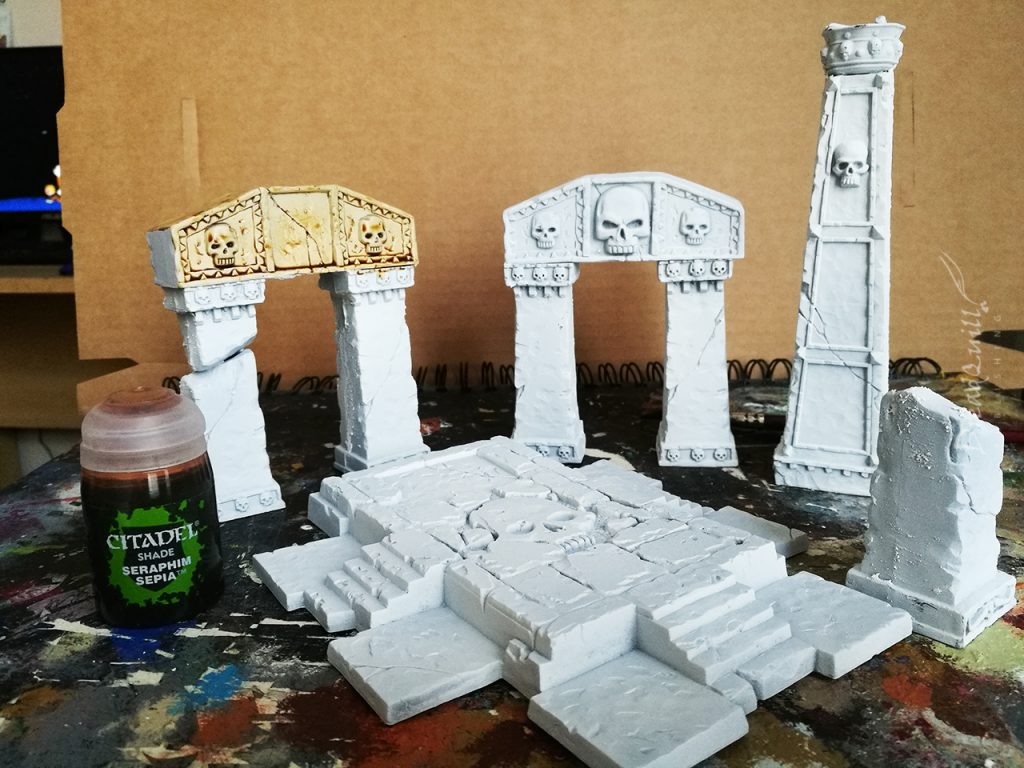 I wanted to avoid doing MORE grey ruins – my collection of terrain was 90% drybrushed grey over a black undercoat which is incredibly dull to look at. I was looking at some tutorials for painting wraithbone structures for our Rogue Trader campaign at the time and I enjoyed how striking Seraphim Sepia was over a white undercoat, so the plan was set in motion.
All dressed up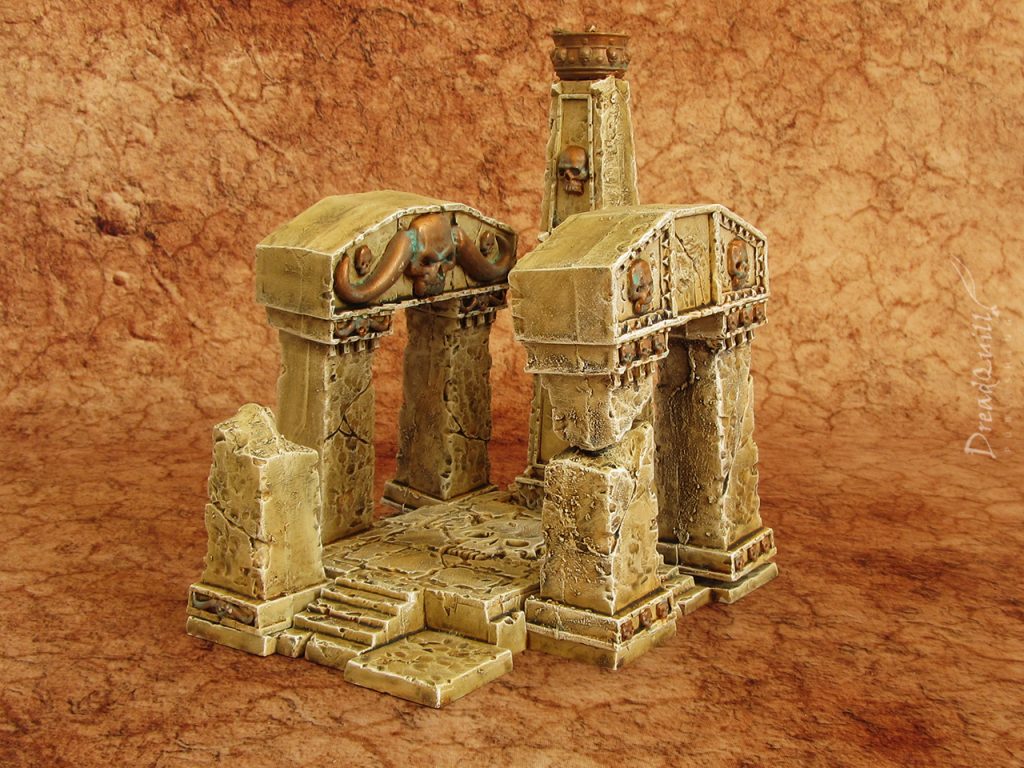 They existed for almost two years before the gaming mat was purchased, and it's such a lovely backdrop for these minis I had to finally take some photos!
The stone was painted with washes of Seraphim Sepia and Agrax Earthshade, with progressively lighter drybrushes of boney colours, finishing on an edge highlight of pure white.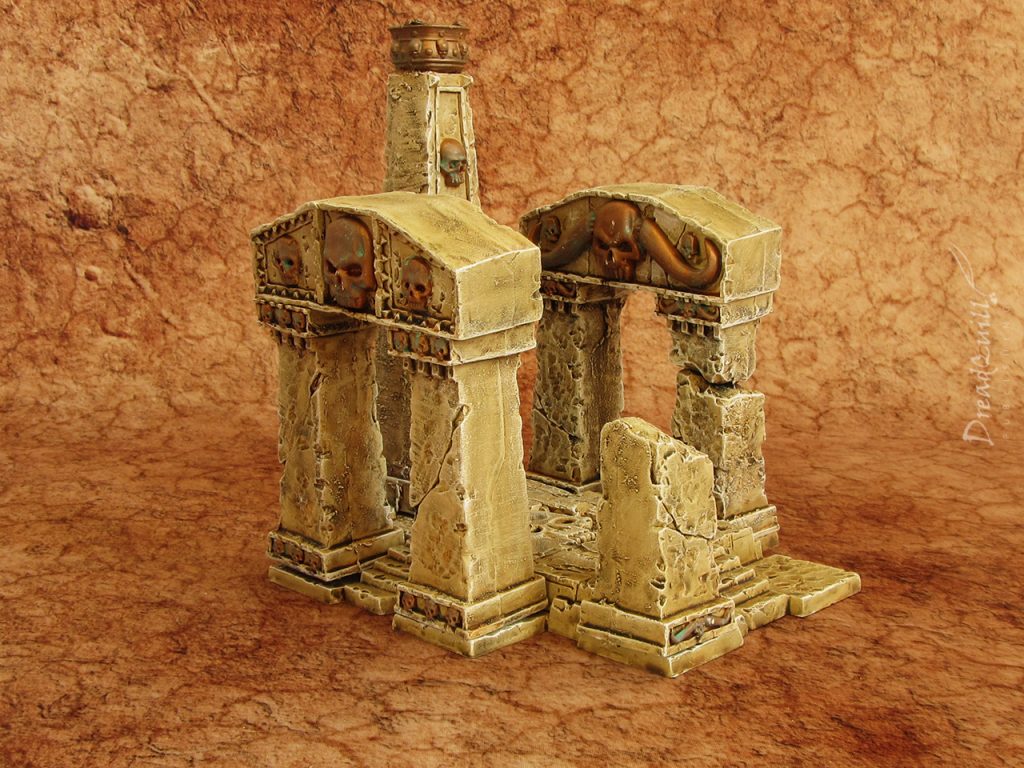 I was playing with my latest new technical too – Nihilak Oxide – to do some patina on the bronze. This was just Warplock Bronze painted straight over the bits I wanted to be metallic with the Oxide dabbed messily into the recesses. With a bit of rag, I wiped it off the most prominent edges and that was that.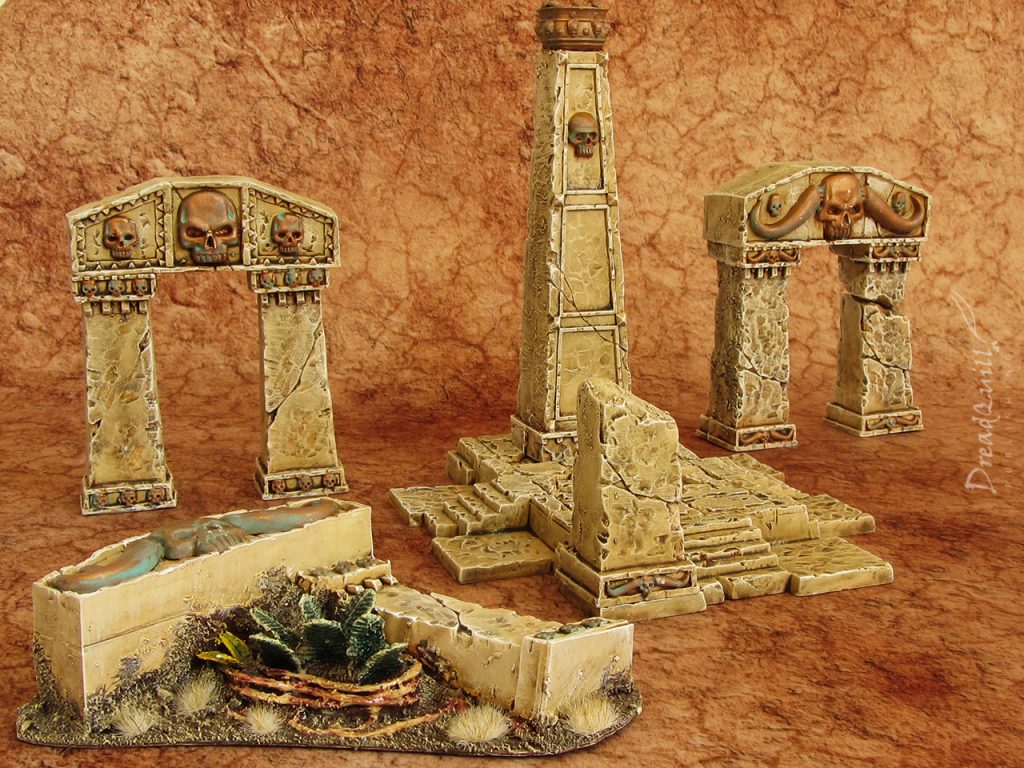 The downed ruin had some extra textures to paint, namely the ground and plant. I had another half a dozen plant bits that I batch painted at the same time (more on those in another post), so this was done to replicate that. Otherwise, the ground was a dark brown base with lighter browns drybrushed over the top, with a few select grassy tufts from Army Painter.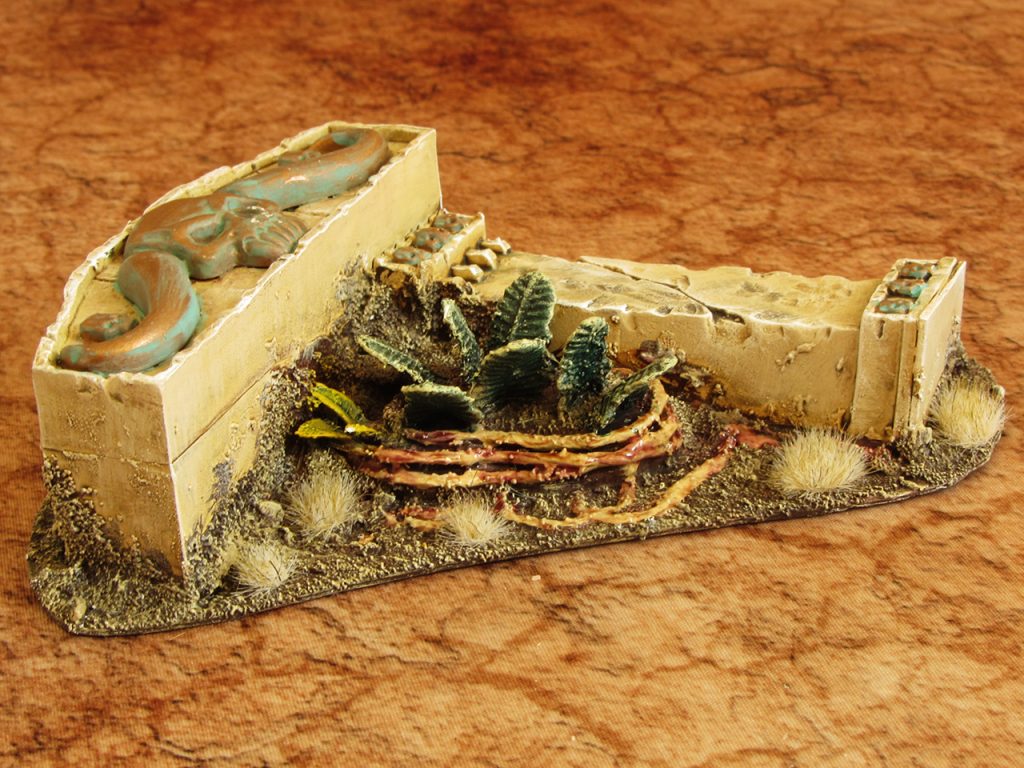 When they're separated, the ruins take up a decent amount of board space. I doubt they'd ever be big enough to use as a focal point, but as some LOS-breaking scatter I think they perform quite well.
Plus, the big bonus is they appear to work extremely well at both 28mm and 54mm – something that is becoming (again) increasingly important to my collection!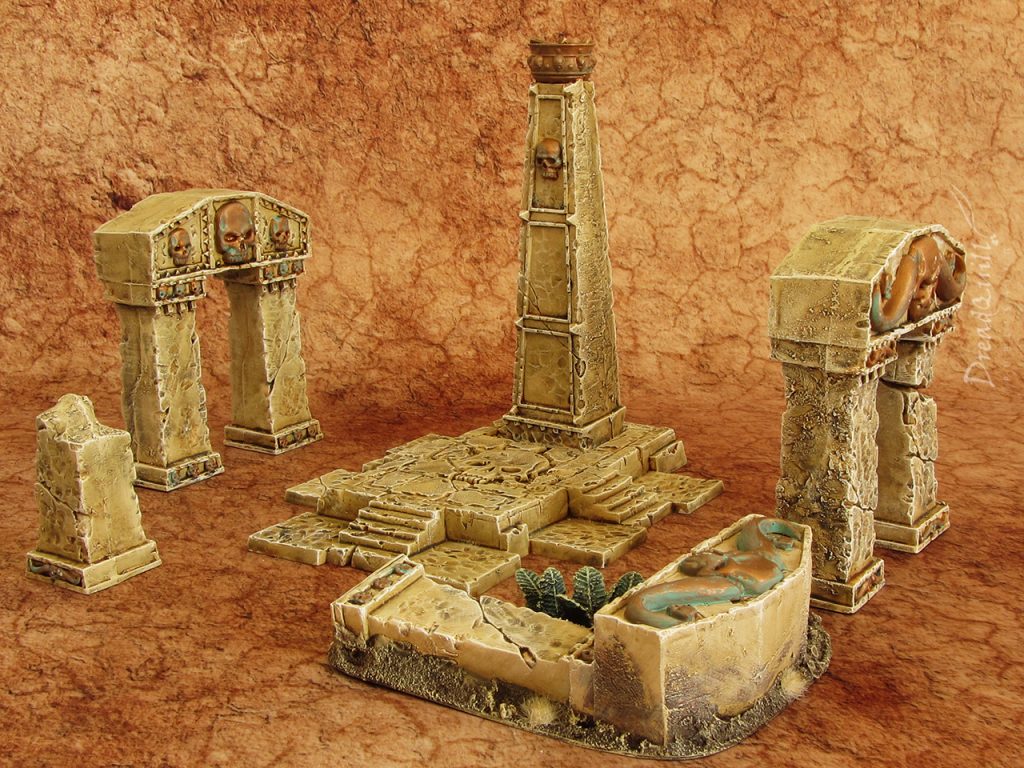 A final size comparison with an as-yet un-photographed mini – a Demeten Hastati. Again, more on those guys in a later post. The ruins make great cover!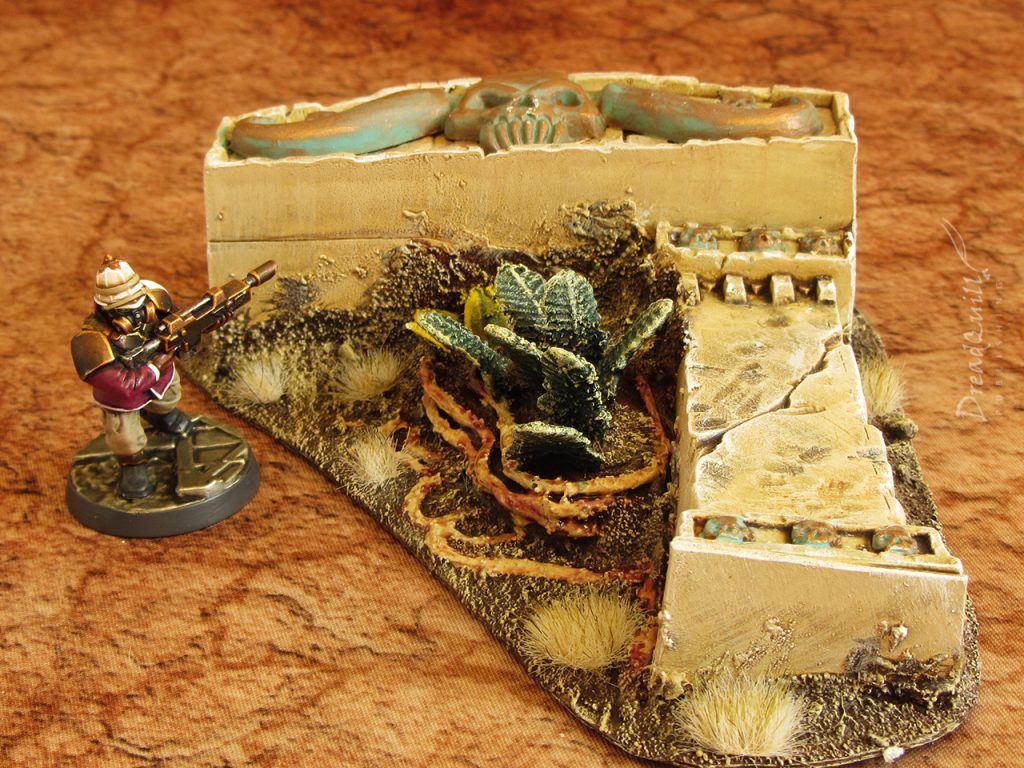 Very happy with how it all came out! For a weekend's worth of work, I got something striking and practical for the tabletop using bits that were just gathering dust. I'd been meaning to shoot them for some time, and with the new battlemat arriving, it was a great opportunity to use them as a backdrop for some other minis too.
Watch this space…