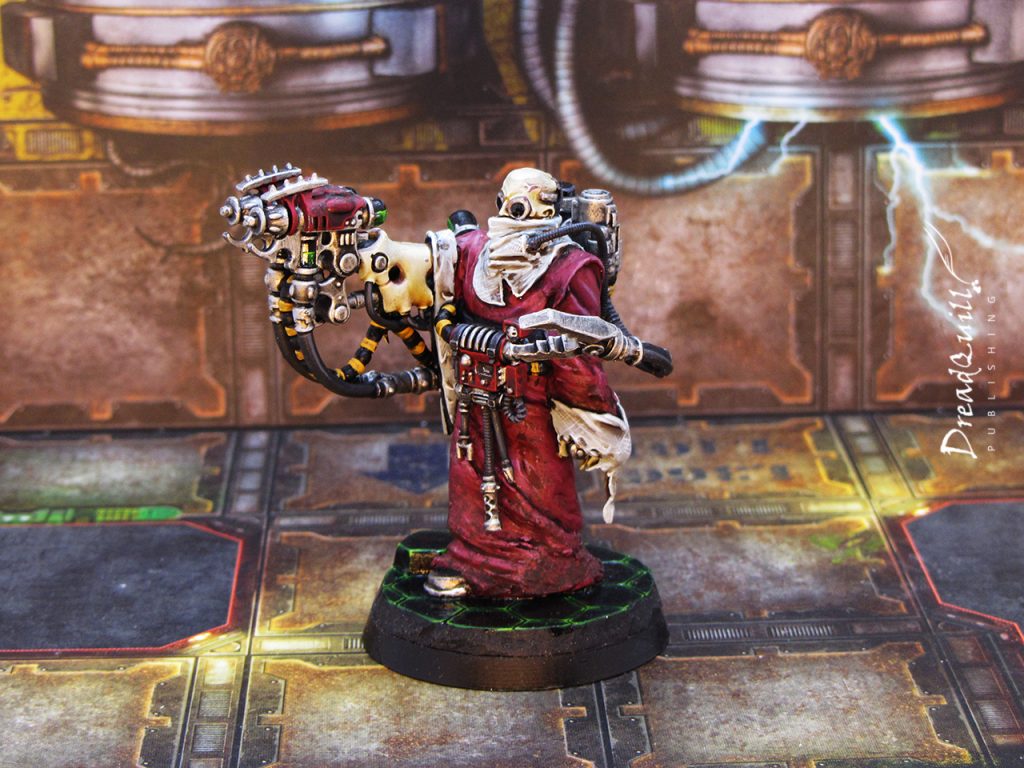 This is Genetor Vacillus, the second minion in service to the radical Magos Quinn from our cancelled Inquisitor campaign, the first being this big stabby chappy.
MAGOS BIOLOGIS WARBAND
The main antagonists of the campaign are a radical Mechanicus sect headed by Magos Biologis Lingus Quinn, who is very interested in ++++REDACTED++++ in the campaign. His hobbies include tentacles, electricity, and vats of green goo. He surrounds himself with prototypes, experiments, and like-minded tech adepts who can be trusted to not ask too many questions in the quest for knowledge. Vacillus is just such a like-minded tech adept.
Evolution of a miniature
Vacillus was one of the first models I ever scratch-built back in the noughties, starting life as just a head and an arm. You can tell how old it is, 720p was the native resolution for whatever device I took this photo on.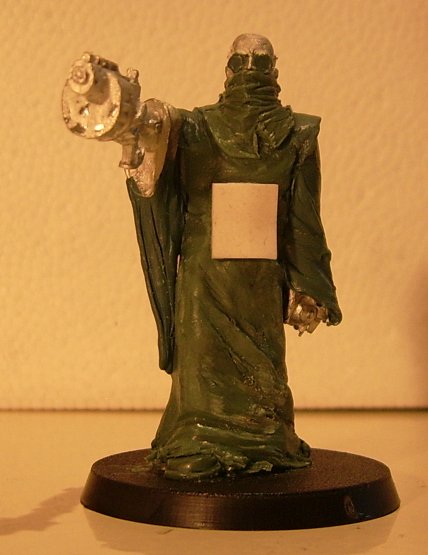 It was inspired by an iconic piece of imagery from the Inquisitor rulebook, and armed with a block of green stuff and some vaseline, I set to work.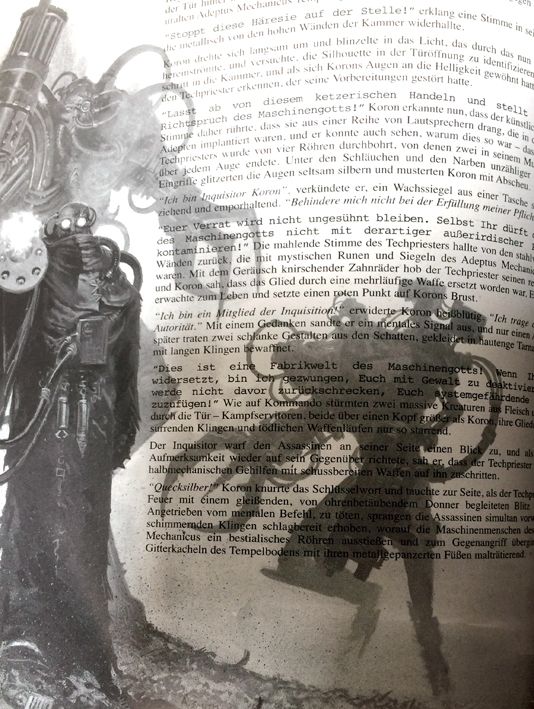 He ended up as a cool Adeptus Mechanicus character (originally called Lingus Quinn!) who worked for my own warband's Inquisitor. He ended up being the villain of so many games of Dark Heresy that he ended up splitting off from the Inquisitor to do his own thing, and his notoriety was born.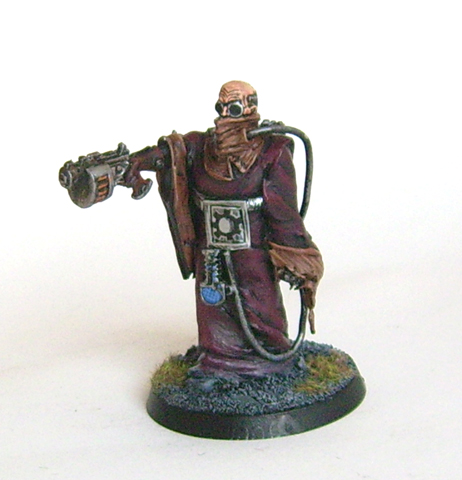 I wanted to keep the name but change the model for something a little more imposing, so old Quinn didn't have a purpose any more. I figured what could be more honourable than giving him a refurb and having him fight alongside his namesake?
To fit the theme he needed a few adjustments and a new paintjob, but I had plenty of Talos bits still lying around…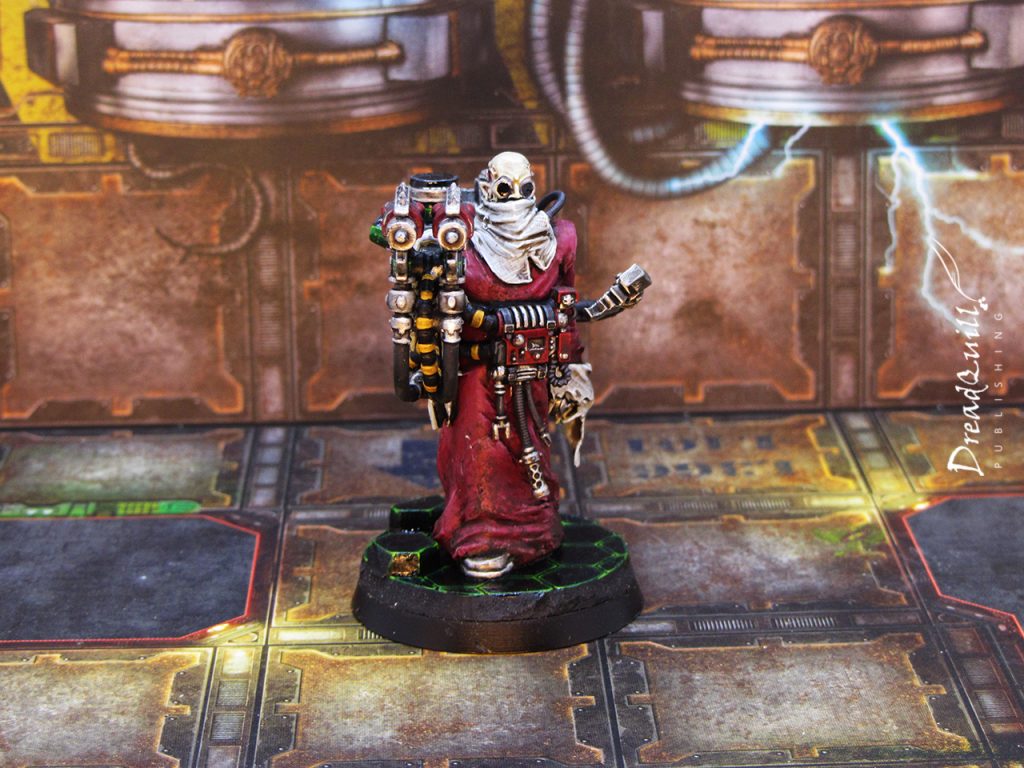 Waste not
This must have been one of those beginners' luck sculpts, as I've struggled to do anything as good as this since! Nothing needed changing on the body or left arm, I only wanted to swap his gun out for something more imposing and give him some new gubbins and cables.
I feel much more confident installing cables on models now, and I feel they give that added *chef kiss* to Mechanicus miniatures especially.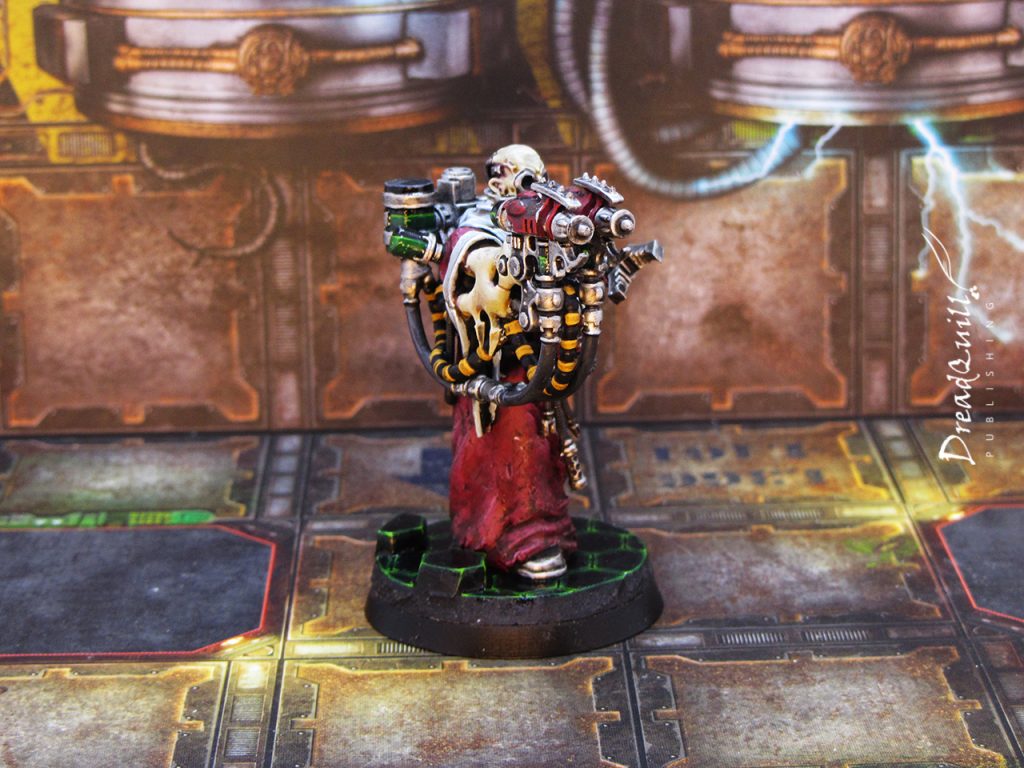 I'd picked up a few Talos kits in the past for various conversions – they are an absolute godsend for Mechanicus/Dark Mechanicum projects – and I had one of the cool goo-spitter arms handy.
I loved how it fit on his arm (once I'd popped off his drum stubber) and gave him a really weird "admin guy with prototype mega-stapler" vibe that I think perfectly suited the warband.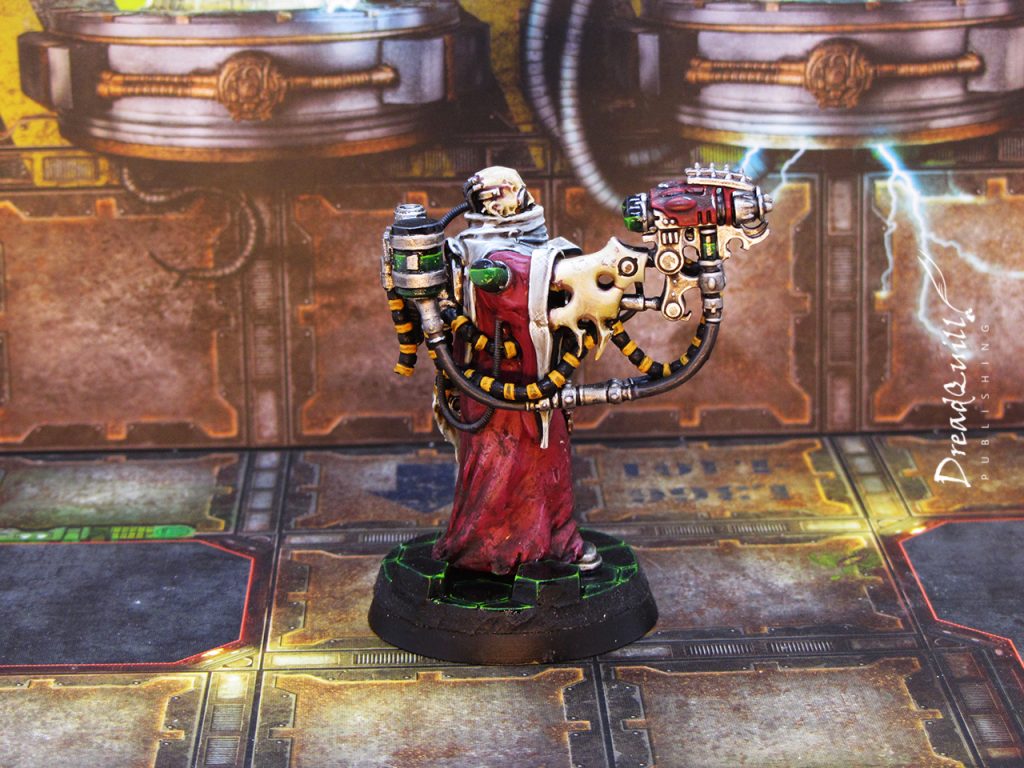 I added a few pipes and vials from the same kit, and used the Greenstuff World pipe roller to make the rest (which is another Mechanicus fan must-have).
I wasn't quite sure what would be in the pipes and vials, but they'd be painted the same eerie green as the Zeta-Phi Servitor's vials to help tie the warband together.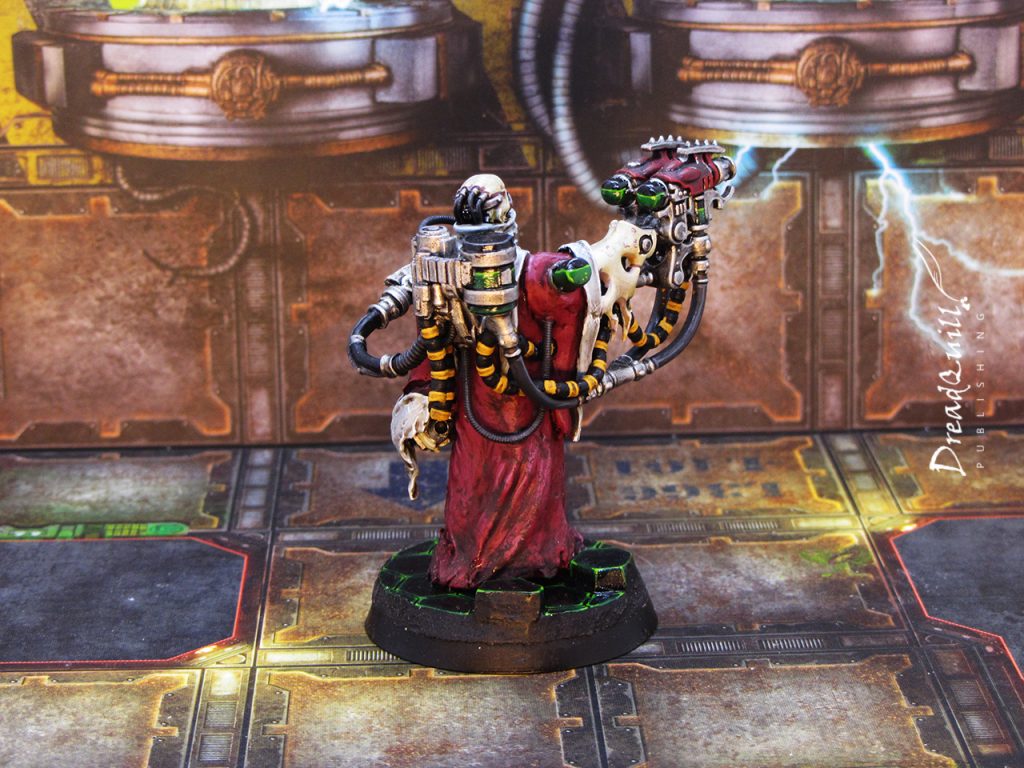 I was still on the fence about what the weapon would actually be. Initially I was thinking some kind of acid thrower, using a combination of the acid spit and flamer rules, but I was also toying with a Neural Shredder as they don't get a lot of table time.
Then my mind wandered into dangerous territory – perhaps it's an experimental mutagen that helps flesh bind with metal? He could act as handyman/medic for the servitor minions, while having a wicked spray weapon that could potentially prompt victims to roll on the minor mutations table… Is that too evil?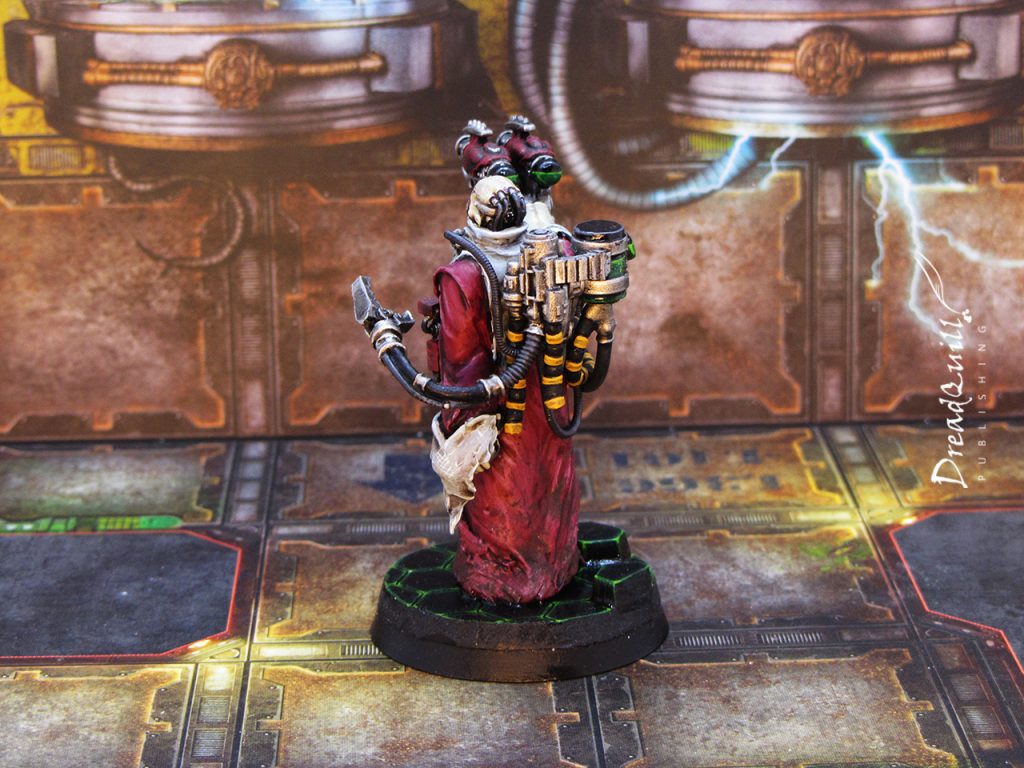 The backpack was made from some kind of heavy weapon platform from Anvil Industry, picked up during one of their grab-bag sales. It had a pleasing amount of greebles on it to look like a tech power pack with side tank/ammunition storage for his super soaker.
The extra mechadendrite is from the classic Inquisitor range, bent slightly to my purposes. It balances the model out nicely, and I figured he'd want more than one spare hand, what with the squirt gun taking up the entire right hand side of his body.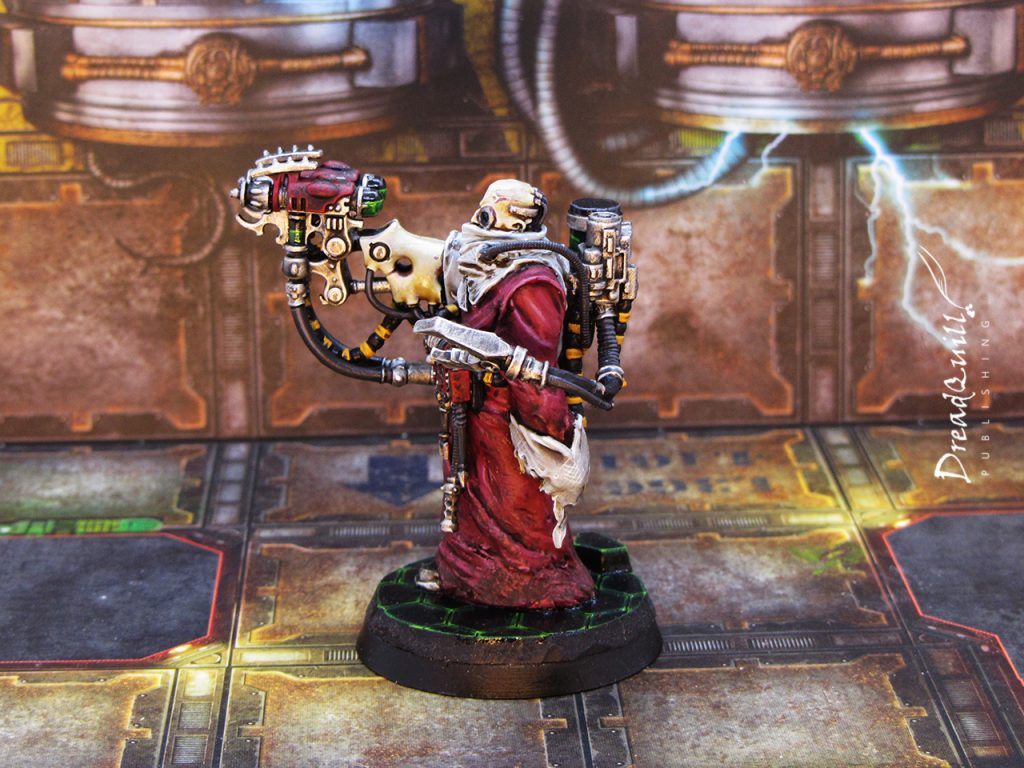 The power pack on his front is a backpack from the plastic Skitarii range, chopped down a bit to hide its origins, which gave him some nice detail on the front that would take paint well.
As for his paint job, I'd already done most of the hard work with the Zeta-Phi Servitor hashing out the colour scheme, so it was a simple job to apply that palette to this guy.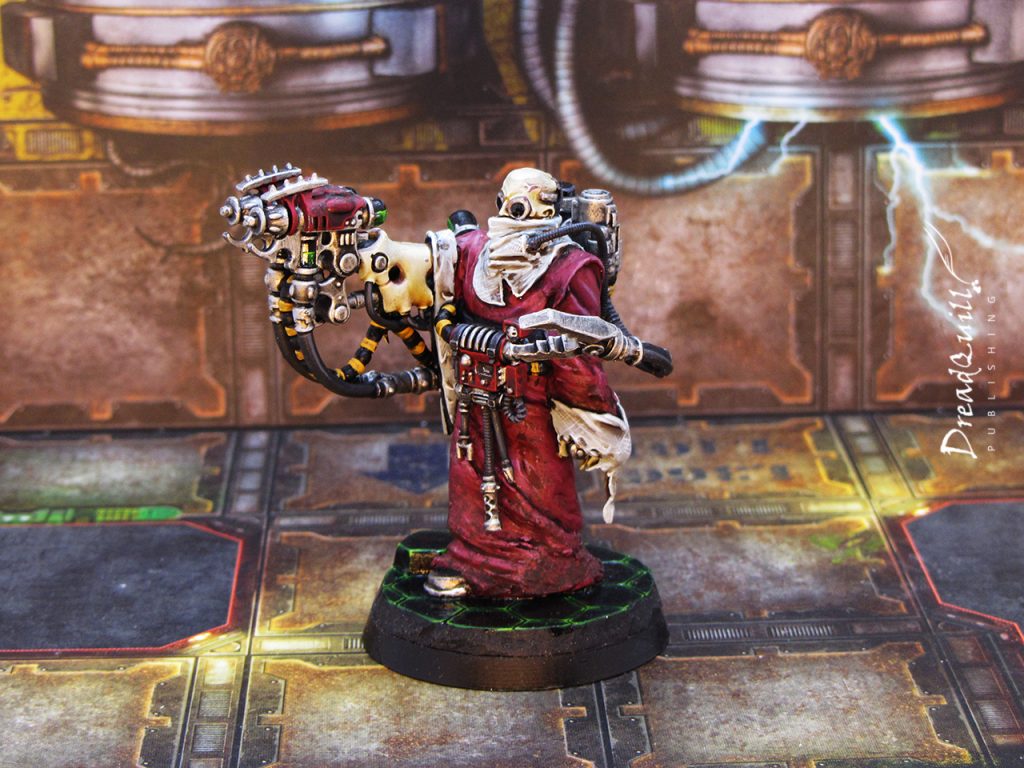 Conclusion
I'm very happy with how he turned out! It was a bit nerve-wracking taking apart one of my favourite models, but the glow-up he got was well worth the risk. I'm undecided about his backstory and main armament, but it doesn't look like the Backstreet Boys World Tour is letting up any time soon, so I'm in no rush. Plenty of time to playtest, methinks…