When our Inquisitor campaign was unceremoniously cancelled last year by the Back Street Boys' Reunion Tour, I never got round to displaying all the miniatures I had lined up. I wanted to keep them secret so I could do a Big Reveal in the campaign, but a year later, I've accepted that it could be another year before I'm comfortable back in a store setting breathing on each other across a table.
Time to showcase some more 54mm Inquisitor goodness!
Magos Biologis warband
The main antagonists are a radical Mechanicus sect headed by Magos Biologis Lingus Quinn, who is very interested in ++++REDACTED++++ in the campaign. His hobbies include tentacles, electricity, and vats of green goo. He surrounds himself with prototypes, experiments, and like-minded tech adepts who can be trusted to not ask too many questions in the quest for knowledge. One such prototype is the Zeta-Phi pattern Specimen Recovery Servitor.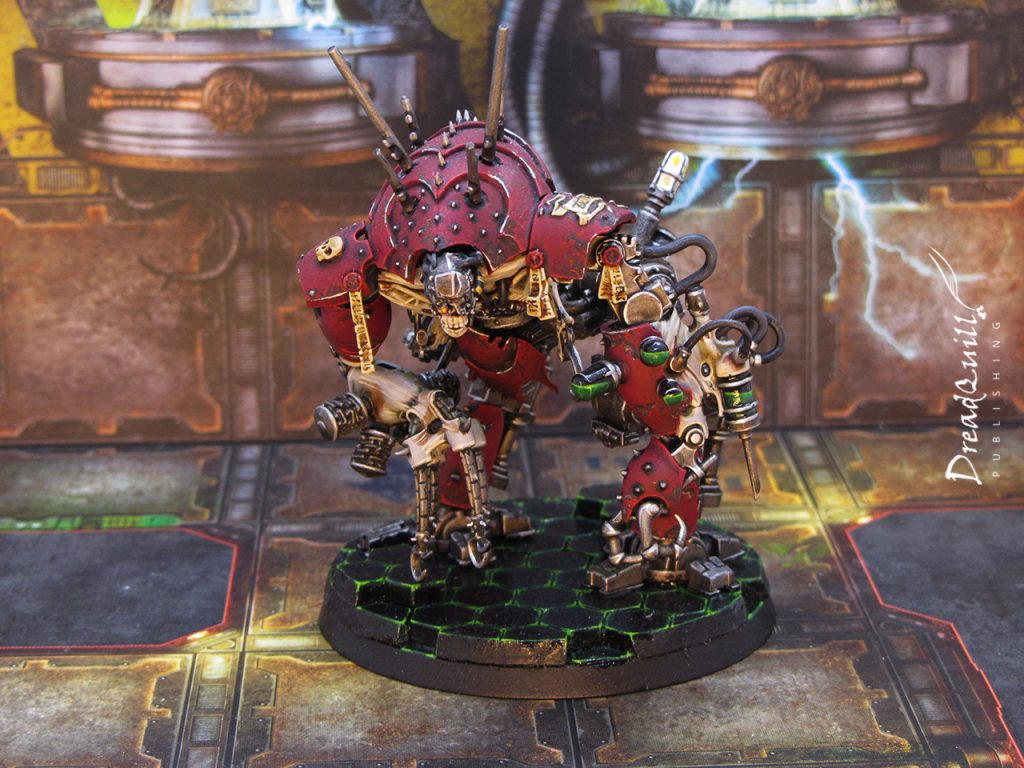 Zeta-pHi pattern servitors
Nicknamed "Beetle-backs" for their hunched gait, these now-proscribed servitors were pioneered by the Mechanicus of the Zeta-Phi Facility on Kreato to help with their studies of the native lifeforms. While nearly all the life on the planet is microscopic parasites, gathering the rare, larger speciments required something more advanced than a bucket on a rope.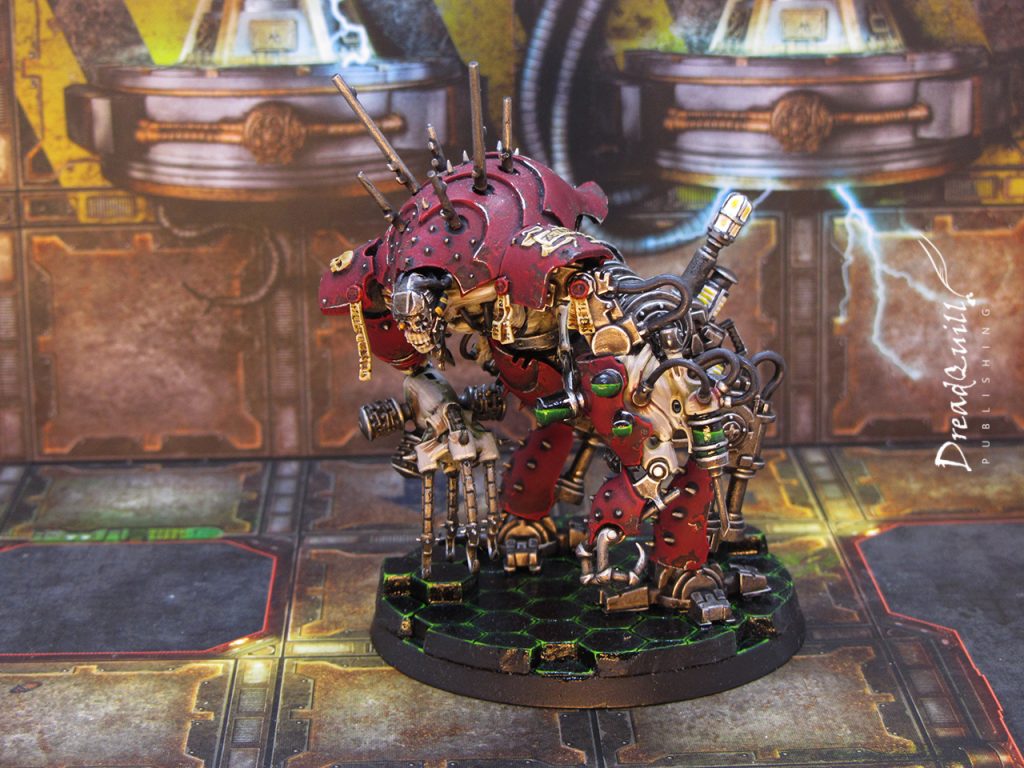 The planet's constant lightning storms make long-range communication unreliable, so the Zeta-Phi Facility built their recovery servitors to work alone or in packs, independent of constant commands. They were built with dozens of failsafes, self-repair protocols and armed with non-lethal capture tools, so in the most cataclysmic of circumstances they would hurt nobody and/or simply return to base.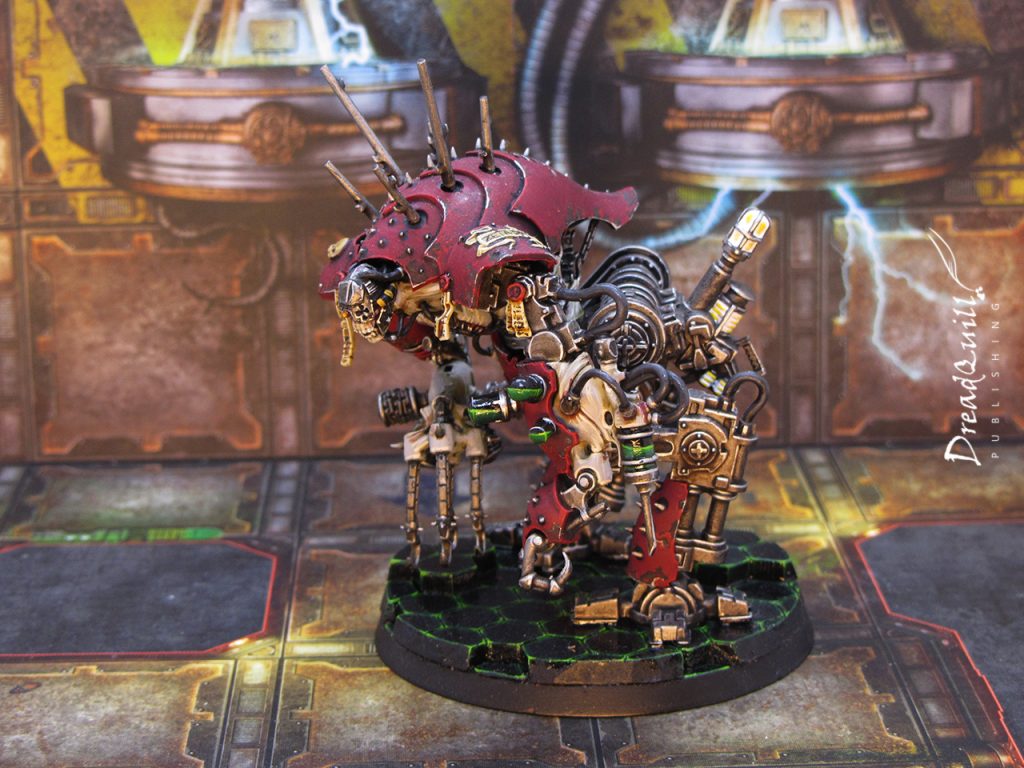 Tragically, the facility was targeted by radicals looking to destroy their research. Something about "you can't put parasites in our food to make us work harder". The radicals introrudced a mind-rusting agent to the facility's organic noospheric network, polluting the machine spirit of the facility.
The only place that remained untouched was the generatorium deep beneath the facility – the plasma glow apparently staving off the worst effects of the mind-rust. The Tech Priests began to die off, and the Beetle-backs started saving them the only way they knew how.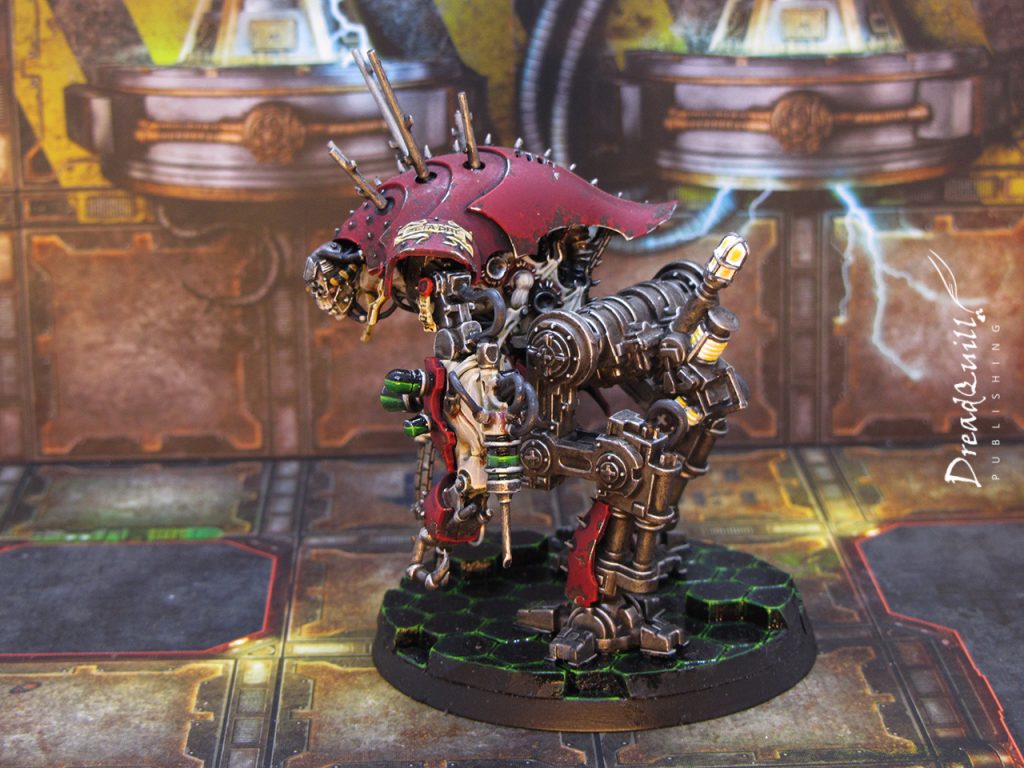 One by one the living Tech Priests of Zeta-Phi were subdued and grafted together in a horrifying pillar of flesh, suspended above the generatorium. They were alive in the strictest technical sense, but their suffering bled back into the noospheric network and overrode the facility's mindrusted defenses. The Zeta-Phi facility gained a tortured sentience and sealed itself off from the world while the servitors continued to keep it alive.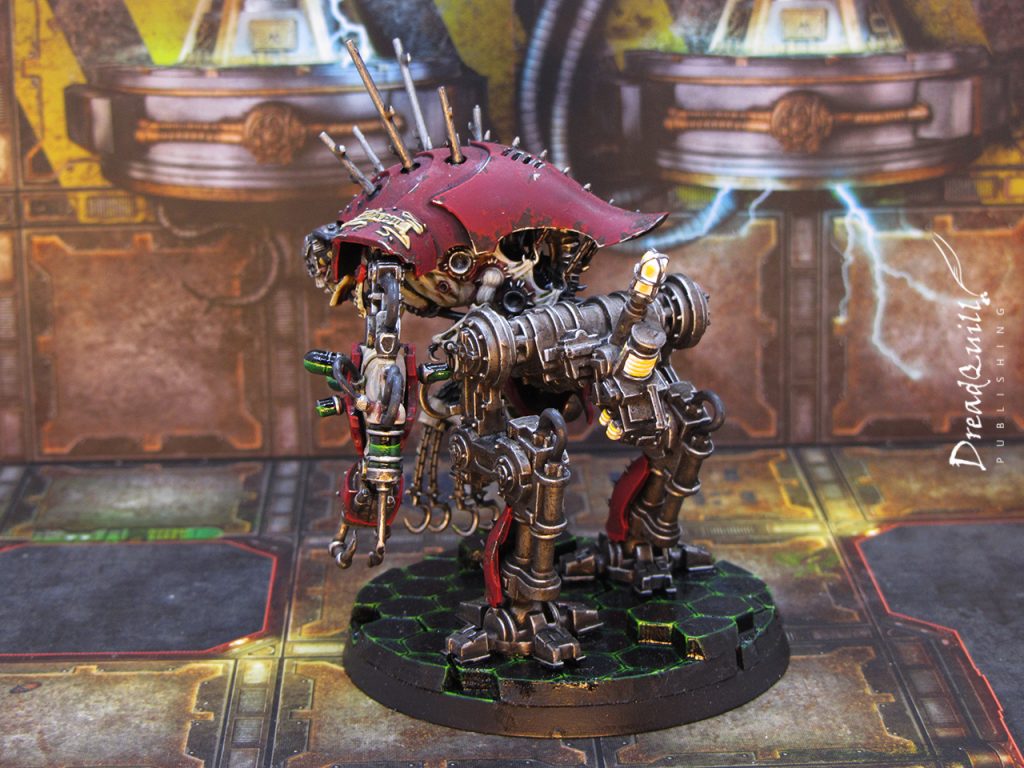 An Inquisitorial purge was lead into the facility a year after this tragedy occurred, burning out the mind-rust and destroying the flesh amalgam and its servitor carers. All the Zeta-Phi pattern servitors were proscribed for their abhorrent behavious and all were scheduled for incineration.
In an unrelated turn of affairs, a subsidiary of Quinn Enterprises was negotiating the contract to handle logistics for the incineration. The errant servitors were shipped off by the subsidiary, and although conflicting reports arose of delays and an additional stop-off en route to their destination, the servitors were reported as destroyed.
These machines would serve Magos Quinn's interests perfectly.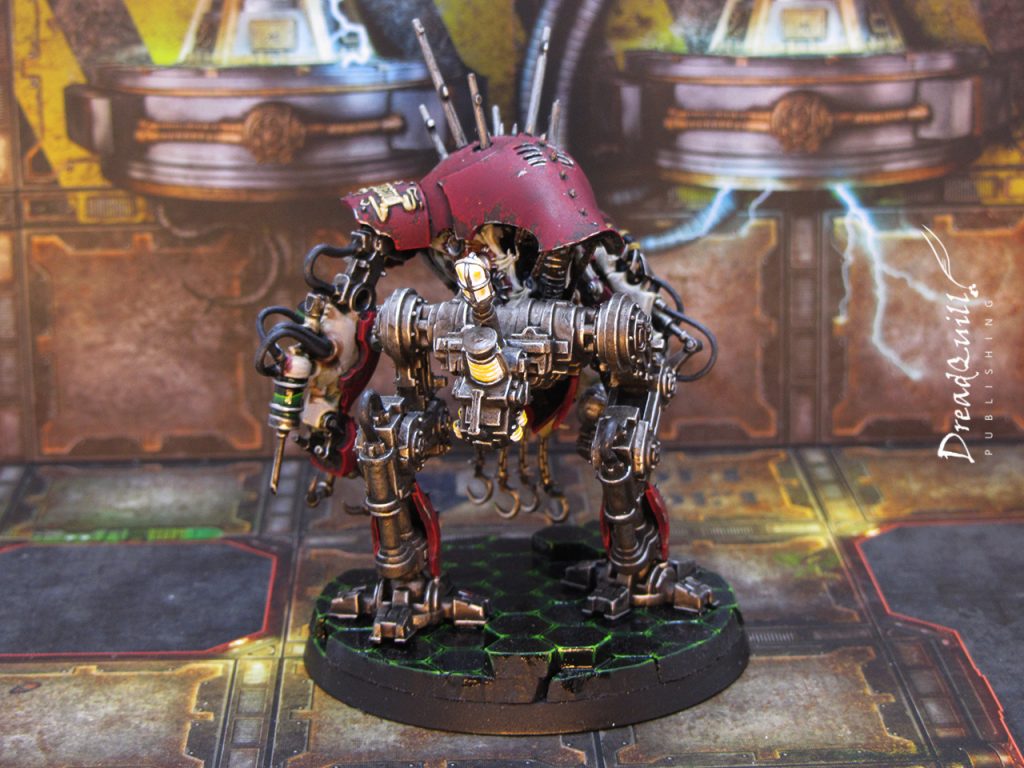 Building the beetle-back
For my sins I have failed to get any WIP shots of these creations, so I will break down the parts as best I remember.
The bulk of this servitor is a plastic sentinel and plastic Talos kitbashed together. The legs are from the sentinel, with Talos arm-plates over the shins, and joined at the spine to the Talos body and arms.
A beacon objective marker from the Battle for Macragge box set served as a power generator and tail analogue to help balance it out a bit.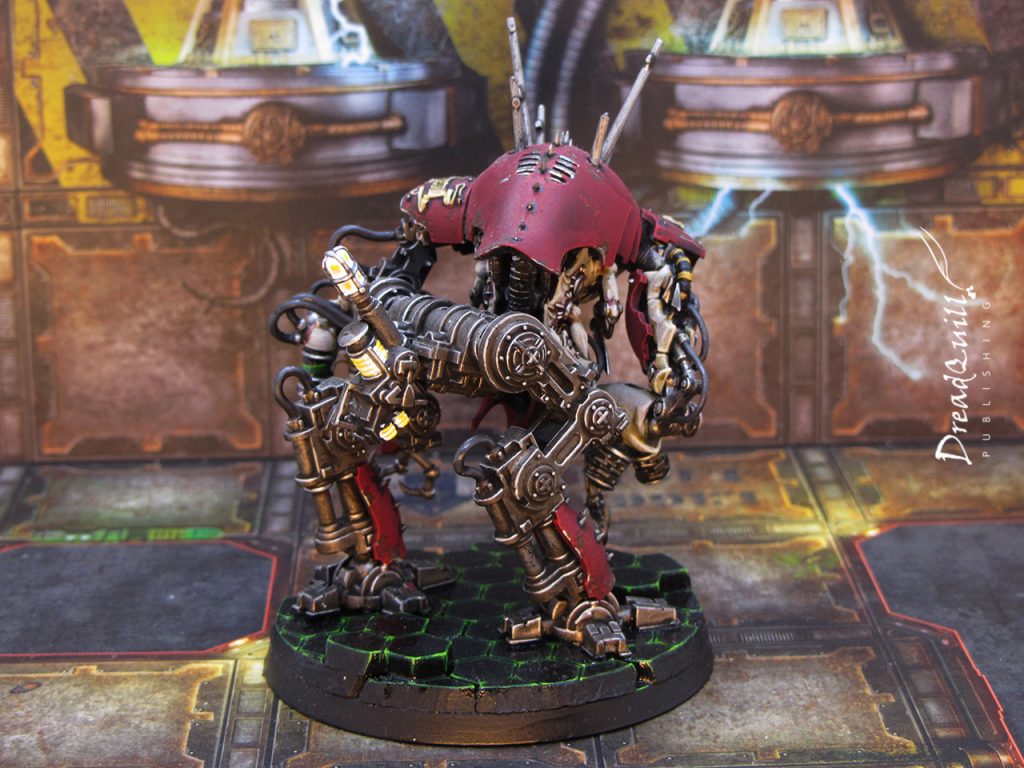 The upper half is almost completely from the Talos kit. The arms were reshuffled a bit to fit more naturally on the shoulders, and the left arm had to be rebuilt with some mystery greeble from my bits box as I'd already used the other upper arm on another project (tune in next week!).
The only Inquisitor bit used was the head – an arco-flagellant head from the Simeon 38x expansion kit with the horn filed down. A few purity seals and Imperial shoulder-pads secured the "Imperial but only just" look I was aiming for.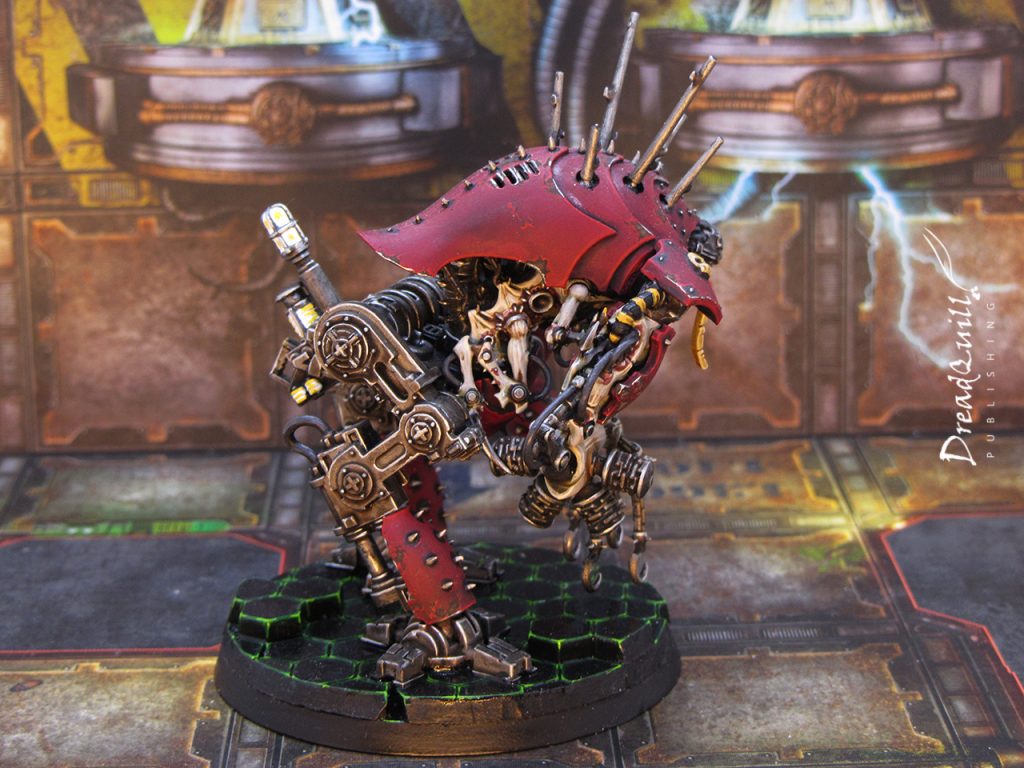 The base is lasercut MDF – not the ideal material to work with for a base, as its extremely porous surface makes it hard to get an even flat coat when trying to do something Necron-adjacent.
TTcombat have since discontinued this line of bases and are doing far more impressive resin versions, which I would have opted for had I started this project today, rather than a million years ago.
Armed and dangerous
This is an imposing figure, looking an Inquisitor-scale miniature in the eye, and I wanted its armament to be equally imposing. Both straight from the Talos kit, it's equipped with a barbed grappling hook hand and a large injector needle filled with vials of green goop.
It would be easy to make a servitor with heavy armament, but I wanted this giant to be (relatively) gentle, using a range of non-lethal tools to take down opponents.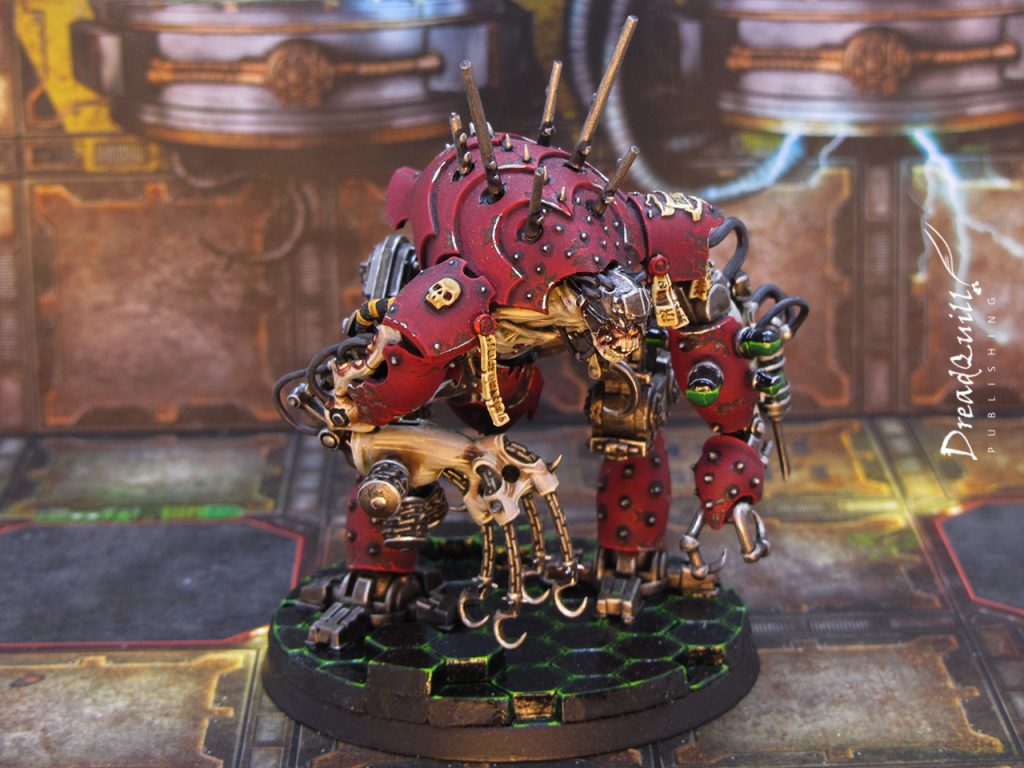 It's not been playtested yet, but the general idea is the hook launcher would be a melee/short ranged weapon of 6″-8″. The servitor would cast it out like a fishing line at an intended target, digging into different locations to make it tricky to remove. It then reels the target in, delivers a cocktail of pacification drugs, and slings the target over its back to take home.
Although it would be a powerful (and difficult to kill) character on the tabletop, its "power" is tempered by its focus. It aims to neutralise a single target and leave, avoiding the armoured rampage that many powerful servitor characters tend to gravitate towards in Inquisitor.
Debrief
I'm extremely happy with how this project came out. It was something I visualised for a Dark Heresy campaign of yesteryear and brought to the material world through plastic kits. I'm very excited to get to play with it (whenever that will be…) and even more excited to show off the whole warband together.
I just need to dial in my lightbox setup a bit…