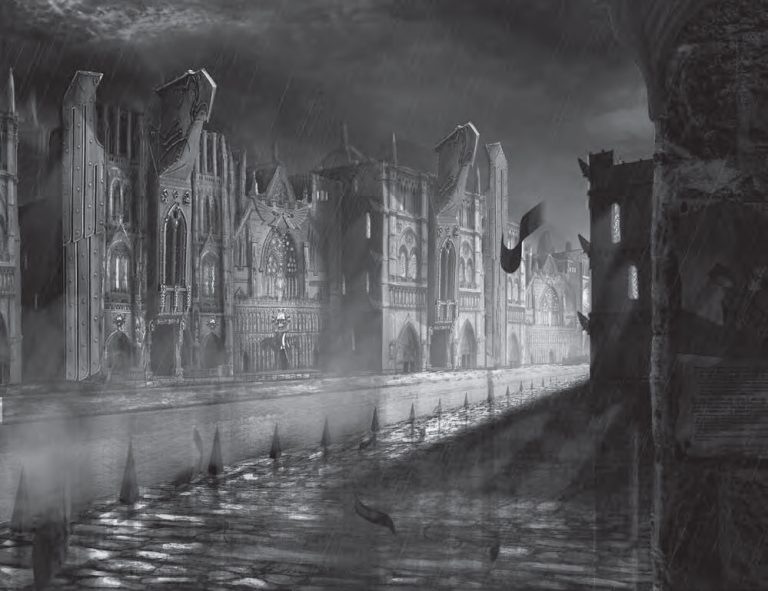 It is 1pm in the afternoon on the Celestine Wharf. It is raining, and the river carries the strong sense of mould. This man-made dead end of foul-filmed water is shadowed by the close press of warehouses from which loading spars spill their rusting chains to water at high tide.
The docks here are long unused and its bays are crammed with rusted cargo barges, while its warehouses are reputedly the haunts of dregs and gangs.
You had spotted some scum unloading cargo from an armoured motor-skiff on the corner of one of the docks. Questions turned to threats, and when the team's face draws a hold-out dueling pistol worth more Thrones than the entire cargo of the ship, avarice overcomes the thugs.
At the boiling point of the exchange, you hear a deep guttural roar from around the corner of a warehouse.
"WHO'S ASKING QUESTIONS ON MY WHARF?"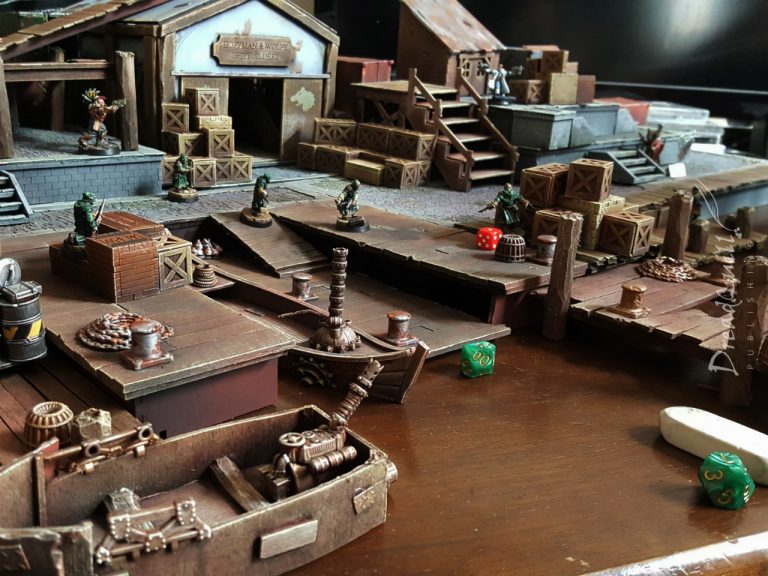 an investigation on the wharf
Alongside the adventures of the Orthesian Dynasty, I also have a long-running game of Dark Heresy that meets up once every 6 weeks or so to continue a five-year-long campaign that has spanned multiple planets, systems and characters in an investigation into the cursed Samarra bloodline.
They are currently in the province of Syracuse Magna, a rotten, sodden place where the criminals act like nobles and the nobles act like criminals. You might have seen a previous session on the Canals of Syracuse Magna.
I have used scenery in Dark Heresy before, but this was the first time I've used a full-blown game board to represent our scraps. They probably taken an extra hour so to resolve (2-3 hours per fight), but as we get together for an 8-hour session every month or so, we think this is an acceptable use of the time. It's a great scene-setter and we get to have wild fun swinging off the scenery and lobbing firebombs around.
The previous session ended on a "Roll for initiative!", so we were launching straight into a combat. It gave me time to set up the board before people arrived, so I could get everything just so. It meant, however, I needed some more watery terrain tiles to better represent a wharf rather than the canals from the previous game.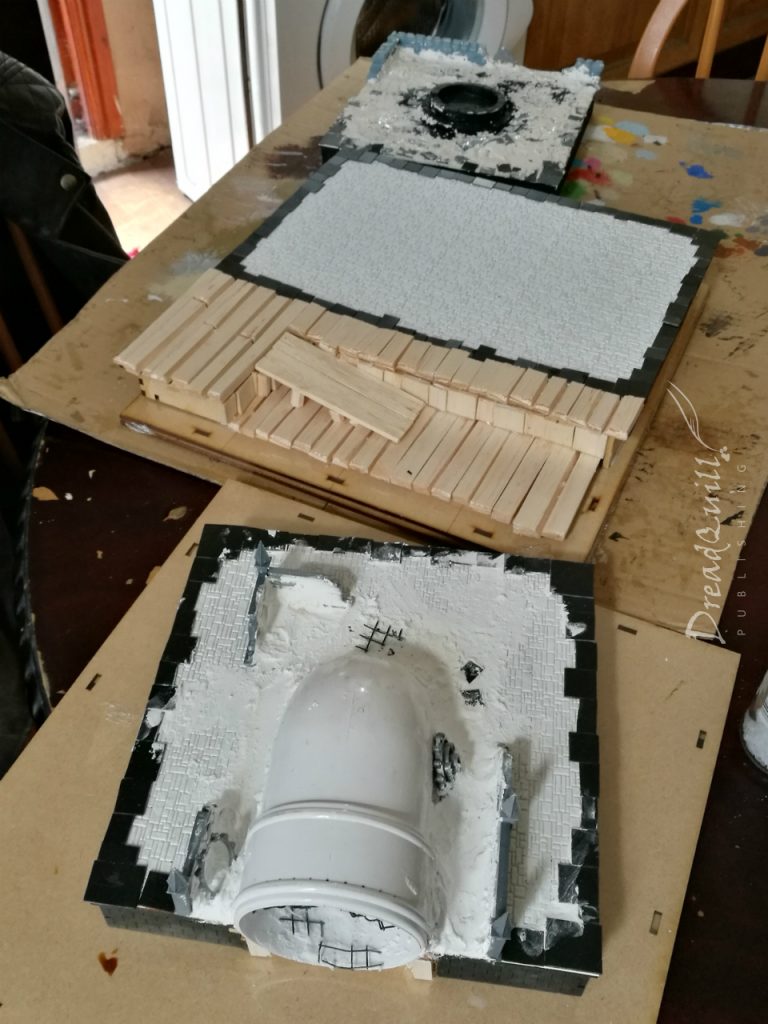 Building the wharf
Luckily a lot of my work was already done for the canals fight, so this would just be set dressing. I still had a lot of tiles from TTcombat left over, so I upon them with a coping saw to make some different levels of tile. I had lots of 'plain' boards, now I wanted some fancy piers, loading spars, rickety wooden structures, that sort of thing.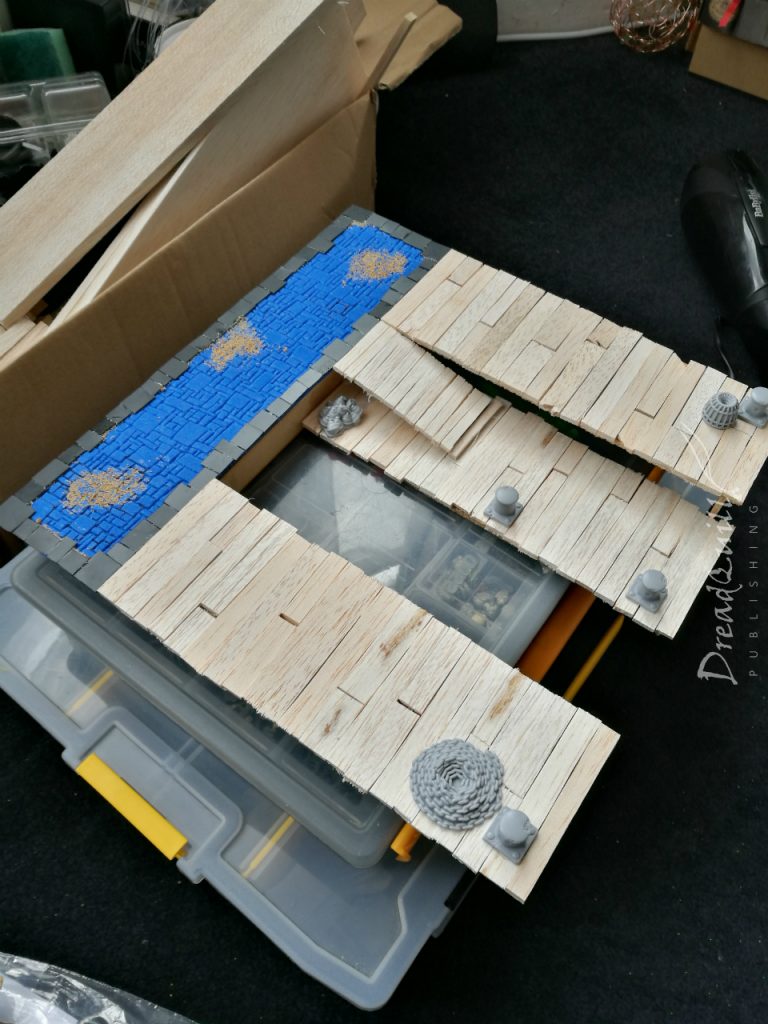 I cut a large U-shape out of the centre of this one so it would still tessellate with the other tiles, but would still be obviously a loading dock.
I picked up a bumper pack of balsa wood from ebay for a tenner a while back, and pressed a lot of it into service to make the docks. I really, really like working with balsa wood, and will likely find some more excuses in future to use them…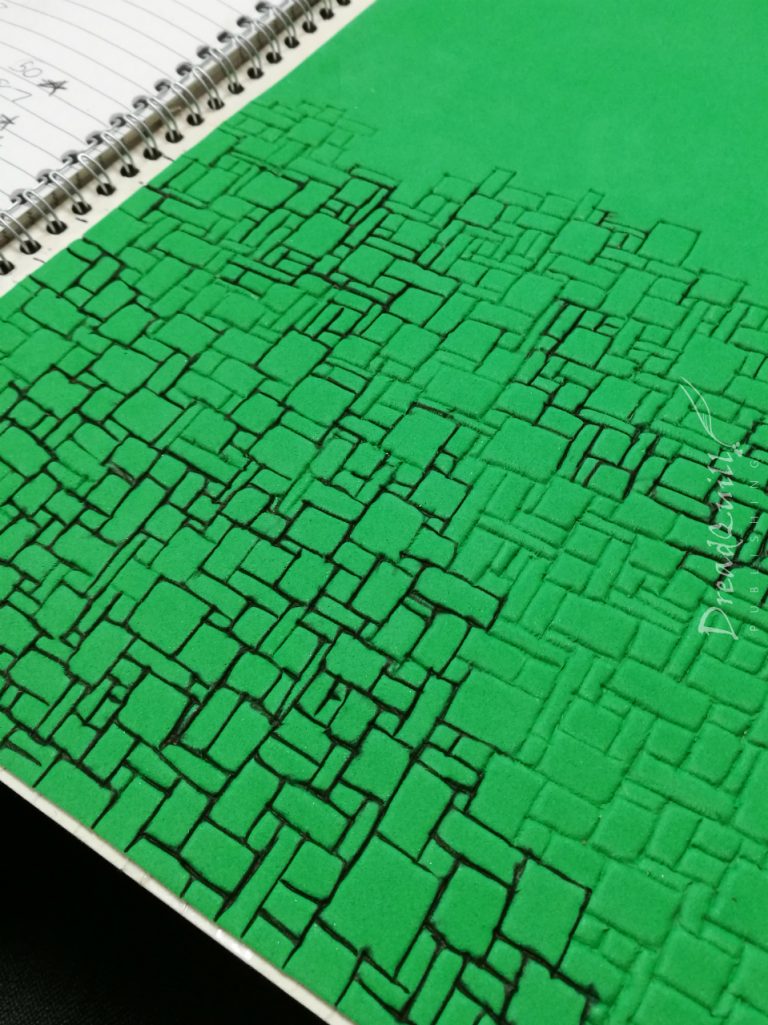 Less practical was my cobblestones. In a moment of panic before the first session I bought some foam and hand-carved the cobblestones with a bunch of broken biros. This had some pretty awful effects on my hands as I whinge about here, but I didn't really have any alternative to continue the style for these new tiles.
Luckily there was way less coverage required as most of the tile were covered with loading bays or wooden decking, so I only had to do one A4 sheet rather than the five I did for the first project. I had also picked up some pricey textured plastic A4 sheets with cobblestones on, that I had originally planned on covering the entire boards with.
This, unsurprisingly, turned out woefully impractical and hella expensive, so it was used whenever I couldn't be bothered to cover another small section of hand-drawn cobblestones and to add a bit of variety.
I also had a fewer smaller tiles that I had planned on using as risers, placing them on top of existing tiles to create height variance and all sorts. They weren't appropriate for the dock, but I figured I might as well sort them out alongside everything else, as future Rob will inevitably have other bullshit to sort out at the last minute.
Then it was on to building docky bits!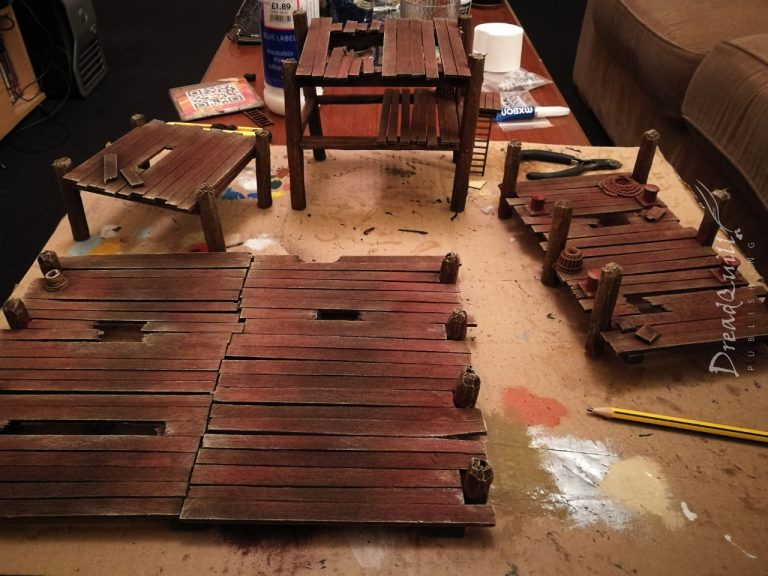 I really enjoyed this part. There is/was a potential for combat to occur in the Sinks, a section of District 13 that is several metres underwater from flooding and mudslips, so the Sinks residents have rebuilt their shanties on top of the old town. I had a million and one large-scale projects I wanted to do for those, but I couldn't justify it just yet as I wasn't sure if the investigation would even go there at all.
As with everything I make, versatility is a must. I have too many large scale project ideas to allow myself to run away with something that will only get used once.
These dock parts were assembled entirely from PVA, balsa wood and wooden cocktail sticks for pinning. They needed to be both docks (for the Wharf fight I knew I had planned) and usable as other things in a pinch – rotten scaffolding around a large church or walkways on the submerged parts of town were just a few ideas I came up with.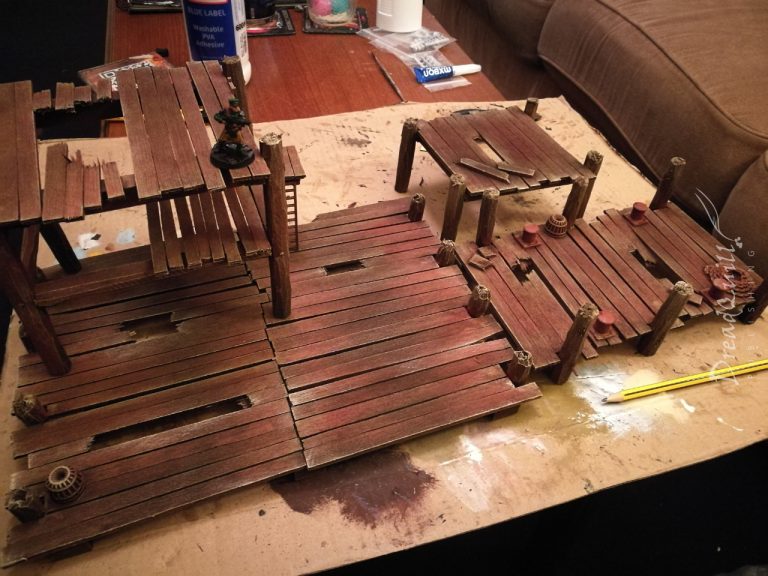 These were painted in the same way as my other wooden sections to keep some semblance of uniformity. They were undercoated Black first, then given a dusting with a reddy-brown rattlecan. Everything was then given a drybrush with a light brown – I often forget what I used previously so this time it was Zandri Dust. The final highlight was a light edge drybrush with Rotting Flesh (which I'm not sure of the modern equivalent) – a very light brown with a greenish tinge.
Both the stone sections and wood sections were given a final light drybrush with Rotting Flesh instead of a light brown or white. The themes for Syracuse Magna are entropy and decay, so it was only fitting that everything was painted to look like it was dying.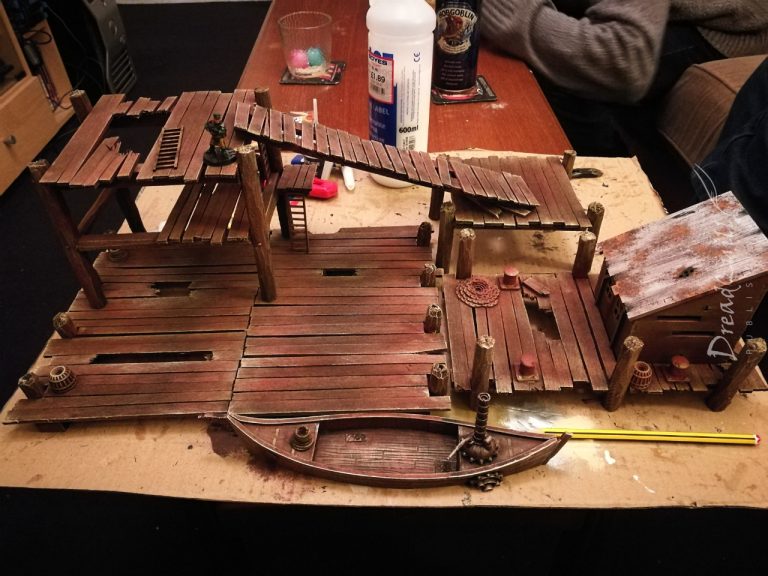 All together I've got quite a haul! My favourite part is how compact it all becomes once its disassembled – way easier to store and with so many more permutations than a regular solid board.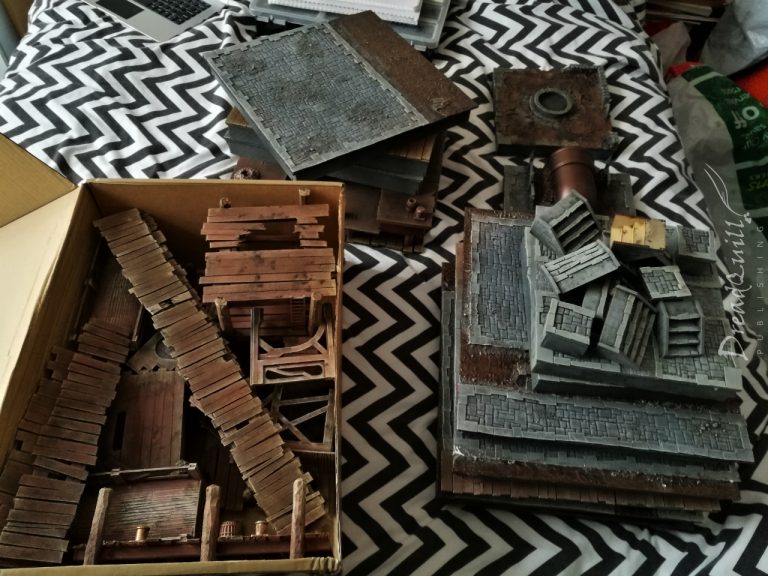 Showdown on the wharf
It would be mean to not have some kind of battle report on this lovely set of scenery, wouldn't it?
Although highly inaccurate, and based off more what I can remember from the pictures taken, here's more or less how it went down.
Pictures vary in quality and subject matter because I asked my players to take photos too, as I always forget to do so about halfway through the game.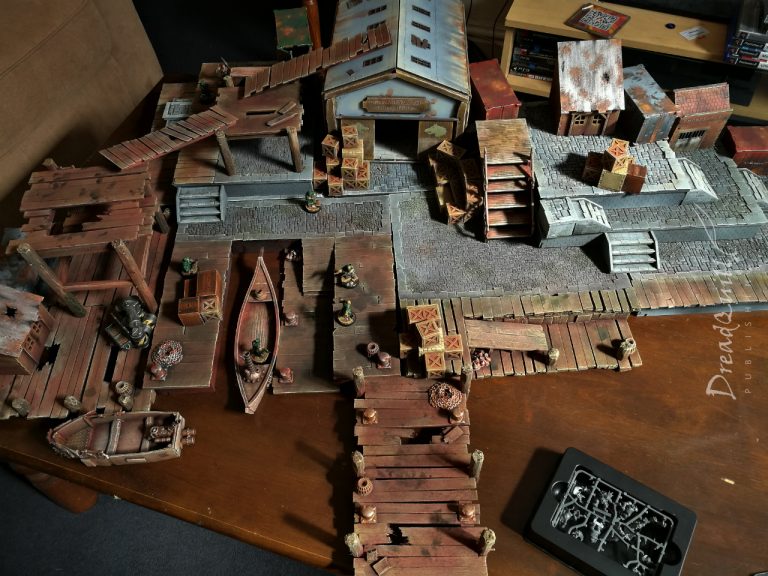 The scene is set, including some Blood Bowl goblins one of the players was dropping round for me.
The players will enter from the right. The Undertow thugs are already present on the Wharf, unloading their cargo from a motor-skiff. The players don't know (or care) what's in the cargo currently. Probably criminal stuff. Didn't matter – it wasn't pertinent to the investigation. It was time for beef.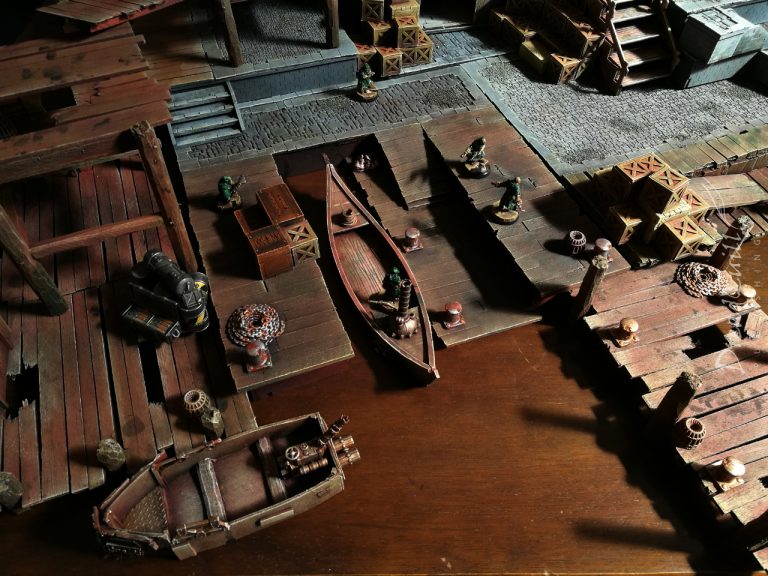 Had some pretty harsh light streaming in through the one window. There were five thugs present on the Wharf already, and the roar came from the Wharf Boss who was coming in from the left top corner of the board (from around the warehouse) with another two thugs.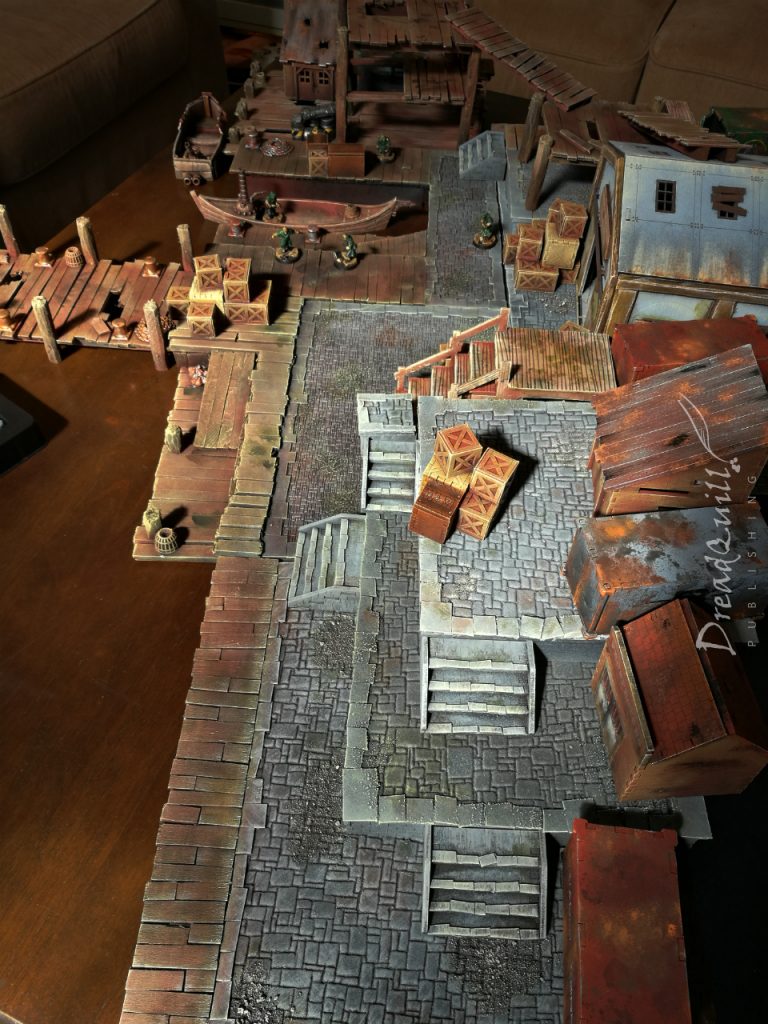 The party is investigating some brutal inhuman murders caused by some strange undead killers in bird masks, and a few leads pointed to there being some answers around Celestine Wharf.
The party had just stepped off a boat from further up river, where they had had to make a hasty retreat from a bar fight that went sour. The Cleric drowned someone under a table, the Adept got off her face drunk on mudder's milk and the Arbitrator killed their only witness with a throwing axe.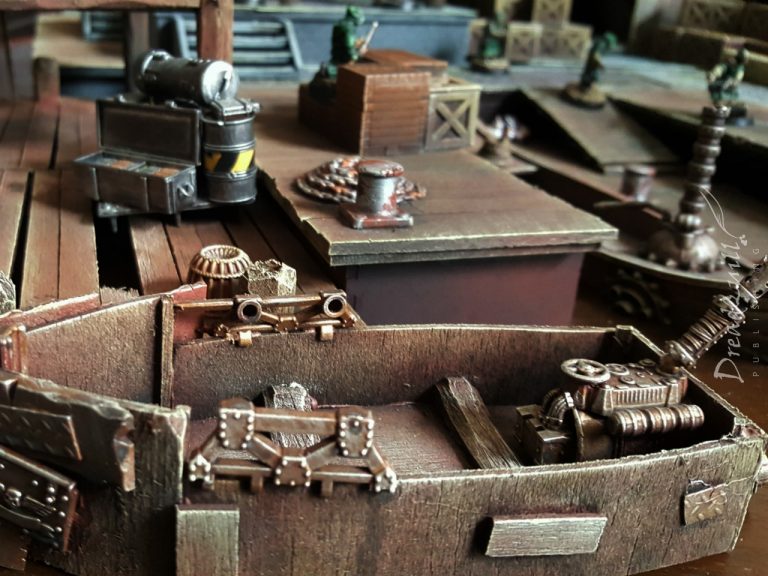 The previous session ended with the scum spotting some criminal activity down the wharf – just some crims doing crim stuff. The Cleric was draped in the passed-out Adept and was till picking chunks of her vomit out of his beard when the Scum strolled straight up to the criminals and demanded to speak to the person in charge.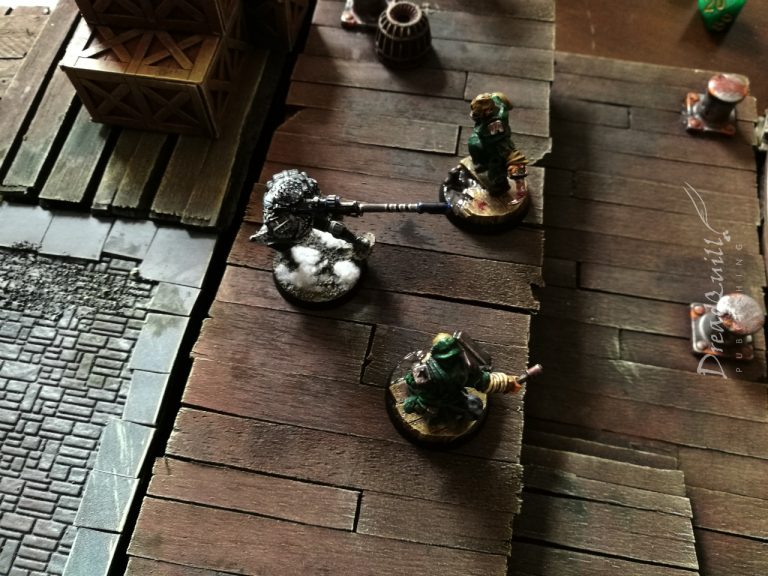 "Hello fellow criminals, what a good day for crime"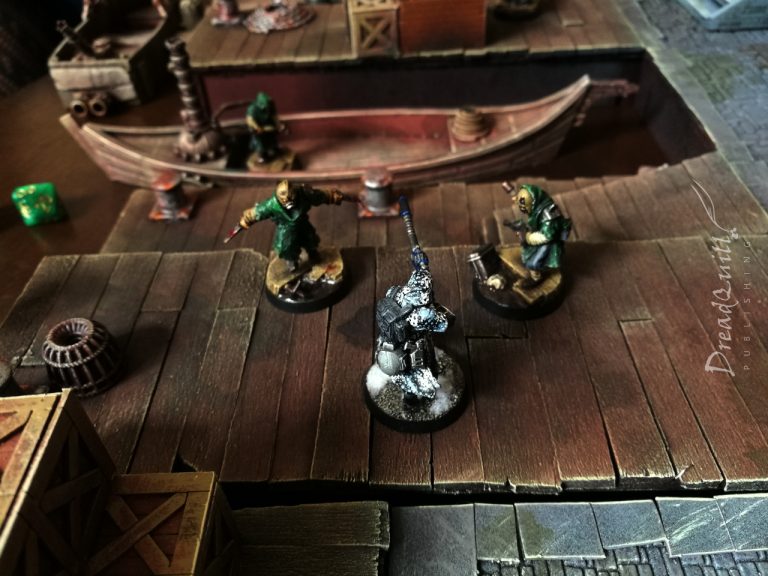 Being criminals, they were more than happy to roll on their boss in exchange for cash. The Scum was upset at that concept so drew his duelling pistol and repeated his question. The sound of players rolling eyes was audible.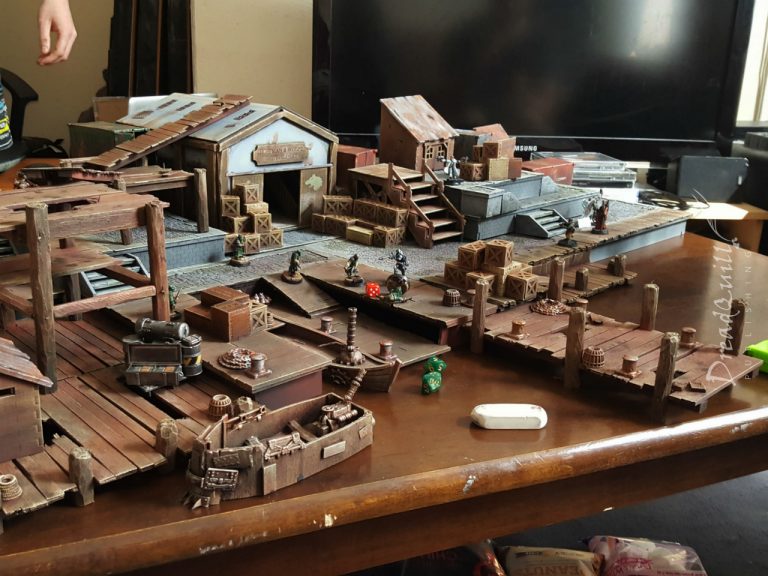 Initiative was rolled. The Scum went first and, as a man of his own flexible word, plugged the first criminal clean in the head.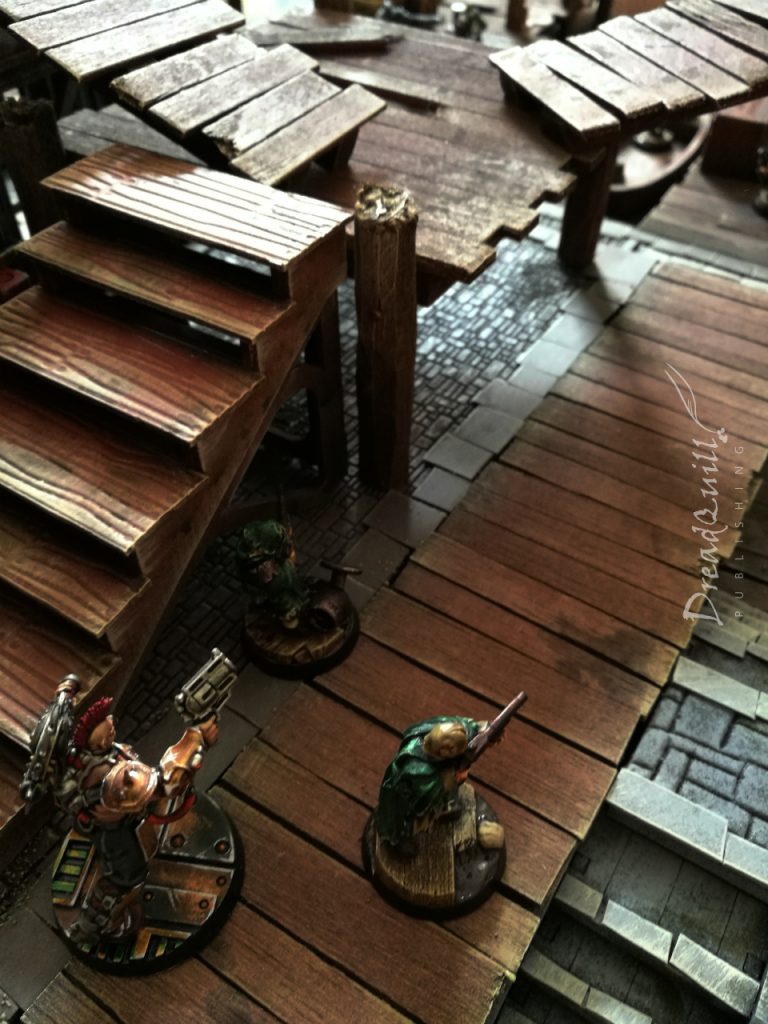 As the Wharf Boss took his turn, the gravity of the situation sunk in. He's a Named Character with a big-ass axe. Better not let him… axe me a question.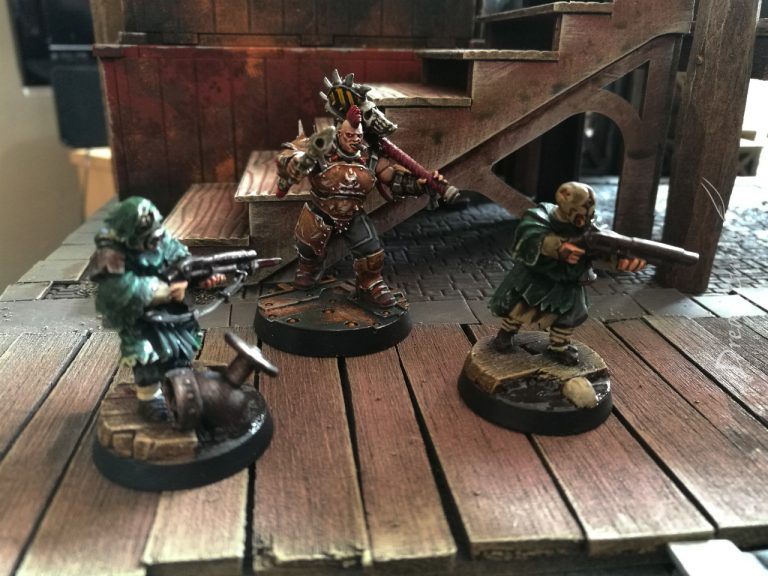 The thugs here weren't prepared for a brawl, so only had what they were carrying on them. A handful of autopistols and shotguns, one of them carrying firebombs as backup. Their plan was to pin and disrupt everyone until their Boss could get round to axing them to kindly leave.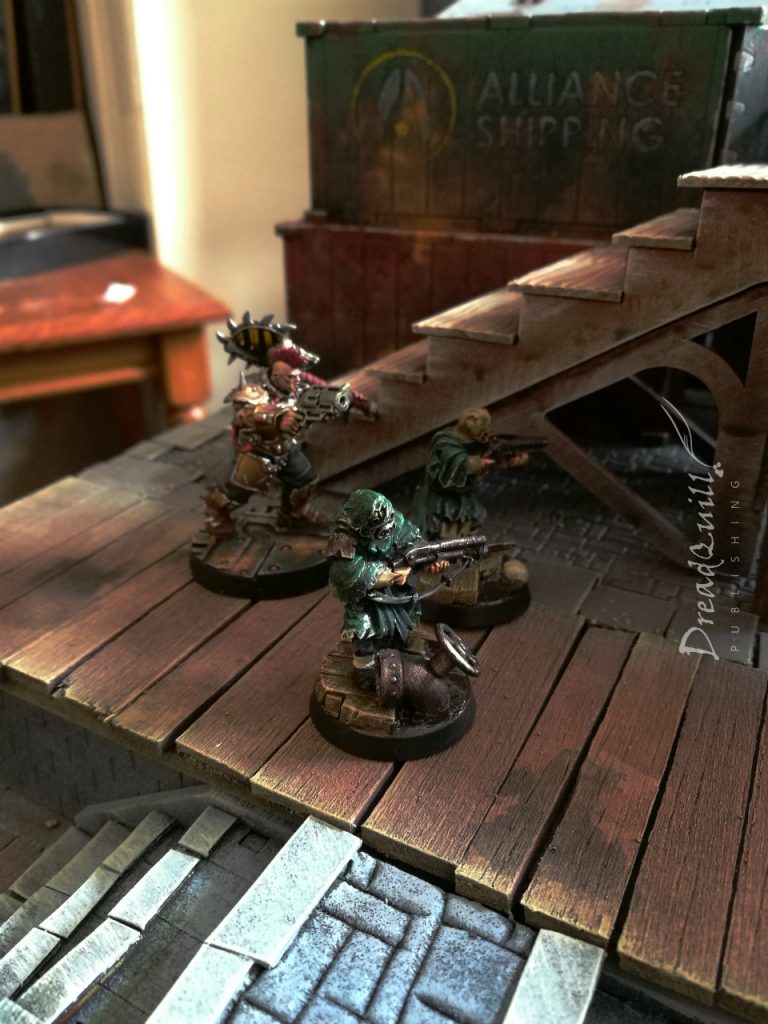 The rest of the team were following up the rear. In the picture below, we have the Guardsman, the Arbitrator, the Techpriest (who was the Cell's Primus – their elected leader), the Cleric (represented by fabulous cardboard cutout) and the Adept.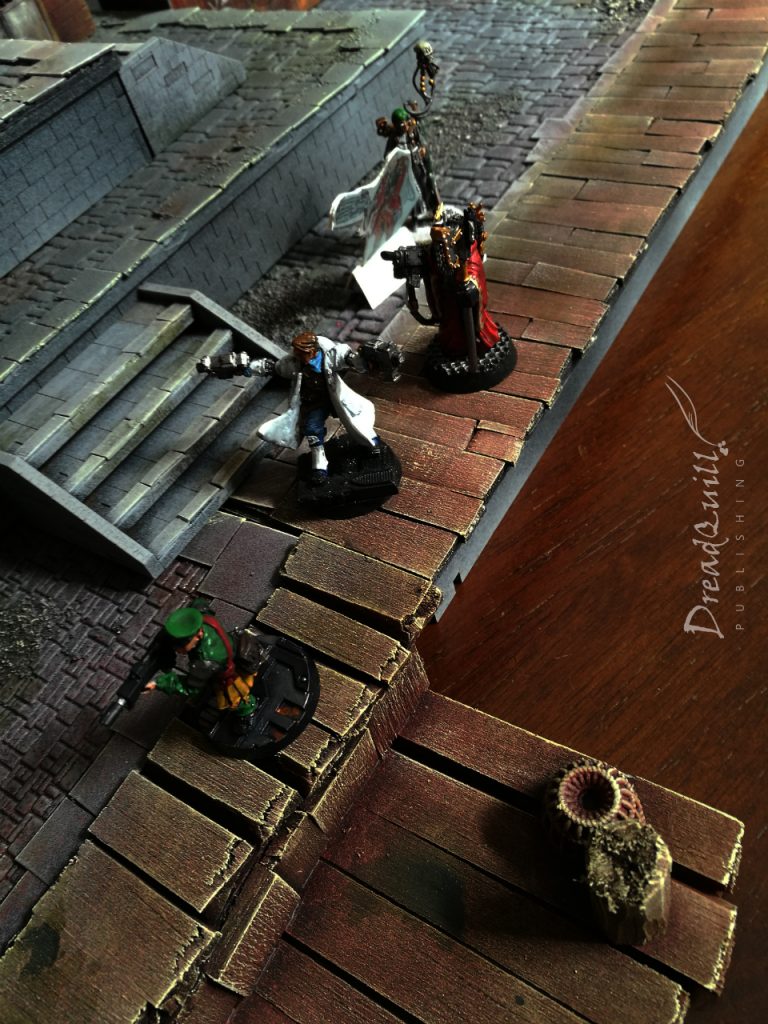 Take cover! Shots ripple across the Wharf as everyone takes their bearings. There was a lot of cover further up the board, but brings you closer to the Wharf Boss. The thugs closer to the water's edge were squishier, but there was less cover.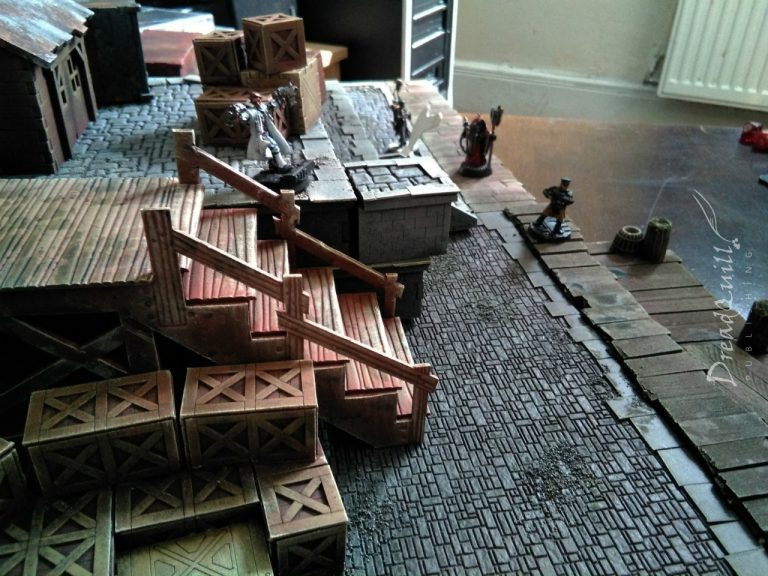 The team fan out, taking shots with their lovingly-cared-for weapons and pinning/wounding in equal measure.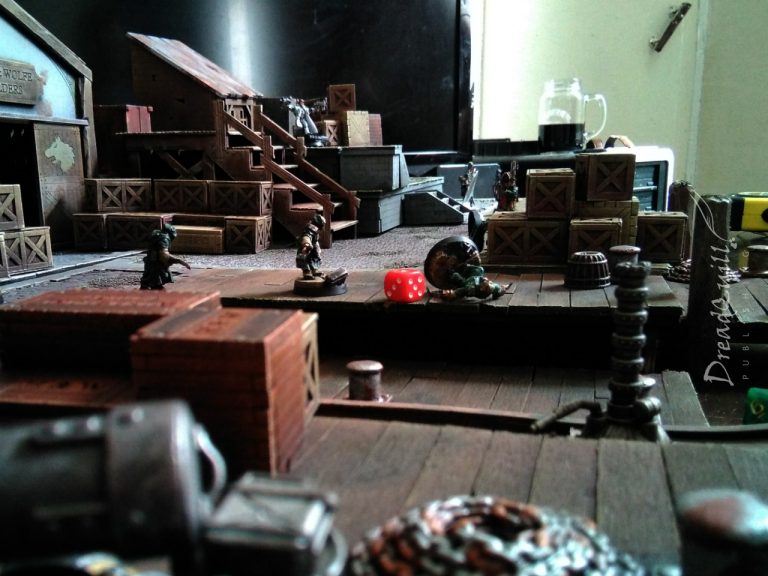 After the Scum plugged the first thug he was having a chinwag with, the other thug returned the favour. The Scum took a grazing hit and dived behind the nearby crates for cover.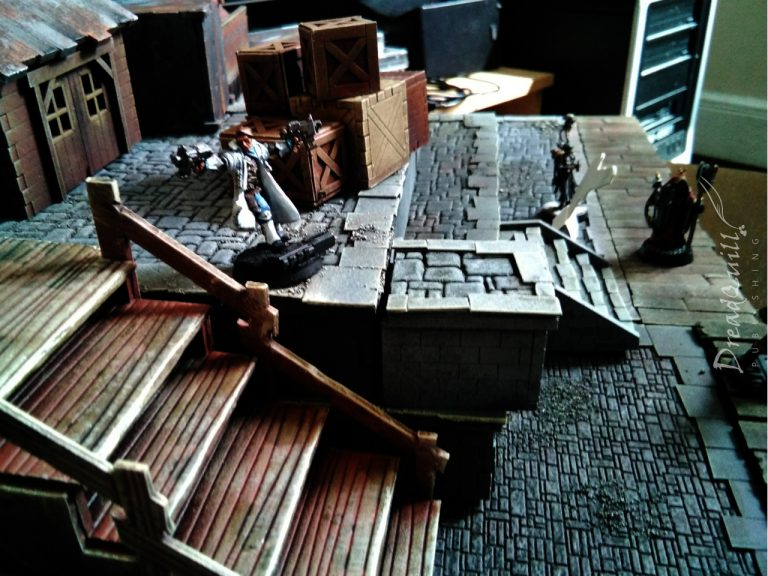 The Arbitrator battles with his low Willpower and being constantly pinned, while trying to lay down covering fire of his own.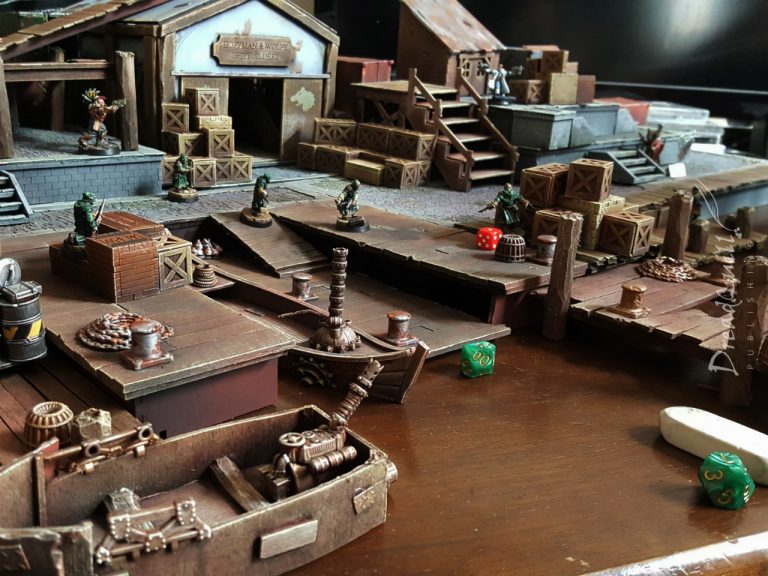 The battle lines are drawn, and nobody seems willing to break cover to close the gap. The Wharf Boss realises going across open ground would invite every single player who knows how Bosses work to concentrate fire and bring him down before he can get the opportunity to burn a few players' Fate Points.
He doubles back behind the warehouse and heads up the ramp to go across the roof. His minions lay down covering fire.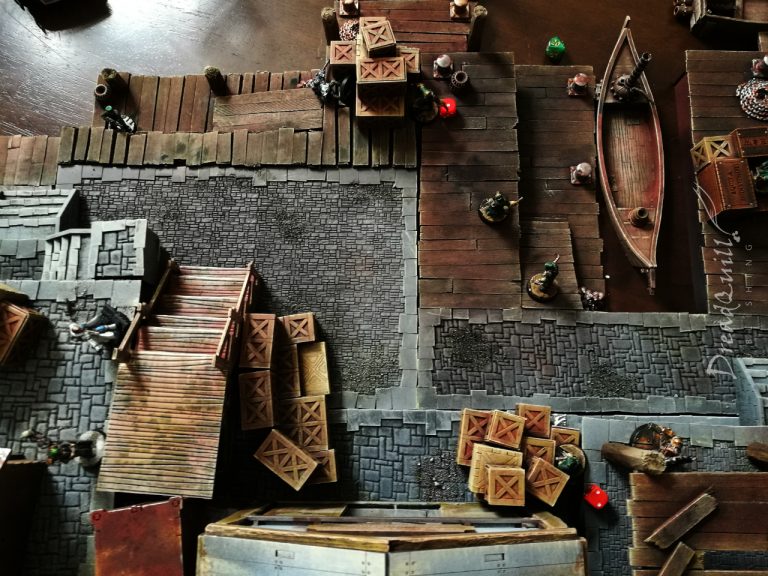 Dice are used to represent people who are wounded. I don't bother tracking anyone unless they're hit, at which point they're assigned a numbered dice and a number on my sheet.
I found this was a good compromise of personal book-keeping, ensuring some information was guarded from players to avoid metagaming, but also so players could see at a glance who had been hit. They might not know the severity of the hit unless they ask specifically (with suitable Awareness/Medicae checks), but they definitely know which baddies are bleeding.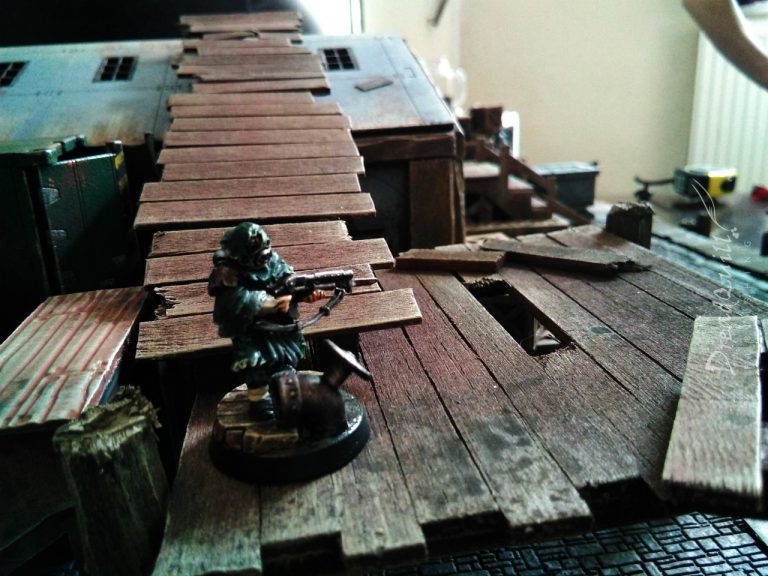 The Boss's minions take the high ground.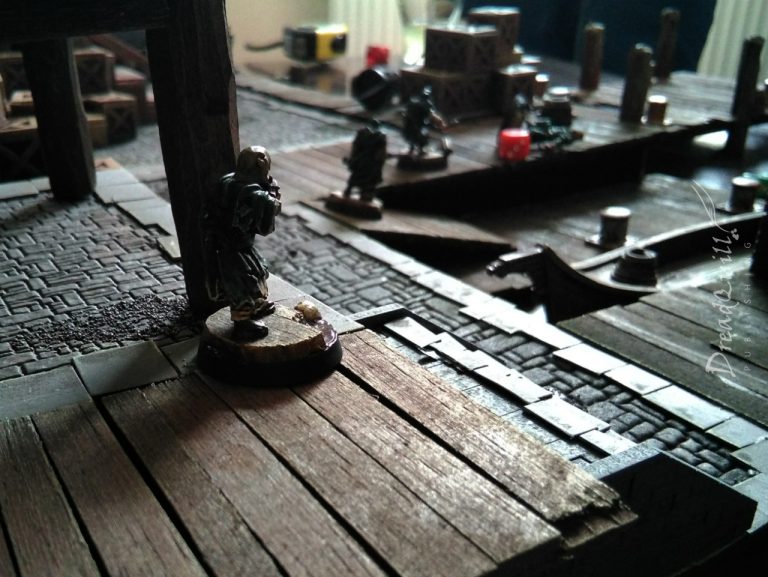 These guys aren't stupid. Cover is their friend, and laying down suppressing fire helps out their mates on the front line.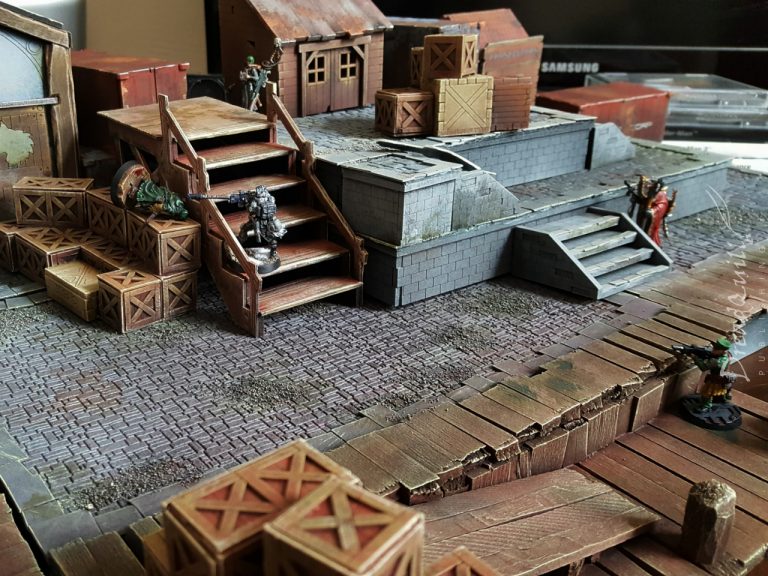 The Guardsman had spotted something like a trench, so dived into it and pretty much stayed there for the remainder of the game, slotting fools with his Sollex-Pattern Deathlight Lasgun (tips for pros: this shit does 1d10+5 damage. It's every las-weapon-lover's wet dream).
The squishy Techpriest stayed back to administer military-grade combat drugs to get the Adept up and running again, and the Scum took up a position on the stairs to keep the pressure on any Undertow who got any funny ideas about melee combat.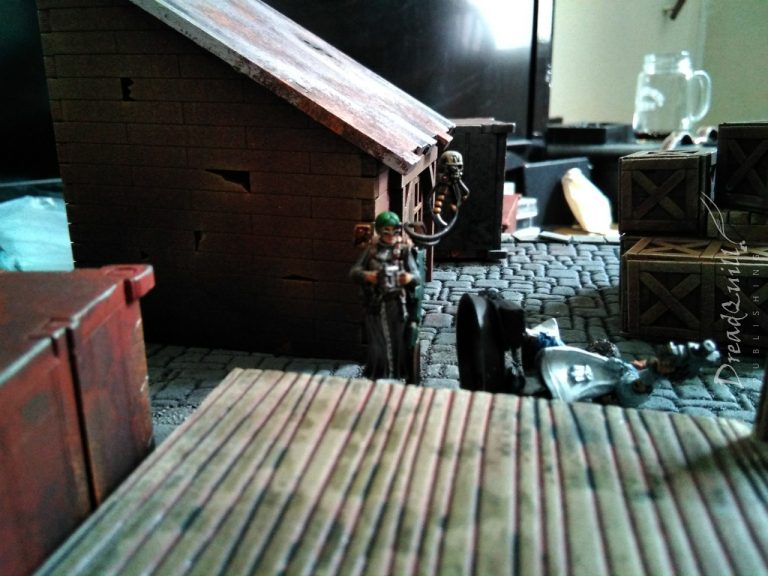 The Arbitrator was spending much of his time pinned or behind cover (Willpower as a dump stat will keep you alive, but not contributing). She was still technically blackout drunk, but the cocktail of Adeptus Mechanicus combat drugs was keeping her coherent for about 20 rounds.
She then launched her coherent plan:
"I draw and throw as many firebombs as I'm allowed to"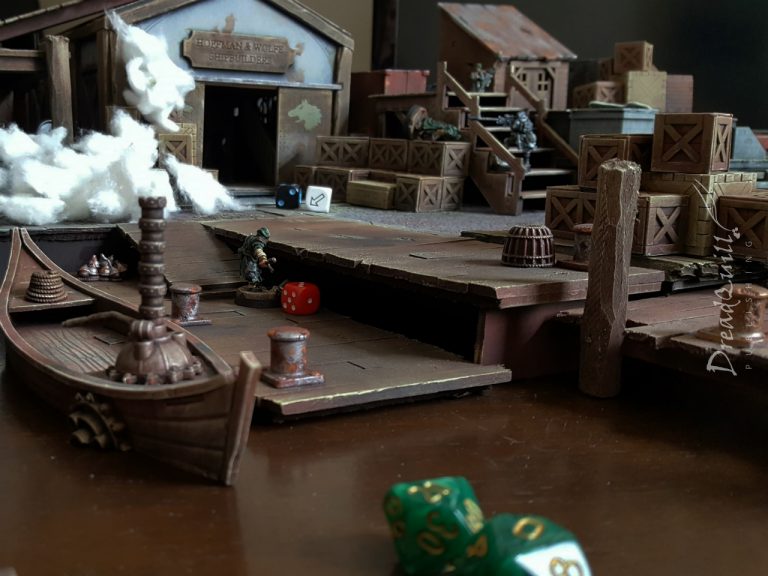 We then discovered the exciting combination of having lots of grenades and having a Strength Bonus of only 2. We have an enthusiastic pyromaniac who can't throw very far.
Cue one long-range missed firebomb later, and the first of the Undertow's shipments has gone up in flames. Let's hope there isn't anything flammable in there…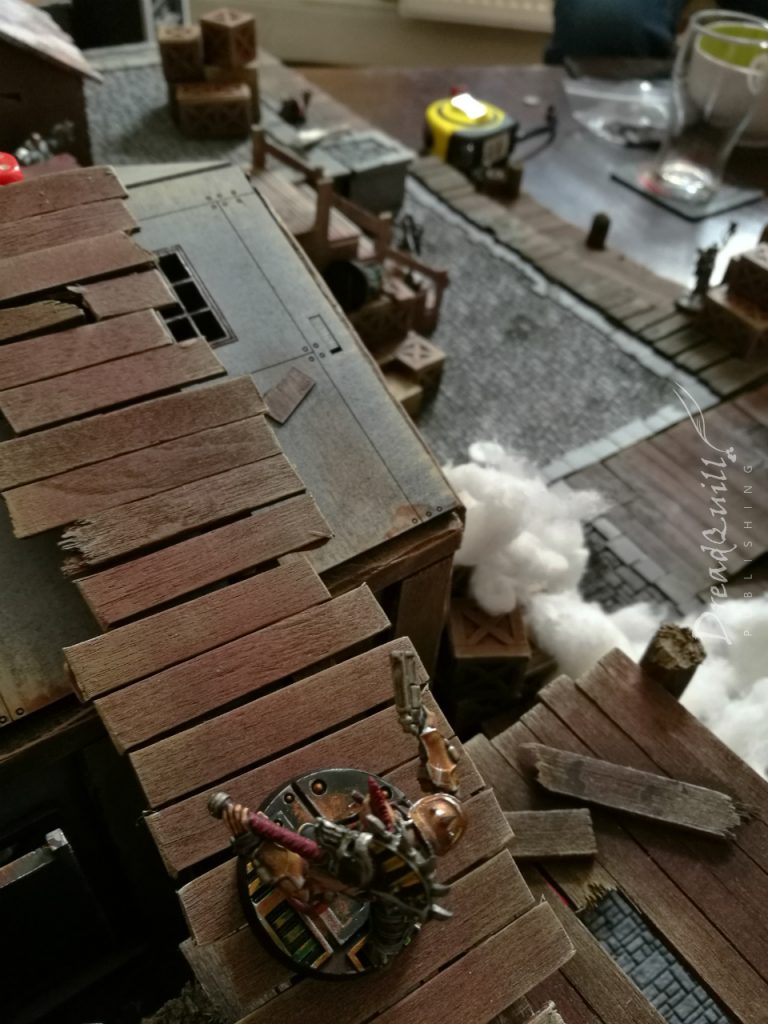 Using the commotion as cover, the Wharf Boss uses the patented Gears of War roadie-run to cross the platform and make his way over the warehouse, hopefully getting a jump on someone.
The Adept, high on life, sprints across the board (now bottom right behind the cotton wool) to join the Guardsman in his new cover. Naturally, this meant it was time to lob more firebombs.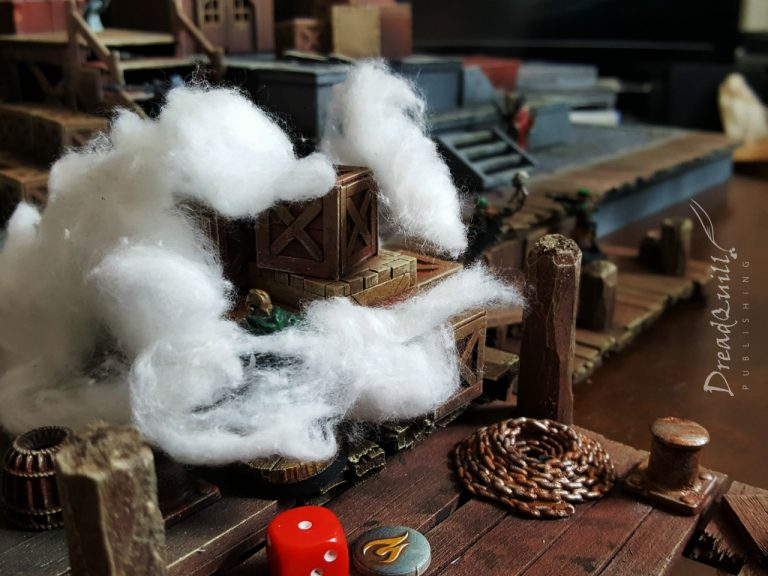 The poor Undertow thug who had been shot in the face in the first exchange was now on fire. He screams and rolls around for a bit, but ultimately decides to take a dip in the scum-lined waters.
The no-man's land was now empty, and barring the efforts of the mad Adept, it had become a long-range shooting match which the Undertow were not convinced they would win. Time to cheat.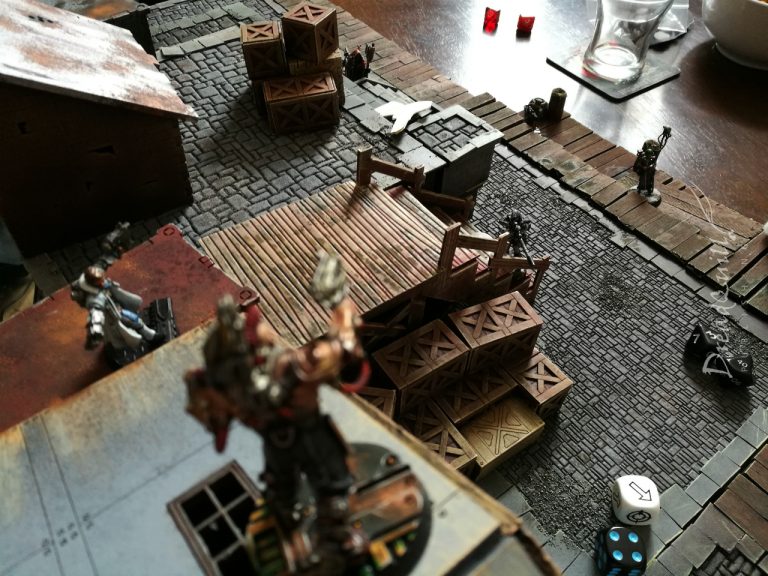 The Wharf Boss, "Massive" Masslow, injects his combat drugs and becomes subject to Frenzy. With a mighty bellow, he screams down the warehouse firing his massive revolver.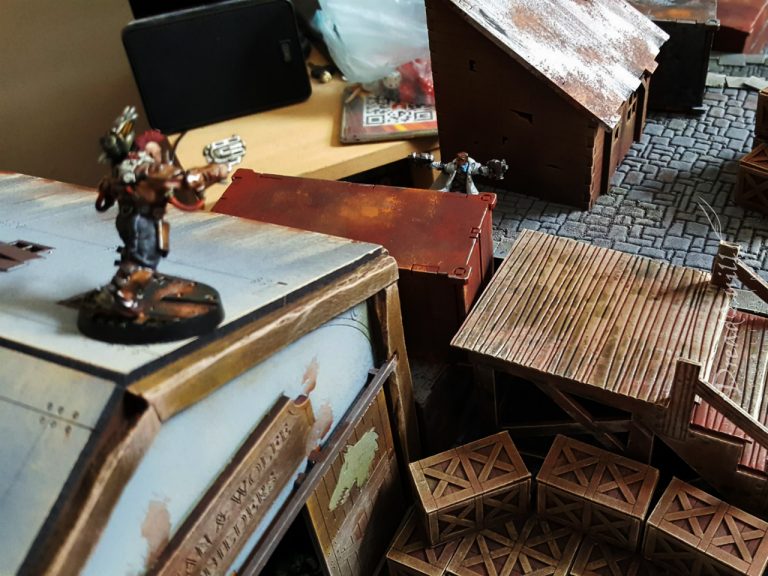 The revolver pings off some nearby cover, but the Arbitrator still decides that discretion is the better part of valour, and hopes that hiding behind the container will make the big bad guy go away.
The Wharf Boss charges down the ramp and takes a couple of huge swings with his Great Weapon. Everyone knew this could hurt, but when the dice came up as near maximum damage, the Arbitrator started sweating when 26 damage knocked him down to -3 health. Medic!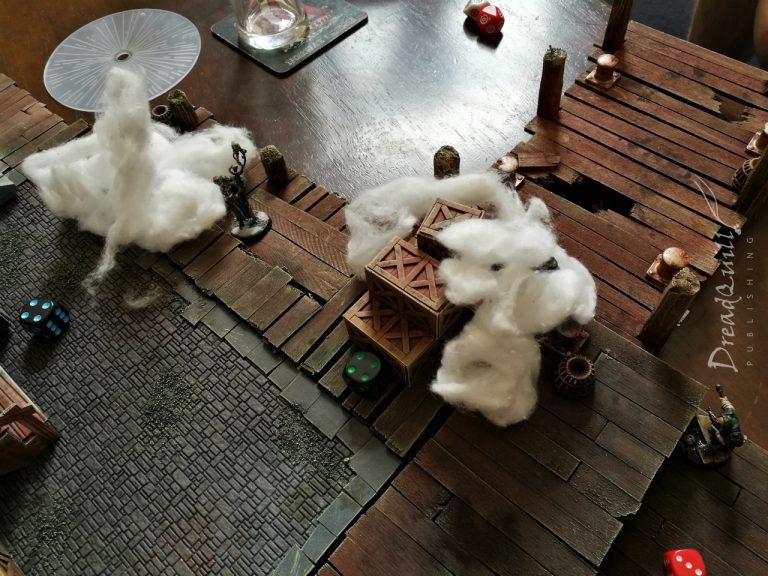 Now it was the Undertow's time to respond. As all their assets were up in flames now anyway, collateral damage was not something that bothered them any more. They have firebombs of their own, and started blindly hurling them wherever they heard gunshots.
It was at this point that the crates were revealed to be packed with high-grade Obscura, and as the highly-illegal narcotic was wafting across the dock, several members of the party were succumbing to feelings of light headedness and pink elephants.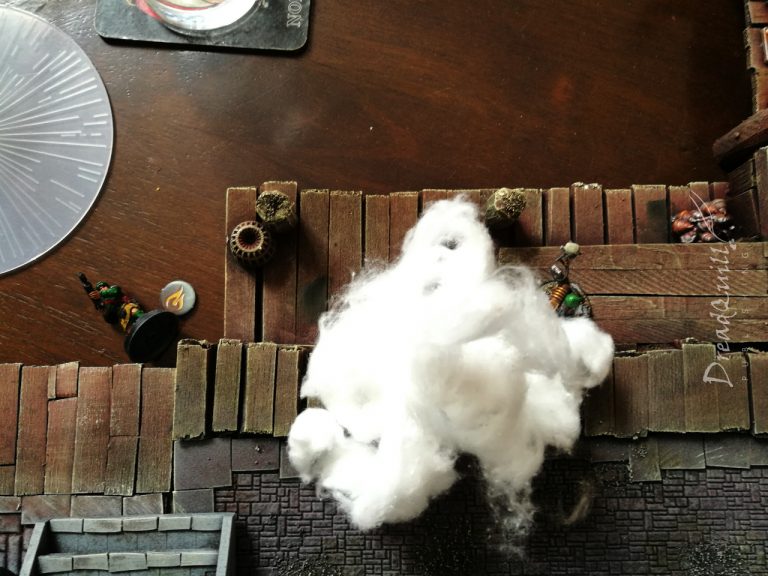 In a shockingly accurate toss, the firebomb lands between the Guardsman and the Adept, catching them both ablaze. The Guardsman prefers his chances in the toxic soup than with the flames, so goes for a paddle.
Not pictured, but entirely relevant, was the Adept also leaping into the water and clambering back out on a nearby dock, face to face with poor headshot-burning-guy from the first turn, who had taken a dip to cool off as well.
Both dripping with stagnant water, they face down. He grins. His pair of punch-daggers glinting in the half-light. The Adept grins. She draws her fishing wire (?!?) and shouts "I see you've played knifey-fish wire before!".
I'm sure it would have been epic if it had been pulled off, but the Adept's attempts to parry the pair of punch daggers with a length of wire Jackie Chan-style ended with her in negative hitpoints, just as the comedown of the combat drugs was hitting her and the effects of the Obscura were taking hold.
It was in everyone's best interests, including hers, that she passes out for a bit.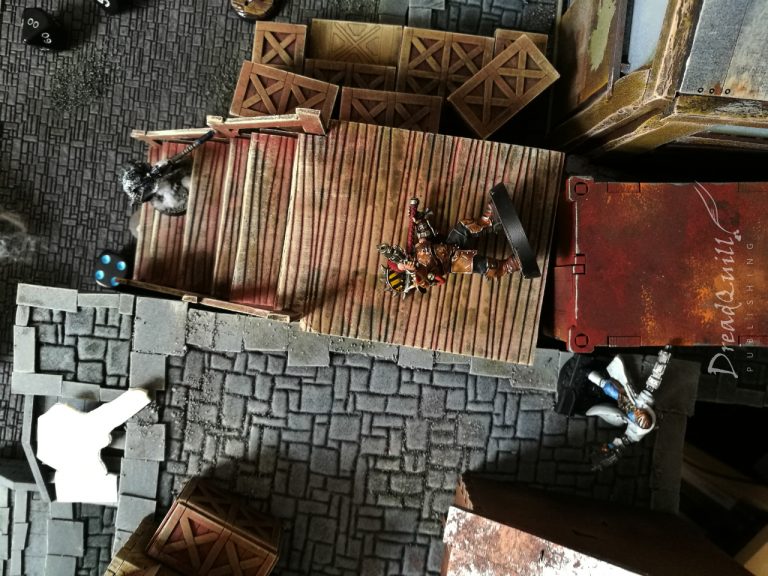 At this point the Arbitrator is panicking as Masslow looks to take another swipe and finish the job. Luckily for our brave law-maker, our friendly neighbourhood criminal was on hand to make a placed shot into combat and literally explode the Wharf Boss's head like a grape, pushing him into -12 damage.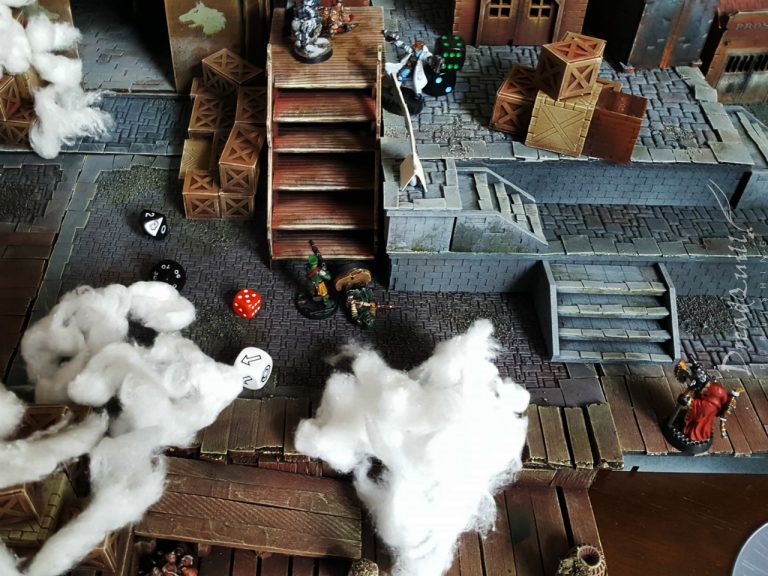 As most of the remaining Undertow see their boss explode, they recognised it was time to make a move. The rest of them fleed, apart from one on the stairs who was looking for an opportunity to get some wholesome stabbing in before he had to run. Unfortunately the Guardsman snuck up behind him and critically bayonetted him in the butt, killing him instantly.
All in all a fantastic game which will no doubt be reminisced about in drinking halls for years to come. Here's to the next one!