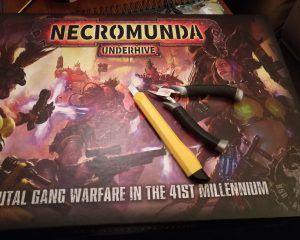 It's the new year, and what a better way to celebrate than with a lovely new box of plastic bits to snip out and assemble? Necromunda always had a place in my heart for the somewhat anarchic rules and huge customisation options, and when GW showcased the new minis for the game I knew I had to pick up a copy.
Luckily for me, my supergreat chums bought me it for Christmas, so I can now no longer use the "I need to get other stuff painted first before I buy it" excuse.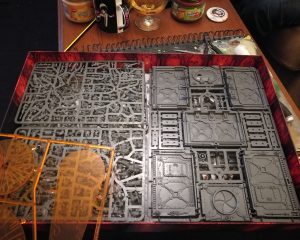 We got heavily into the Community Edition of Necromunda in anticipation for GW's inevitable re-release a few years back and we've clocked up a lot of hours and gang kills, with almost a dozen different gangs between us.
In a cruel twist of fate, none of us made Escher or Goliath gangs, so we're not able to port over old gangs to the new rules YET. The rumour mill suggests we'll be seeing Van Saar and Orlock gangs in the next few months, hopefully with a new gang supplement book, and that'll open up more possibilities for using our older gangs (and lovely photos of our converted gangers).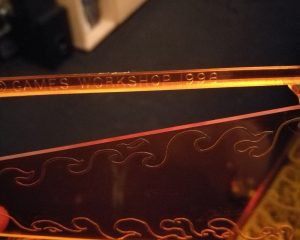 The box set is, as GW has repeatedly proven with their latest releases, utterly lovely. There is so much stuff crammed into those carboard walls, and even the bottom box itself doubles up as an arena for some of the tutorial scenarios. I also got a lovely shiny web-only event card, presumably from the web edition of the game.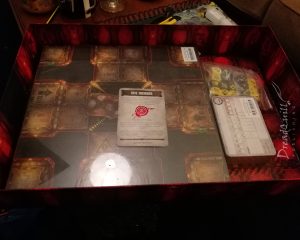 I've never really liked the Goliath aesthetic, they're very traditional Barbarian archetypes that I tend to avoid in my media as (to me) they don't offer much in the way of depth or a play style I enjoy. Naturally this changed the moment I laid eyes on the gorgeous miniatures that GW has assembled. Stupid giant revolvers? Massive spanners? A rivet cannon? Yeah okay, I'm in.
I had to enlist the help of a comrade to snip out all the terrain parts, there are a lot of flat surfaces that need their mould lines clearing off, so don't expect to power through this box particularly quickly.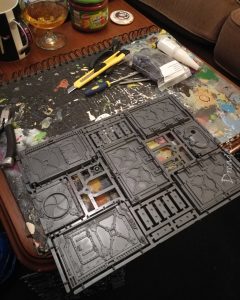 I wanted to start with the Goliath gang first, partly because if I screwed them up, I wanted it to be for my least favourite of the two gangs…
I brought the gang books with me over the Christmas break so I could digest the rules and plan the gang in advance. It all looked fairly straightforward, with some lovely streamlining for the more esoteric rules from the previous editions of the game. Once I've played a few games of Newcromunda I'll write a little suttin'-suttin' up comparing the two, but for now let's just look at pictures of models.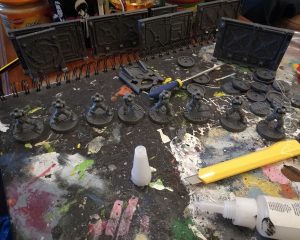 I didn't have much in the way of a spec when I was designing the gang. I'm not 100% sure how progression/adding new gang members/equipment will work in the long run – the biggest change from a modelling perspective is that you can't change equipment on a ganger once they've been given it, freeing you from the need to keep snipping off weapons on your leader as you acquire better stuff.
This time round, you seem to only be able to put new equipment on new hirelings, but with no games under my belt I can only speculate how that works. To give myself some leeway, I decided to only plan a gang using 8 out of the maximum 10 models for each gang, so I can add extra gangers without needing to buy any new gangs (just yet 😉 ).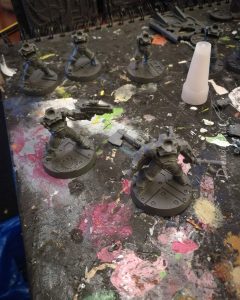 My biggest mistake was not getting properly acquainted with the sprues before meticulously planning a gang. The combinations of parts are so well executed, it's really simple to put together a radical, unique gang with the box set, but the way the poses are assembled makes it quite difficult to do anything overly specific.
For example, there are knives and axes available for Goliath melee weapons, but neither of which have any representation on the sprues (aside from a sheathed knife), and stub pistols are super cheap and practical but you only get two in the entire set, and even those are posed in a way to make them only really work with one set of body/legs.
Of course, a sane person would simply readjust their gang list to take this into account. I, however, prefer hours of agonising clipping, sticking and slicing my fingers open to a few minutes of maths.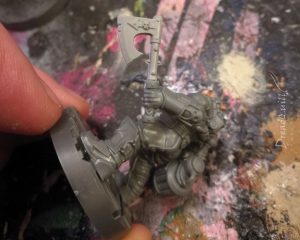 I wanted to have at least one of everything from the gang list, partly so I could test out the rules for them, and partly so I could make full use of everything available on the sprues. I can worry about min/maxing a gang later on in life once I've worked out what works, and when GW inevitably release some conversion packs later in the year.
It was also halfway through construction that I realised I had made another oversight – there is no difference between single and double-handed weapons other than their stats. I had assumed there would be a restriction on using the heavier weapons in melee (improved strength, improved armour penetration etc in exchange for fewer attacks) considering models like the Renderizer (angry skull-axe guy) are using them in two hands.
As far as the rules go, even though the model has a double-handed heft, the off-hand is still free to shank with a knife or pop with a pistol in close combat, earning them an extra dice. This threw me a little bit, and had to reshuffle some credits round to purchase an extra knife on the models I had planned to be double-handers just for the extra dice in combat.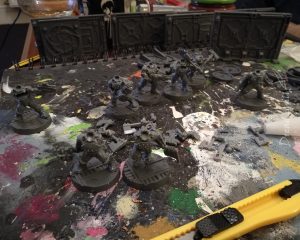 Still, I was determined to build what I'd planned. I just needed to do some jiggery-pokery on the available arms and weapons to make it happen. The big one I wanted to look impressive was my Leader, but I didn't equip him with the plasma/stub combi-pistol (because holy hell 65 credits), so the default pose was a bit of a waste.
I also had another ganger with a Renderizer and pistol for backup, but after re-reading the rules and realising that would afford him an extra dice in combat, I wanted to model him in a way that I'd remember the guy with the two-handed weapon actually has multiple weapons that he's juggling like a madman.
A nice weapon head swap between the Renderizer and Power Hammer worked rather pleasingly.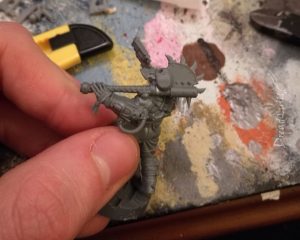 The Longshore Brassnecks
Some whiskey and a season of Parks and Recreation later, and the whole team is assembled. They're missing a lot of accessories, but the majority of the work is done and I'm chuffed with how they came out.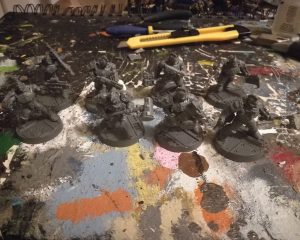 They're called the Longshore Brassnecks, a gang of thugs and hoodlums from the exotic harbours of Mercy Longshore, where I was planning on setting most of our games. Not only is it an interesting twist on the setting (Hive City in Spaaaaaace) but gives me a very valid reason to re-use these models as thugs and crims in Rogue Trader.
They get the 'Brassnecks' moniker as they run security and haulage for the various defense platforms around Mercy, carting around the ammunition and macrocannon shells for use in the station macrocannons and point defence turrets.
All of their armour will be made of hammered brass from the massive macrocannon shell cases, so the bold black/brass combination should be very evocative on the tabletop.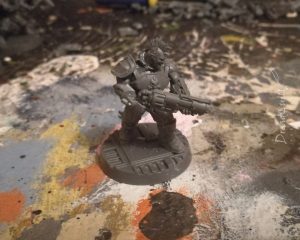 In addition to that, I also wanted to give them a focus on guns rather than fist fightin'. Obviously they're going to be very good at that, but I wanted lots of large caliber projectile weapons to reflect their obsession with big-ass cannons.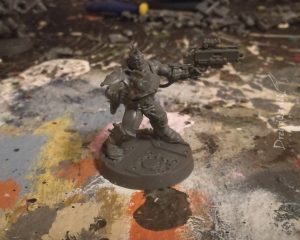 I found it fascinating that someone took the decision to make the automatic combat shotgun one-handed, and couldn't resist the opportunity to make a very silly pose.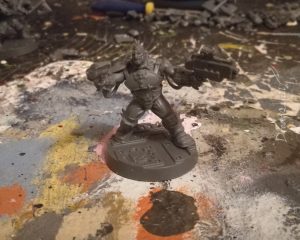 For the Leader (as yet unnamed) I wanted to biggest version of the available accessories to try and make him stand out on the tabletop. There was a particularly fancy shoulder pad on each sprue (so two in total) that worked quire nicely when doubled-up, and an imposing respirator head and gorget body fit the bill quite nicely.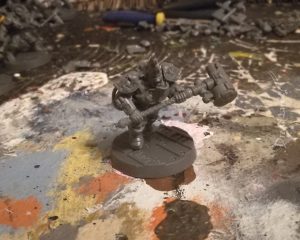 He also has a stub cannon slung to his back and a knife sheathed somewhere, but I've not got round to attaching those yet.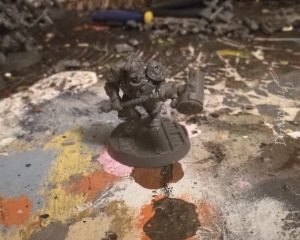 The other weapon swap was the Renderizer-over-the-shoulder pose, which when combined with a stub pistol and the effortlessly cool cigar-chomping head gave the model bundles of personality.
Taking these pictures earlier made me realise I still need to drill the barrels out of their weapons as well, so that's been added to my to-do list before they get primed.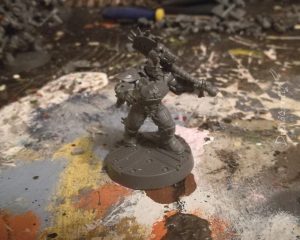 Time for Juves! They appear to have been changed in a massive way from the Community Edition, as they narratively appear far more important than regular gangers. Gangers have a much more simplified progression tree but get access to better weapons and equipment, so I have no idea how these guys play out in the long term.
They were also planned to have double-handed weapons, but seeing as there was no disadvantage to giving them an extra knife (aside from the measly 10 credits it costs) and the sprues didn't have enough two-handed weapons, they were all promoted to Guy With Two Knives.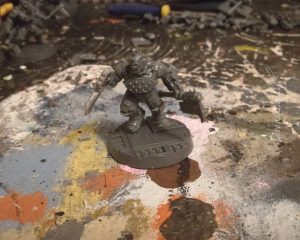 Big wrench and tiny knife makes for an interesting fighting style, but I managed to squeeze a few extra poses out of the limited 'free' arms I had left.
I'm representing these Juves by leaving off any shoulder pads or thigh guards to make them appear a little slighter than their heftier brethren. Despite Juves advancing faster than gangers, and having more varied advancement options, they never 'graduate' to becoming gangers like they used to – they stay Juves for their entire careers.
I had to convert an axe-hand for this guy, the first of the two special weapons guys, made from a Chaos Marauder axe and trimming down the handle of the Brute Cleaver arm from the Necromunda sprue.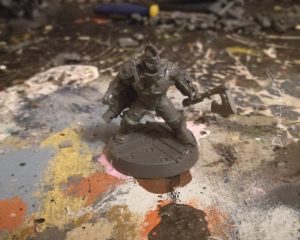 The second heavy weapon guy was this Riveter. Looks super cool on paper and the model is rad as heck, but I have no idea how it'll play out in the game as it seems quite short ranged. The skull-faced respirator head was pretty awesome, so that went on as well.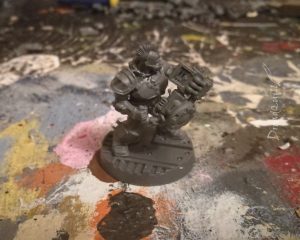 I really enjoyed assembling these guys, even if they did suffer from being strangely restrictive in the poses available. There's still a bit of extra work to do on them, such as adding spare weapons and accessories, but overall they're pretty much finished.
I'm looking forward to tackling the Escher gang now!