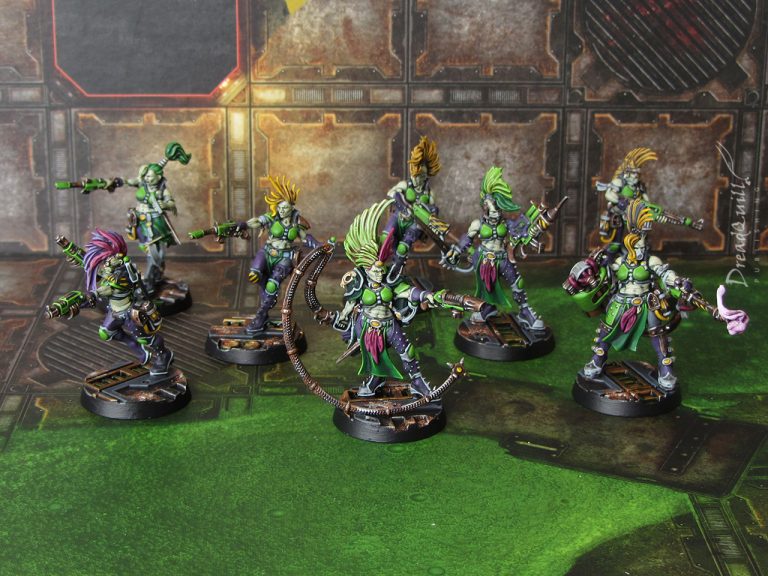 I got the new Necromunda boxed set back in Christmas and finished the Goliath half of the gangs that come with it back in February. To my eternal shame, the Eschers remained assembled but unpainted ever since. As a break from the Elysian Drop Trooper commission I'm working on, I thought I would treat myself to painting some acid green.
These were the first models I had undercoated in anything under than black, and I wanted to go for vibrant colours to offset the Goliath's dull metal tones. A nice diseased skin tone would work well for them, as they spend a lot of their time around hazardous chemicals.
As I was going to paint them in light colours, why not undercoat them grey? A splash of Athonian Camoshade on the skin with a highlight of Rotting Flesh gave me the perfect skin tone I so desired.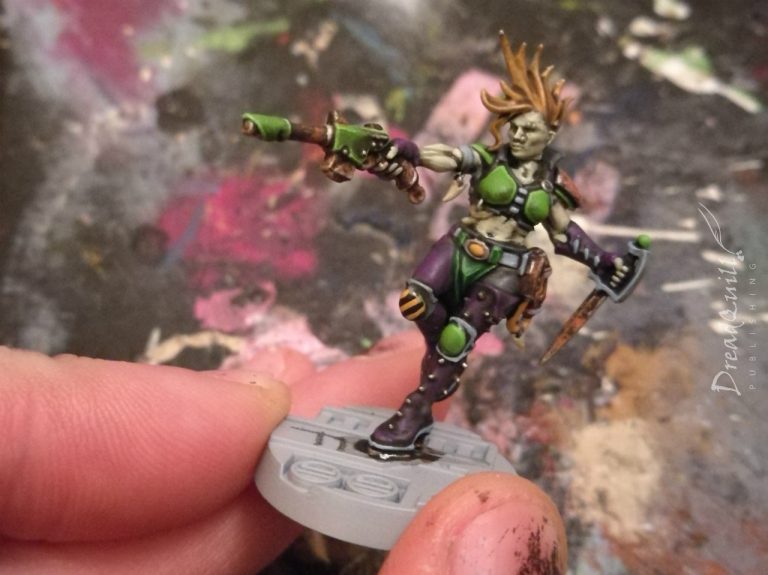 It took a while to settle on colours other than green – they needed to still be colourful but not distract from the overall greeny-ness, and had to give me enough wiggle room to have some radical glam-rock hair colours without a clashing of colour palettes.
The greys and dark purples worked really well with this brief in mind, and it was only after putting the base coat over all the gang that I realised I had inadvertently picked the Joker's colour scheme for my poisonladies.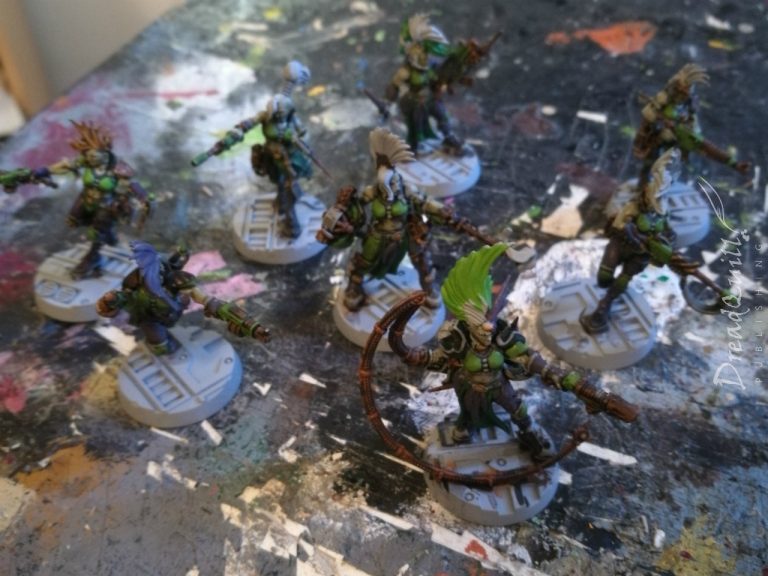 I was also experimenting with a new rust technique. Start with a solid base of a dark brass and give it a liberal wash of Nuln Oil. When that's dry, stipple on some orange with an old brush, then roughly highlight any edges with a bright silver.
Easy peasy to do, and the bold orange works very nicely with the acid green colour scheme.
I left all the hair until practically the end. I wasn't sure what colours they were going to be, and I wanted everything else to be pretty much finalised so I could work out what would complement or clash.
Also because I'm a barbarian who holds his minis with his hands instead of using a mini holder, the tops of models tend to get a little wear and tear as I paint them, so I tend to leave those til the last.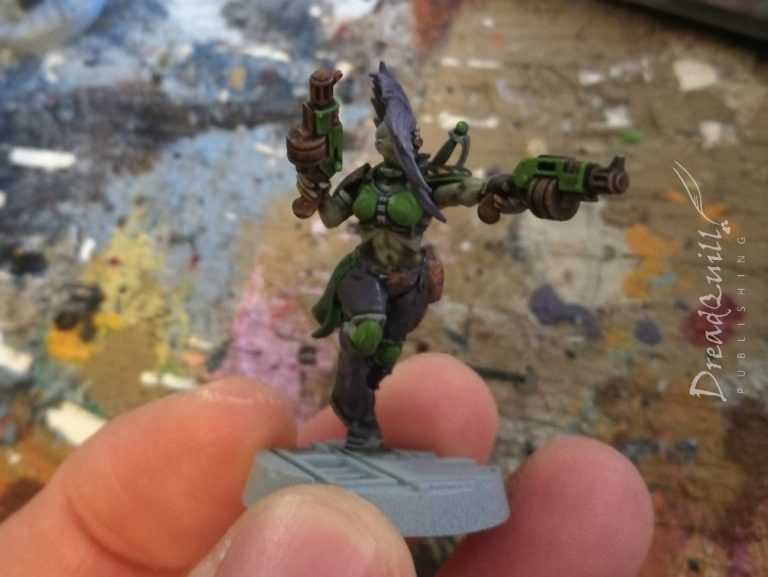 The kit was nicer to assemble than the Goliaths – fewer preset options that needed tearing apart just to edit. Without any real games under my belt, I just went with Rule of Cool for most of their equipment.
I did manage a few conversions though, most notably the twin autopistol ganger had a hand swap to allow her to hold two autopistols, and the leader had an arm transplant to give her a plasma pistol. Nothing particularly exciting but they were different enough from the core box to pass muster.
All in all I'm very pleased with how they came out. They were a chore to finish – I was very close to giving up on all that green a NUMBER of times during production but I'm glad I stuck with it. It was only when the black rum went around the base that they looked truly finished, and I think they look absolutely stunning on the browns and reds of the Necromunda board tiles.
Game on!