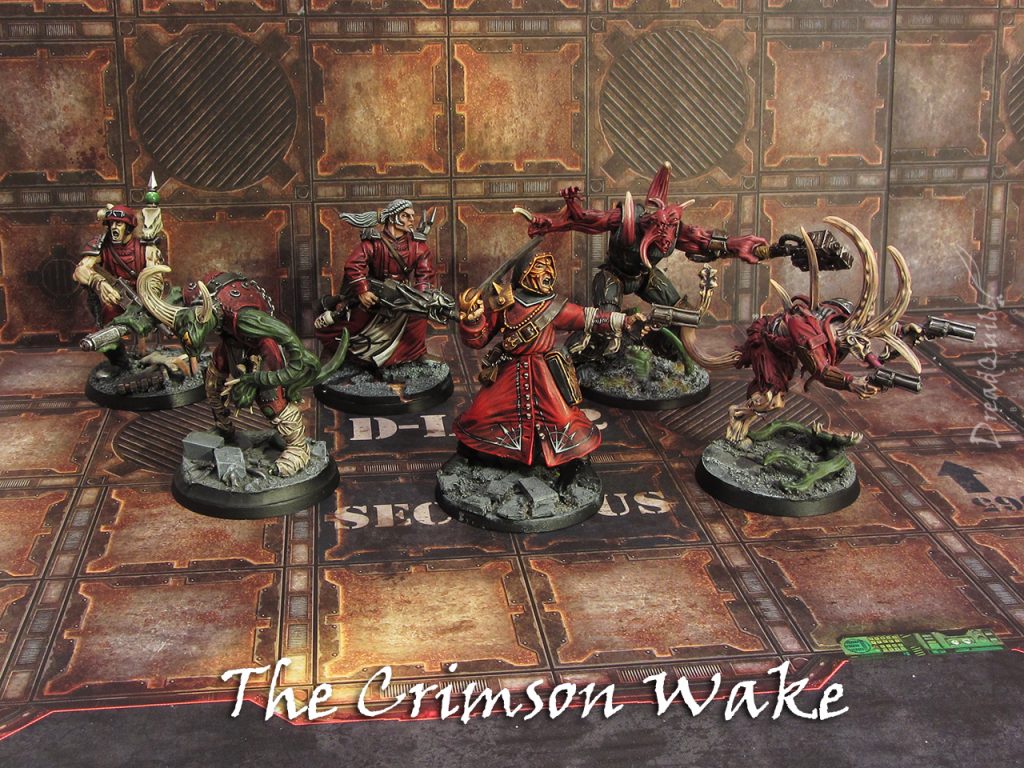 For the Gorgon Crystals Inquisitor campaign at Asgard Wargames, I've pulled together a few warbands from my own collection to count as 'house' warbands. These are for folks who want to play but don't have the minis to dive straight in.
You can see all the house warbands here.
WARBAND OVERVIEW
The Crimson Wake are a band of Chaos-worshiping mutants, traitors, and heretics dedicated to the spreading of anarchy and disorder, particularly when it comes to undoing the works of the Emperor's most Holy Inquisition.
They are followers of Chaos Undivided, worshiping the Big Four as a pantheon to be worshipped equally as different emanations of the same universal force. That force is not inherently good or evil, it is simply the natural order of the universe – disorder and entropy.
This gives them the flexibility to have a variety of gifts from different patrons to make them interesting to play with and against, and allows them to pursue their goals through a whole plethora of means. Direct or subtle, explosive or sneaky, nothing is off the table with the Crimson Wake. Plus, who doesn't enjoy having a good ol' fashioned group of unpredictable baddies in their lineup?
Uh oh, it's the Crimson Wake again. What are they up to this time?
Leader – Arch-heretic Lurz Karo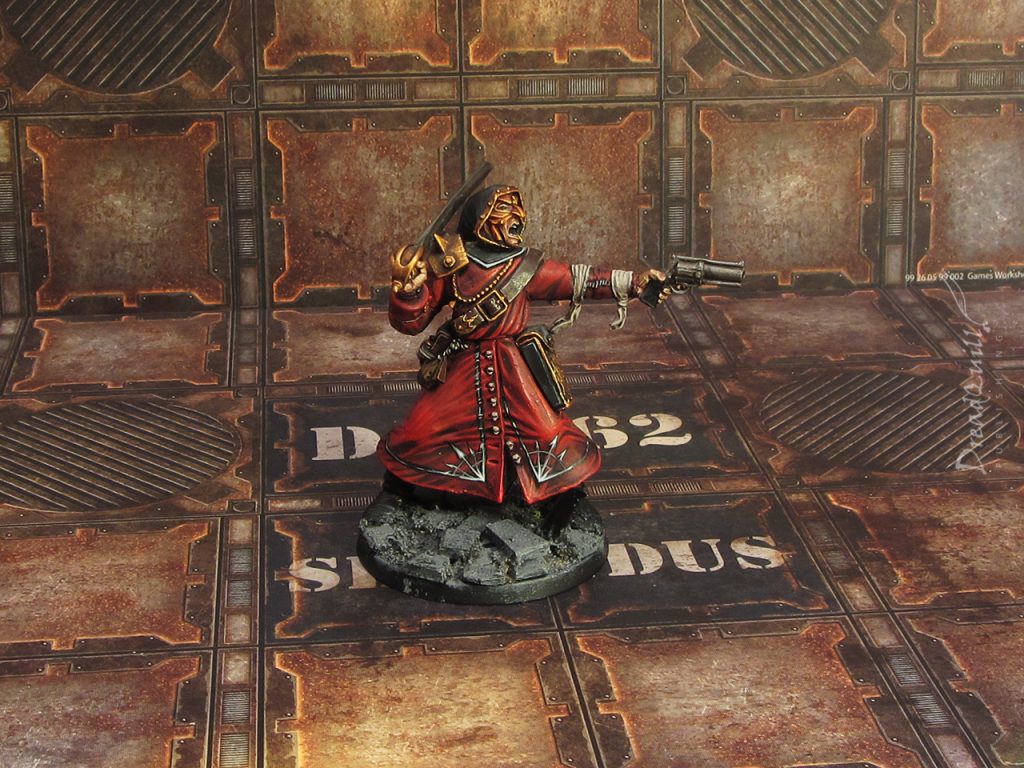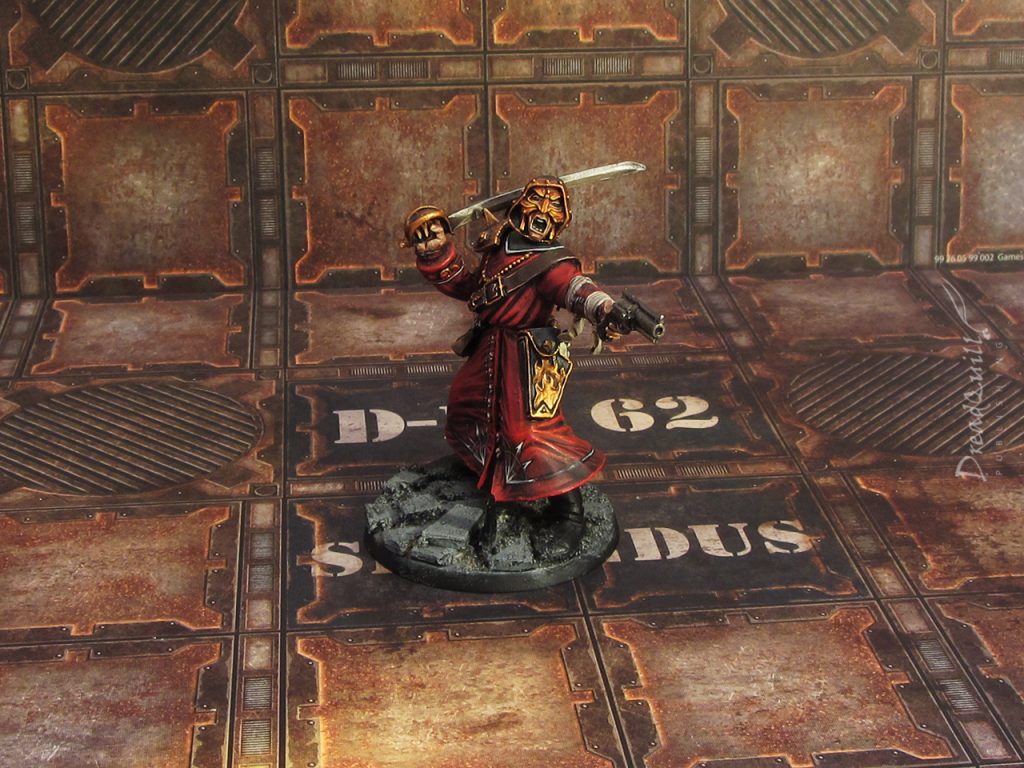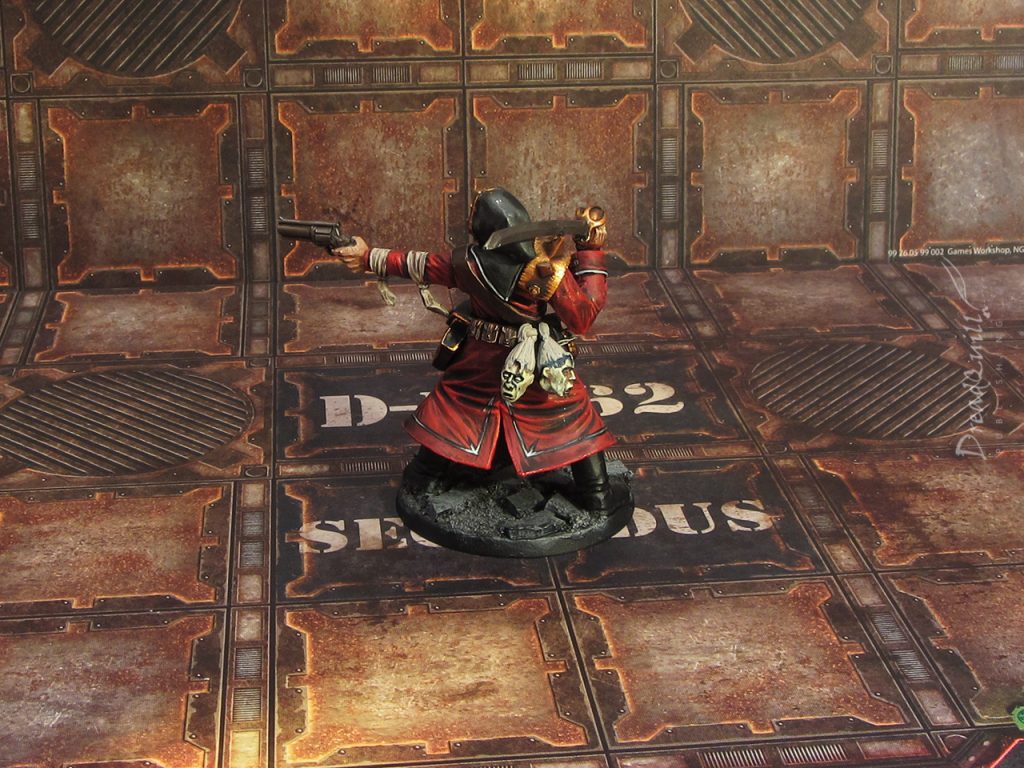 Karo is the leader of this particular Crimson Wake warband with a personal interest in the warp-tainted artefacts he's heard are being unearthed on the fringes of Imperial space. Whatever culture made them had such effortless command over the warp and its energies, Karo wants some of it for himself.
He was once a planetary governor sick of his lot and the filth he had inherited, and engineered an atrocity as a way of "starting again". His former Imperial masters didn't take kindly to this, but the voices that spoke to him from a spooky mask he found told him it was a great idea.
Now he's embraced Chaos Undivided, he can orchestrate all the renovative activities he desires. Already a keen swordsman from his days as an upstart young noble, he grew his oratory skills as he grew into his birthright of power.
He is a strong all-rounder on the battlefield with a collection of tricks up his sleeve (and hooked onto his belt), including deadly ammunition types and shrunken head grenades.
Traitor Guardsman Dmitri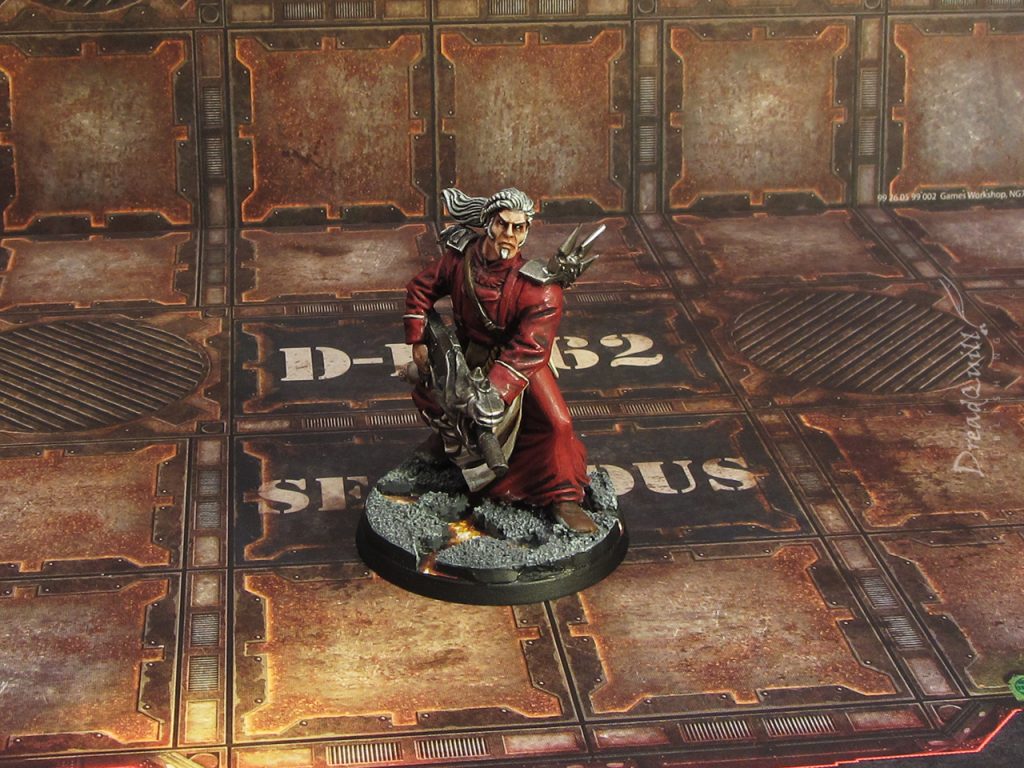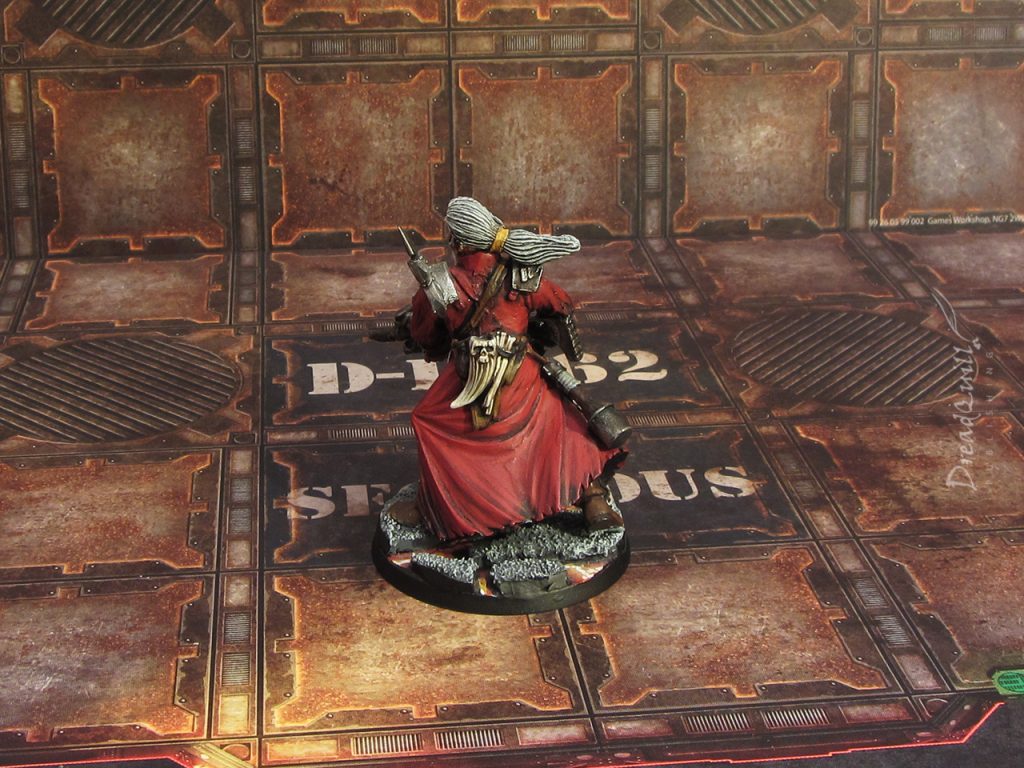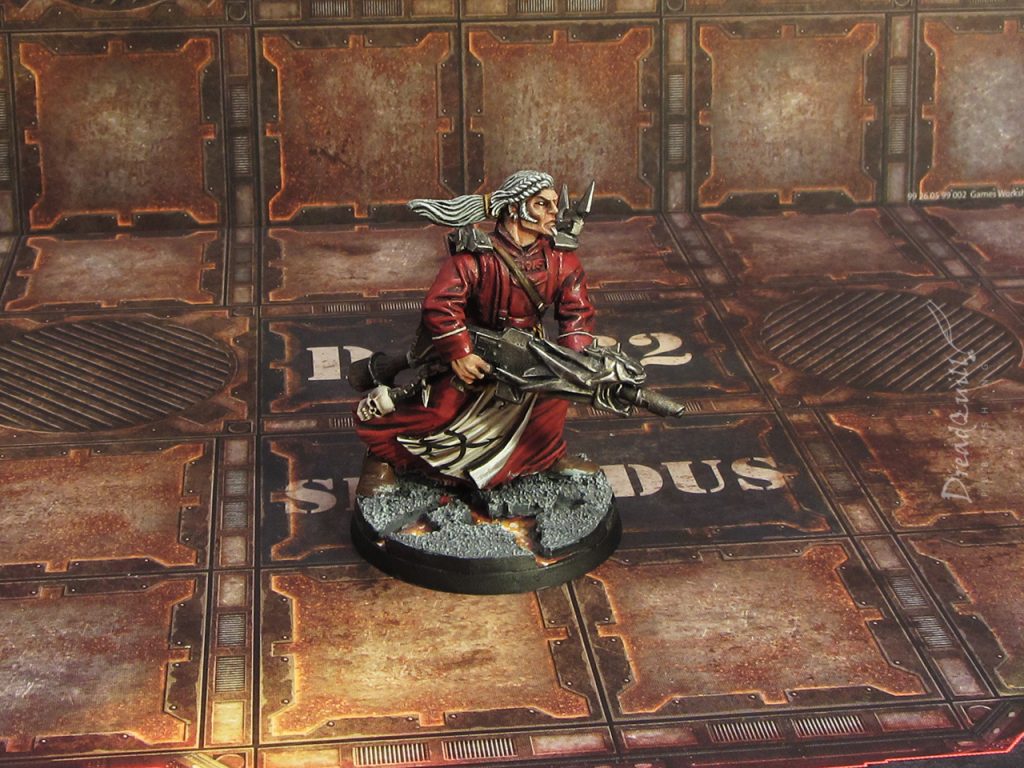 Dmitri, like many in this particular Crimson Wake cell, is ex-guard. He served as a forward scout, but his reconnaissance become more and more brutal until even his own brothers-in-arms refused to go out on patrol with him. He began to hunt alone, delighting in the terror he could cause. It was only a matter of time before forces of the warp began to pay attention
Unlike the other Crimson Wake cell members however, he has not been physically changed by the fickle forces of Chaos, and instead gifted something to enhance his terror tactics. An unassuming iron horn engraved with "Balaghron", the name of a terrible warp predator, that when pressed to his lips expelled the most fearsome cacophony he'd ever heard.
On the battlefield, he acts as ranged support – running and gunning with his powerful hellforged lasgun. Once per game he can also unleash Balaghron's horn, causing everyone within earshot to make a Willpower -30 test or be stunned for D3 turns.
Traitor Guardsman Kraw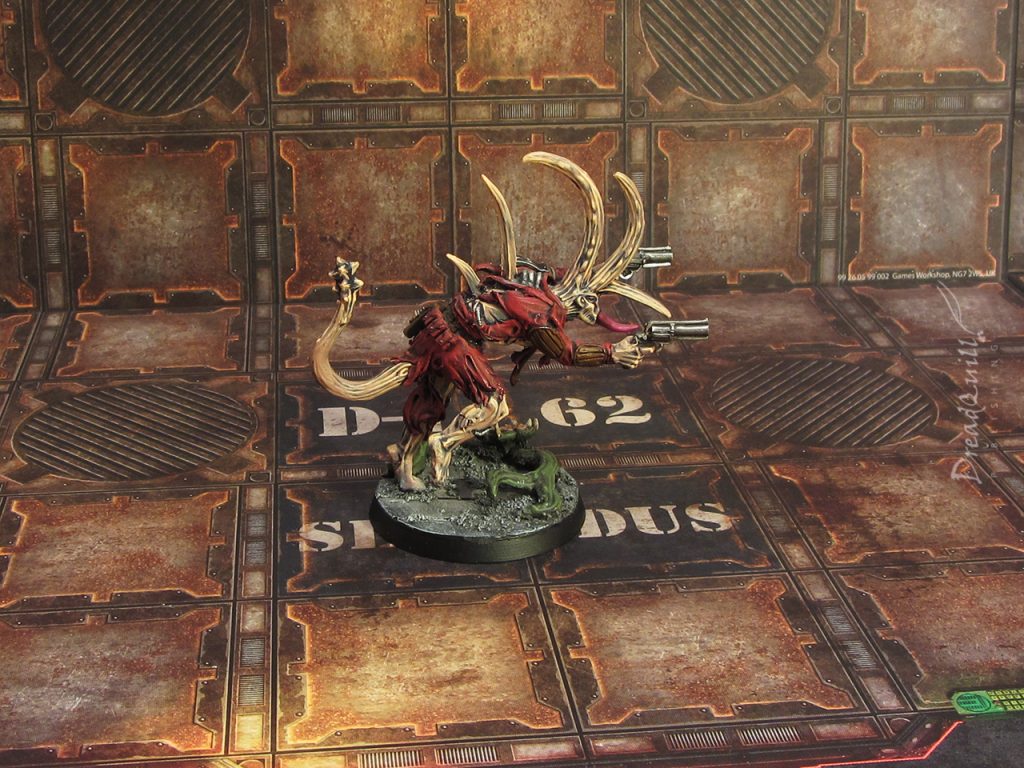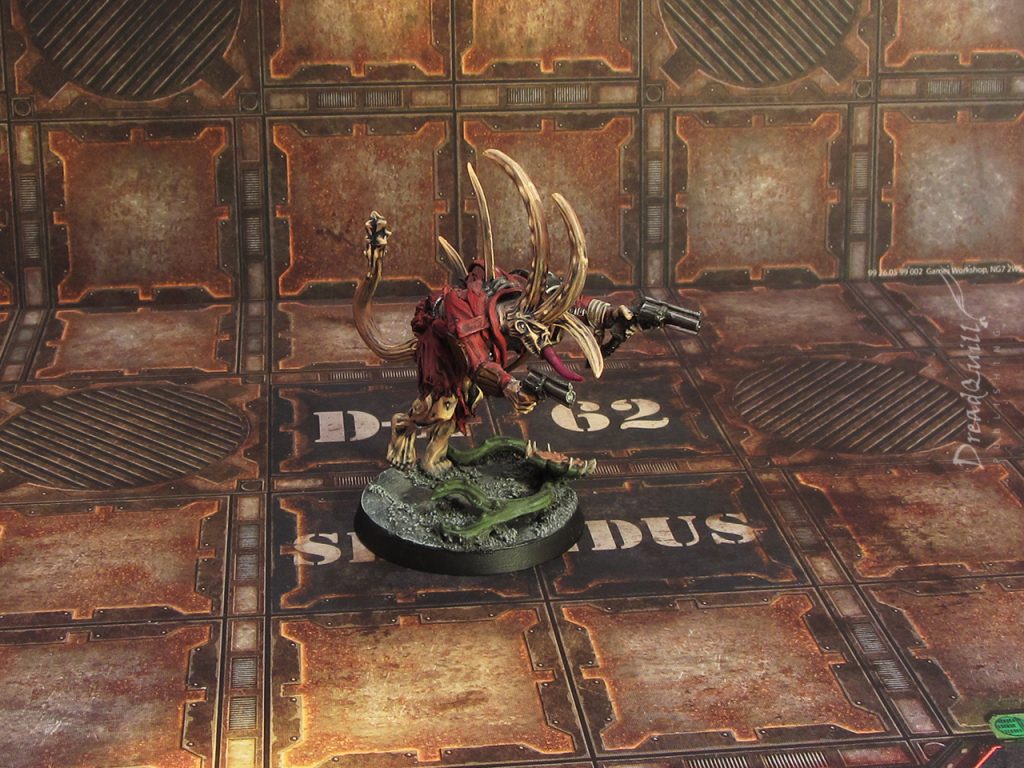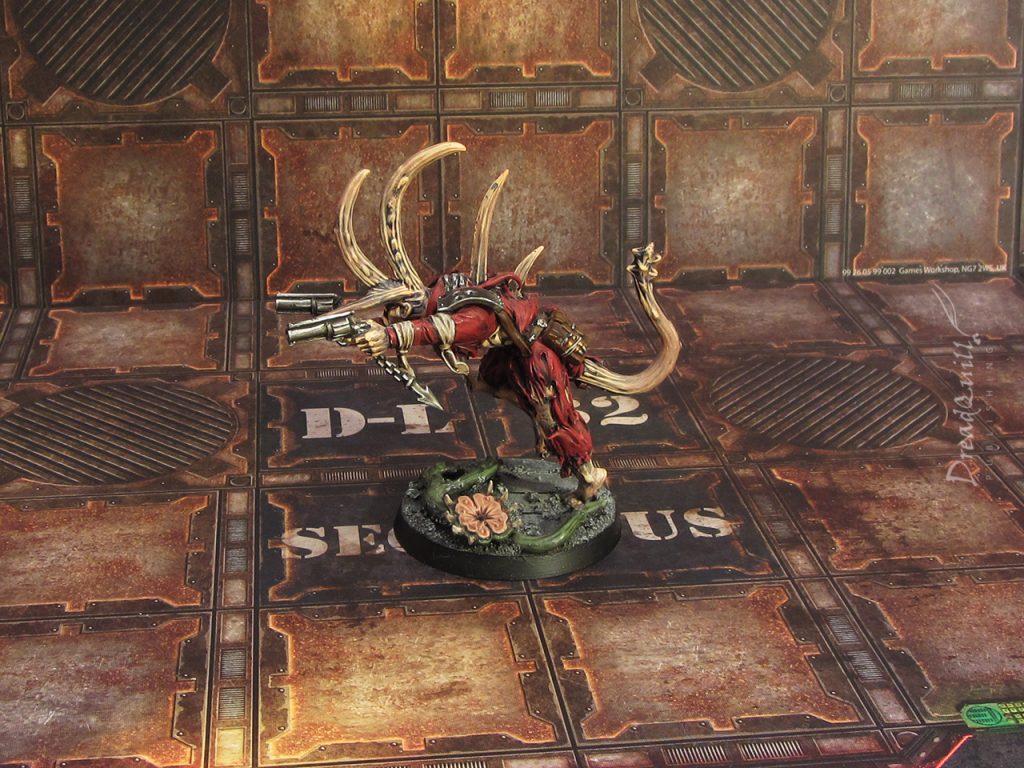 Kraw only has vague memories of his past as an underhive bounty hunter before being conscripted into the Imperial Guard to fight a war he can barely recall. Facing a Chaos incursion, he was exposed to a massive burst of warp energy when a creature from the Immaterium teleported into him. Rather than exploding into shreds of torn flesh, the two beings somehow melded together, and Kraw emerged unscathed but horrendously mutated.
His former squad turned their guns on him, abhorred by the abomination he had become, but their las rounds passed straight through him. He fled, protected by his new-found powers, thanking the warp for getting him out of that terrible war.
Kraw is a gunslinger affected by uncontrollable dimensional shifting. At the beginning of his turn he makes a Willpower test. If he passes, he is slightly phased out of reality, giving him forcefield armour against conventional attacks and making him incredibly difficult to detect – the perfect tool for a sneaky gun fighter!
Unfortunately it is rather unpredictable, and Kraw often finds himself without his phasing when he least expects it…
Mucus the Ancient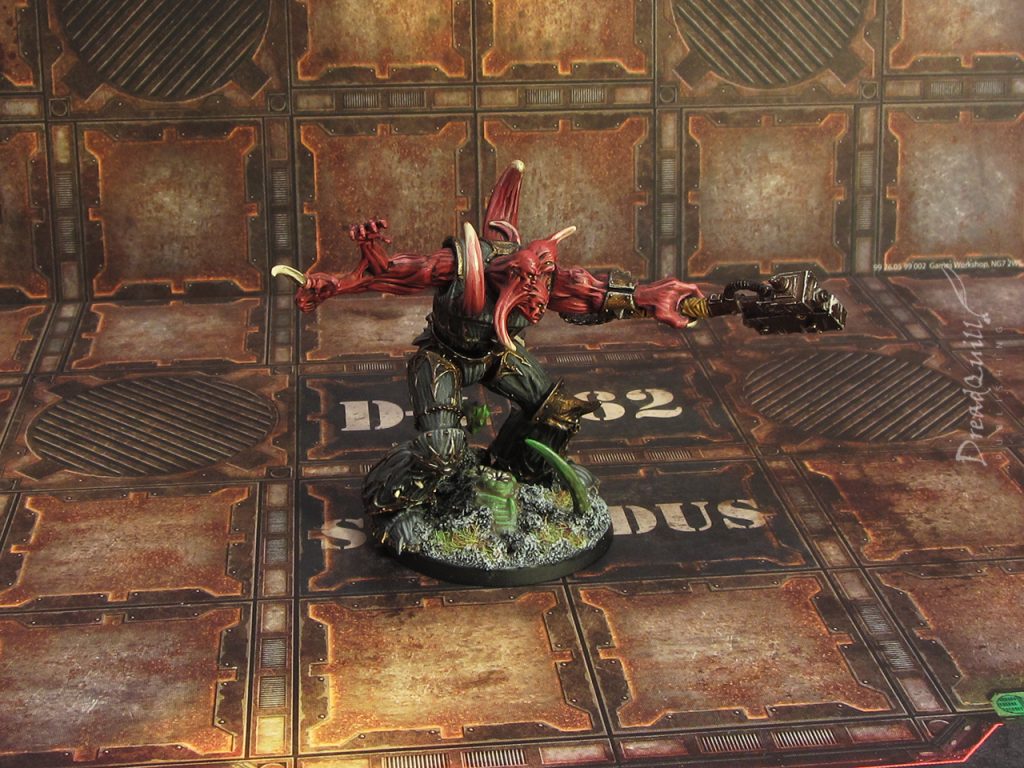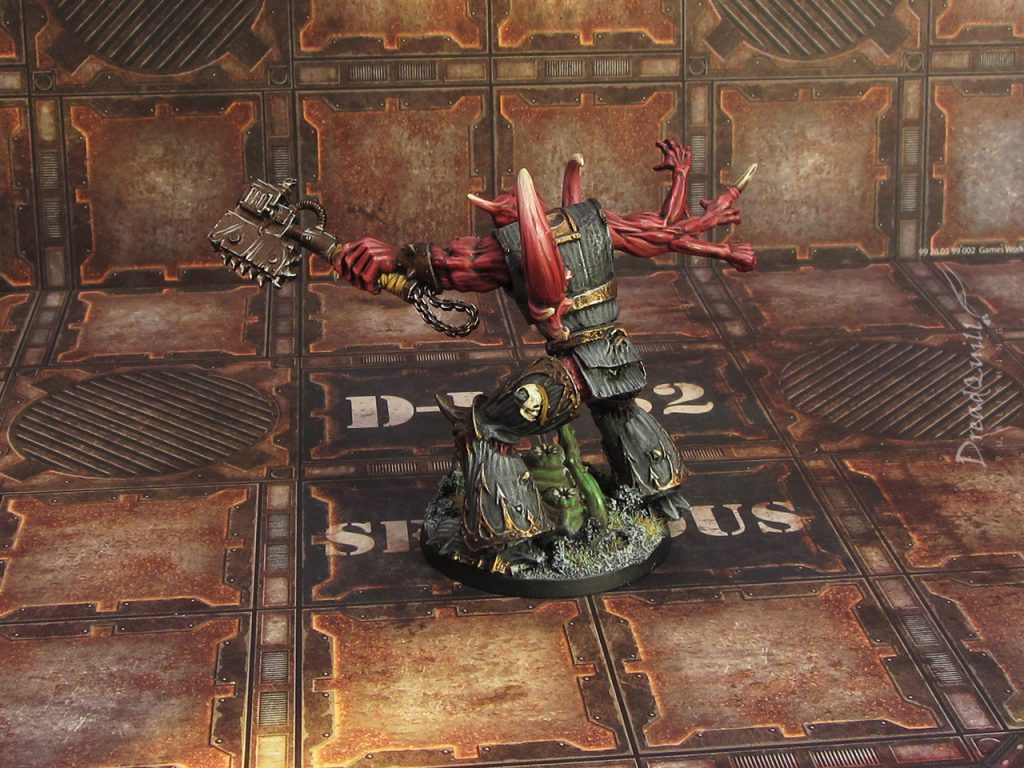 Mucus was discovered by the Crimson Wake being worshipped by a corpse grinder cult in an underhive abattoir. His appearance matched numerous reports across the sub-sector that spanned hundreds of years and doesn't appear to have aged. Mucus himself has little memory of anything at all, but possesses incredible knowledge and wisdom accrued over centuries – the kind of dichotomy that only raw Chaos can gift.
It is theorised that he was once three individual entities, perhaps a Navigator or Astropath, as Mucus does not seem to perceive time in the same manner as humans do. It can often lead to him making strange or contradictory decisions that initially seem to be blunders, but end up being works of incredible foresight.
On the battlefield, Mucus is an unstoppable killing machine. His daemonic armour shrugs off attacks from most conventional weapons and his warp-infused strength can tear opponents apart in moments. He is, however, in three minds about anything, which can delay or obfuscate his decision-making – sometimes leading him down a path that seems wasteful, ineffective or downright stupid to his team mates.
There is, of course, always a reason. It just might not manifest in these human's regular life spans.
Traitor Guardsman Tlaxcala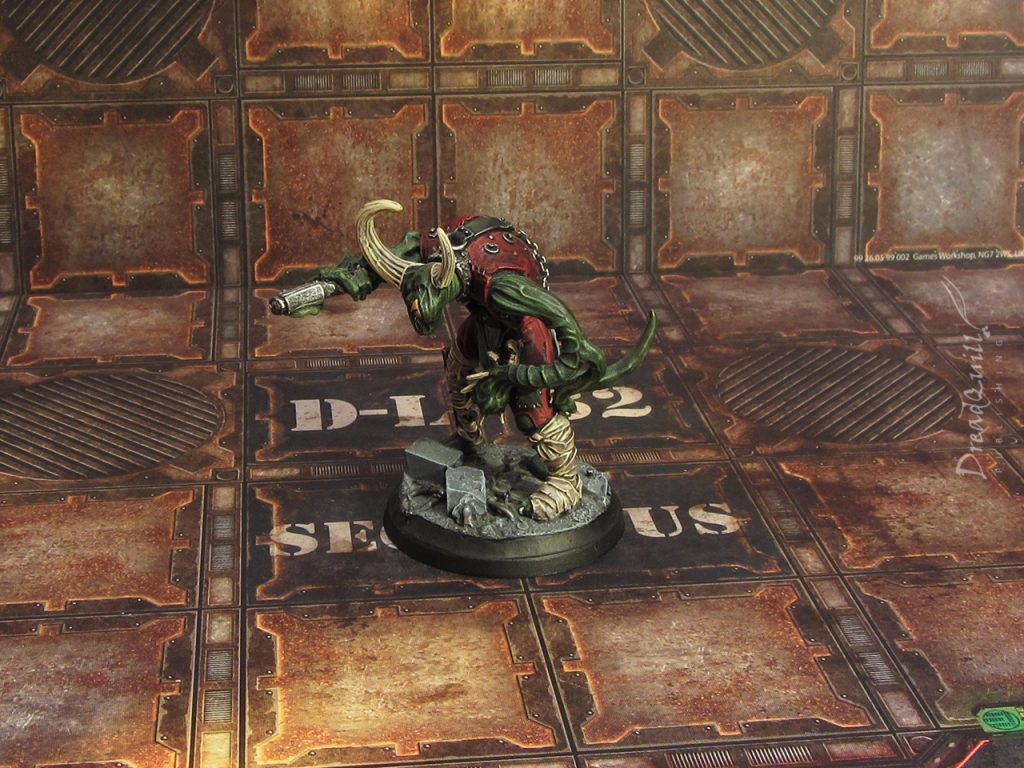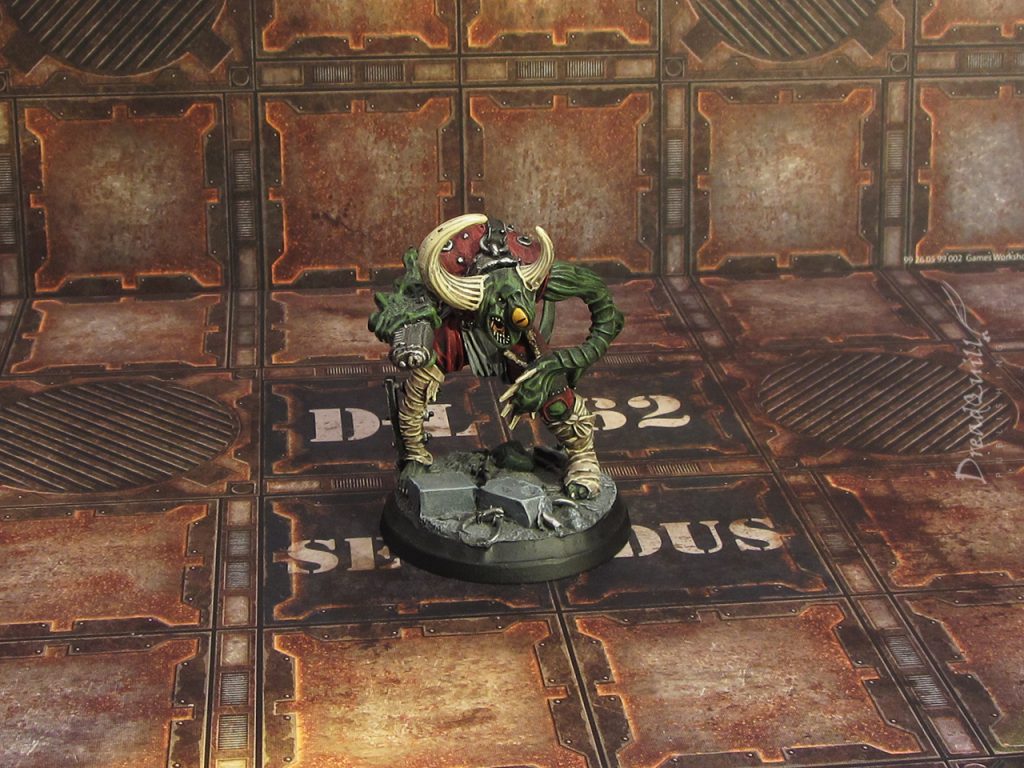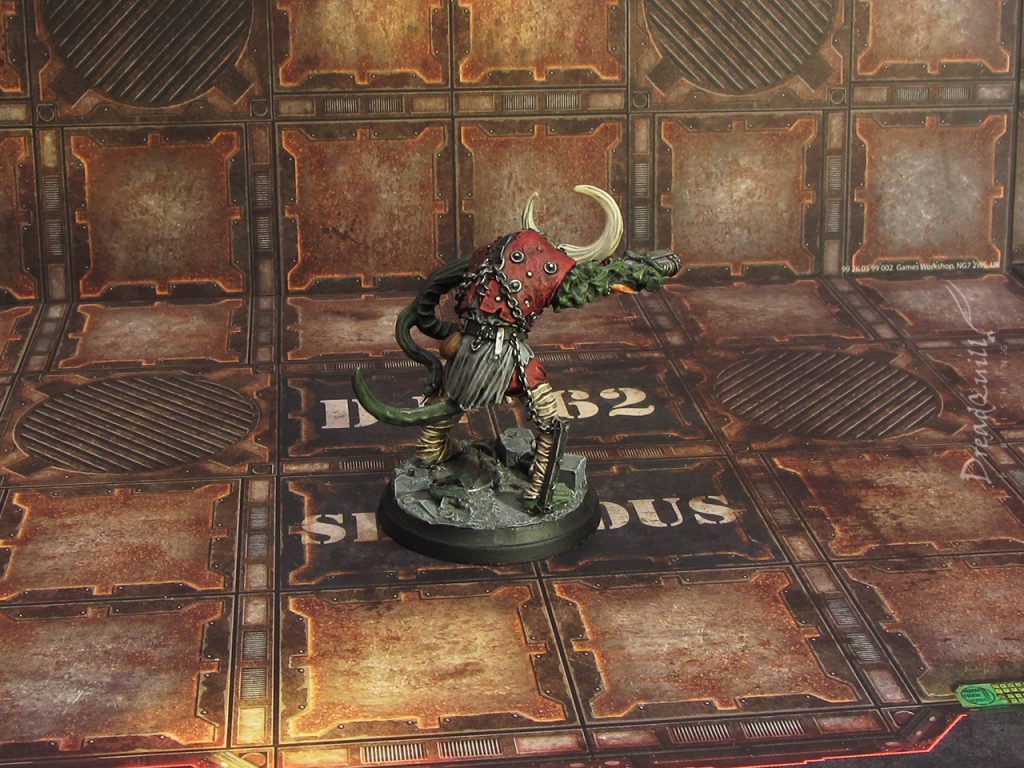 Tlaxcala was once a plasma gunner for the Imperial Guard before he was struck with a psychic bolt from a Tzeentchian sorcerer. His body mutated in horrible ways, stretching and elongating, melding with his weapon.
His blood boiled away in his veins, replaced with white hot plasma from his gun. The Changer of Ways had replaced his blood with plasma, and he found he could fire his weapon indefinitely – a valuable asset to the Crimson Wake.
His plasma blood has the additional advantage of splashing on anyone who attacks him in melee, eating through armour and dissolving weapons.
Traitor Guardsman Zenkhang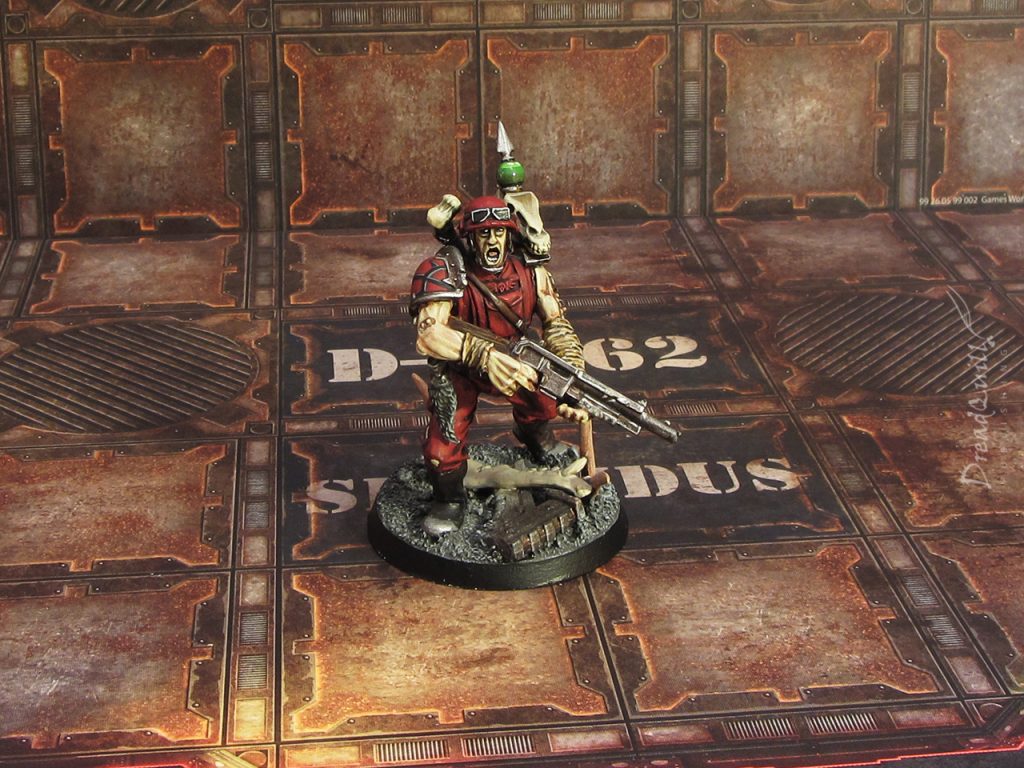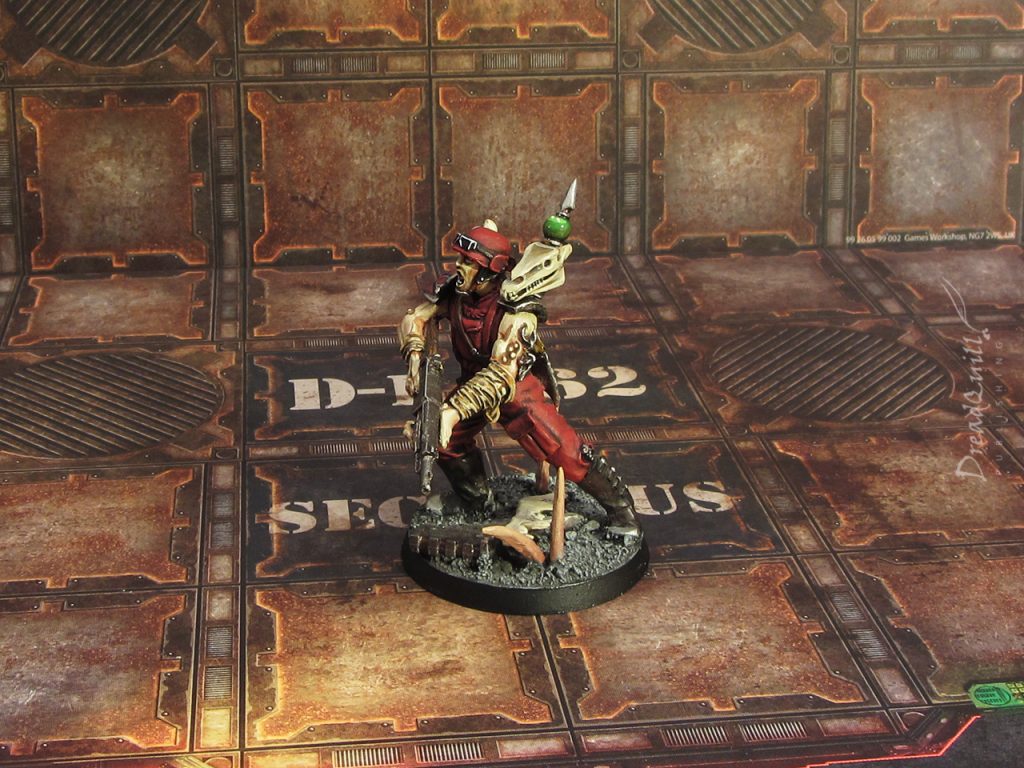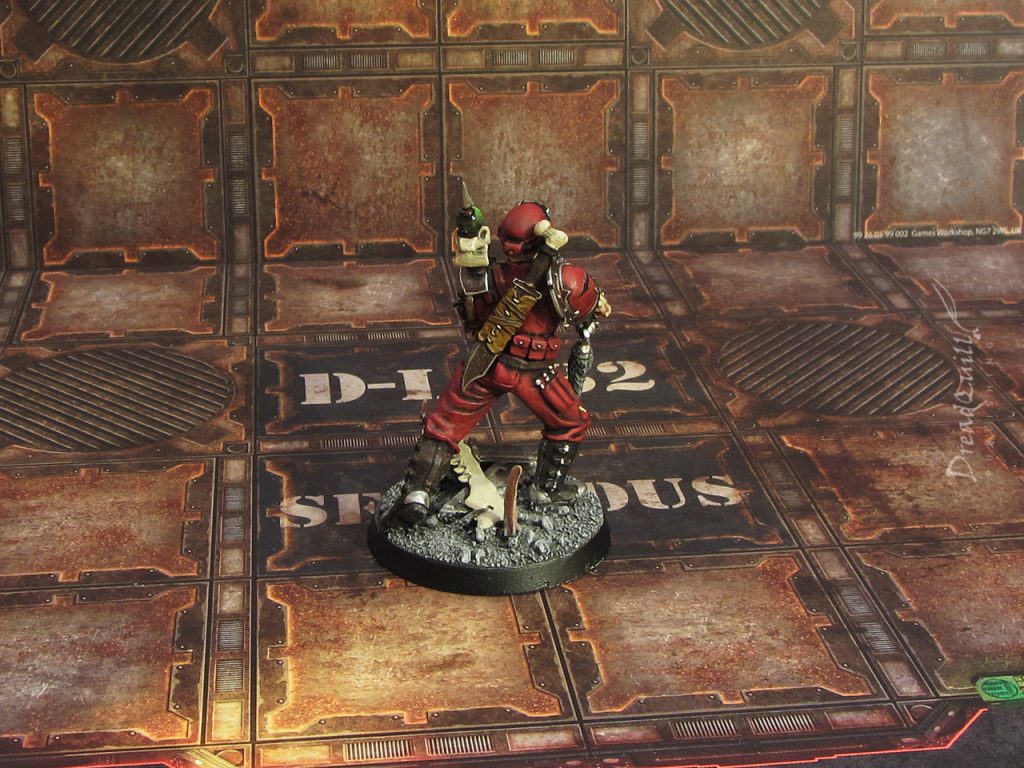 Our final Crimson Wake member is Zenkhang – a scrounger, fixer, and sole survivor of a platoon wiped out by a strange wasting disease. He attributed his predicament to good fortune and strong constitution, but after picking through the bodies for valuables and a new pair of boots, happened across a strange and disgusting-looking knife.
Little did he know at the time that he'd been hand picked by Grandfather Nurgle to carry a new and exotic disease further afield. Whenever a foe is struck by the blade, they find themselves hacking and coughing, arteries clogging and lungs filling with fluid with every cut made.
In combat Zenkhang is a good all-rounder – his shotgun is great at close quarters, enticing enemies to charge him to avoid his withering hail of fire. Once they've taken the bait, he can switch to his unassuming knife and infect his opponent with its corrupting edge – a virulent disease so powerful it can lay low any size foe given enough time.
Other warbands
You can see all the house warbands here.