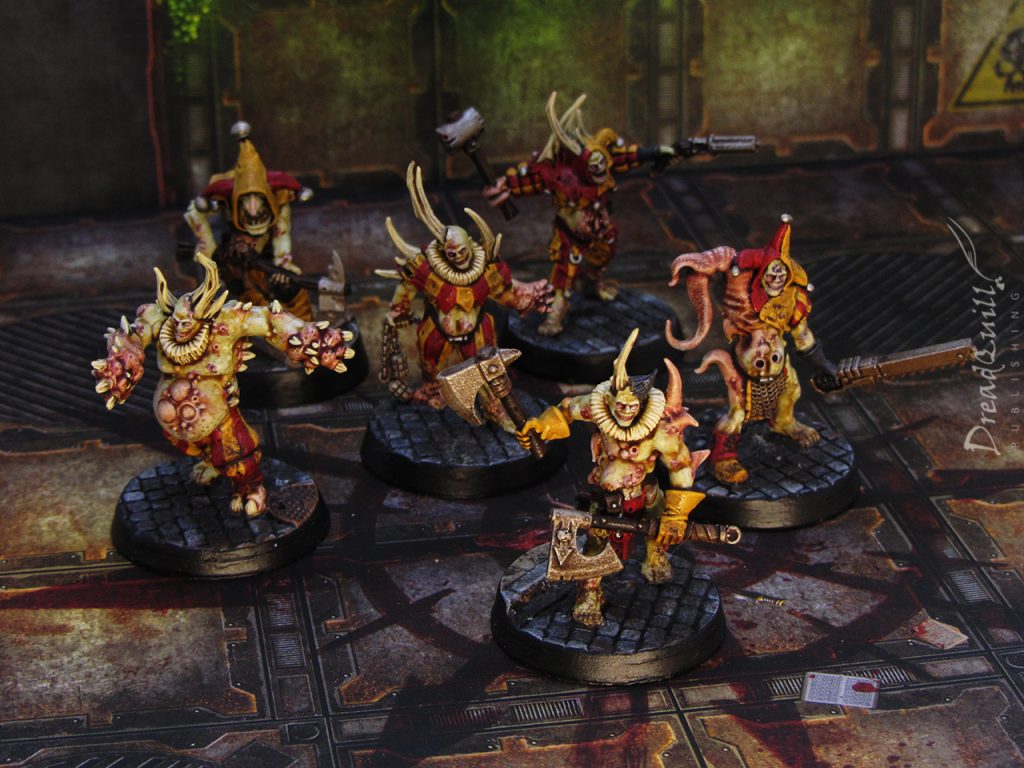 Previously I've showcased some grubby Bedlam Feast cultists and some equally grubby but slightly fancier Bedlam Feast Red Revellers, so it's time for some muscle. Some grubby, pustulous muscle.
Clowning around
Our Dark Heresy campaign needed some bulky enemies. I had intended the cultists to be cut down in droves, potentially even borrowing from Black Crusade's Horde mechanics for later encounters. Among those would be some hardcore melee mutants that had real staying power – a must for high-level groups.
I had a sprue of poxwalkers from the old Conquest magazine, and it was obvious what had to be done. You can't have a circus without clowns.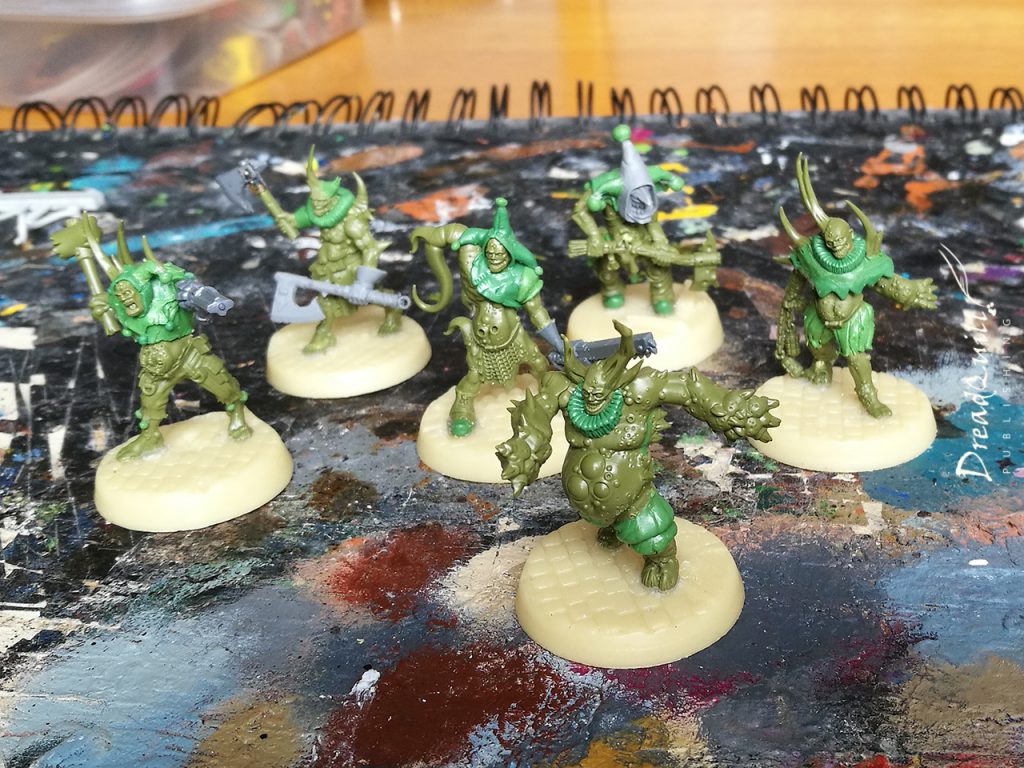 Very little conversion work was done to the models individually – almost everything was adding circus attire with green stuff. A few weapons were swapped for weapon variety and make them more viable for cross-pollinating with Necromunda.
The ruffs were done by following this rather excellent tutorial.
They've been a hoot in Necromunda using them as Helot Cultists with Frenzon Collars. Turns out if you're always on combat drugs, you don't suffer the side effects from not being on combat drugs. Win win!
And of course with any Necromunda gang, naming convention is important. Despite them being all nameless goons in Dark Heresy, they needed important-sounding names that binded them together. This Bristol primer to all available woad-paste colours in 1574 was ideal.
With their very serious and fearsome-sounding names chosen, it was time to assemble the squad.
Gooseturd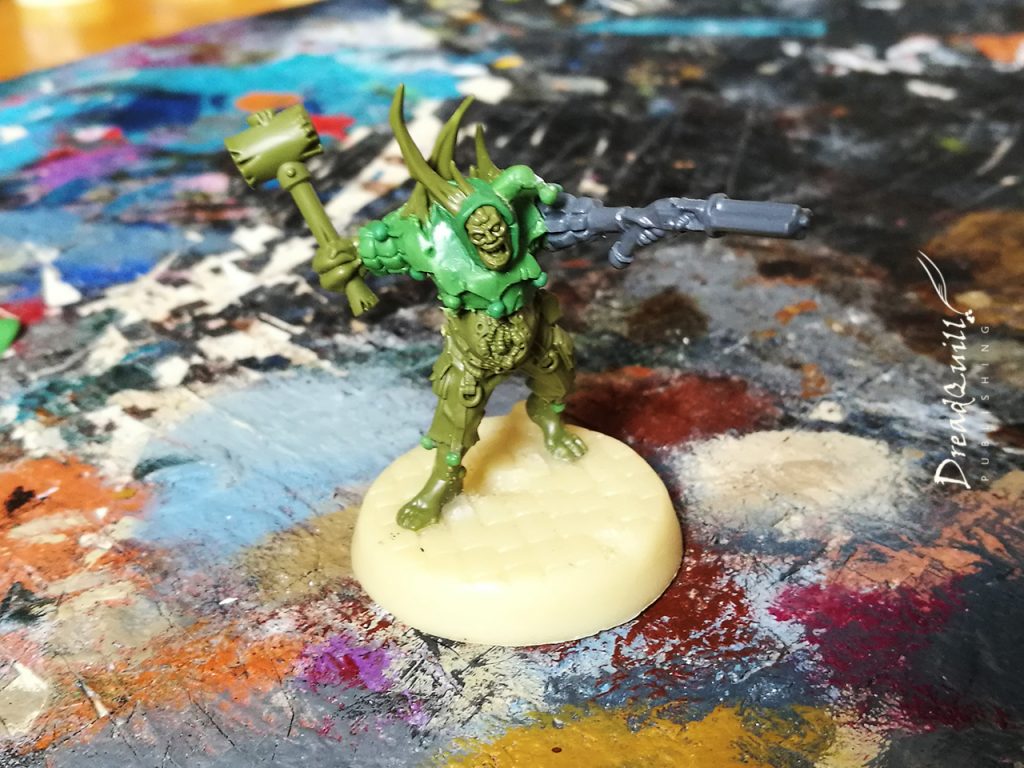 This lad probably had the most extensive green stuff work, which wasn't so bad when working with a large batch of minis. It's easier to do little bits on all of them and wait for them to cure.
When it's just one mini I'm working on, the temptation to keep adding layers is far too great, and I always end up smushing my big sausage fingers onto a piece I've just spent half an hour sculpting. Patience and layers, people!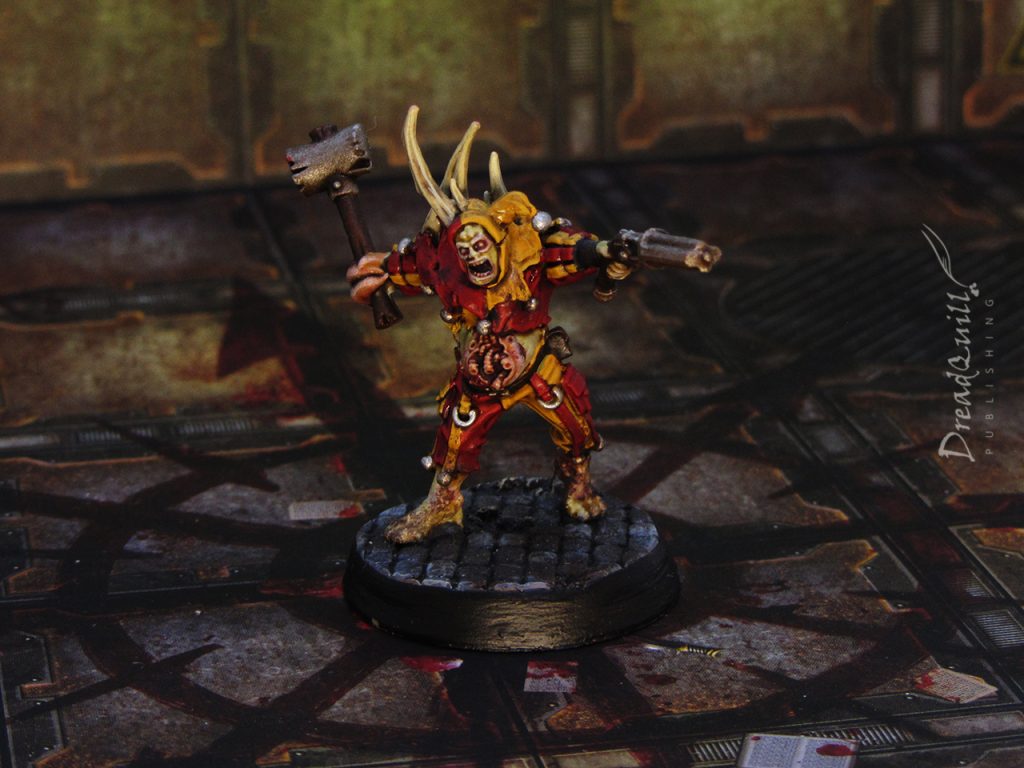 The mini was originally armed with a broken chisel in the left hand, which clearly needed removing. An old Empire pistolier arm was the perfect replacement, and the big poofy sleeves helped tie the mini into the Venetian jester look. A rattly autopistol also serves him well on the tabletop, giving him versatility and making target priority much trickier for opponents.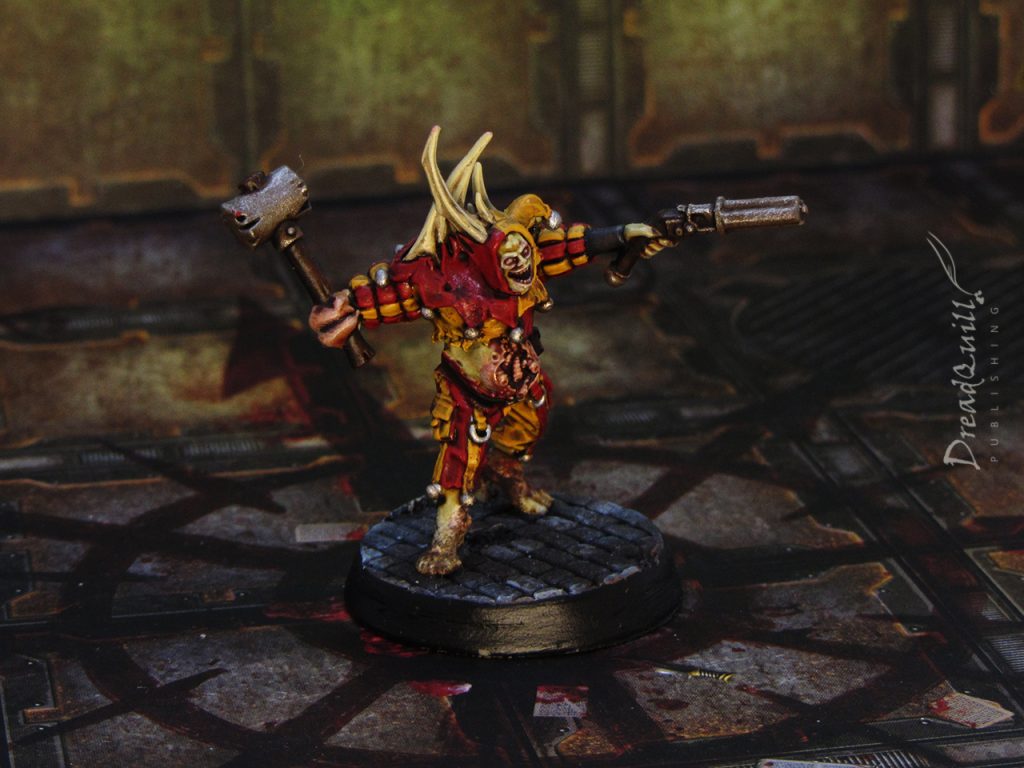 The jester bells were the trickiest part to figure out, but once I had the technique down I could do them all in one sitting. It involved rolling tiny tiny balls of greenstuff and letting them cure overnight, before supergluing them to the mini with a pair of tweezers.
I must have rolled out about 40 or 50 tiny balls in total, lined them up in order of size, and took the median. I'm bad at eyeballing sizes so I figured if I did shitloads I'm statistically more likely to get ones in a similar range.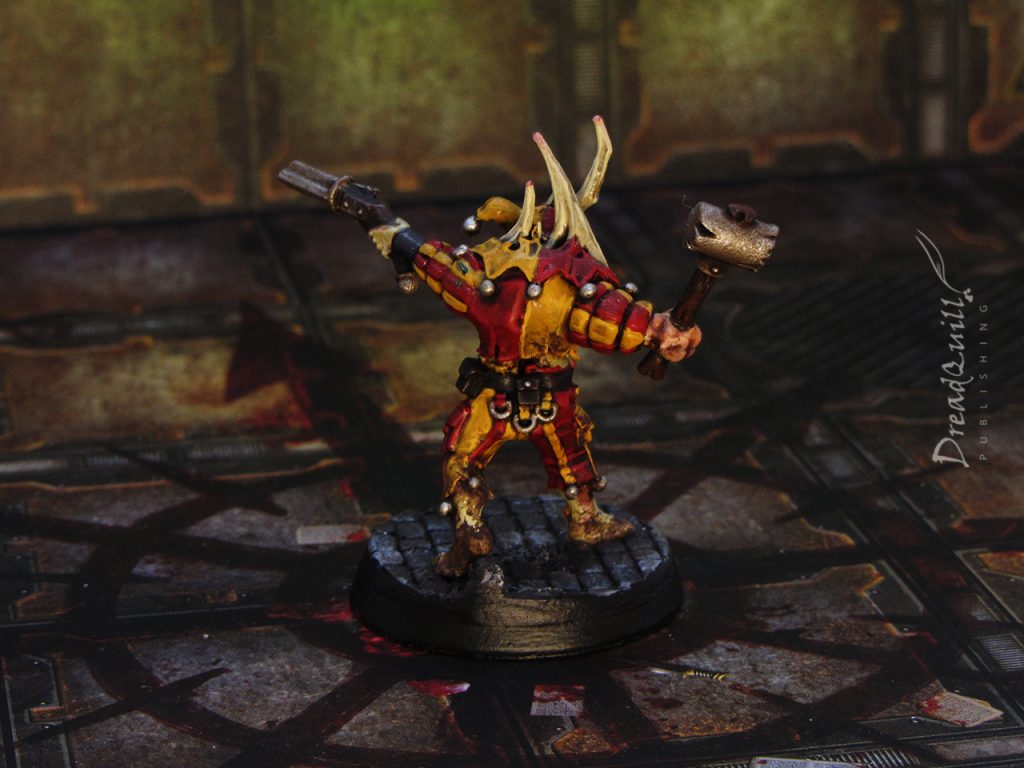 The colour scheme followed the same recipe as the cultists – red, yellow and brown with a wash, then highlighted with the same colour.
The diseased flesh was a pale grey-green colour as a base with a sepia wash. Buboes were highlighted again, and particularly gnarly areas of guts or growths had a smash of crimson wash.
Ape Laugh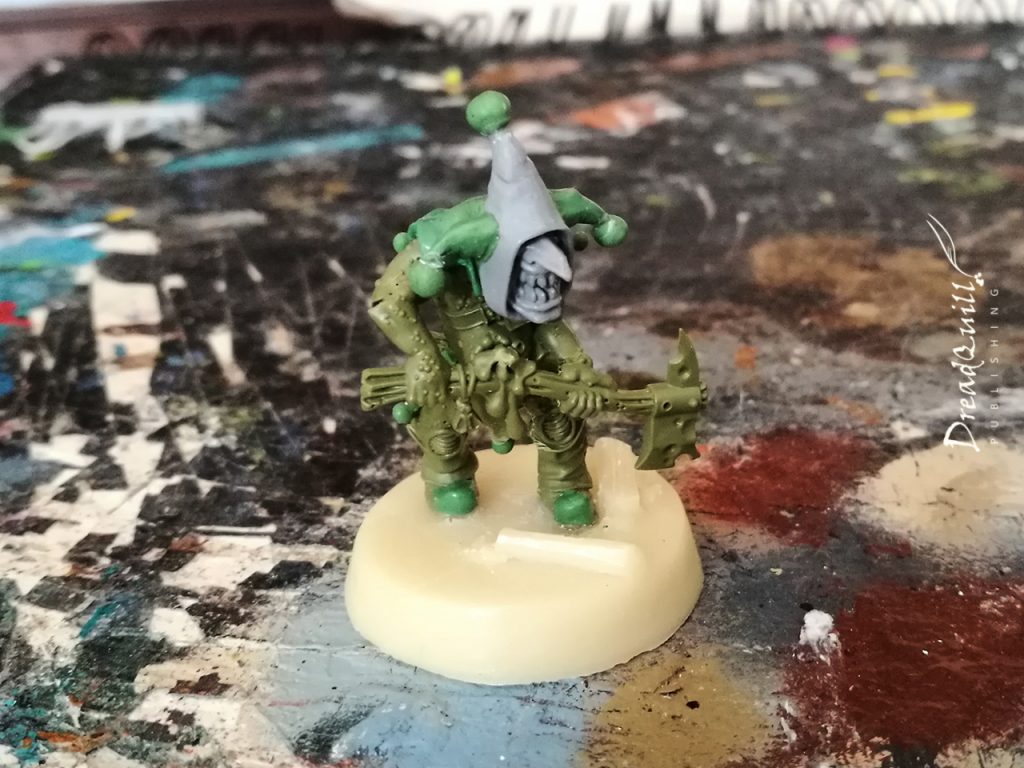 This fella had some surgery to remove his broken gas mask head and replaced with something a little more festive. A classic Night Goblin head looked suitably jovial, and was disguised by adding another couple of points to the hat.
The same ball trick was used as before, selecting larger balls for the hat, and smaller ones for the points on his clothing.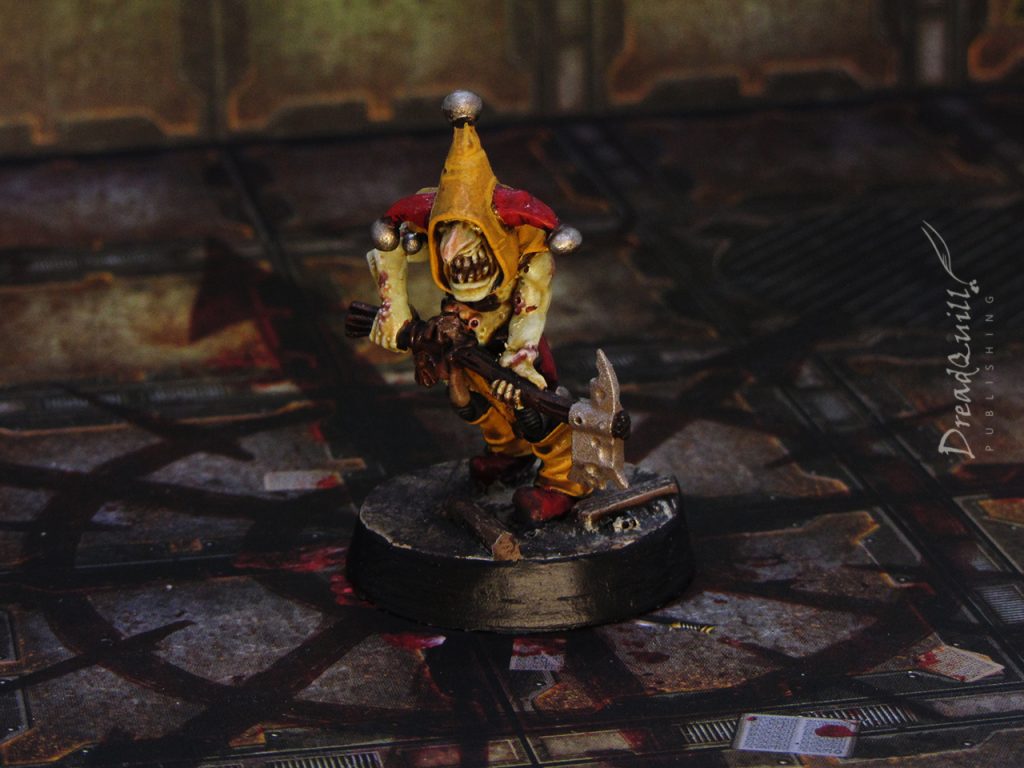 Sometimes you don't need anything other than a two-handed axe and a really big smile. In Ape Laugh's case, you absolutely needed more than that. He hasn't had an outing in Dark Heresy yet, but his Necromunda track record has been appalling.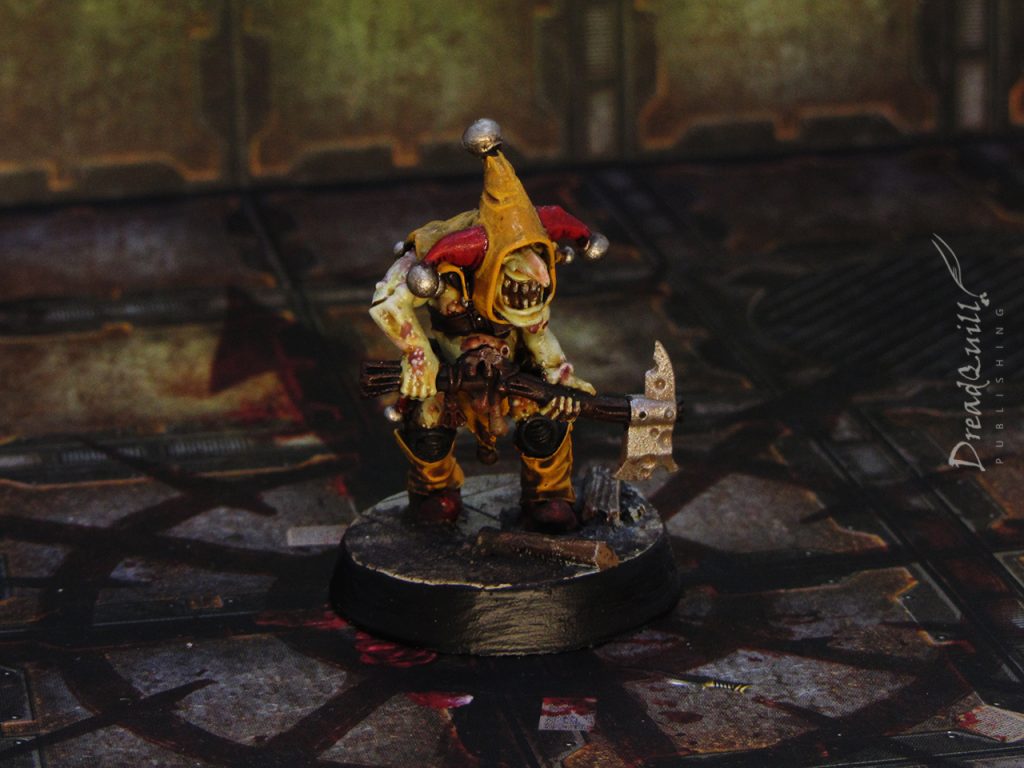 He currently holds the record for a ganger who has been killed the most. Four iterations he had – his great axe being handed down before the previous owner had gone cold. He huffed some Ghast and exploded his brain in the opening turn of the first game. He slipped and fell down a pit, 66ing himself on the way. He ate a melta gun at close range. Finally he was left bleeding on the floor, technically saveable by a doc, but after three failed attempts at getting him off the starting line, his boss decided he was worth more as a fine paste, and sold him to the sausage man.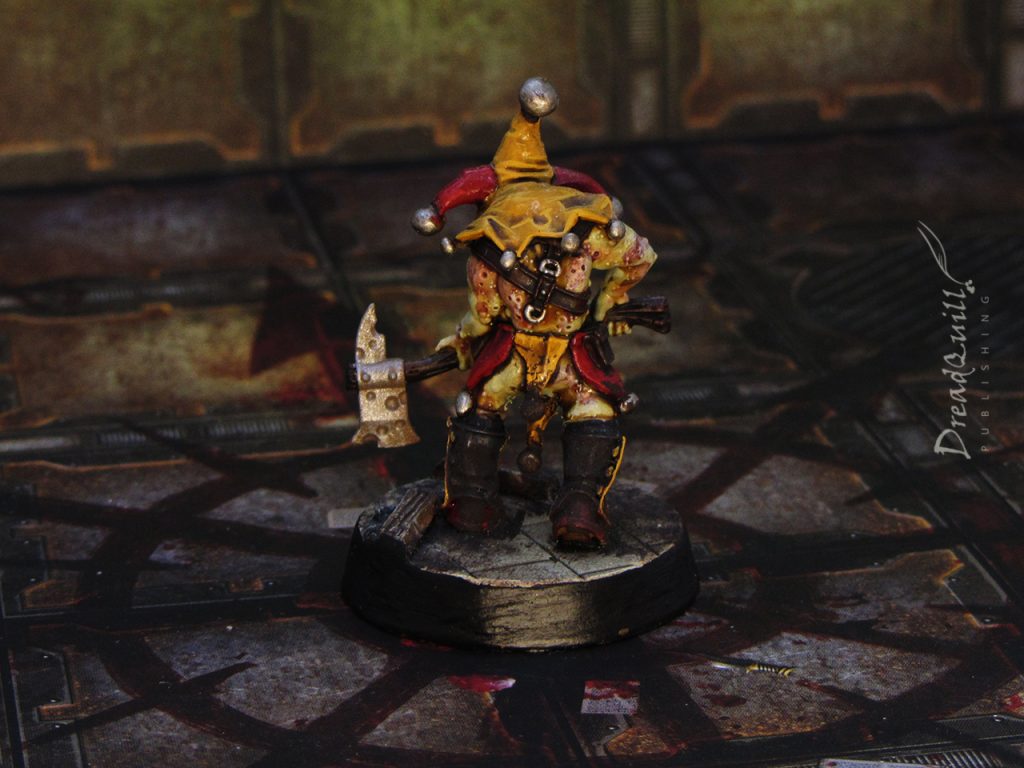 Maybe next time, eh?
Ham colour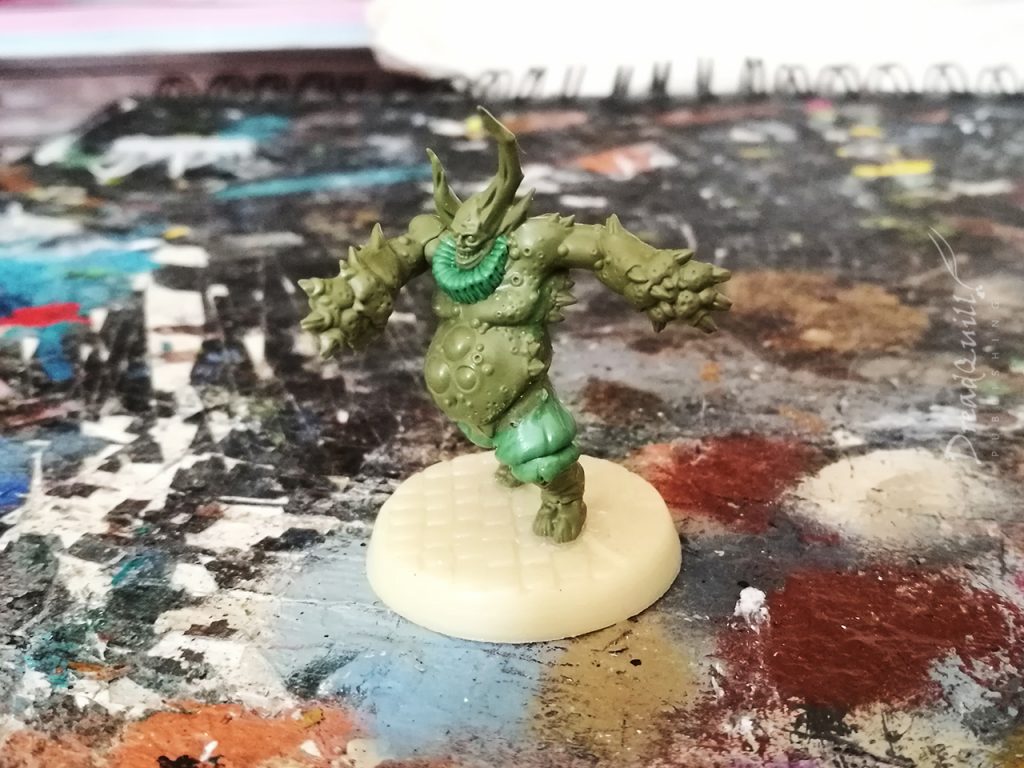 Probably the least work I did to any mini, and the one I think came out the best! Sometimes all you need is a rictus grin and two spiky ham hocks for fists. In Necromunda I ran him as having two mauls, which despite being an objectively bad choice, does make for a fun game.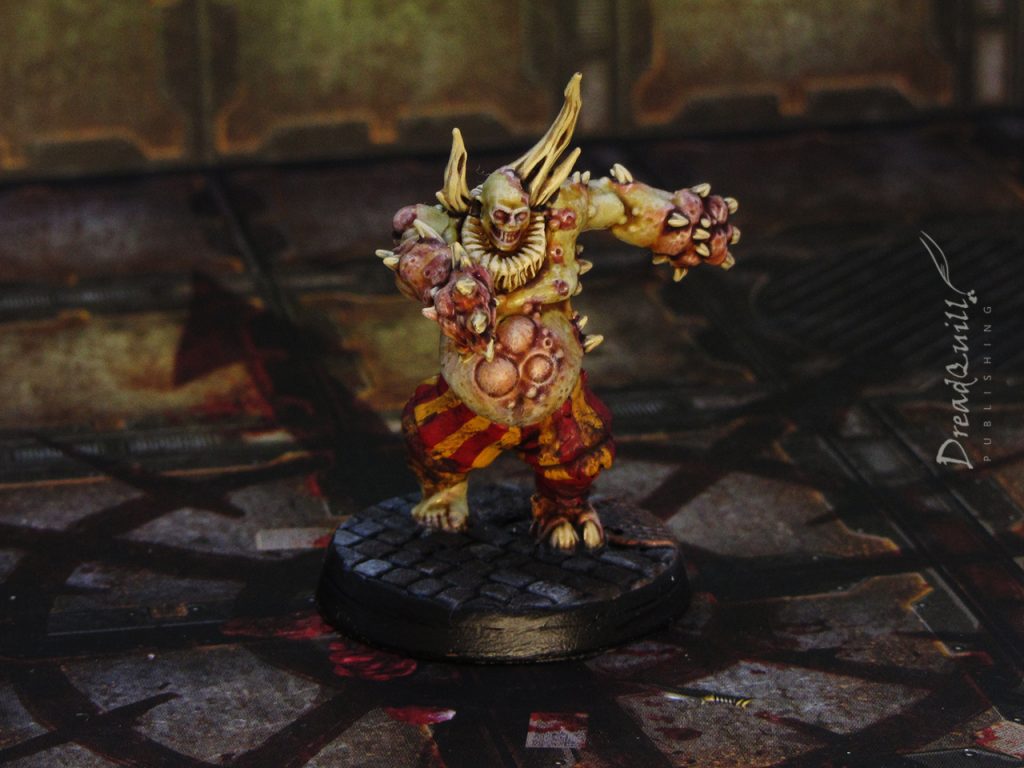 They are entirely underwhelming weapons (and the only thing in the game that improves the armour save of the victim), but their Damage 2 makes for an unpleasant surprise for an Orlock leader who fails a couple of armour saves.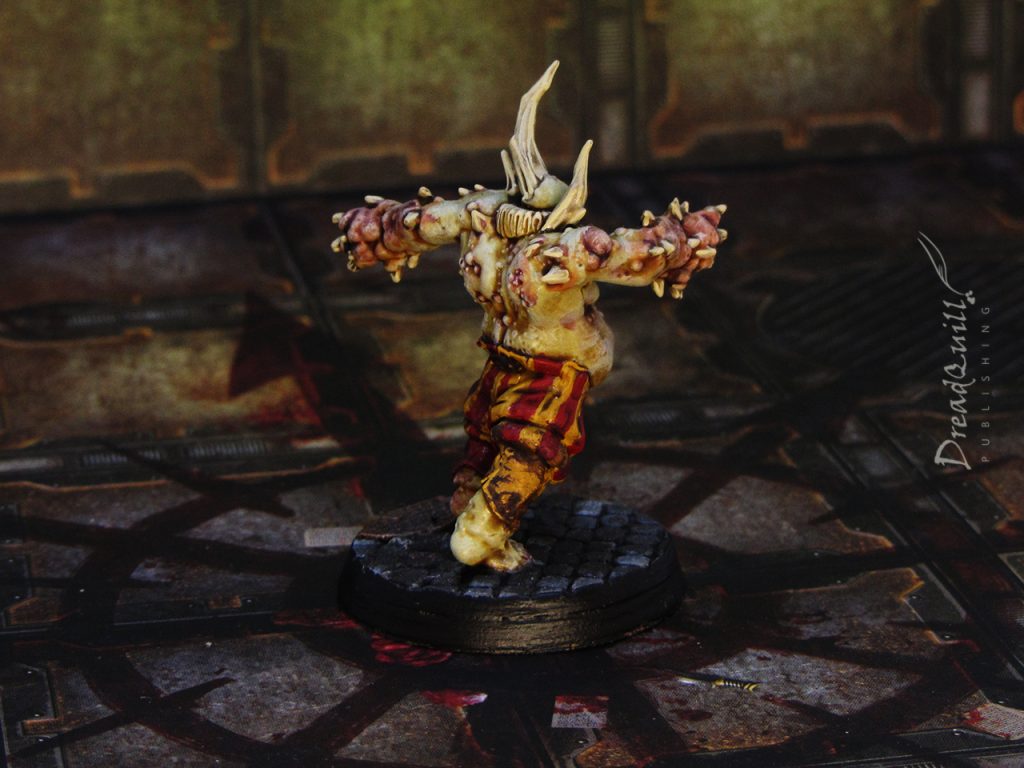 Spiky bits were done with Ushabti Bone, washed brown, then thin lines of bone painted back on. All the muck on the feed and clothes was Typhus Corrosion stippled on with an old manky brush.
Raw Flesh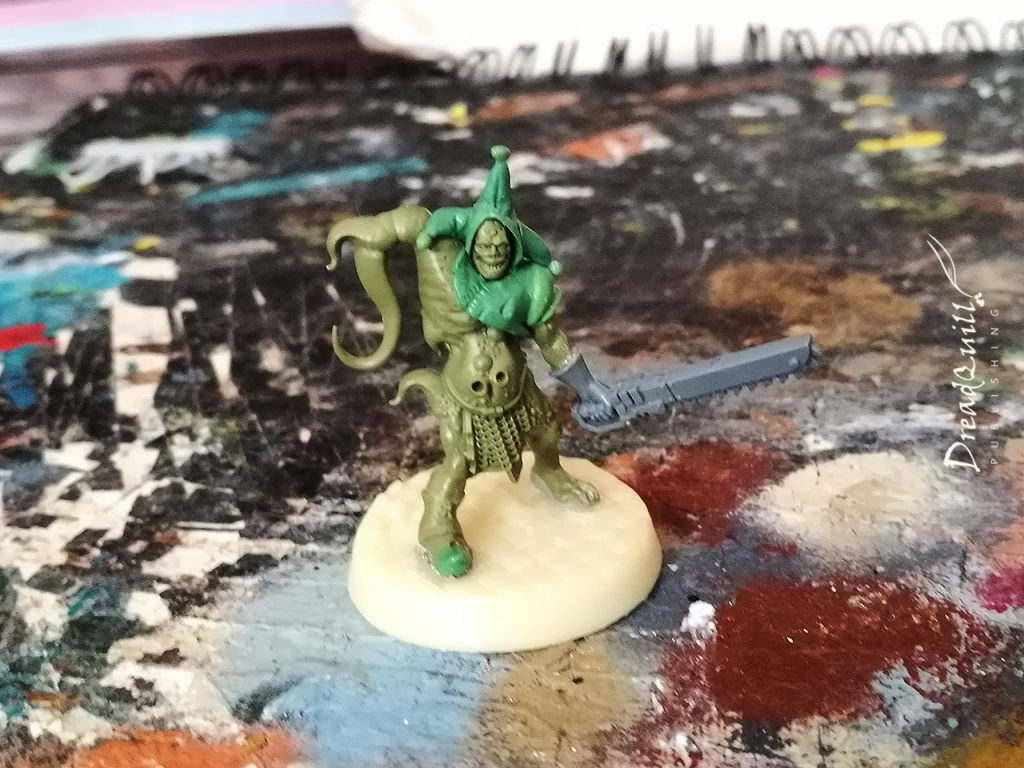 Another lad with a weapon swap, this time from a maul made from old rebar. I already had a lot of clubs in the squad, and despite them being thematic they're just not very good in either Dark Heresy or Necromunda, especially not when I have the option to give one a chainsword!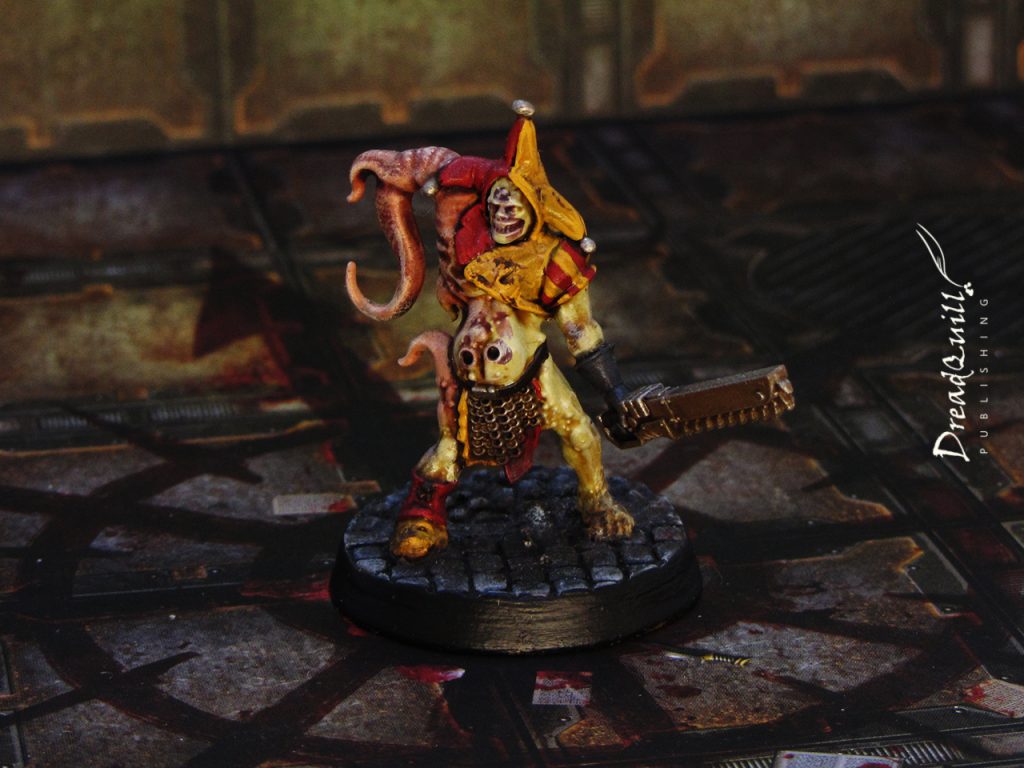 I always try to make my model loadouts unique where possible. It encourages me to be creative with parts, and makes them easier to pick out on the tabletop. Which Ganger With Lasgun was this again? Forgettable Larry #5?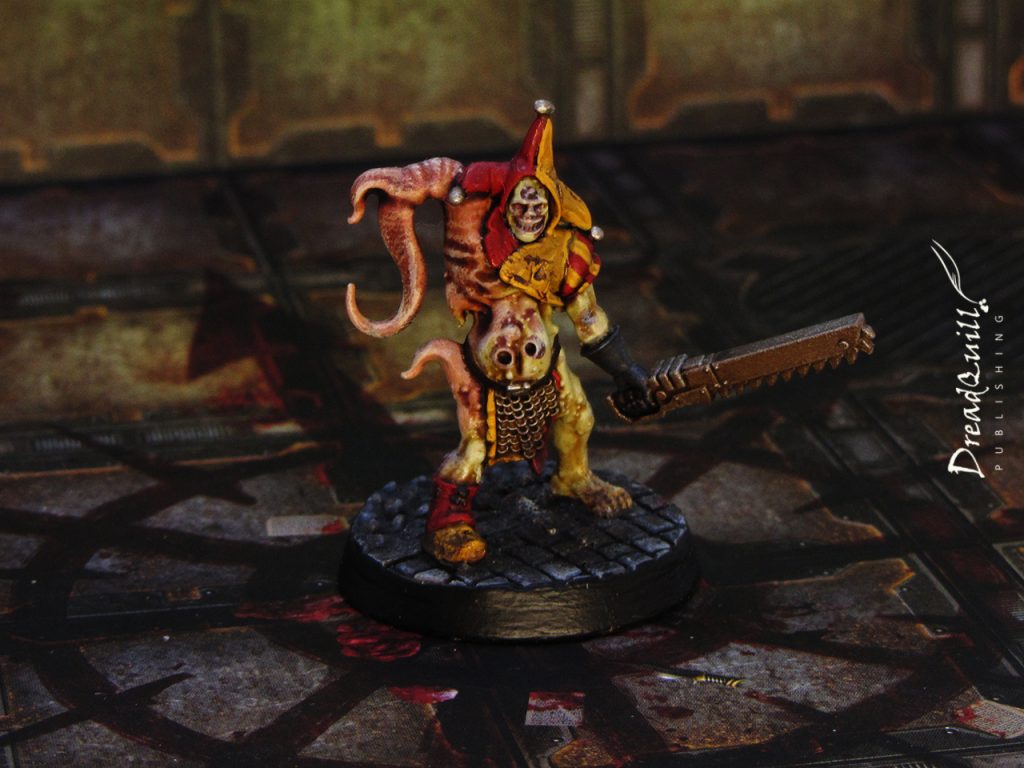 In game I've counted his tentacle arm as a flail, which turns out to be a disgusting combination with a chainsword and Frenzon collar. This guy cleans house.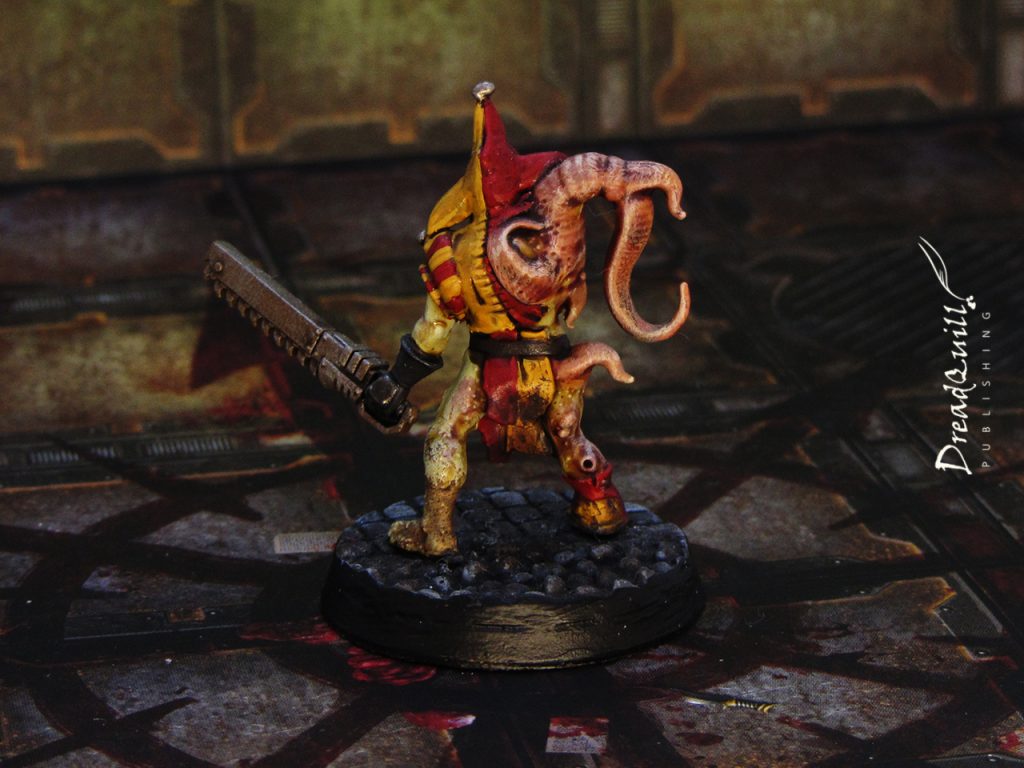 Anybody who plays Chaos (or any Outlaw gang) should absolutely be investing in Frenzon Collars for their melee lads. They are absurdly cheap – 30 credits – and make your ganger tough as nails. Nerves of Steel, True Grit and Unstoppable ensure they get into combat, are harder to put down, and heal off Flesh Wounds if left alone too long.
Coupled with the added benefit of a nominated 'owner' being able to group activate collared gangers from any distance across the tabletop? shutupandtakemycreds.gif
Bristol Red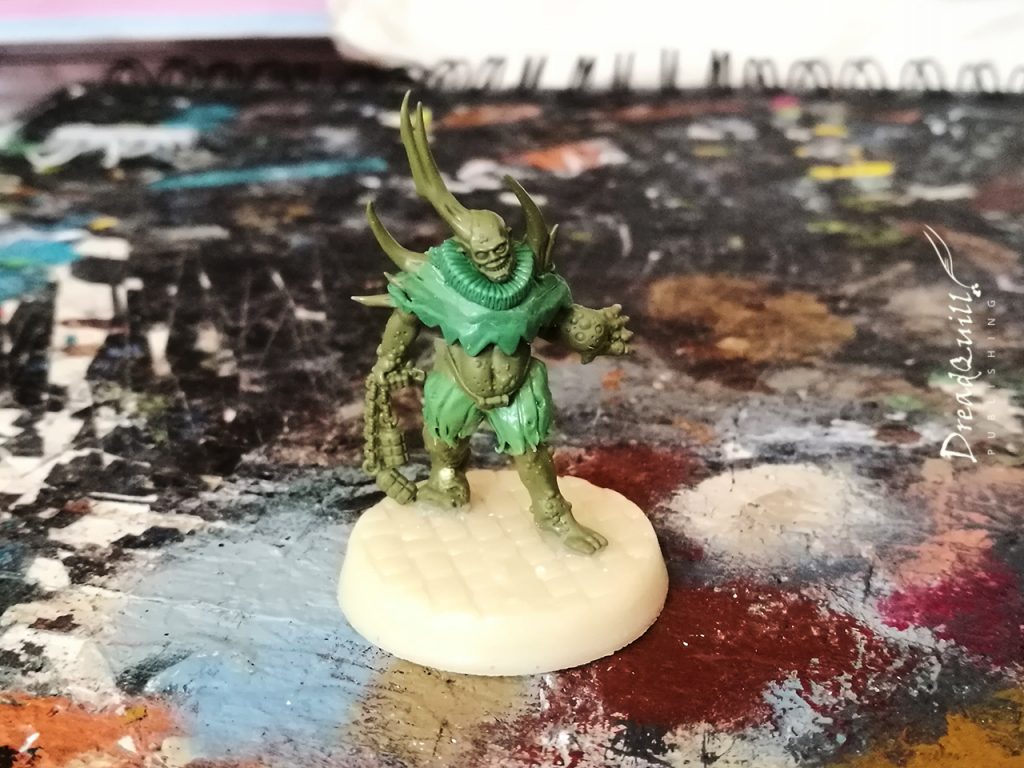 I enjoy the simplicity of this fella. Just a happy lad taking his grenades for a walk. Another good flail warrior, and gives me scope to write an interesting weapon type for dark heresy!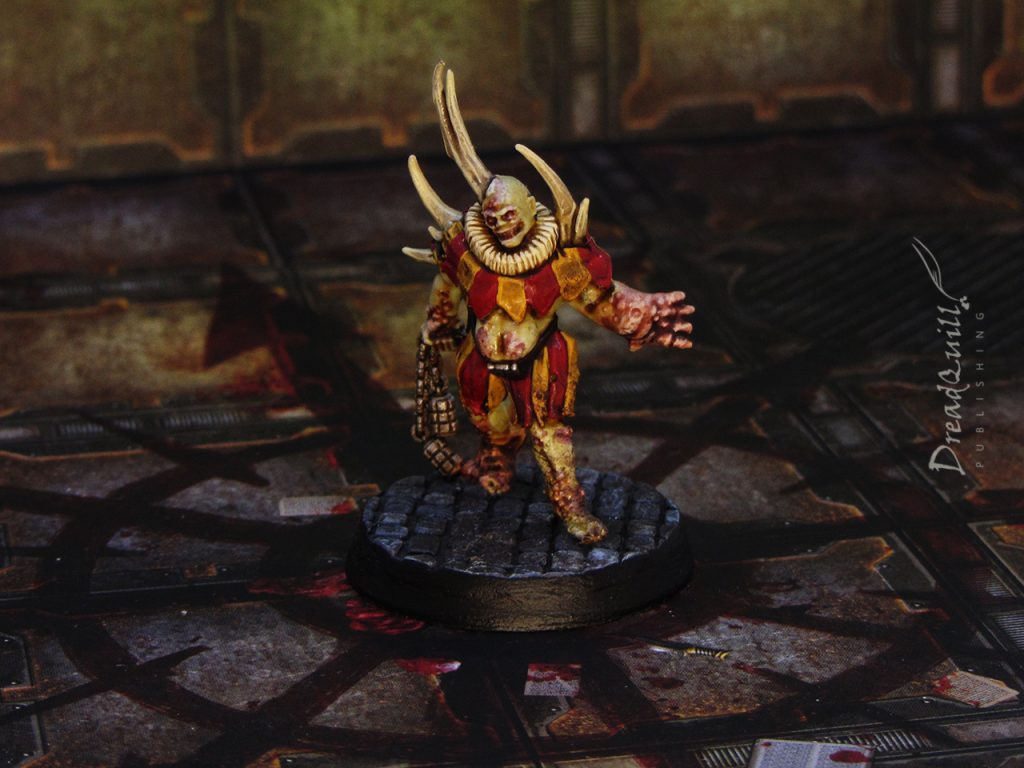 Bomb flail: 1d10+1 Impact, Primitive, Flexible. On a Critical Hit, in addition to flail damage, centre a frag grenade on the target. On a Critical Fail, centre a frag grenade on the attacker! It's excitingly random and will likely kill the attacker either way, but it throws up enough variation for players to come up with novel ways of avoiding explosive death at the hands of a mutant clown.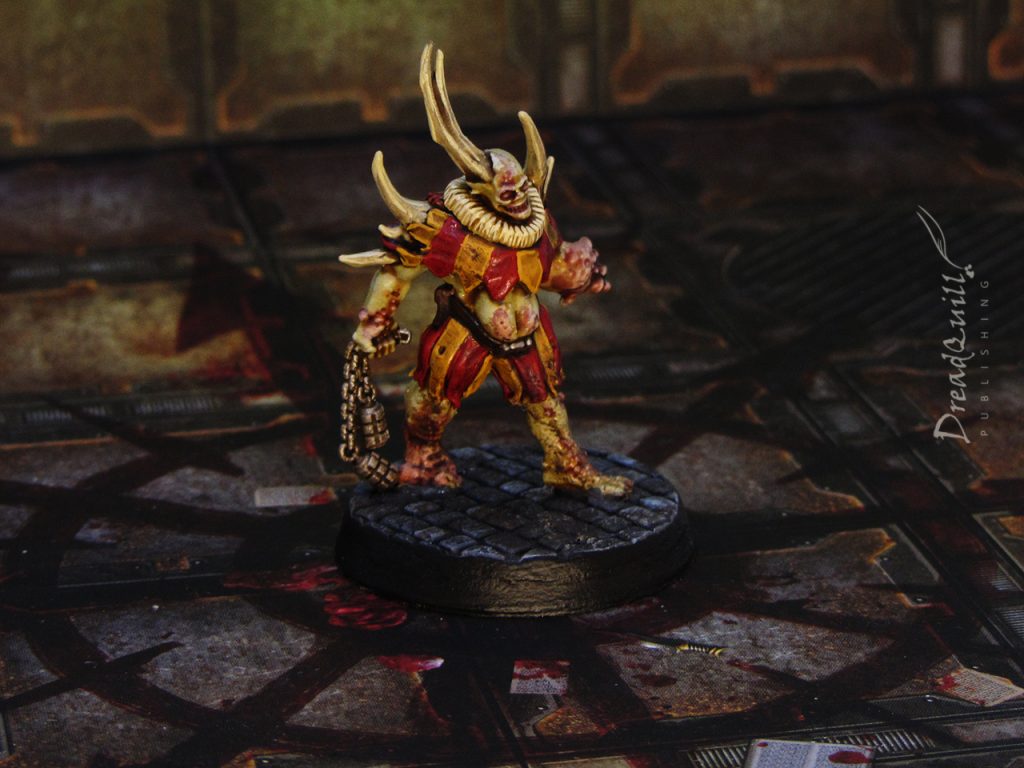 In addition to having a collection of Talents to bump up their meanness in Dark Heresy, the change that has had most impact is giving them Critical Damage. It's something I reserve almost exclusively to boss characters as it slows the game down massively and ups the bookkeeping for the GM.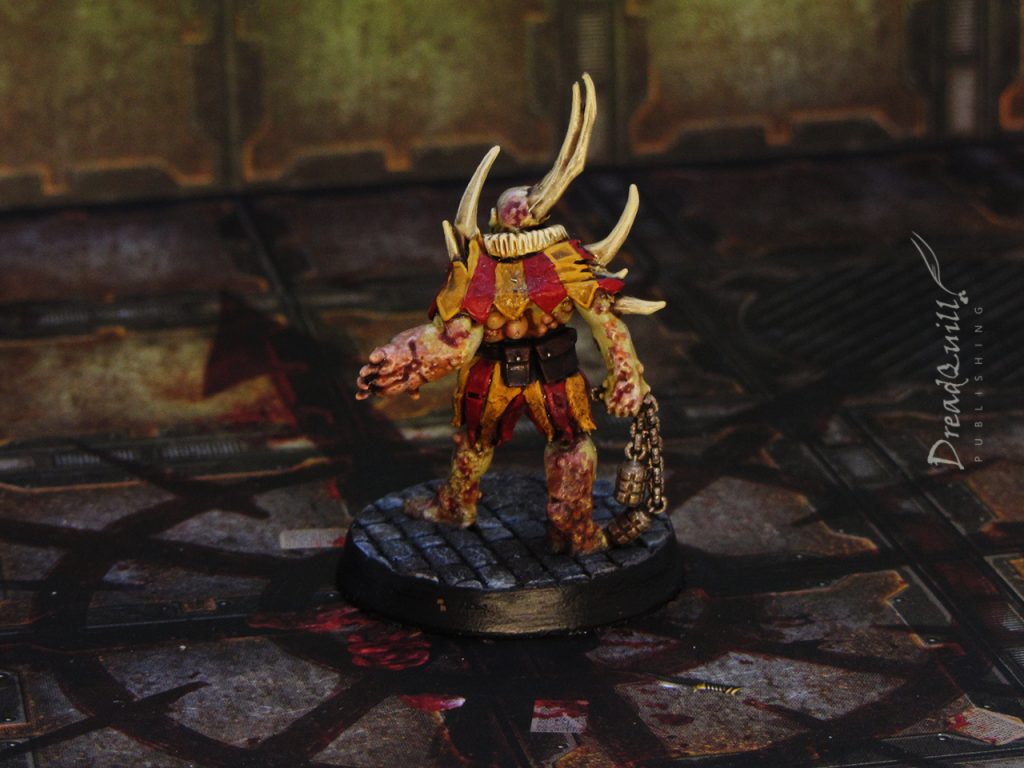 However, after dipping my toe back in and giving these lads Critical Damage, it's been a huge success! It nearly doubles their health without artificially bloating it and makes them feel uncomfortably tough. The bookkeeping becomes easier too, as they're all uniquely equipped it's easy to keep track of which clown is missing which arm.
Lustie-Gallant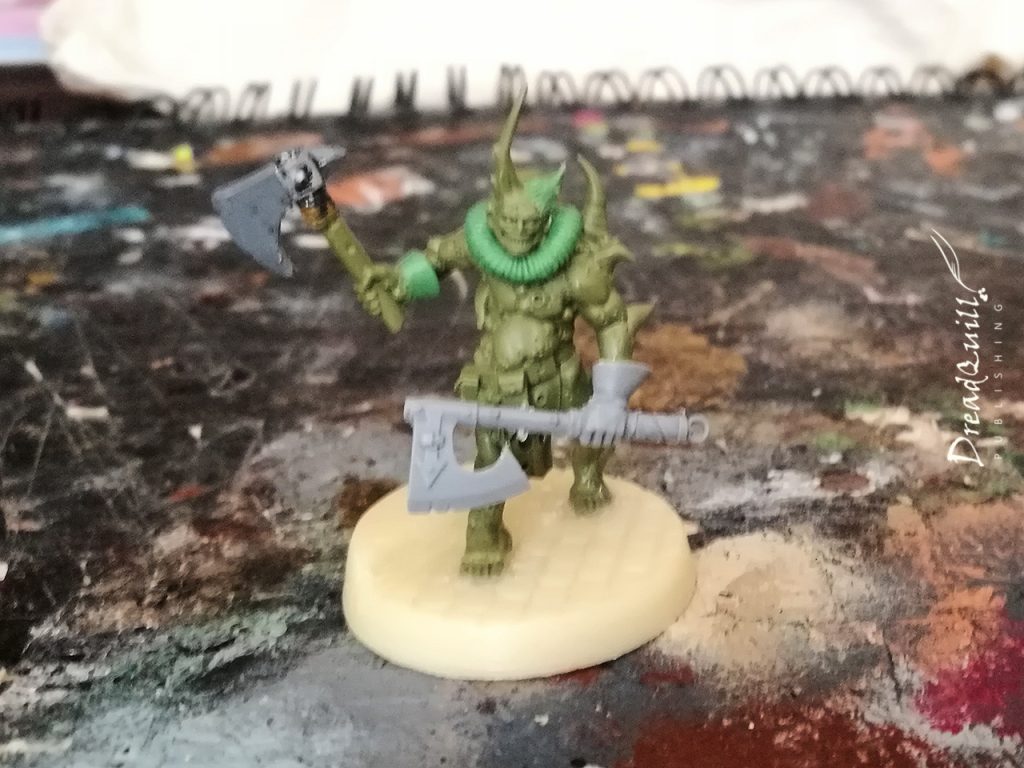 Yikes, maybe I need to cut back on coffee while I take photos. The final lad was another simple weapon swap – exchanging his spiked bar for an axe head, and his little mutant hand for another whole axe.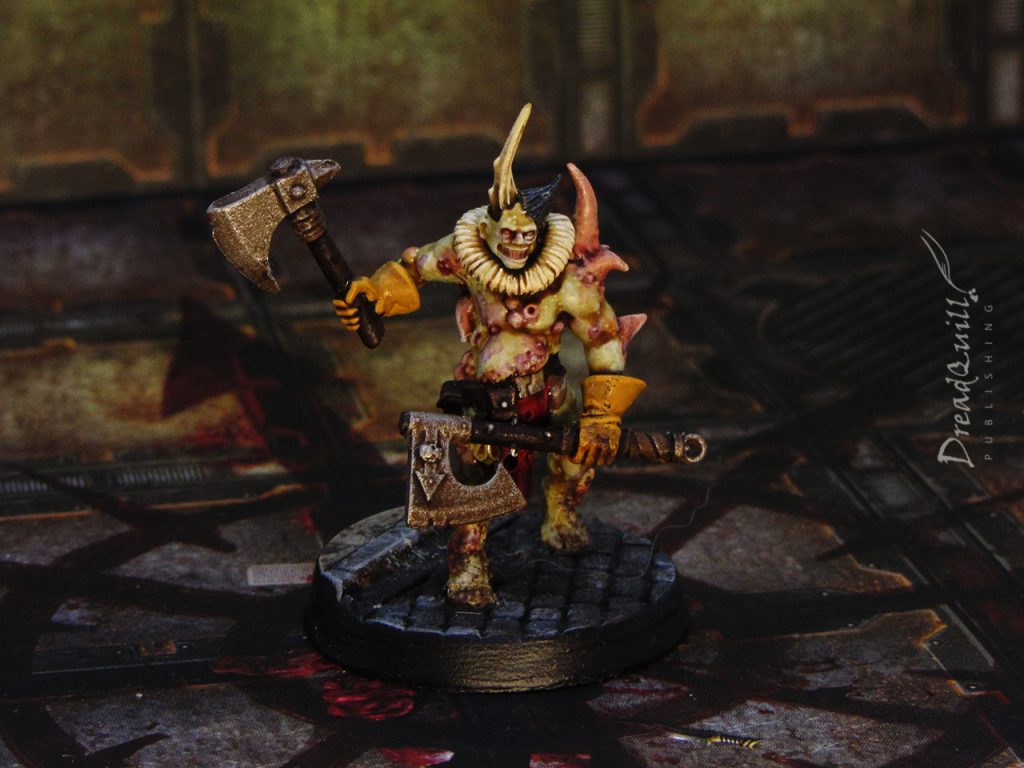 Axes are cool, fact. They're also very deadly, both in Dark Heresy and Necromunda, so giving him a pair of them seemed appropriate. I imagined him as a kind of axe juggler, so I made sure to include some throwing axe rules for when players think they've got a couple more turns before he gets into melee range.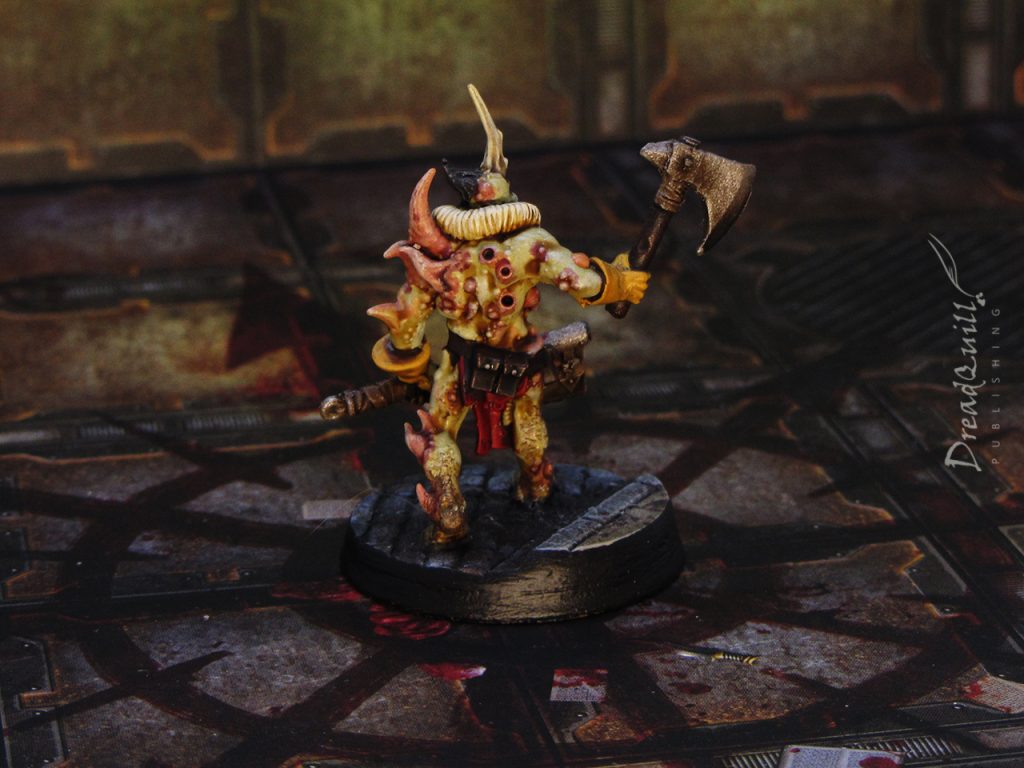 I also gave him a little tuft of hair, Krusty the Clown style, to help balance out his silhuoette a bit.
in clownclusion
I am very happy with how this horrible bunch came out. Simple conversions with a simple paint scheme that work really well together. They're versatile enough to be used in a range of different systems, and they're great baddies to roll out when I don't need any morally grey villains.
Send in the clowns!