It's time to sell off one of my mega box of bits on ebay! (link)
I simply don't have the space or inclination to hoard any more bits than I have at the moment would much rather they went to someone who can make use of them rather than a dumpster.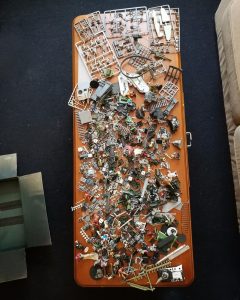 All this stuff has been accrued over 25+ years of hobbying, some parts are well loved, and some parts are still new on the sprue. I like to think I have a decent eye when it comes to identifying models, but even some of these bits baffle me. If you need clarify on anything in this big ol' box of stuff then just give me a shout!

This list is FAR from exhaustive, but from what I can make out from rooting through the box, we have components from:
Imperial Guard/Astra Militarum

Warhammer 40,000 Space Orks

Orcs and Goblins

Heroquest

Space marines

Chaos space marines

Eldar

Dark Eldar

Tyranids

Undead/Vampire Counts

Some Forgeworld bits and pieces

Dwarfs/Dwarves

Lord of the Rings Goblins of Moria and High Elves/Elfs

Scenery/scatter terrain

Various 1:72 historical and WWII/WW2 figures

Lizardmen

Some scale parts for a WW2 tank and plane

Mantic Avatars of War elf archers on sprues
The Mega Box of Bits ebay lot is available here, and it ends Sunday night (tonight) at 8pm .