This week's theme is Space Thugs, and you don't get much thuggier or spacier than TJ Razor. A man whom you could strip naked, beat bloody, interrogate for days in a cold brig-cube, finally turning your back only to find a knife stuck in it.
He's a member of the Pursers Grim, a loose organisation of void-faring racketeers and shakedown artists, often used as a source of intelligence by organisations on both sides of the law if the coin is right. It is said there isn't a ship in the sector that doesn't have a Purser on board.
TJ relies on quick wits and quicker hands to stay one step ahead of his quarry, and always has a trick up his sleeve if he finds his back against the wall. That trick, however, is normally another knife. He's a man of simple pleasures.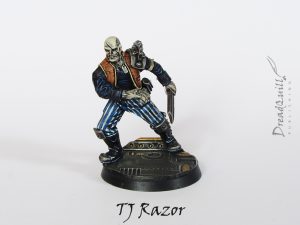 As with many of my Inquisitor projects, TJ started off as a totally different concept – an elegant swordsman in the employ of a fancy Inquisitor. What differed is that the parts remained almost completely unchanged while he languished on a shelf for 9 months, only adding the stick grenade and shoulder pad to complete the image.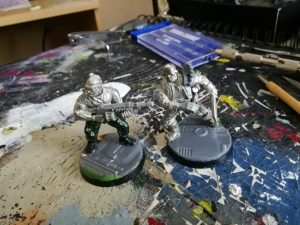 It wasn't until we had sunk quite a few hours into a new Rogue Trader campaign that the Pursers Grim faction became a little more fleshed out, and I wanted to have a 54mm representative for our games of Inquisitor. I had a dig through the Box of Shame and found this guy, so he was swiftly rebased onto something a little more space station-y to fit in with the other themed gangers I was building.
I was always a fan of the pose – Sergeant Stone's legs are very dynamic but can be tricky to build a model that doesn't look awkward with such a dramatic lunge. The arm reaching across his body to draw a blade gave the model oodles of character, and despite trying dozens of different permutations of sidearm, accessories, extra weapons and such, it was the simplicity of two knives that really worked for me.
NB: As an important pedantic note, I know he doesn't have a sheath for the knife in his left hand. I couldn't find one of a convincing size that would fit anywhere on the model and not detract from the flow or silhouette. Fight me.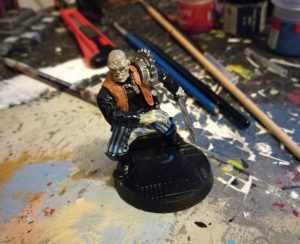 To my undying shame, this was the state he remained for another 5 months. I blocked out the colours and had a vague idea in my head of what I was going for. The orange jacket was going to be some sort of repurposed criminal fatigues from his penal colony days, and the shirt underneath was going to be a leather jacket or padded vest to keep him from freezing over in the chilly underbelly of voidships. The stripey trousers are from a classic piece of 40k artwork (that currently escapes me) with a Rogue Trader wearing striped trousers. I don't know what it was about this image that screamed 18th Century sea faring and naval combat, but I had to replicate it. I knew I wanted him pale as well, from a life lived away from the sun but also covered in gang tattoos, the ridiculous OTT type that you see in buzzfeed articles that you aren't convinced aren't photoshopped.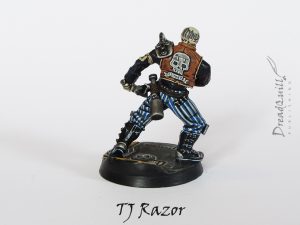 I ran out of motivation at this point realising the sheer amount of hours I would need to apply in one sitting to get the freehand tattoos looking the way I wanted. I also noticed that I had assembled the model incorrectly, and sculpted the arm joins to look like they went underneath the vest rather than connect to it. Pretty harmless when there's no paint on the model, but after some block colours went on I realised that his shirt has a deep v-neck, and to combine it with the fabric on his arms gives him a weird leather long-sleeve deep neck shirt thing that I couldn't be bothered to strip, resculpt and fix.
Signing myself up to run an Inquisitor day, "Mother of Mercy" in November seemed to be the trick to get my unmotivated ass out of the gutter and start finishing some models. I blew the dust off him, touched up his base coats and gave him a good couple of washes while I looked up some interesting prison tattoos.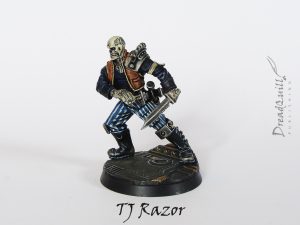 I had a hard time getting the stripes on his trousers straight, but I was quite pleased with how they came out overall. The skin tattoos were an absolute nightmare, built up with painstaking layer upon layer of slightly darker shades of skin colour. I didn't realise how tricky it would be to get a convincing head tattoo without covering the whole head, nor did it work when I tried to do scribbles and squiggles to "look like" tattoos from a distance. I had to knuckle down and freehand tiny tattoos on his tiny knuckles.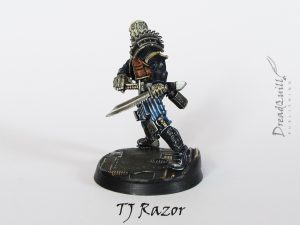 After the agony of freehand, the rest was a joy to touch up, and I'm very pleased with how he came out in the end. As I was painting, I was trying to come up with an interesting edge for the tabletop. Things like the Blade Master special rule and a high Weapon Skill were a given, but I wanted something that set him apart from the stereotypical knife-wielding maniacs.
I borrowed the "Always Has Another Knife" rule from the Community Special Abilities page which seemed fitting, but wanted something to underline the voidbelly stab-or-be-stabbed mentality. I thought about an ability that allowed him to make a free throwing knife attack if he chooses to be pinned while being shot at, injuring or at least distracting the shooter long enough to make a getaway or get stuck into combat. I like the idea, but it needs a bit of playtesting before I'm happy to write it up here.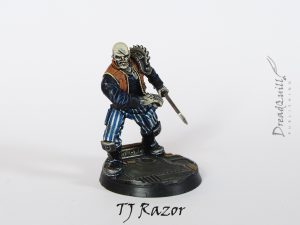 All in all I'm very happy with how he came out, and I'm looking forward to doing a few more gangers and thugs from our little spit of space. Now all he needs is a battle report to star in…
**Cheeky 2020 edit**
TJ Razor made his debut in the Gorgon Crystals campaign here: