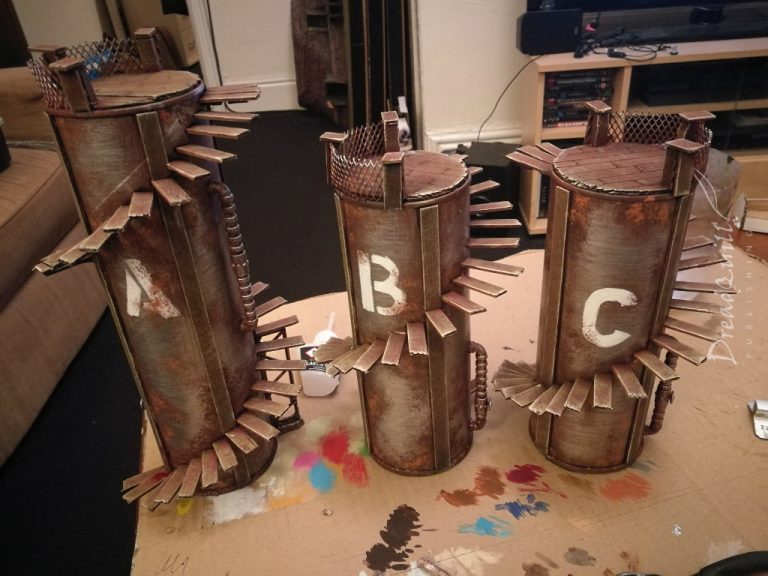 We had just finished our first proper session of the Orthesian Dynasty Rogue Trader game, and one thing I'm keen to encourage is the bringing of food and snacks to the table in exchange for bonus XP.
After said session, during the tallying of corpses and clearup operation, I discovered we had managed to get through two and a half tubes of Pringles. As I was idly finishing the remaining point five of a tube of Pringles, the thought struck me – I owned NO terrain that used Pringles tubes as a base.
Scandalous! I had used them in the past for various projects as a nipper, but never brought any of them with me or kept around after house moves or purges. I knew what had to be done. I had a spare weekend, some lollipop sticks and a whole box of paint.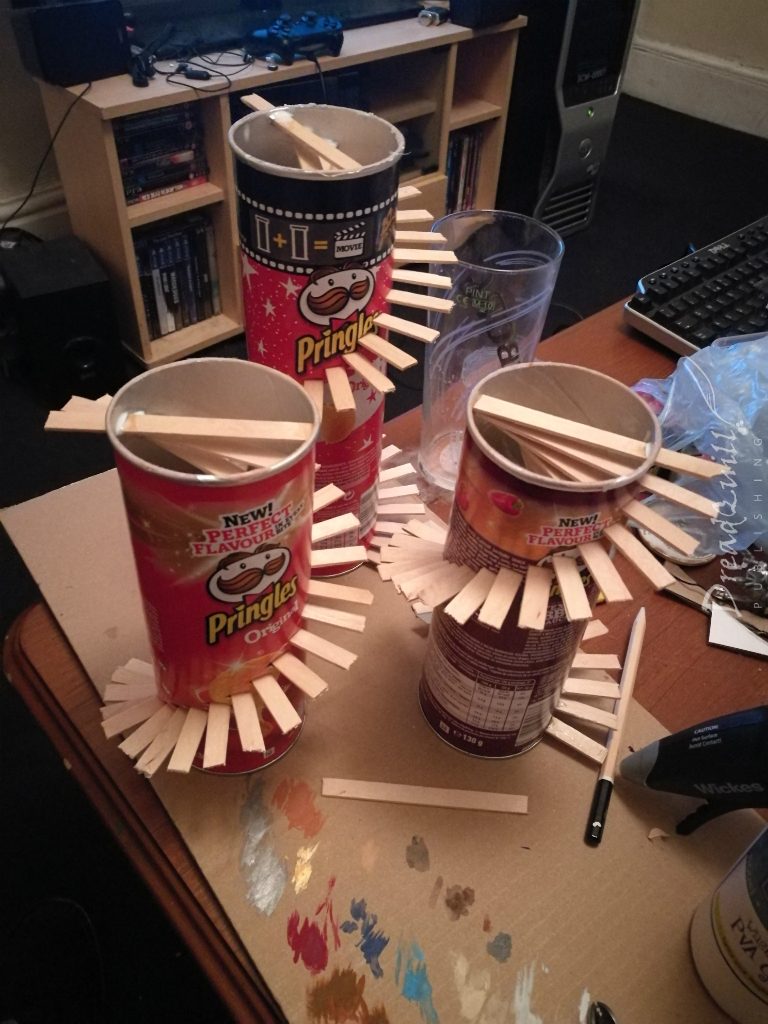 Once you pop
Construction began with the core concept – Some tall structures that (probably) once had a purpose, perhaps grain silos or fuel depots, that have now fallen into disuse and now their only function is as watchtowers or vantage points. Verticality was the name of the game.
The original concept was to build some kind of ladder arrangement with lollipop sticks. That concept went up in a puff of smoke when I got to grips with each tube and realised there was a perfect spiral seam where the packaging was glued on that runs from top to bottom of each tube.
This acted as a pre-drawn guideline for my new spiral staircase idea: snip the ends off a bunch of lollipop sticks, stab a hole into the tube with a craft knife and shove the stick through. Apply PVA glue liberally to both sides – I needed to dribble it from on high like a master chocolatier to reach the lower sticks inside the tube. I wanted to make sure it was well-stuck to avoid any accidental wobbly stairs later on.
Detailing
I didn't want them fancy, but I also recognise the importance for a few key details to tell the story of a piece. It would also serve to break up the large flat surfaces of the Pringles tubes when it came to painting.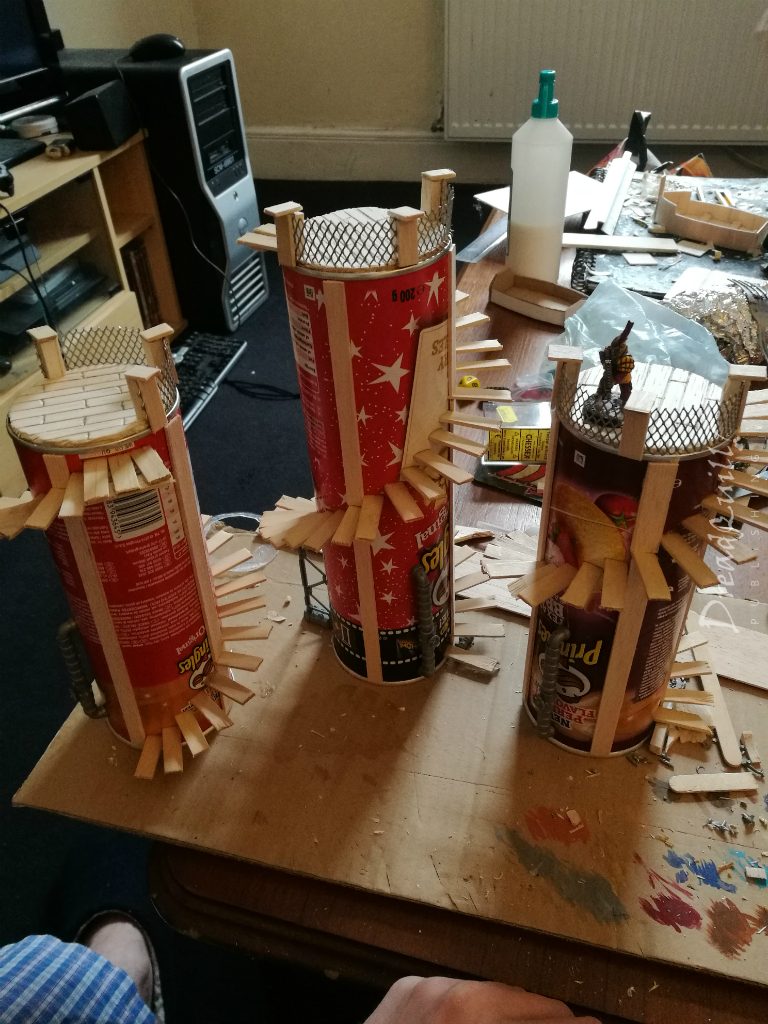 Platforms were constructed at the top of each staircase to give it a landing instead of a sheer drop off the tower. A big circle of balsa wood was cut out and glued into the 'bottom' of the tubes. I wanted to keep the 'tops' of the tubes (now the bottom of the towers) open in case I needed to perform emergency repairs or add weights to it at a later date.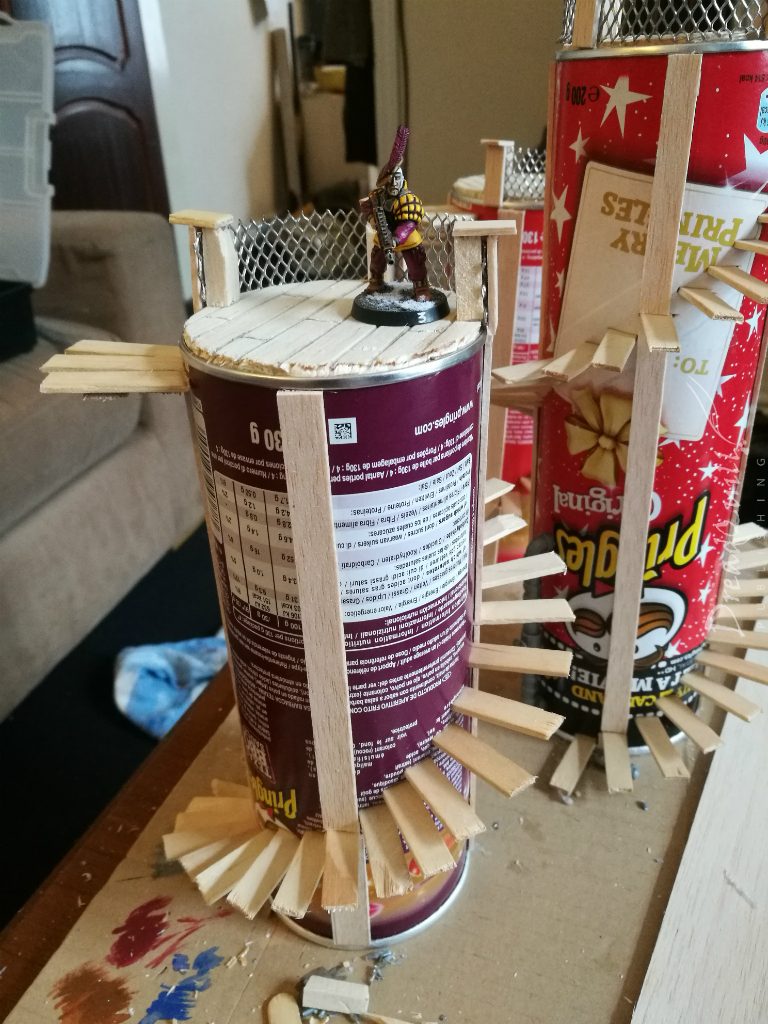 Some long strips of balsa wood helped give it more of a 'container' vibe and I added some steel mesh around half of each rim, supported by three wooden pillars. Holy hell, that steel mesh cut my hands up something awful.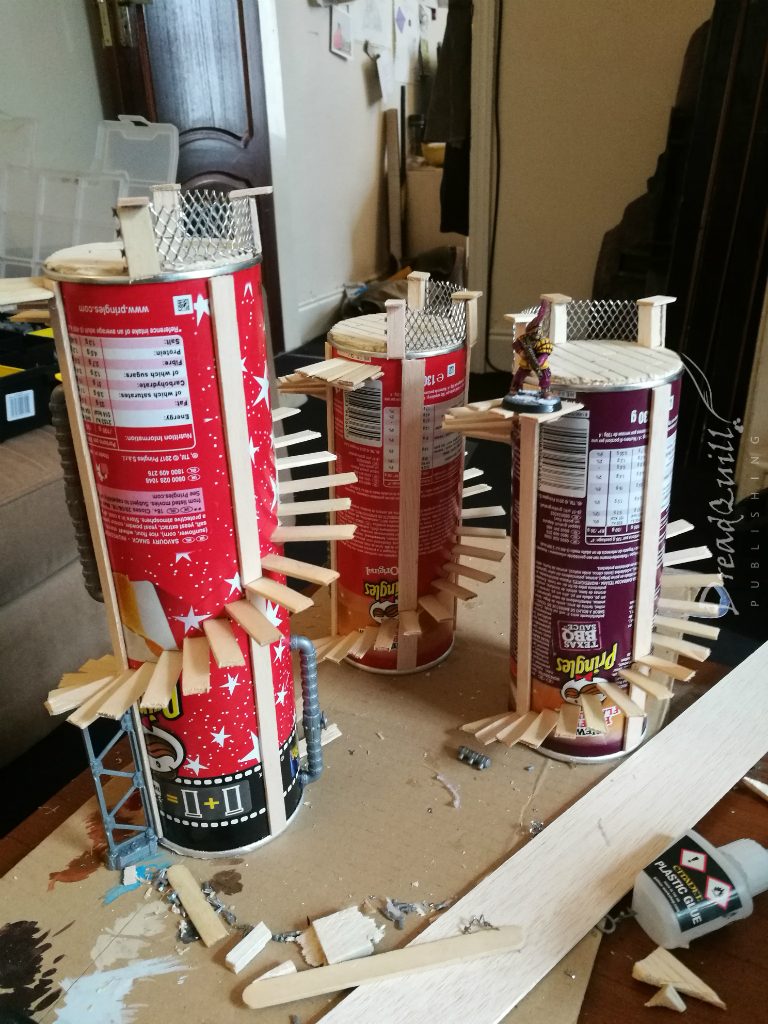 Some final details were added in the form of plastic pipework and a bit of plastic support strut for the larger of the three silos, all from the ubiquitous chemical plant terrain set.
By this point I was damn happy with how they were looking. It had been a very, very long time since I'd created scenery from junk, and following my 2018 hobby mantra of "finished, not perfect" I figured they were good enough to hit the rattlecans and get a lovely undercoat on them to start painting.
Ready salted
A quick blast of own-brand black car primer spray later and they look a much more coherent whole. Unfortunately, the busyness of the Pringles packaging distracted me from what it really was – a big, flat smooth surface on every side.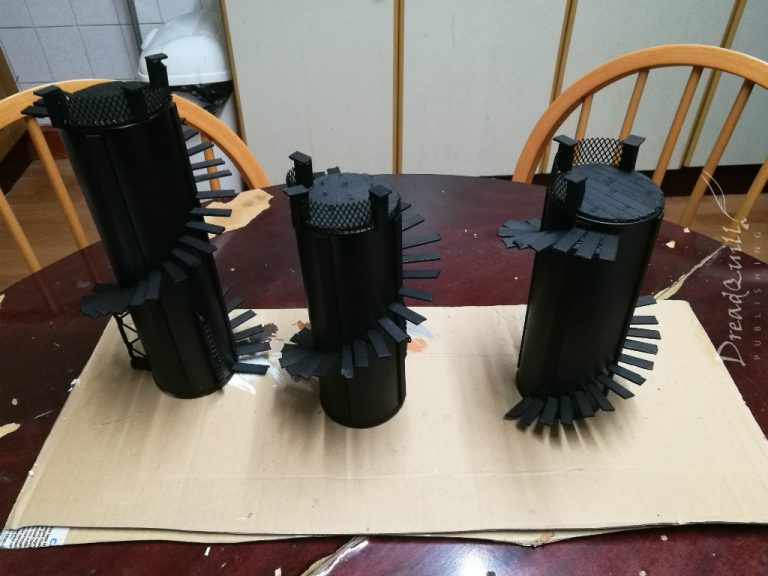 I wasn't mad, just a little annoyed at the oversight. Given more time I might have added some panels or more pipes and tubes to help break up those big featureless expanses.
No matter, the deed was done, and they just needed to be finished. Onwards to dusting!
I can't remember when or why I started using this technique but it has a been a flipping life-saver. I'm sure I'll use it more once I have consistent access to an airbrush, but for now cheapo rattlecans serve my purposes just fine.
It's pretty simple – over a hard black undercoat, give it a light dusting from one angle with a colour of choice. It'll retain much of the black underneath, but provide a time-friendly alternative to blocking out all the colours by hand and following up with a million drybrushes.
The metal was painted on with a thick, stiff brush – I found an old metallic acrylic paint that had a super weird consistency, but once I mixed it with the dregs of a Dwarf Bronze I had lying about in my paint box, it produced this neat off-silver colour that was great for slapping onto flat surfaces.
I was going to weather it a LOT later on to help break up the shapes too, so it didn't need to be perfect. A second drybrush of a lighter metallic colour (horizontally rather than vertically this time) helped produce a pleasing brushed metal look.
I wanted some signage on them too – large identifying marks that would help players differentiate them on the table top and give the models a spot colour to again, help break up those big flat shapes.
I liked the idea of something really simple, A B and C stencilled onto opposite sides of the silos. I set about making a stencil for them, hand cut from heavyweight cartridge paper.
It was at this point after an hour of stencil-making I realised I didn't have a white rattlecan to spray through the stencil, so I opted to just apply paint over the stencil with a brush. What could go wrong?
Lots, apparently. The paint was great at getting under the stencil edges and made a big horrendous mess, like someone had tried to paint it on with their bumcheeks with surprisingly little success.
I ended up using the stencil to trace a stencil shape onto the silos with a pencil, then painting each stencil design on by hand. Ah well, it's the time-saving thoughts that count, right?
Breaking them in
I really enjoy weathering techniques – they're always really easy to do and add so much character to a model, especially scenery. They give it a really lived-in feel, and as I'm super lazy time-efficient I have a number of weathering tricks that make this part fly by.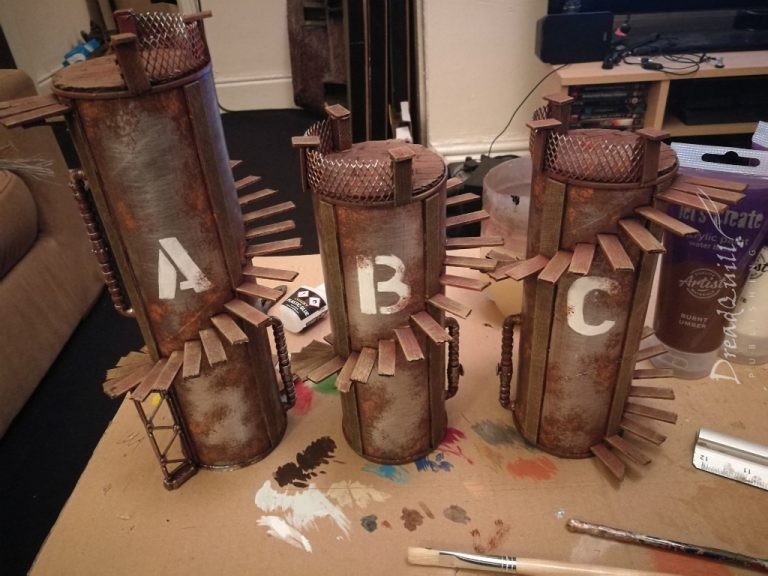 The technique couldn't be easier – stipple some brown paint onto your metal in random patches with a big flat brush. The cheaper your brush, the better the effect.
After that, bust out a nice vibrant orange colour. With a slightly smaller brush, stipple on some equally random patches of orange, but try to concentrate them in the middle of large brown areas. You'll get this great two-tone effect that looks like the outer layer of metal has flaked away to reveal different layers of rust underneath. Neato.
I use only high-quality paints for my projects, such as this budget brown acrylic paint picked up from my local bric-a-brac store for about a quid. Only the finest for Dreadquill.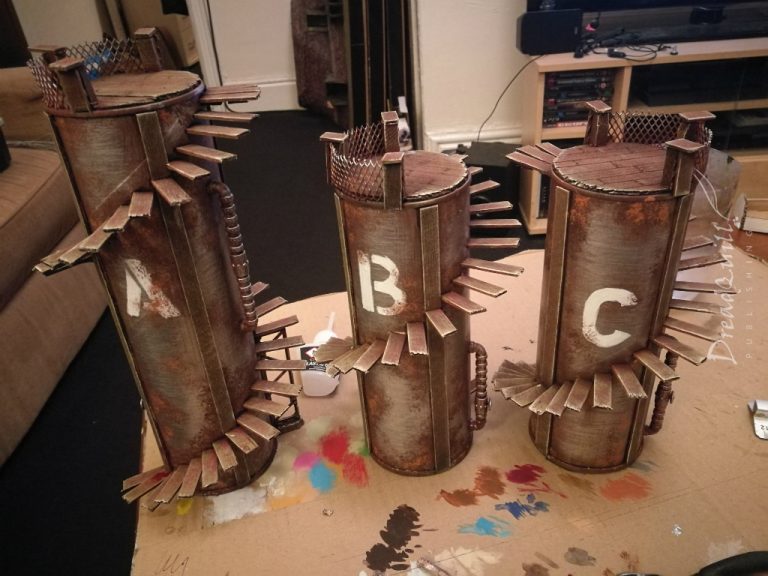 For a very final detail I did a fine highlight on the edges of the wood sections with a pale skin tone to really make them stand out.
from snacks to stacks
And with that, they were all finished! It took two evenings to finish these off, and I have to be honest and say I admired them for a very long time after i finished them. They came out way better than I had anticipated, and I couldn't remember the last time I had such a feeling of accomplishment after completing such a relatively simple project.
I pulled out some of the antagonists from our upcoming Syracuse Magna campaign and set them up for a mini photoshoot. The colours worked just wonderfully.
I'll be putting together some walkways out of long bits of balsa wood so I can string these guys together over long distances, but for now I'm just super stoked to play with them!