As you pick through the wreckage towards the great crystalline structure in the centre of the labyrinth you hear the sounds of gunfire and animalistic grunting. The snap of lasgun fire is unmistakeable, but there is a single noise that pierces the veil and sends a shiver down your spine. A single, howling, primal "WAAAAAAAGH!"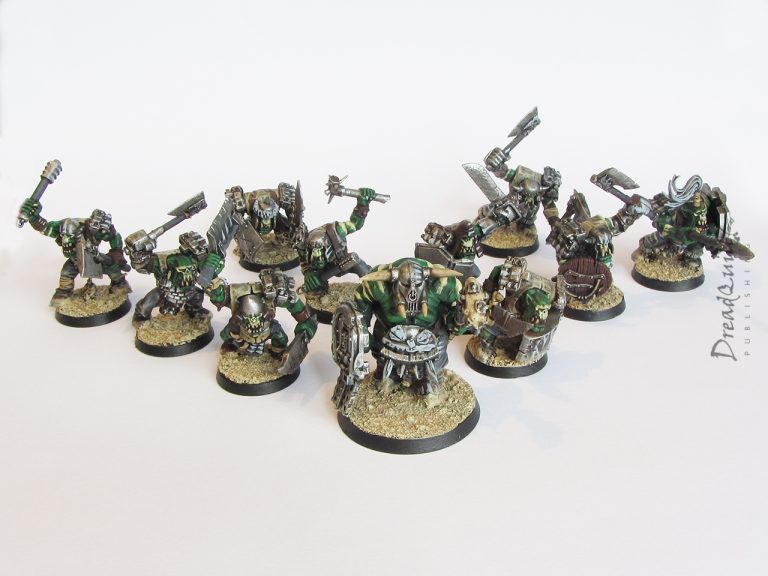 Last week's Orthesian Herald ended with our plucky band of explorers facing down a ravening Ork horde in the dusty mazes of Gangue Prime. I knew a week or so in advance when the players were likely to arrive at that juncture, and thought I'd give myself a little modelling challenge.
Orks had cropped up in our games of Rogue Trader before, but I'd always proxied them with Blood Bowl models. I didn't own any Ork models, so why not build and paint a dozen Orks in less than a week?
Assembling the horde
Initially I was eyeing up some of the lovely savage orcs orruks on the Games Workshop website when the compulsion (and cost) suddenly overwhelmed me – let's kitbash these guys!
A while back I cleared out my bits bag – a collection of stuff that never even made it to any of my bits boxes. Before it went to bid I rescued as many bits as I thought might be useful, many of them were Ork/Orc parts from either 40k or Warhammer Fantasy (RIP).
As I started to dry fit pieces together, more of their story was assembling in my head.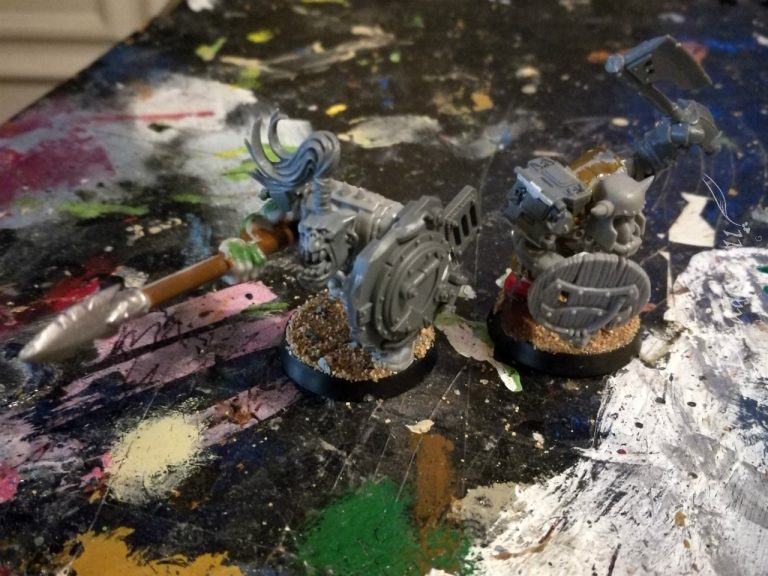 They were to be a band of feral Orks, their original ship having crashed on the planet or a nearby moon (exact details didn't matter unless the players pursued it), scattering good ol' Orky spores all over the planet.
As much as I enjoyed the original savage Ork aesthetic, it wasn't what I wanted. This particular band of Orks had spent too much time around the Star Mirror on Gangue Prime, which had rapidly accelerated their growth. Their brains were still developing the capacity to use technology, but they were scavenging metal from their broken spacecraft to use in armour and weaponry rather than the bone and flint weapons of their rival tribes.
This gave me freedom to use all kinds of bits and bobs strapped to them to give them a savage, primitive but deadly appearance.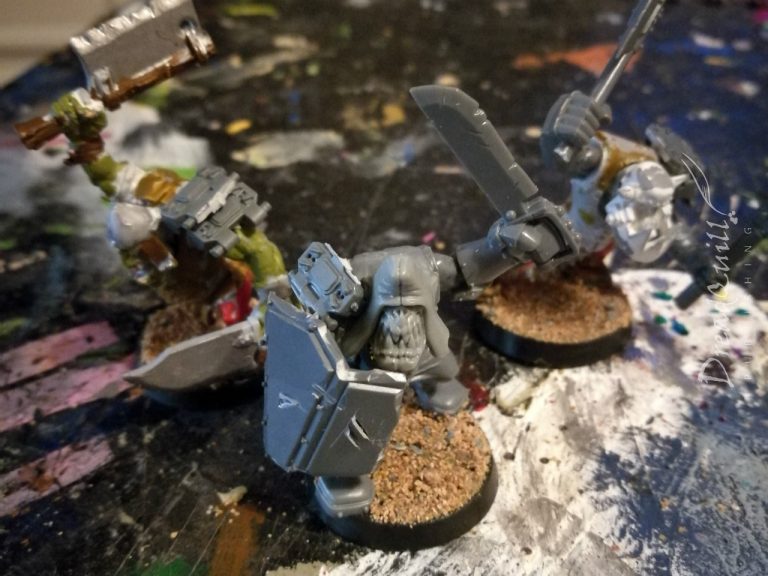 I mixed and matched between 40k Ork and Warhammer Fantasy Orc parts quite freely, giving some fancy looking armour worn with leather caps and the like.
A few had two combat weapons, but the rest sported shields made from reclaimed scrap. Not only would this look cool on the tabletop, but they would double as boarding parties when I re-use the models down the line alongside their more shooty cousins.
The setup for the fight would be essentially a shooting gallery – how many of the ravening xenos beasts can you put down before they get to you. I'd hoped the shields would give a few of them a bit more of a fighting chance against that dastardly Arch-Militant and his bolt pistols of death.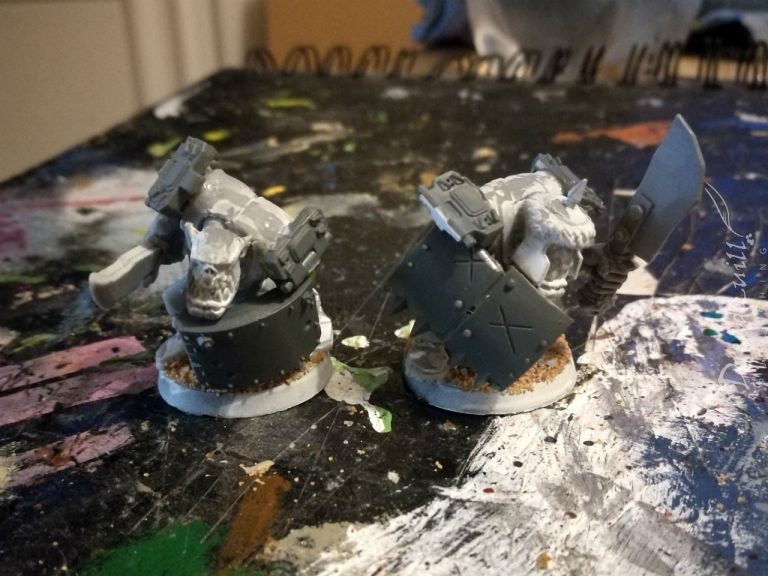 Another feature I added halfway through construction was the addition of carved up tank treads to make shoulder pads. They made them look a bit more beefy and helped visually tie them together a bit more – with such a random assortment of bits and equipment they were looking a bit too disparate. At this point I was hoping a nice paint job in neutral tones, with some stand-out warpaint would help bring them visually together as well.
I did want a bit of ranged capacity though, and I had already written off guns for this encounter. Playing back into the idea of working with technology too advanced for their tiny developing minds, I loved the concept of a bunch of surprise Ork stikkbombas hidden among the horde.
The players would have access to a warbike and sidecar for the fight as well, so it would give them pause for thought if a bunch of explosives suddenly came hurtling out the Ork horde towards them.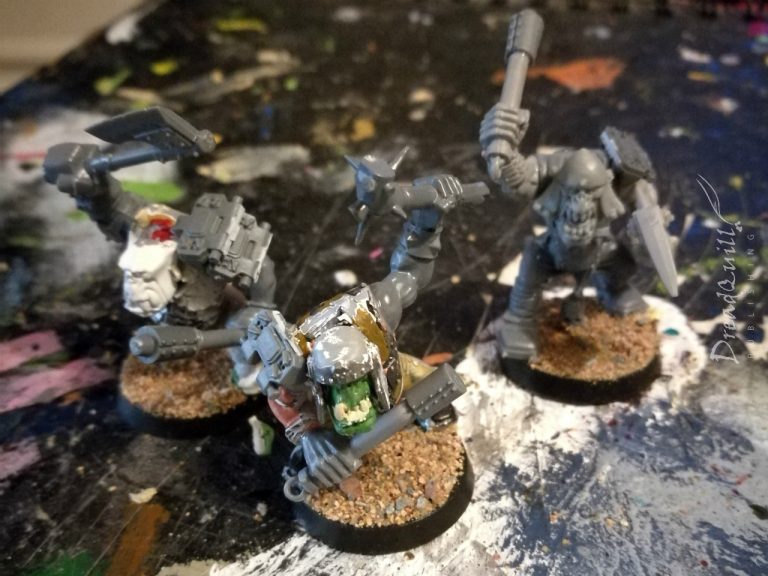 As is always the case with these things, the plan didn't go to plan. All the stikkbombas were accidentally killed by players before anyone knew there was a potential threat. Oh well.
Finally, they needed a warboss. I had a few old school metal warboss/big boss parts lying about, but I was feeling exceptionally lazy that day and I certainly didn't want to break out the pin vice and super glue for a project like this. Plus, I wanted to keep that model back for when I inevitably need to convert an Ork Kaptin, replete with very fine hat.
There must be some plastic parts I can smash together in half an hour, right?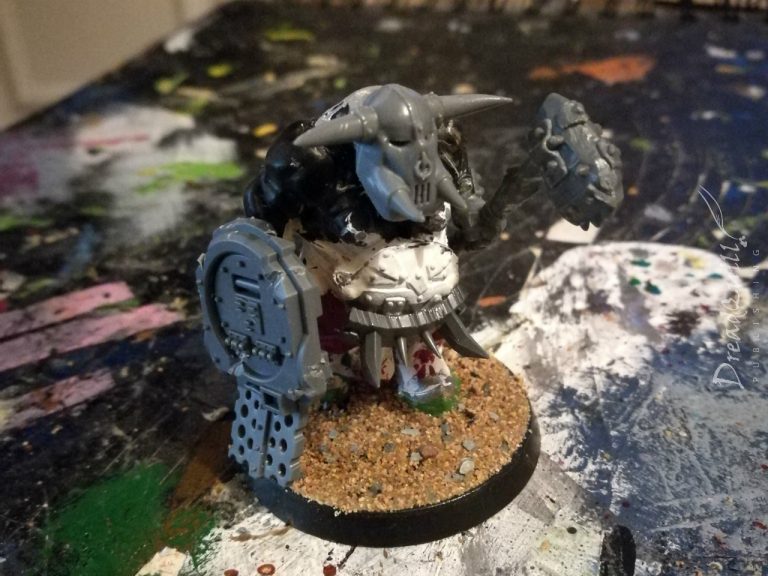 Meet Big Boss Gutkrusha. He's made mostly of a plastic Ogre with a bunch of random Ork bits glued on to him. I was toying with the idea of giving him some explosives, or a big harpoon cannon or some such.
In the end I went for the no-frills option. He would be big, tough, and have a very large hammer. His sole purpose would be to soak a lot of damage, hopefully enough so that at least one of his boyz got through to smack the players about a bit.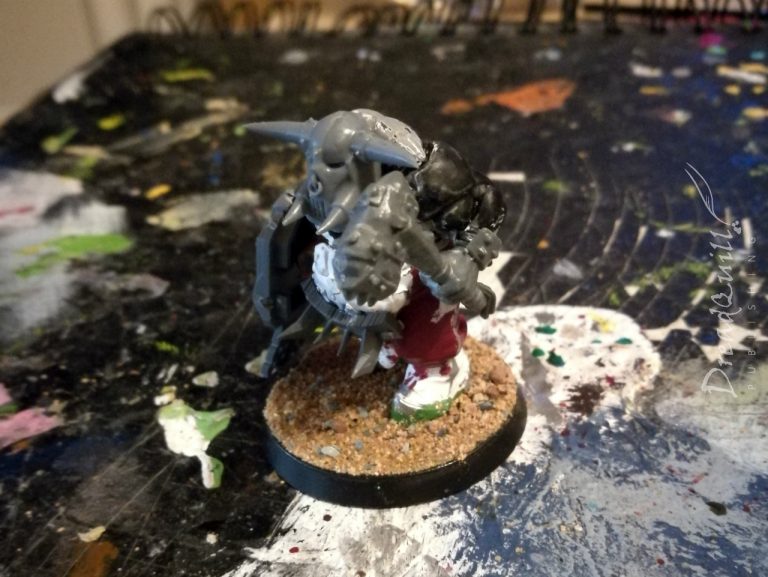 He certainly soaked up the damage alright. It took several rounds of shooting from the aforementioned bolt pistols of death and a good few maximal shots from the Captain and Astropath's plasma pistols. Just as well really, he had a very, very nasty hammer attack.
And then I was done! A few hours with the clippers and glue and I had a horde fit for a WAAAGH! A little one, admittedly, but it would suffice.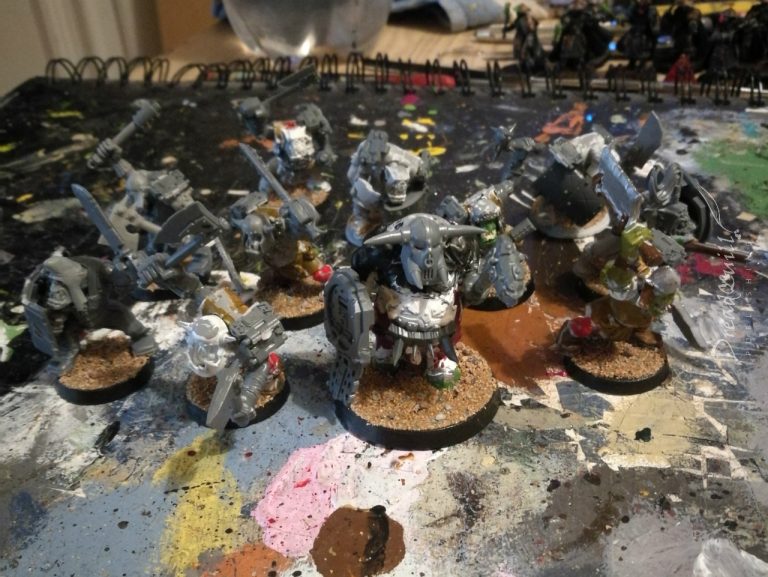 applying the warpaint
These guys would be a great opportunity to practice my 2018 mantra; Finished, Not Perfect. The only thing that mattered would be getting enough paint on them for the illusion to be complete at arm's length. They weren't going to be hero models, they were unlikely to be used again for a very long time after their debut, and were likely to die in droves.
Boy, that turned out to be much harder than I thought.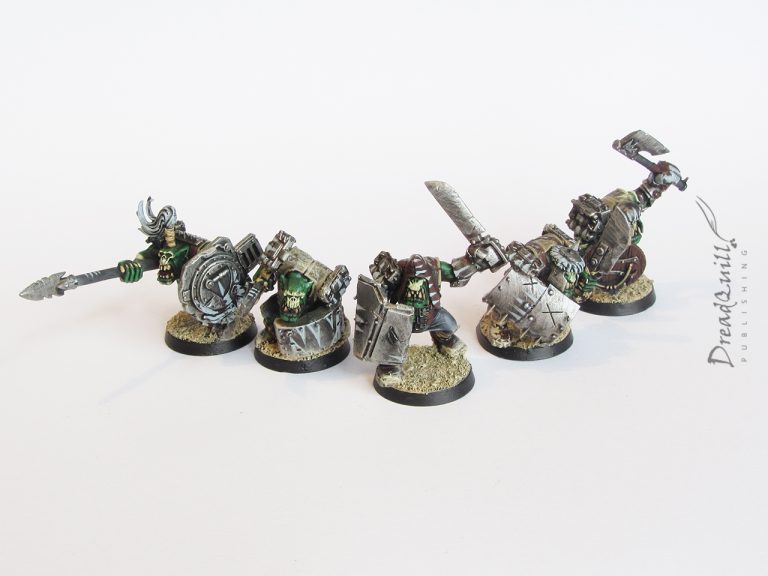 I used my standard speed paint technique; Base Colour > Wash > Highlight with Base Colour. It took everything in my power to resist doing another highlight afterwards or spending more time picking out details. Lots of mistakes were made, and they were ignored at great pains for the sake of the horde.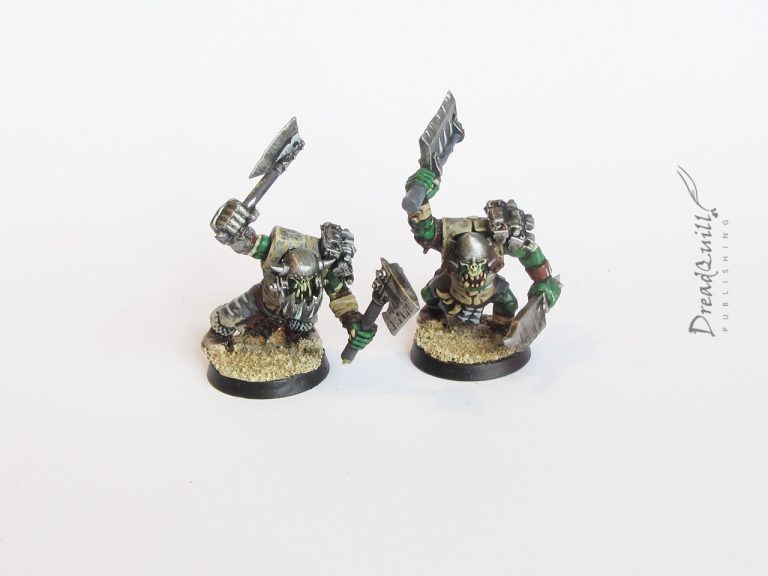 Neutral tones were picked to help the green skin stand out more – although everyone around the table knew what an Ork was, not everybody had fought them before, and I wanted them to be visually very different from the colourful mutants and gangers of Mercy. This is the Green Tide, and it doesn't need ostentation to fuck you up.
Ostentation would come later, of course. How are my players supposed to know the difference between a regular Ork and a Ork Wot Goes Fasta if not by colour scheme alone?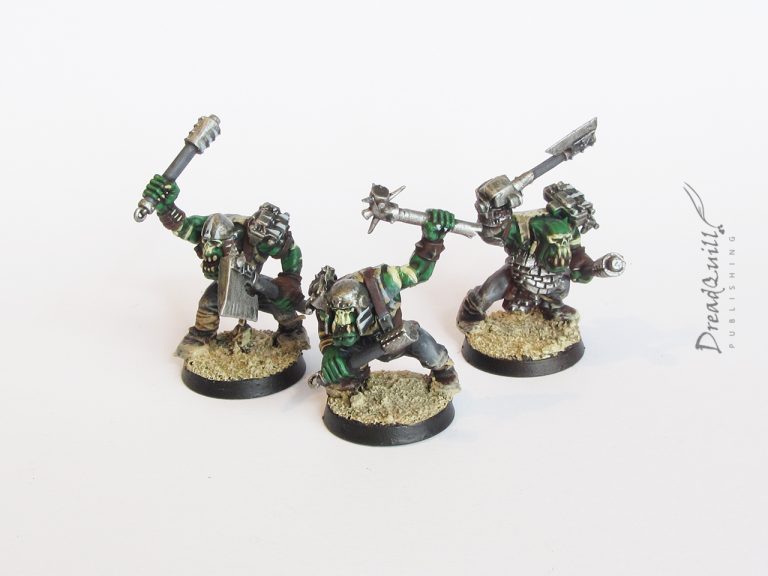 The skull face paint and white dags were a late addition – with all the neutral tones and 'regular' armour from the Fantasy Orcs, they were missing a certain something to make them look more primal. A splash of pale flesh tones across the skin and face before the wash was all it took to break up the flat colours and give them a proper angry Orky look.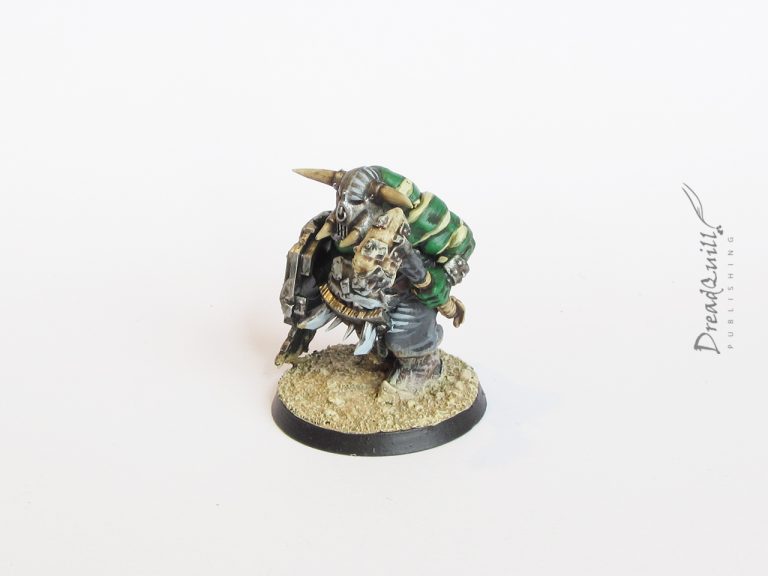 Boss Gutkrusha was just a bigger version of his boyz, albeit with a little more flesh on show so I had to take a weenie bit more care than on the others. He was a hero model in my speedpaint krew, so I could afford a few extra moments on him right?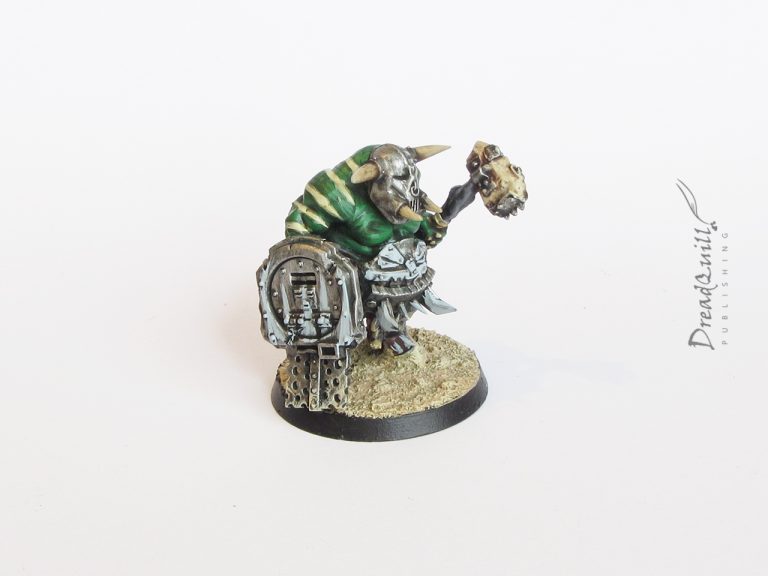 The basing was surprisingly adventurous for me – somehow I'd never based anything in my collection in a sandy/dusty desert, and now I immediately want to go through many of my older models based on boring grey sand and sex them up a bit.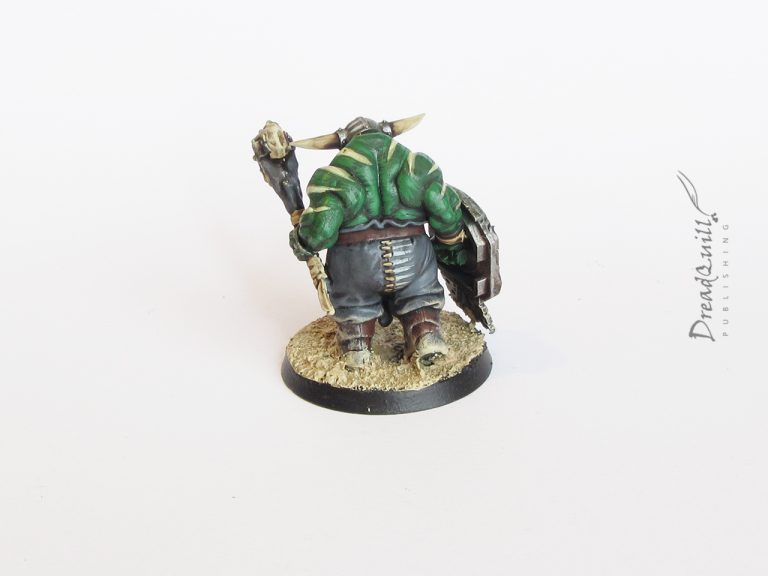 There are SO many things I would love to go back to and tidy up, and I was very close to not putting these guys into an article because they weren't finished "enough" for public consumption. That wasn't the point of them though, and I wanted to teach myself to break the habit of perfectionism for perfectionism's sake.
They're Finished, and we had a great time shooting the crap out them!