In what is increasingly sounding like another unwanted Jason Bourne sequel, the Elysian commission is taking shape. Two ten-man squads have been assembled and painted, with only another two ten-man squads left.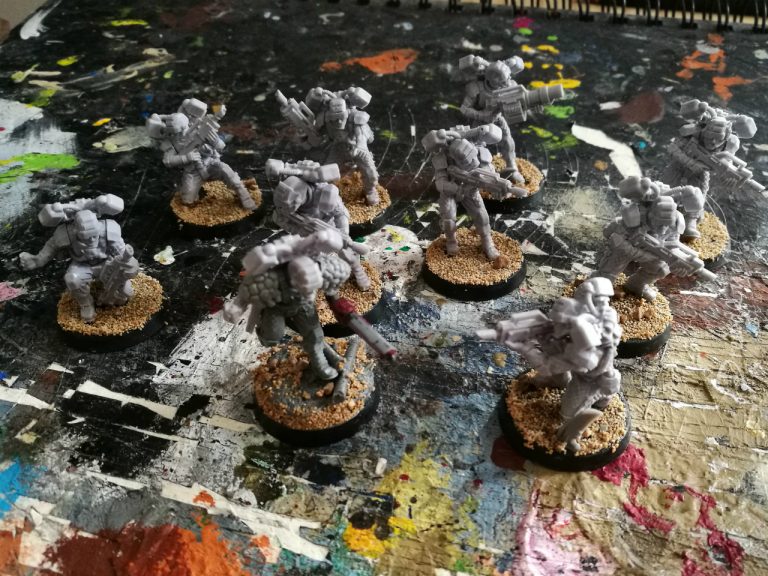 This batch has been a weird milestone for me. Not only because this is the first time I've painted Elysians in almost ten years, nor about how much of a pain these kits are to assemble (you darn kids and your Easy Fit models! *shakes walking stick*), it was absorbing the news that Forgeworld is discontinuing the range. A strange feeling of simultaneously opening and closing a door on a past life playing 500 point battles of Warhammer 40k with my schoolyard chums in the shed at the bottom of my garden.
Regarding Forgeworld's business practises though, who knows! Internet rumours are whirling (naturally), people seem to be split between "They don't make enough money so are being canned" to "GW are doing plastic Elysians! Tell your friends!".
All I know is these tiny resin bloodsuckers (RIP my fingertips) suddenly became way more valuable overnight. Damn my eagerness to sell a few months ago!
Nothing much else to add about Batch 2 other than roll on with the album. Batch 3 will have photos of the whole commission, but for now enjoy these guys.
Squad 1
Squad 2
Squad 1 and 2