The first of our Callowdecks battle reports is a brawl between an Orlock gang "16th Law" (my own gang) and a Van Saar gang "The Inheritors". We agreed on the 'Stand-Off' scenario to test our gangs out, using all the default rules for deployment and battlefield setup.
We rolled a 1 for determining how much cover there was going to be, and it wasn't pretty. This was going to be a bloodbath…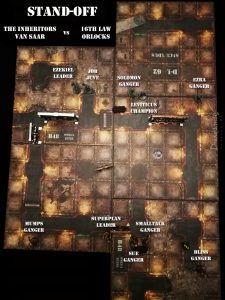 With custom gang deployment, we both secretly picked equal gang sizes. The Inheritors (top of the board) had two gangers, a juve, a leader and a champion. 16th Law had a leader, three gangers and a juve.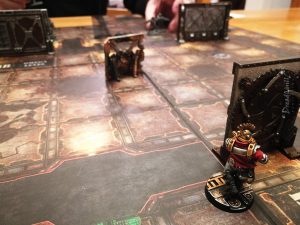 Although we'd played a few times before this was the first campaign game we'd both played, so we were both very conscious about lasting repercussions. I didn't really pay attention to the victory conditions of the scenario, which is one of the biggest learning points I took away from this game, so the outcome was more luck than tactics.
The dice fell for Priority and the game commenced.
TUrn 1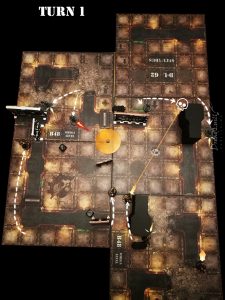 I use similar tactics for Necromunda as I do for video games – run forwards as fast as possible at get as much ground as you can early on. We House Ruled that the cover terrain would nearly always confer a better cover save than corners, so that was going to be my preferred sniping spot.
The 16th Law Leader snapped a shot off at the Van Saar twin plasma-pistol wielding Champion in the opening move and took him Out Of Action immediately. We both gained a new-found respect for bolt weapons.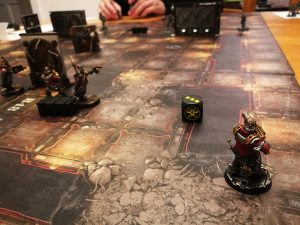 Both gangs exchanged small arms fire, and both the Inheritors Leader with grav gun and my own ganger with a grenade launcher failing to find targets.
turn 2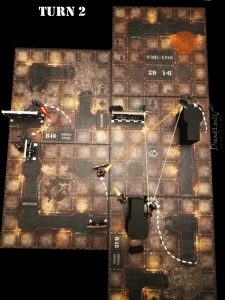 A few small arms attacks hit home – the 16th Law grenade launcher finds himself Seriously Injured by a las carbine and his buddy is pinned. A 16th Law bolter ganger finds a mark on another Inheritors ganger but only manages to pin him.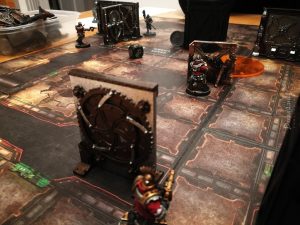 Mumps decided to earn some hero points, opened his door and fired on the Van Saar leader to no avail. He got himself charged by the rival juve and we both became very excited. Two Juves Enter, One Juve Leaves.
Both juves failed to hit with any attacks.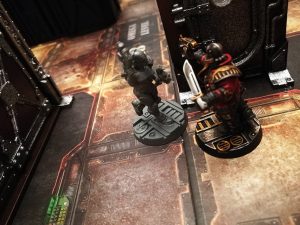 From what was very promising opening turn, things had gone downhill quickly for 16th Law…
Turn 3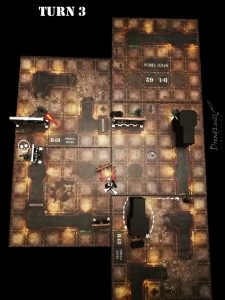 The Inheritors Leader lands a terrible blow with his grav gun, Seriously Injuring the bolter ganger in the middle of the map. To make matters worse, the Inheritors Juve sees off the 16th Law Juve, proving himself to be King Juve of this map.
The grenade launcher ganger was recovered in the previous turn by his helpful buddy, and all three remaining 16th Law fighters withdraw out of line of sight.
I could pretend it was a cunning feint to lure the Inheritors into a trap, but really I just didn't want any more of my guys squished by the grav gun.
Turn 4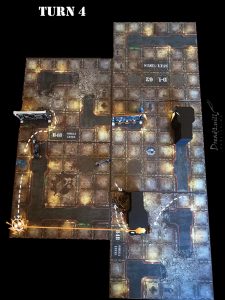 The Inheritors Juve moves to flank the remaining 16th Law fighters but finds himself eating frag grenade in an unprecedented useful shot from the grenadier.
The Inheritors leader follows the same path to get an easy flanking shot with his grav gun, and the other Inheritors gangers keep taking pot shots at whoever they can see.
In the final throes of the combat, the Seriously Injured bolter ganger crawls back to his buddies and they help him to his feet, narrowly helping him avoid rolling on the Lasting Injuries table.
At this point, I figured discretion was the better part of valour, and opted to withdraw my gang and concede victory to the Inheritors. I'd rather live to fight another day than risk anyone valuable getting ground into paste.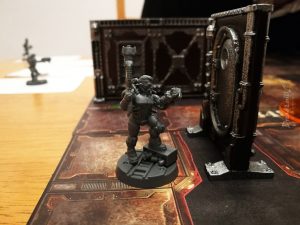 Wrap-up
A tense game but very enjoyable! It was only during the wrap-up that we worked out that the victory conditions were for taking out opponents and less about last-man-standing. We added up the points and it turned out to be a 3:1 victory to 16th Law!
After that totally intentional victory, we reflected on what had happened. Grav guns are great, bolters are great and juves are adorably sucky. Amusingly, Mumps was the only person to have any permanent injury – he got the "Humiliated" result on the Lasting Injuries table, so his opponent Job got the title "Job the Humiliator". A title I hope comes back to bite him another day…
Roll on the next battle!