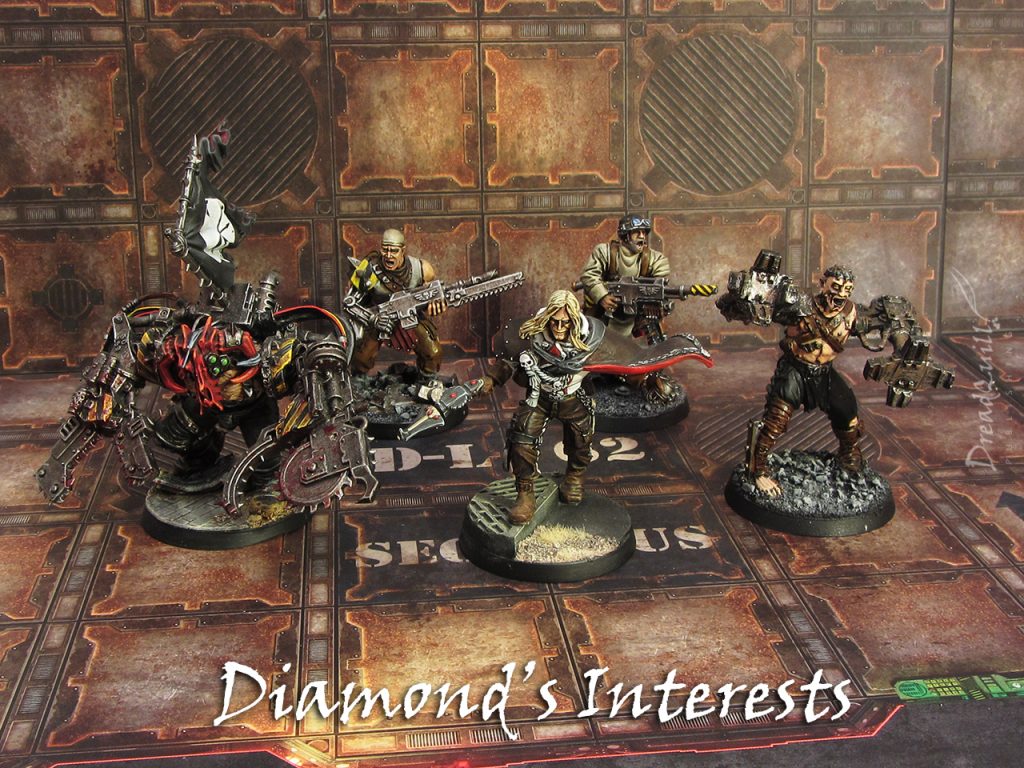 For the Gorgon Crystals Inquisitor campaign at Asgard Wargames, I've pulled together a few warbands from my own collection to count as 'house' warbands. These are for folks who want to play but don't have the minis to dive straight in.
You can see all the house warbands here.
Warband overview
The mysterious wealthy benefactor "Diamond One" has taken a personal interest in the discovery of the strange xenos artifacts on the shores of Port Impetus. He has arrived on the fringes of Imperial space and found himself remarkably at ease with the criminal underworld there, allying himself with a guild of Chrono-gladiators called the Deathclocks to support and protect him on his adventures.
His motives are selfish – he wants the crystals for his own gain. There are rumours he is connected to the Precipice Dreadquill, a mass-produced serial literature portraying exaggerated, censored, or romanticized versions of events from across the sector. Although illegal to possess, it doesn't stop the Dreadquill from finding its way into the hands of millions of labourers. Such a readership would be very interested in the story of the Gorgon Crystals…
Leader – Diamond One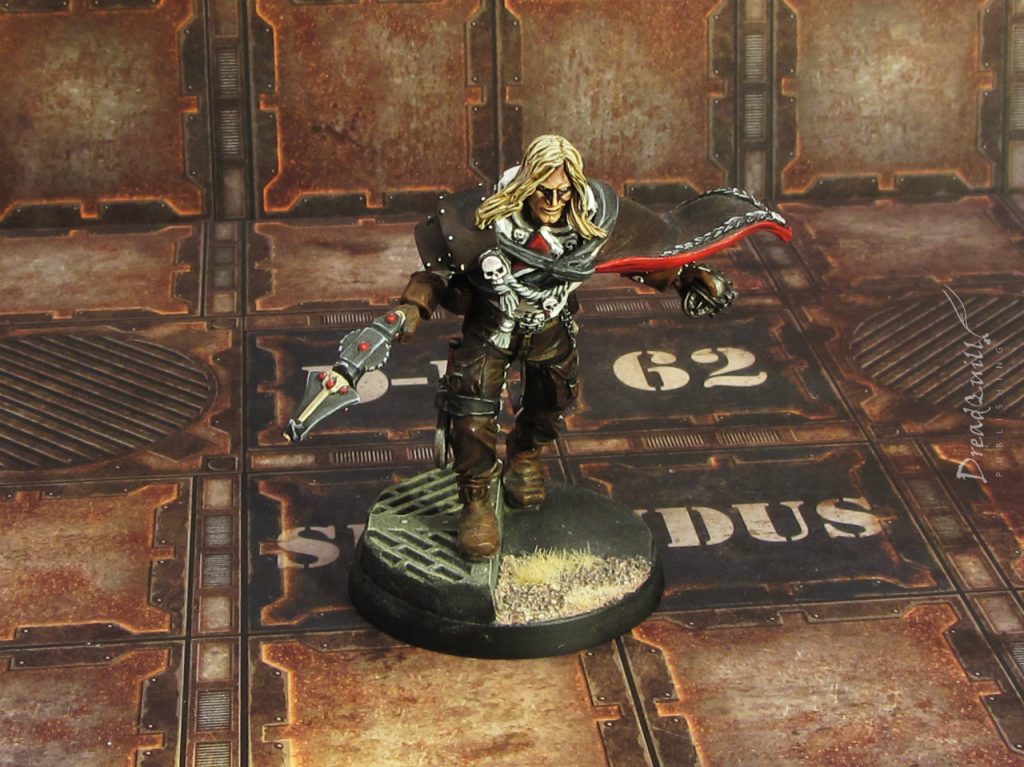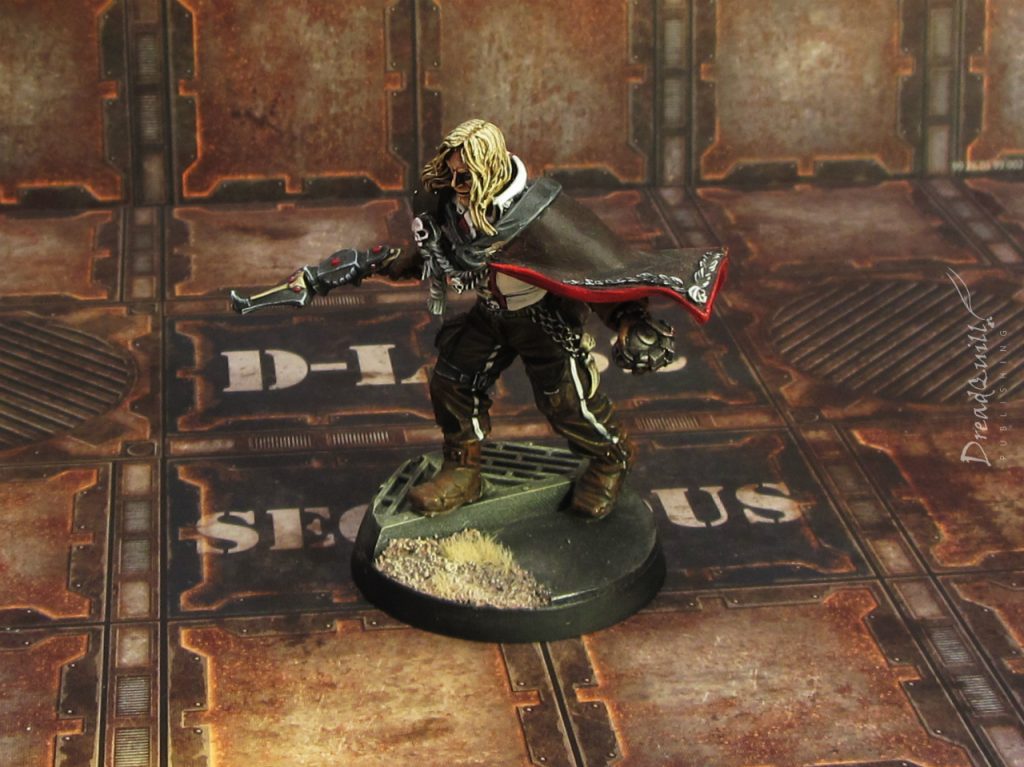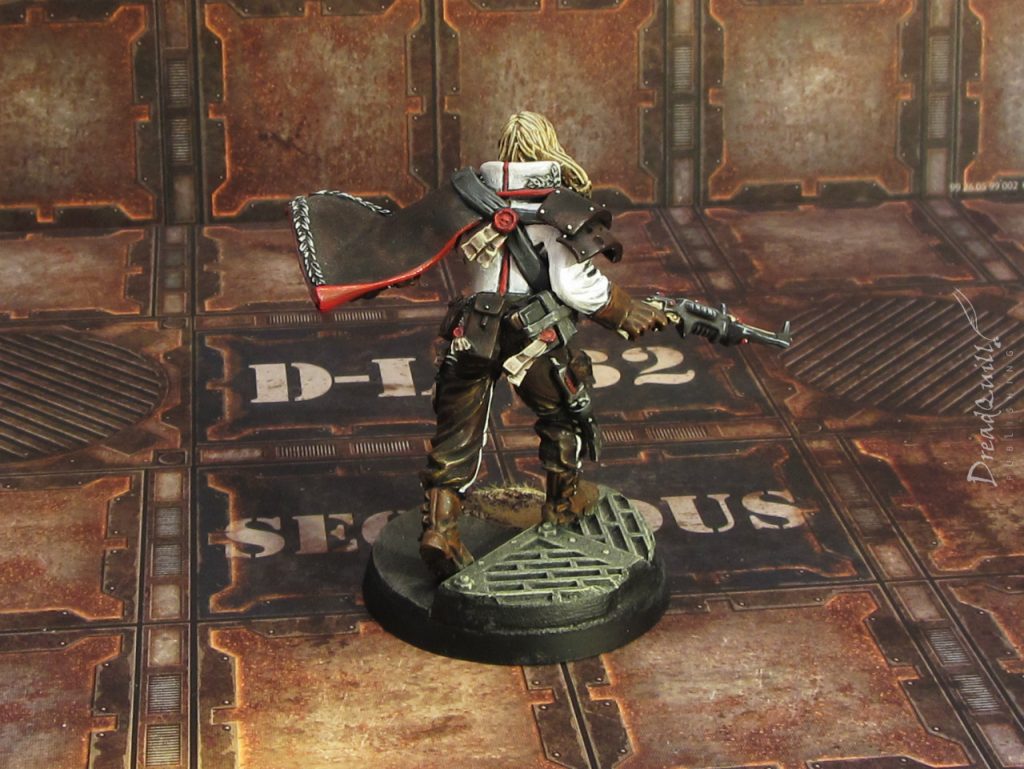 Little is confirmed about Diamond One's identity other than rumours (possible put about by himself). He is reputedly attached to the Precipice Dreadquill, perhaps in an informant or administrative role, and he shares many similarities with a scion of the Shultz household on Daphnia who went missing several years ago.
He has a clearly defined sense of right and wrong, and is very popular with the workers, labourers and underhivers. He has little time for discussions of lawfulness however, and is happy to break all manner of laws to achieve his goals.
Lightly armed and armoured, he relies on his wit and speed to see him out of a sticky situation. He carries an esoteric mix of equipment – an Eldar shuriken pistol and a hand-held archeotech device that operates like a (slightly) more controlled displacer field.
This acts as a regular displacer field that doesn't activate in response to attacks, but is manually activated instead. The user can roll two scatter dice to pick the direction, so with some luck allows them to travel in the intended direction!
Chrono-gladiator Aries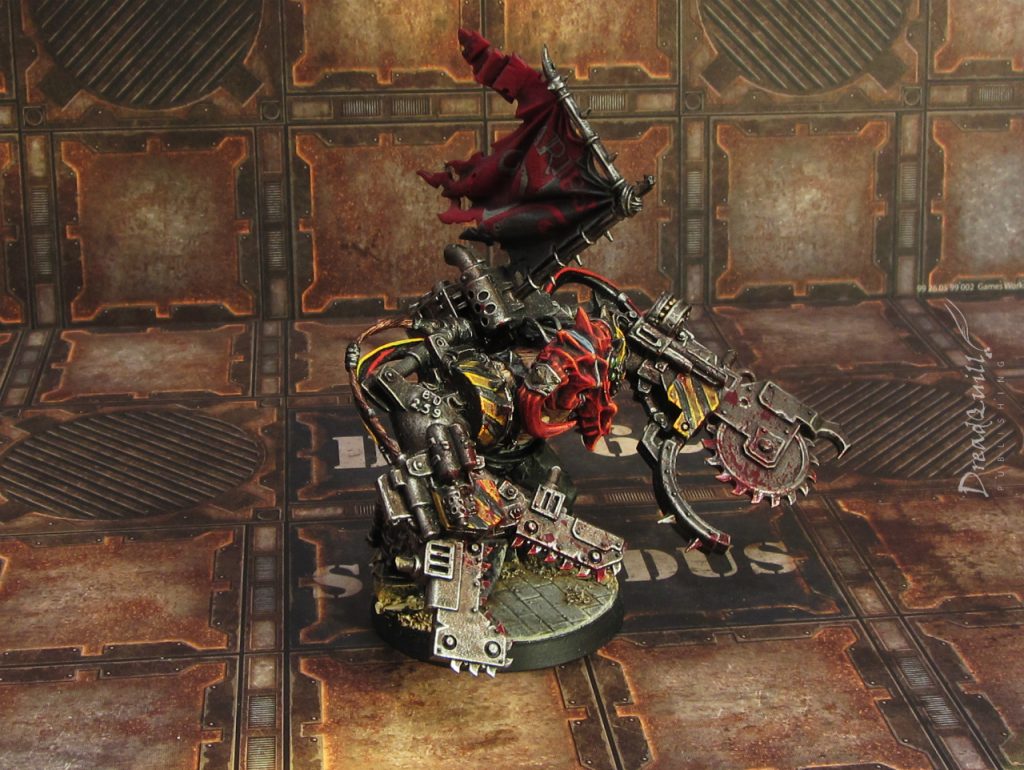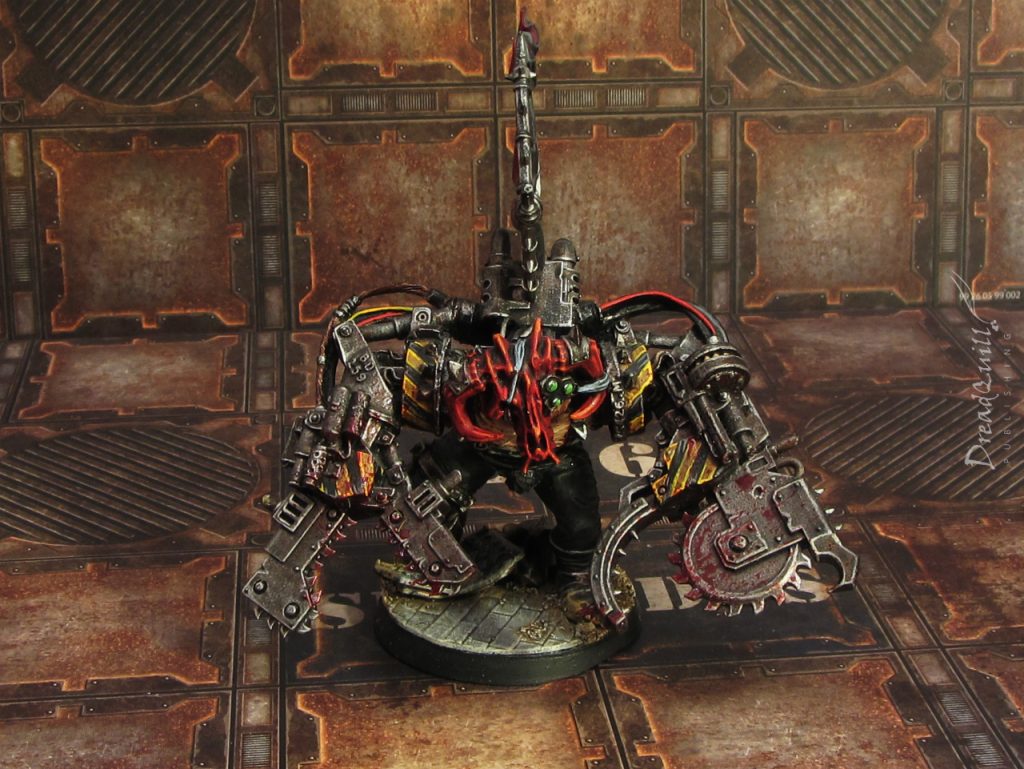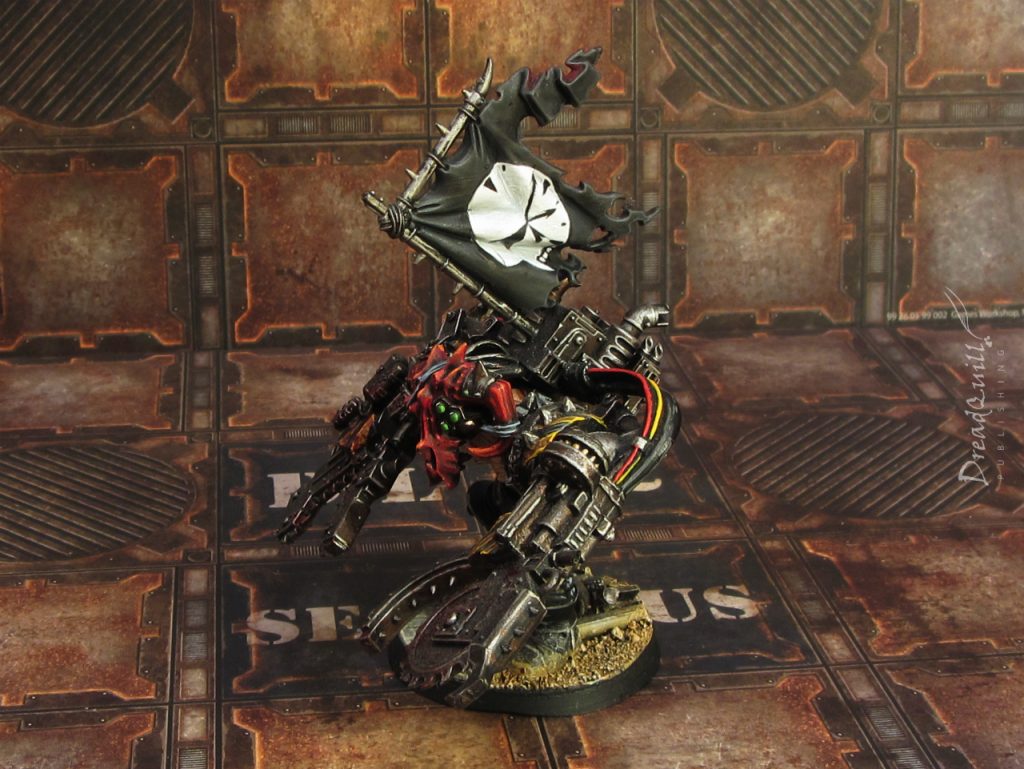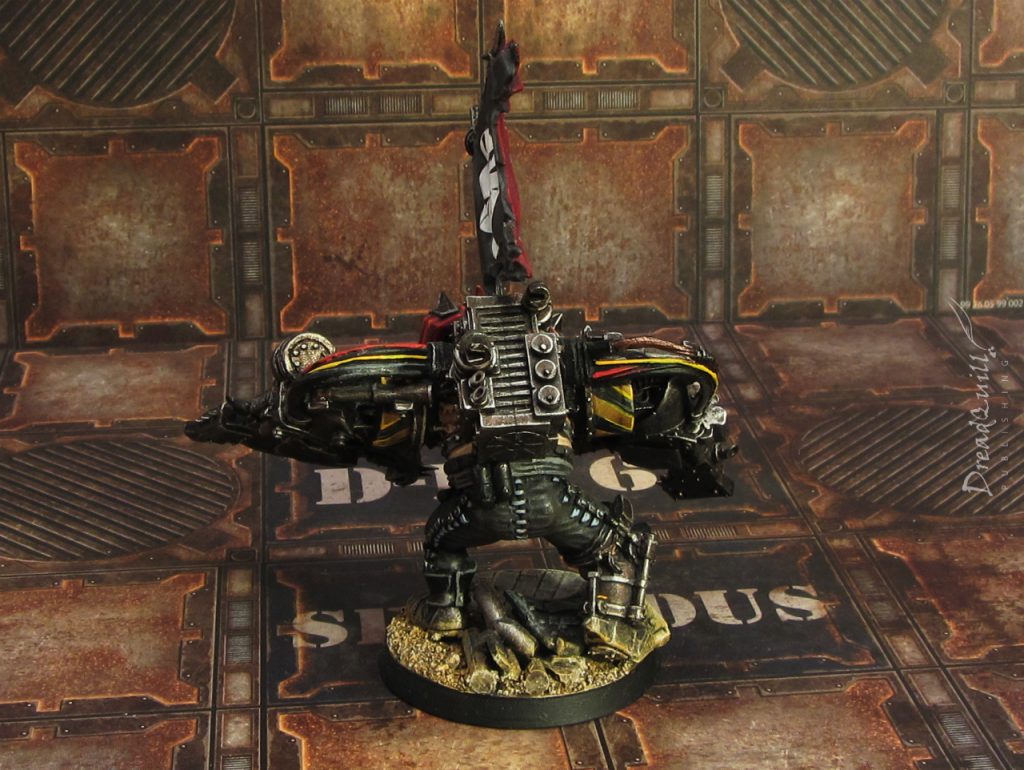 Aries is an ageing chrono-gladiator – a cybernetic pitfighter fitted with a device that will explode and kill him after a period of time. The only way to set back that timer is to kill, so a chrono-gladiator lives expressly to butcher others in bloodsport matches in an effort to stave off death for another day.
Aries' history in the arenas has earned him many years of respite, but his clock still ticks. Diamond One's proposal was too good to be true – in exchange for protection in an upcoming expedition, Diamond One would not only pay enough to retire on, but would perform the necessary surgery to permanently halt Aries' deathclock so he could achieve the one thing no chrono-gladiator ever could: die of old age.
On the field, Aries is uncomplicated. His twin chain claws and combat drug injectors have felled larger opponents than him in the arenas of Mercy, and each claw is fitted with a small ranged weapon – just in case.
Guilder Romaan Fetch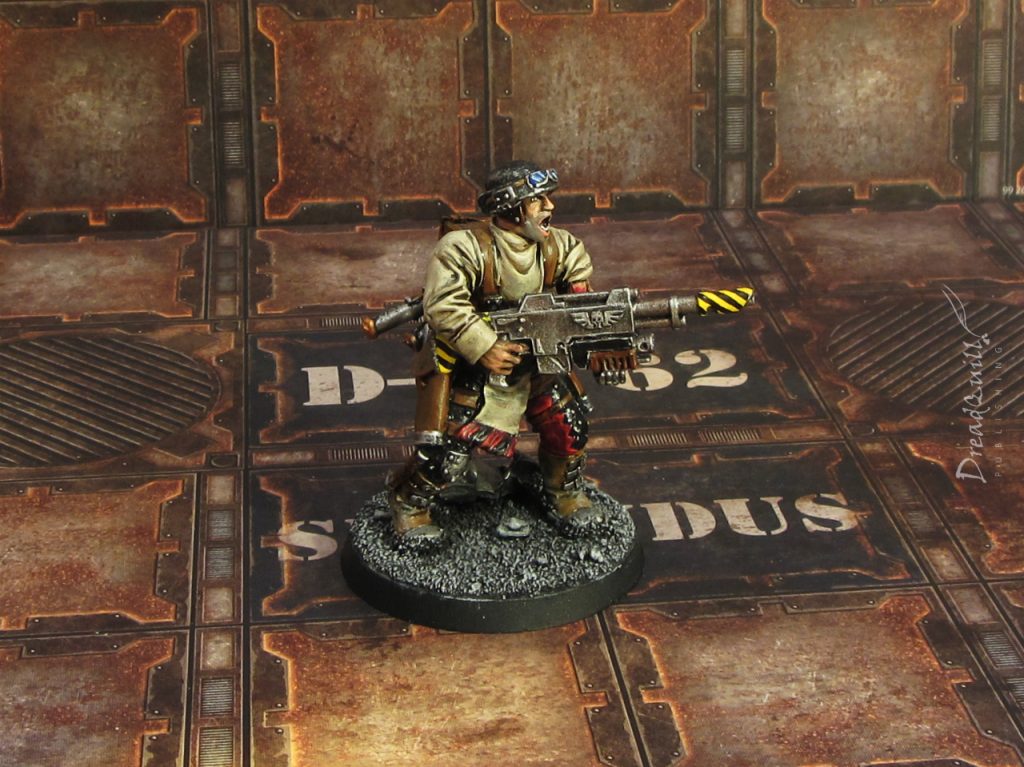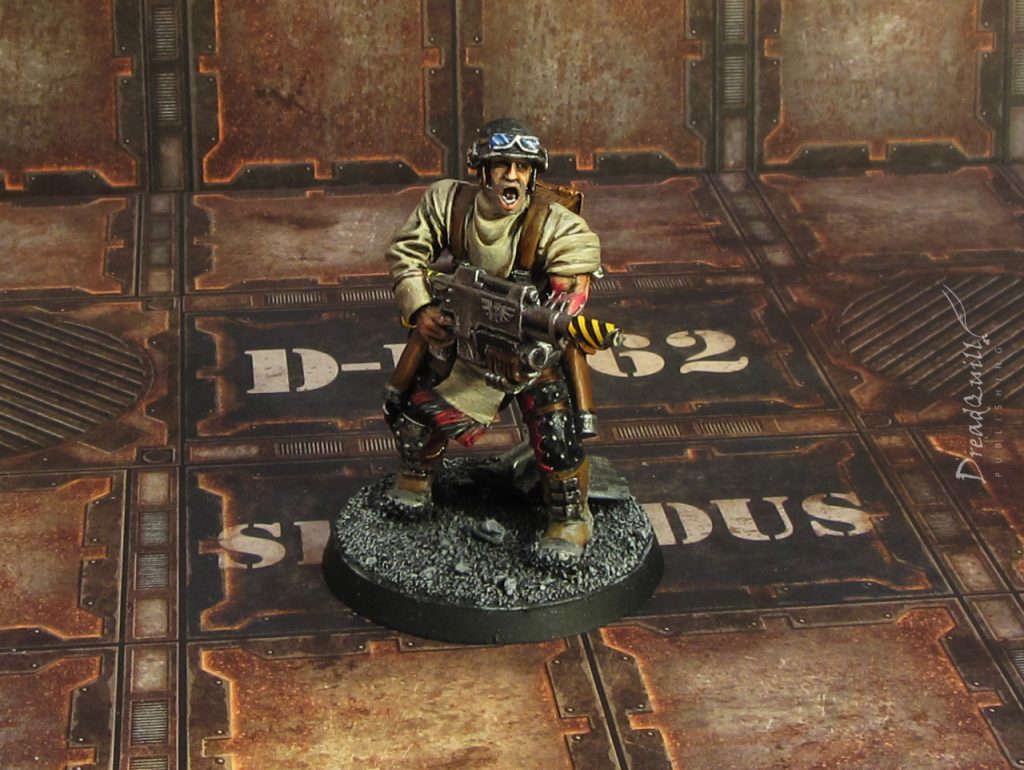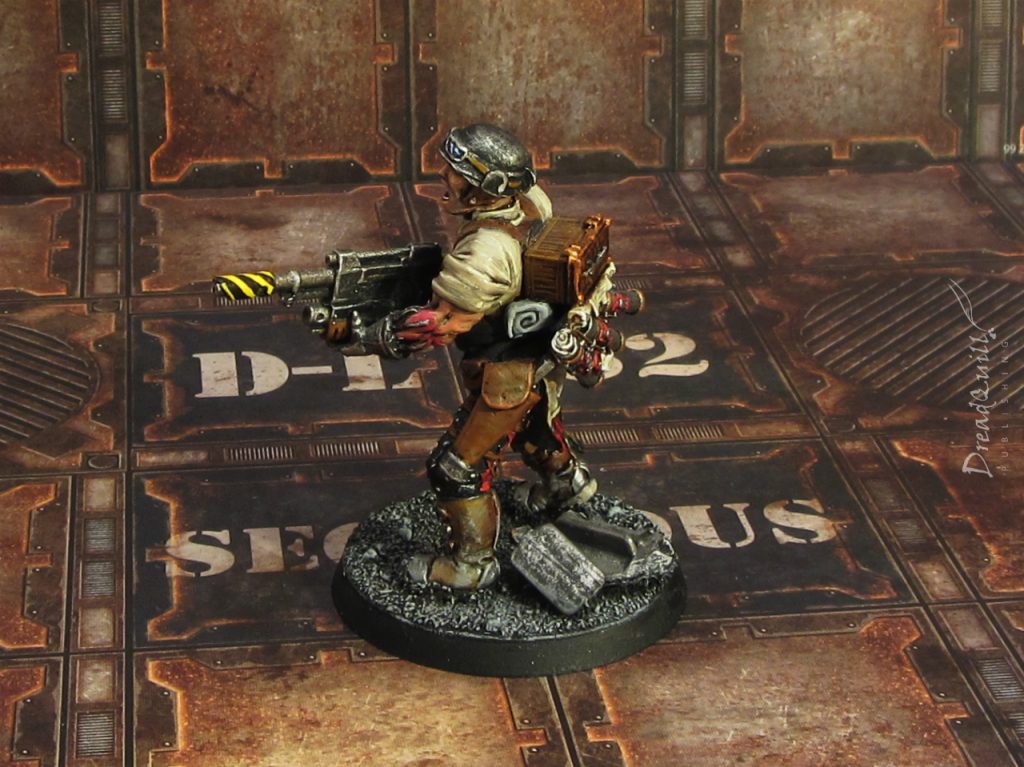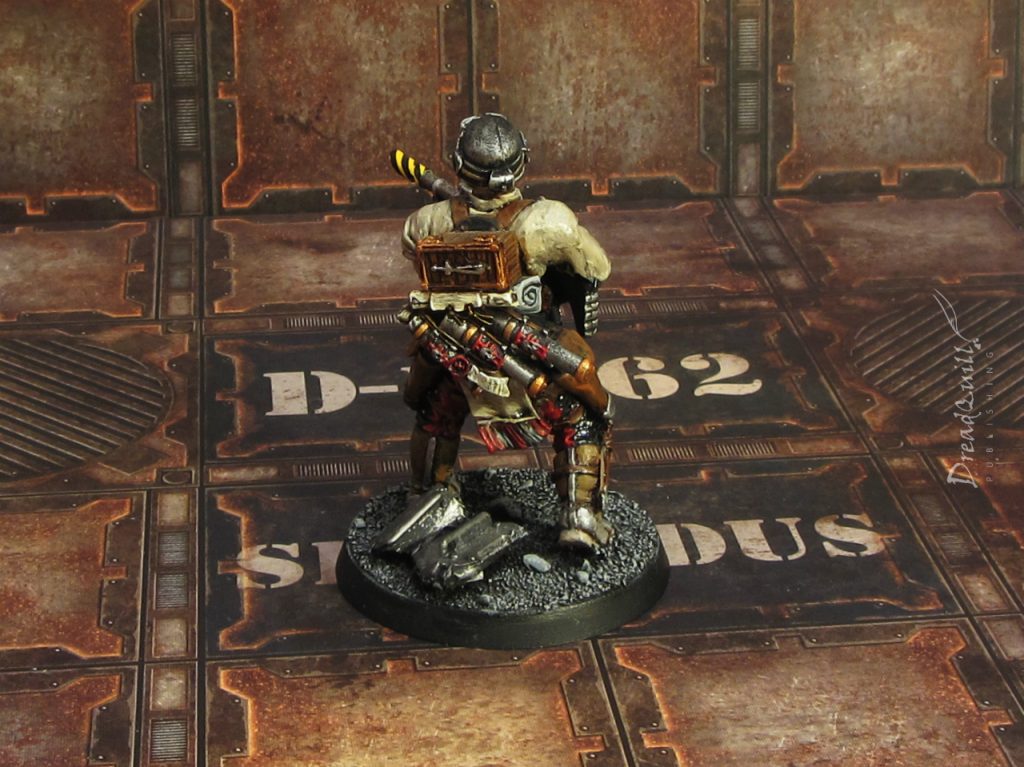 Aries' support staff and pit crew comprise of a collection of mechanics and labourers to keep his systems functioning (chain claws don't have opposable thumbs), and Fetch is the smartest of the bunch.
He's often tagging along closely behind his master patching up bullet wounds or blown power conduits, or persuading stubborn security spirits to allow access through doors or crates where brute force would be inappropriate.
His equipment is practical and reliable – a lasgun with underslung grenade launcher and a variety of grenades (photon flash, haywire and frag) to suit an ever-changing battlefield.
Guilder Max Rockatansky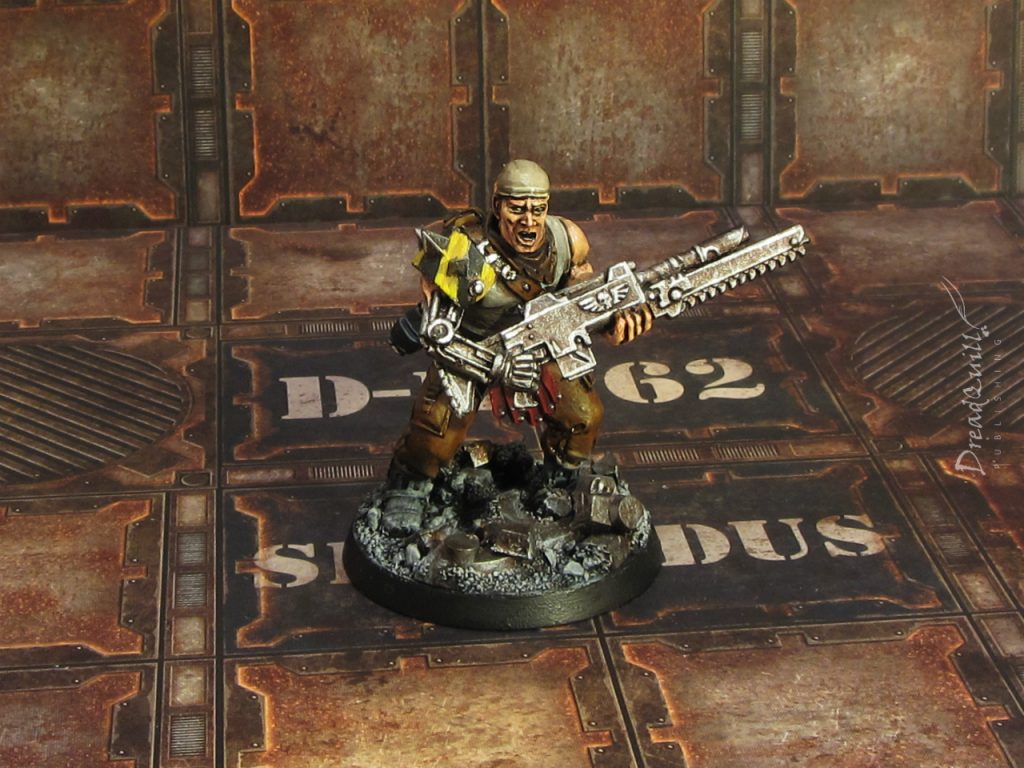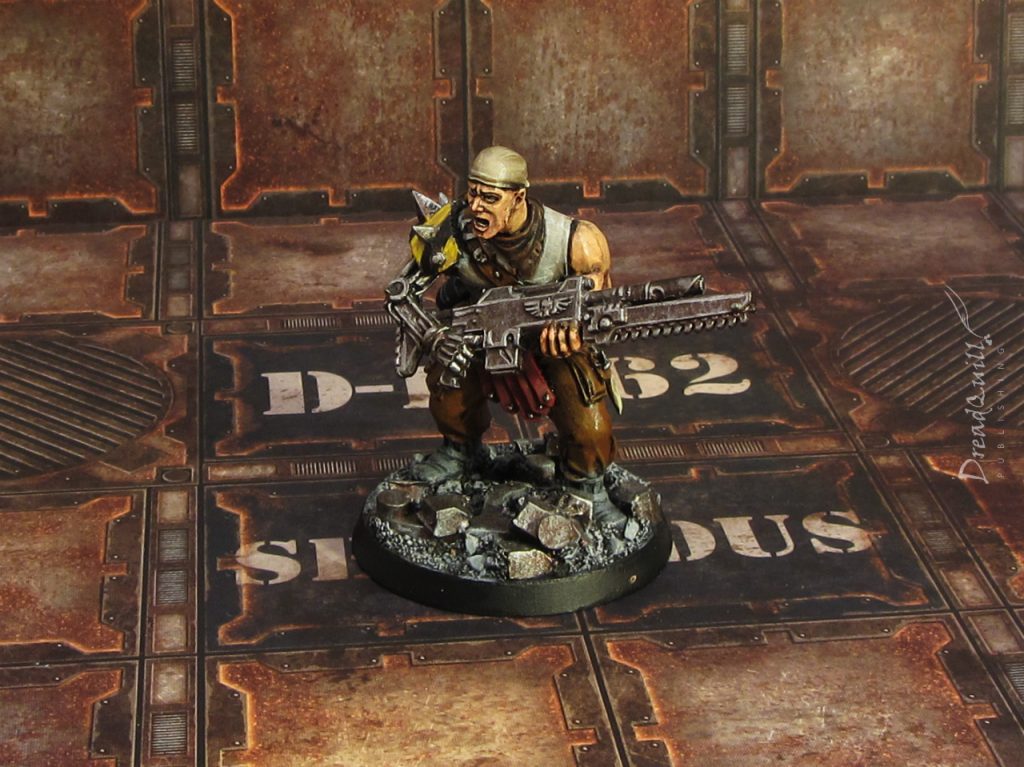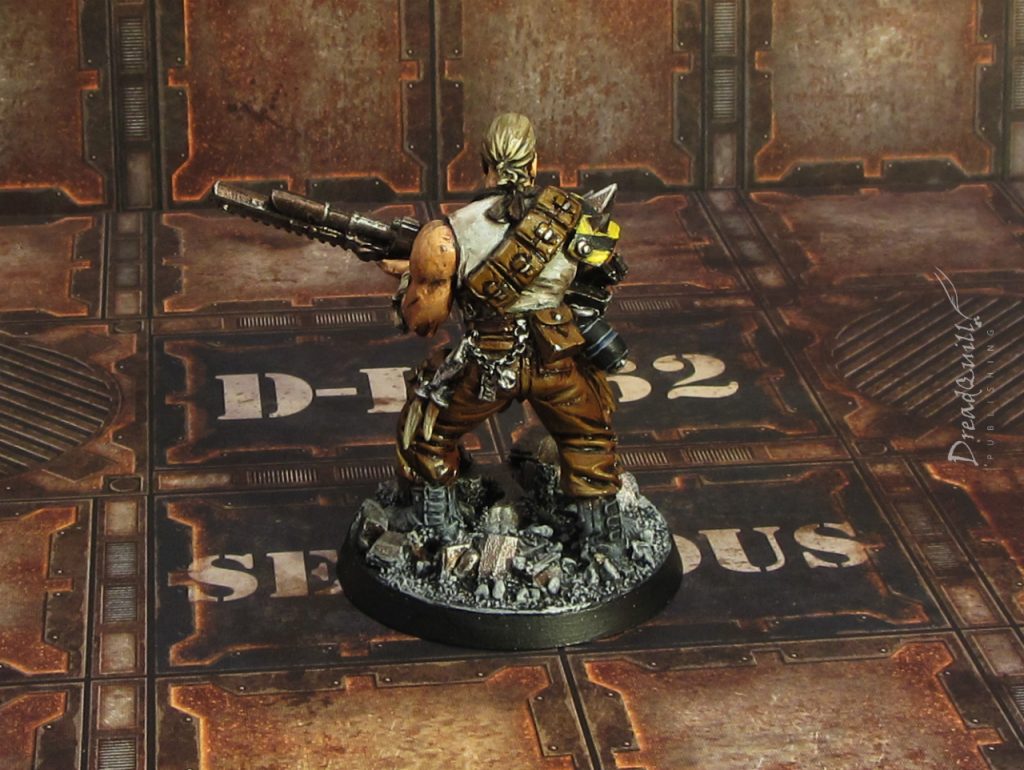 Rockatansky is the other human element of the pit crew, able to provide a bit more muscle when rites of percussive maintenance are required. He specialises more on the ordnance side of things, and keeps the crew's weapons firing true.
He mounts a chainblade under his lasgun for close encounters and a krak grenade for unscrewing really tight nuts.
Clamps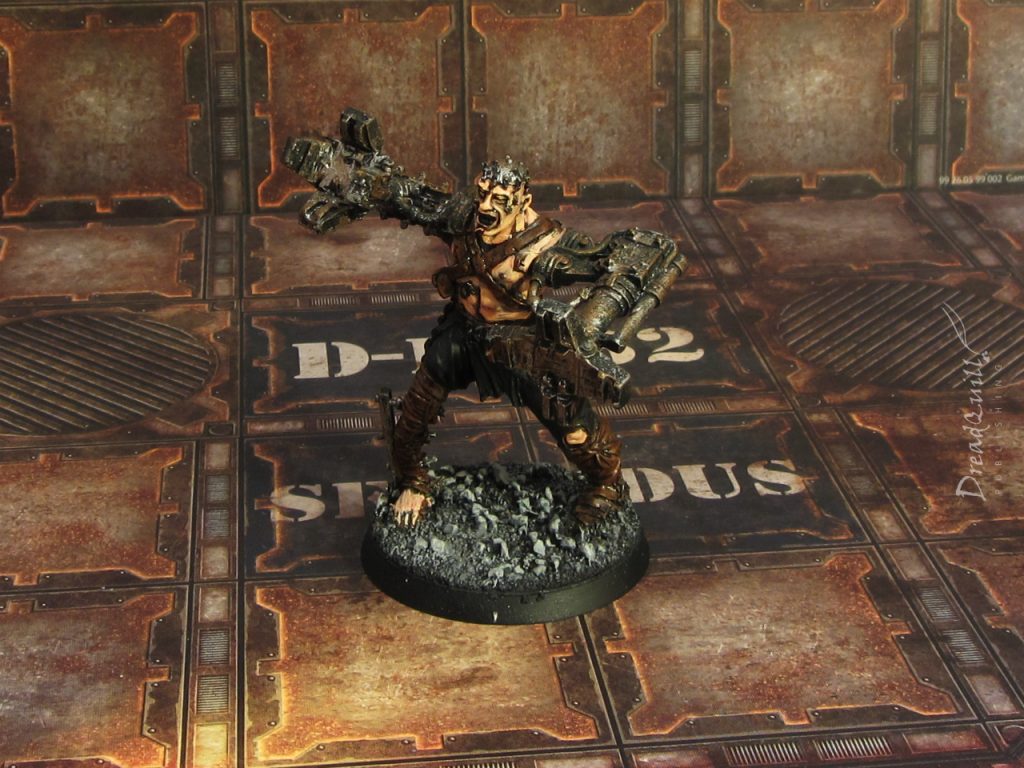 Everyone needs a friendly piston-assisted clamping buddy for all your hauling and clampage needs. Clamps is mostly machine, with a pair of magnificent squeezers for carrying, lifting, bending and.. uh.. clamping.
Being lobotomised, he doesn't suffer from such trivial things as fear or self-preservation, and his reinforced interior provides him excellent protection against cuts and scrapes.