Colonel Vaux blew warm air into his hands. It was dark underground, but at least they were out of the blasted wind on the surface. He looked back over his shoulder towards his Inquisitor. The man's face was lit only by the dim green glow of his auspex, playing on his scar and making it look like a fissure deep through his skull. 
"There are six potential stashes. I've marked them on your dataslates." The Inquisitor spoke flatly, as though they weren't just about to kick down the door of a dangerous gang's hideout.
Vaux heard the familiar clicks and muttered prayers of Guardsmen checking their weapons and reciting litanies of readiness. He did the same, sliding a fresh magazine of Kraken penetrator rounds into his bolt pistol. 
"You have been briefed on the crystals. I expect a full report when we convene." With those words, the Inquisitor disappeared into the gloom ahead.
For this Inquisitor skirmish, two warbands clashed over possession of Chaos-tainted Yu'Vath crystals in the gloomy, frigid depths of the Golgotha mines.
The warbands
On one side is the warband of Inquisitor Tarrik Vanth, a radical Ordo Malleus Inquisitor with strong Xanthite beliefs – an ideology that espouses the use of Chaos to defeat Chaos. He is a battle-hardened Inquisitor, with a shoulder-mounted psycannon and a sword containing a bound daemon.
His comrades are all Imperial Guardsmen, recruited from across the subsector to his personal retinue. His second in command, Colonel Vaux, is backing him up for this dangerous endeavour. He is an eagle-eye shot and a dab hand with his power fist. Sergeant Honies the Medic and Trooper Gene Ric made up the rest of the warband.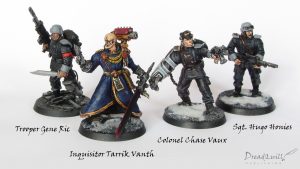 On the other side were cultists of the Crimson Wake, devilishly cunning and deadly combatants dedicated to Chaos Undivided. They were lead by the Arch-Heretic Karo, a cunning combatant with several dirty tricks up his sleeve.
He was backed up by Gorthar, a Khorne-aligned pugilist and Mucus, an ancient warrior who has been battling with the Crimson Wake for longer than his three brains can remember. The final member is Tlashkala, a plasma gunner that was exposed to the open warp, twisting his flesh and turning his blood to plasma.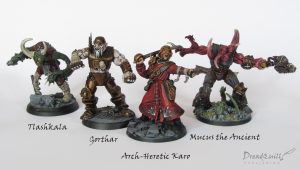 The battlefield
The game was set in the underground mines of Golgotha, deep beneath the surface of the fourth moon of Ulsvar IV. It was designed to be a checkpoint that had been overtaken by a gang, and they had used the tall sections as watch towers.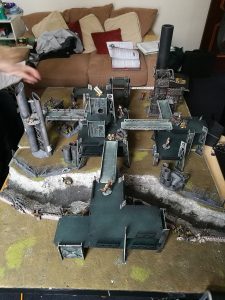 The board was dominated by an excellent lasercut MDF kit from Wargames Tournaments. I have extolled its virtues before on the Dreadquill Instagram account, and no doubts will do a proper review of it on here before long, but suffice to say that it's an excellent piece of terrain that can fill a board, and flat pack down to fit into an A3 box.
The rest was filled with a few tall towers joined by bridges and a few pipes and barrels for scatter terrain. The six loot tokens were scattered roughly in the centre of the board at various heights to encourage some Thrilling Heroics.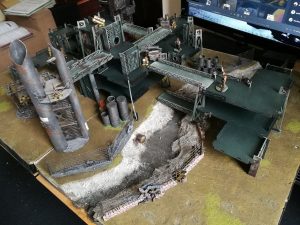 The mission
Both warbands had the same brief – end the game in possession of as many Yu'Vath crystal tokens as possible. We used red translucent Blood Bowl block dice to represent the discovered crystals.
Across the board there were six golden loot tokens, representing a stash of weapons and gear that the gang had secreted away that *could* contain the crystals. Both teams knew where all the loot stashes were, but did not know which stash contained crystals.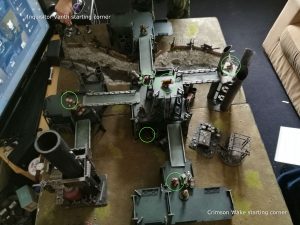 Checking a stash costs one action, and the character must make a Sagacity test to see if they can identify any crystals in the stash. If they fail, they can spend another action to test again, with a cumulative +10 modifier each time they test (after a while they should get better at knowing what to look for!).
Once they pass the check, the character has correctly identified whether or not there are crystals in the stash. Roll a d6: on a 4+, the stash contains Yu'Vath crystals. On a 1-3, the stash is just worthless ration bars and shoddy smuggled small arms. Whatever the outcome, remove the stash token – it's assumed the character tears the stash apart looking for crystals, and others will be able to tell at a glance that it contains nothing.
You can carry as many crystals as you like, but it costs one action to pick each one up. The winner would be whoever carried the most crystals at the end of the skirmish. If one warband was driven off, any crystals left behind on the board would belong to the remaining warband.
The conditions
The Golgotha mines are dark, and very little light trickles through the built-up machinery overhead. You need to pass an Initiative -10 test to be able to see anyone.
The battle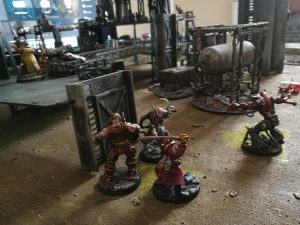 Both warbands begin by attempting the stealth approach. The Crimson Wake have the most success with this, infiltrating North across the board from their South-East starting position without raising any alarms. Gorthar manages to surprise the ganger in yellow (pictured above top left) and tears both his arms clean from his sockets. Gorthar then helps himself to the ganger's stash token, finding the first Yu'Vath crystal.
Vanth's warband in the North West corner have less luck with the stealth approach, being spotted in the second turn as Trooper Gene Ric prats about at the top of a ladder. The alarm is sounded by an optimistic ganger, who finds himself torn to shribbons by a devastating fusillade of psycannon fire from Vanth on the lower bridge.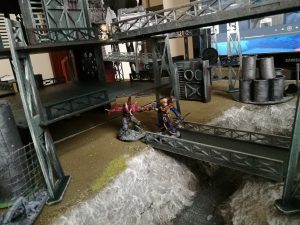 Mucus had made excellent progress across the board, moving quickly under the cover of the ample terrain. He charges Vanth, and the pair exchange vicious blows that would have felled any of the other characters several times over.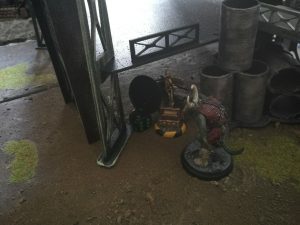 Tlashkala and Sergeant Honies have a surprise encounter around the ground floor stash token. Unfortunately for Honies, Tlashkala is quicker on the draw, and splashes white-hot plasma across his body. Honies is critically injured but not out. Tlashkala is content that Honies is dead, and presses forward North to assist Mucus.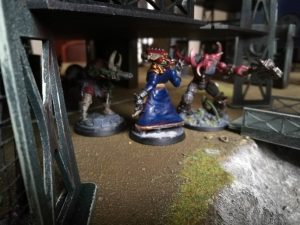 By this point, several turns have passed of causing brutal injuries to one another, but neither gaining the upper hand. Even with Tlashkala assisting, the two cannot seem to down Vanth permanently, but nor can Vanth cause a crippling strike on his assailants.
Karo moves forwards and uncovers the second Yu'Vath crystal in the stash that Honies almost died to protect. He is also pretty convinced that Honies is dead, and decides the most helpful thing would be to fire indiscriminately at the combat with Vanth and two of his team "mates". Luckily for everyone his shots go wide, so he snatches up the Yu'Vath Crystals and skirts around the skirmish looking for the final objective.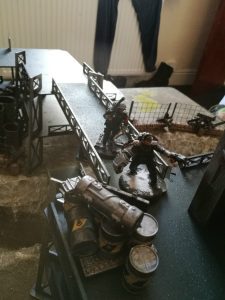 Meanwhile, Vanth's allies have been scouring the rooftops for signs of further gangers or stash tokens. Vaux is utterly convinced that his Inquisitor doesn't require assistance, and moves to gather the most Westerly loot stash. Trooper Gene Ric has less conviction, and dives off the gangway directly into combat, kicking Mucus in the head on the way down.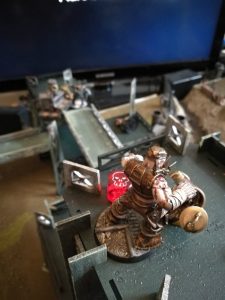 Since his run-in with the yellow-coated ganger, Gorthar has been resolutely clambering the outside of the central building, making for the stash token on the tallest building. He spies Vaux and Gene Ric heading his way and makes a quick getaway, narrowly avoiding detection. Discretion is the better part of valour, after all.
Vaux continues his mission, and the second stash he checks is empty as well. Gorthar in the background has uncovered the third and final Yu'Vath crystal. With Gorthar in possession of two crystals and Karo carrying the third, the Crimson Wake have technically won, if only they can get off the board in one piece!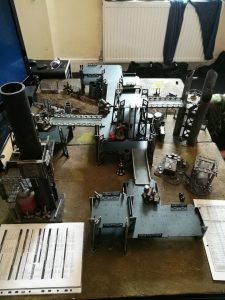 At this point in the game, Vanth has been duelling with Mucus for almost a dozen turns and several in-game hours. Only Sergeant Honies (above, at the base of the central structure), Vaux (above, Westerly side) and Gorthar (above, halfway up the central tower) are not involved in the massive brawl under the central structure.
The tide of battle seems to turn as Vanth suffers the worst of his injuries and spends a few turns stunned on the floor. However, the fortuitous timing of Gene Ric's aerial arrival has distracted the Crimson Wake reavers long enough to think that Vanth is dead, and give him a few turns of precious recuperation. Gene Ric battles on valiantly, armed only with his trusty short sword.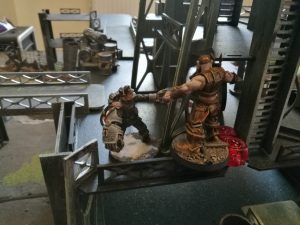 Vaux finally eyes up a heretic trying to make off with some crystals down the outside of the central structure. He opens fire while stampeding towards him, desperate to turn the tables in his favour. Gorthar on the other hand, is weighing up his options. He has done the maths and concludes he would likely lose that fist fight, so he tries to disengage from combat and flee with the crystals.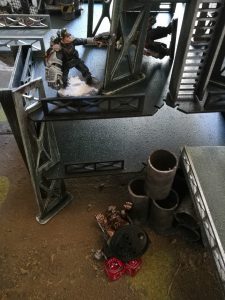 One tragic mis-step later leads Gorthar to go tumbling to the ground, just in time to crush the freshly recovered Sergeant Honies to death*. Gorthar staggers to his feet and makes a break for it, but not before Vaux can fill his head full of holes with armour-penetrating bolt rounds.
*At this point, it's worth mentioning that Honies was not crushed entirely to death. He was crushed into unconsciousness, where he slowly but inevitably bled to death over the following few turns. Being crushed to death sounded a more heroic way to go out.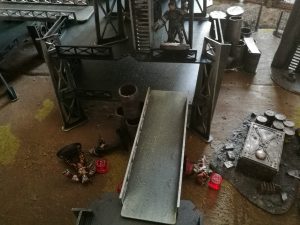 Karo has decided that the melee with Vanth is all done and dusted (both he and Tlashkala failed to realise Vanth was still alive, or even that he had pulled himself to his feet after Mucus brushed his teeth with a chain axe). He makes a run for the exit, but notices several Yu'Vath crystals on the ground and hungrily goes to grab them.
Unfortunately for him, Vaux still had a perfect aim lined up at Gorthar's body, where Karo had now thrown himself. Vaux plugs Karo a few times but he leaps for cover, and Vaux cannot put the killing blow onto him.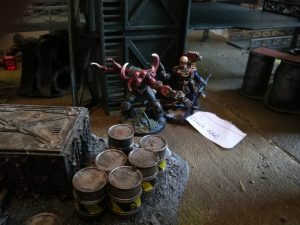 Meanwhile, Gene Ric had broken from combat intending to grenade whatever was left standing, but Vanth annihilates Tlashkala with furious psycannon fire. The combat has left Vanth with barely any health remaining and bleeding from every body part, but he had disarmed Mucus (literally) and chased the foul mutant down.
At this point, Vanth decides to pick up the remains of Mucus' severed arm, still attached to revving chain axe, and plunges it into the mutant's back. Some say these two lovebirds are still fighting to this day.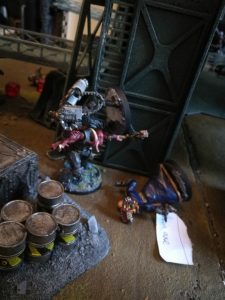 Vanth succumbs to his wounds, and strays into unconsciousness as his body (finally) runs out of blood. Mucus goes to perform a killing blow, but BAH GAWD OUTTA NOWHERE Colonel Vaux launches an aerial power fist strike straight onto Mucus. The attack leaves everyone (literally and metaphorically) stunned, and Mucus uses the opportunity to slink off into the darkness, deciding not to take his chances with the totally uninjured basejumping maniac with the power fist.
Karo comes round, and as Vaux is in the middle of reloading, sees his chance to make a break for it. He grabs the two nearest Yu'Vath crystals to him and disappears under the cover of the southern building. Trooper Ric makes one final blast of las fire at the fleeing Karo, but fails to make any difference to the outcome.
The conclusion
It was a hard-fought game, with Karo escaping with two Yu'Vath crystals and leaving one for Vanth's men to scoop up in the aftermath of the skirmish.
Karo's warband came off the worse; Karo barely escaped with his life, Mucus thoroughly battered with a mangled arm, Gorthar lying face down with a head like swiss cheese and Tlashkala had been used to repaint the local scenery a nice shade of Heretic Red.
Vanth's warband was not so bad off, Vanth slipping into unconsciousness could be fixed with some field medics, and even though his face was almost severed from the rest of his head, it's unlikely that anyone will notice much difference after he's recovered. Sergeant Honies will be honored (and replaced), but the other two warband members seemed to emerge largely unscathed.
All in all it was an excellent game, with plenty of drama and excitement. At no point could I work out who was winning, as the power struggle seemed to change almost on a turn-by turn basis. Although Karo made off with more crystals, their warband indisputably came off worse, and would seriously struggle in a followup game.
Moving forward
There's a few things I would do differently to run the game. The biggest would be to introduce a time limit of sorts when I feel like the game is running its course. Although I enjoy playing Inquisitor 'to the bitter end', when one player has to leave when the game hasn't *entirely* resolved, it can be a bit of a rush to come up with an epic climax.
Playing again, about halfway through the game I could announce some kind of time limit (5 turns?) before the gang summoned reinforcements that would overwhelm the warbands, so they have to grab what they can and scarper. I think that would help keep the tension high, and prevent the game from descending into a battle of attrition.
Both players now have the bug, and after the tidy up we spent almost an hour eyeing up 54mm models for their warbands.
Will we see Vanth and the Crimson wake clash again?