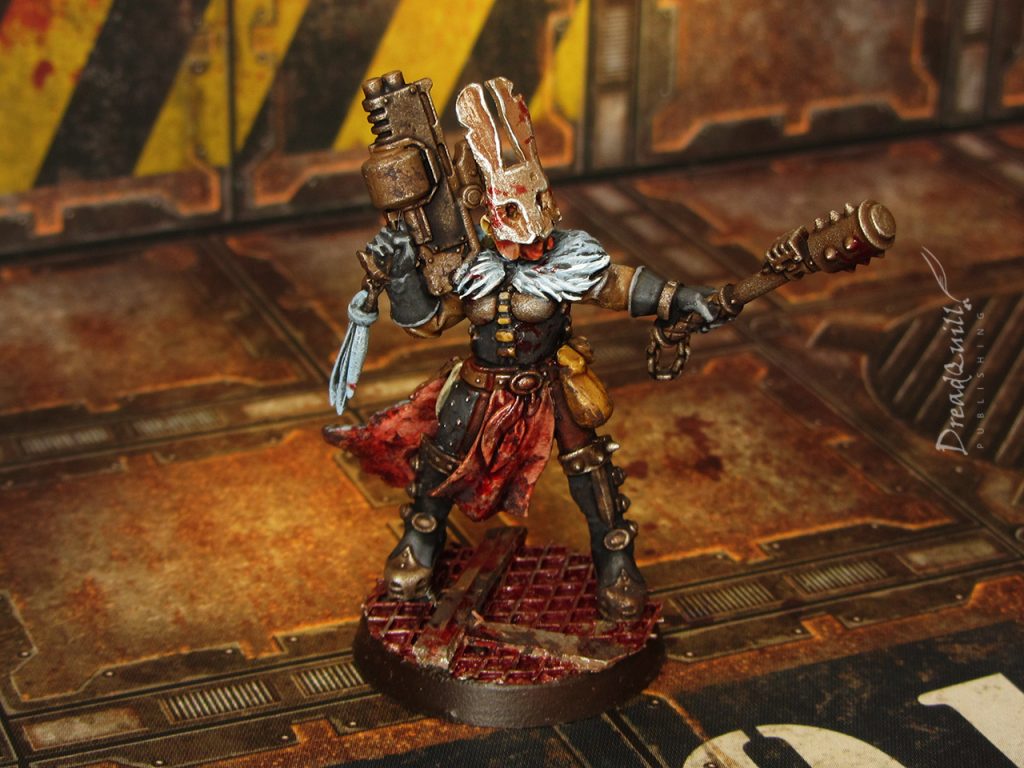 Last time I'd finished up some slavers for my Beast House project in our ongoing Dark Heresy campaign, and as our players were nearing the end of their time in the Red Cages, it was time to up the ante.
The players had been stripped naked and thrown in a pit, and after a few sessions of Saw-style hammer house of horror, they had scraped together enough ragged armour and rusty blades to take on the final boss of the Red Cages – Hare Mask.
The module alludes to members of the Beast House wearing different animal masks as a grotesque parody of the riotous carnival going on overhead, so I wanted to take it further by having a different animal mask representing a different boss of the three levels.
The lowest level was guarded by Rat Mask (represented by one of the whippy slavers), who had two pet rats and a tent made of rat skins (surprise, surprise!). As they worked their way up the facility, it was time to face the final lieutenant – Hare Mask.
I didn't have much in the way of a brief for Hare Mask, other than they needed to be a fairly commanding presence with even halfway-decent armour (ie not just bloodied chunks of animal stapled to you). They were going to have an imposing set of weapons, with at least one of them being a signature weapon stolen from the players to make it even more obvious that this person needs taking down.
Time for a rifle through the bits box!
building the bunny
My preference was for Hare to be another female slaver, and I just happened to have one spare Escher body left from the Necromunda core box set. The big battle boots, animal trinkets and slightly raggedy appearance would make a great start to a Beast House lieutenant.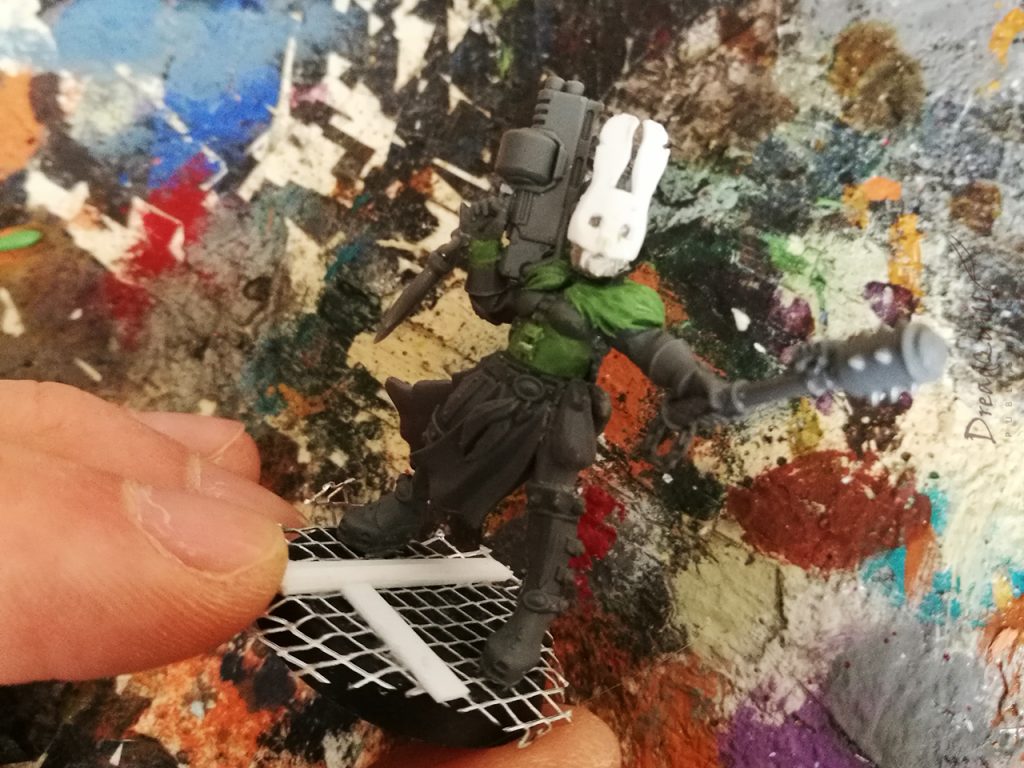 At the end of our last campaign (before stripping the team naked and leaving them in a pit) I asked them what their favourite/least favourite equipment was. There was little context beyond me trying to get a flavour of what the team have and what they might like more of.
Being an Utter Bastard(tm) this was in fact just a way of me working out what tools to drip feed them. In their first mission, the only equipment they could scavenge was whatever they had told me was their least used/least favourite equipment. It made for some incredibly resourceful moments of creating disguises and distracting guards with bags of spices.
The other less-bastardy intention was to work out what equipment I could use as a reward – something to help them feel less like I'd deleted their character sheets and more emphasis on progression to reclaim what is rightfully yours. The baddies have your stuff – go shiv them in the neck and take it back!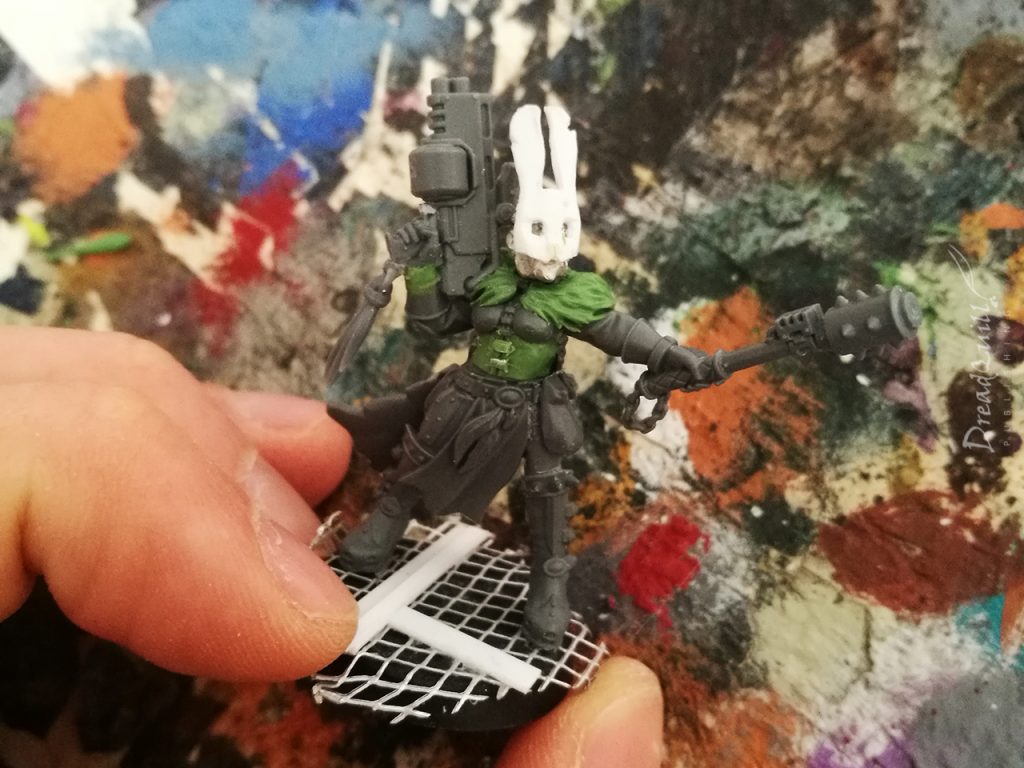 Our preacher's combat shotgun was the perfect choice – iconic and deadly, and a reminder of just how powerful some weapons can be in the wrong hands. It'll also give the slavers an opportunity to put out some hurt of their own – the crappy disposable pistols they've been threatening the players with so far have been fun, but their threat is limited. Time to burn some fate points.
I needed something slaver-y for a melee weapon that wasn't another whip, so I went for a shock maul from the Genestealer Cult Neophyte set. It also comes attached to the user's wrist with a length of chain, which was a nice touch. Stops those pesky slaves trying to disarm you.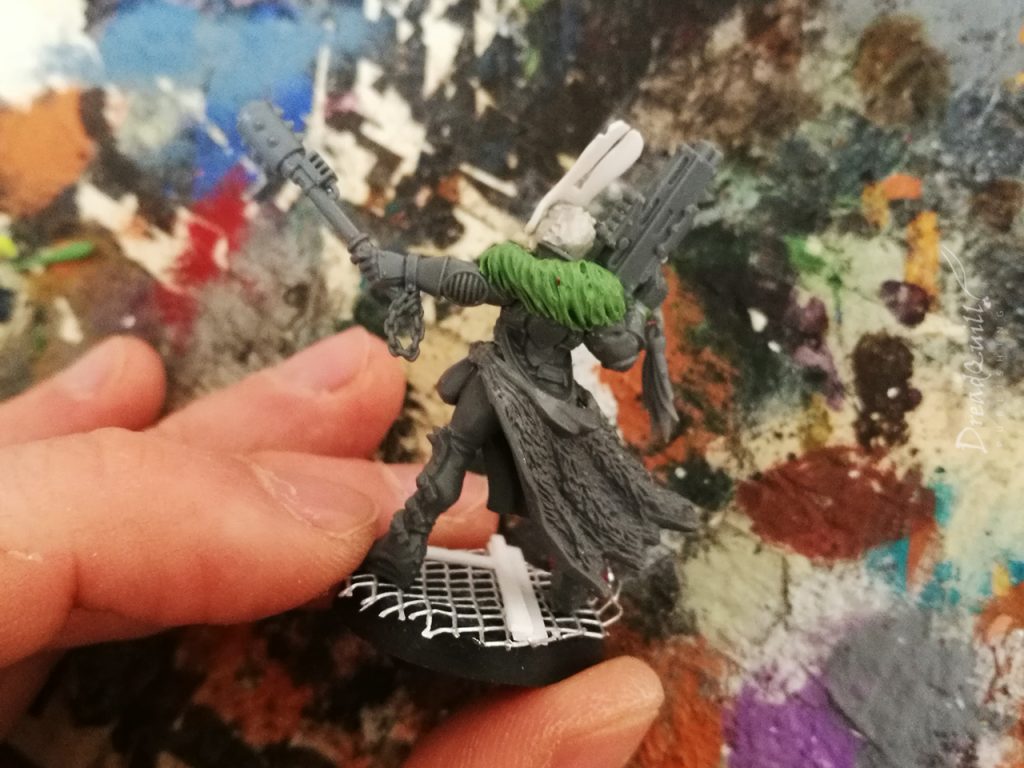 With some extra animal gubbins and some fur sculpted around the shoulders to give her a more impressive silhouette, all that was needed was a mask itself. I went to a lot of effort to find anything I could use as a mask that would involve zero effort to employ. In my hubris, I just had to come to terms with the fact I'd need to scratch build it.
The mask was a strip of plasticard cut to shape with a sharp hobby knife and VERY carefully bent around the handle of a paint brush to give it a more natural curve. The details were painstakingly carved out with the end of a knife. It didn't matter if it looked rough – it would add to the effect!
It did need to look like a hare though, and rather than use an actual animal for reference, I figured I'd borrow from the best…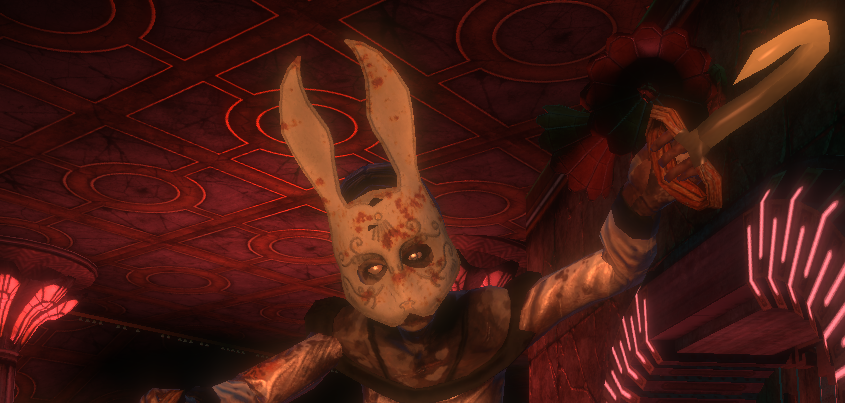 And it was time to undercoat!
That girl with five colours in her hare
I tried to stick to the colour scheme I had trialled (surprisingly successfully) with the previous slavers. Light drybrushes, washes and copious use of Typhus Corrosion and Blood for the Blood God to finish off.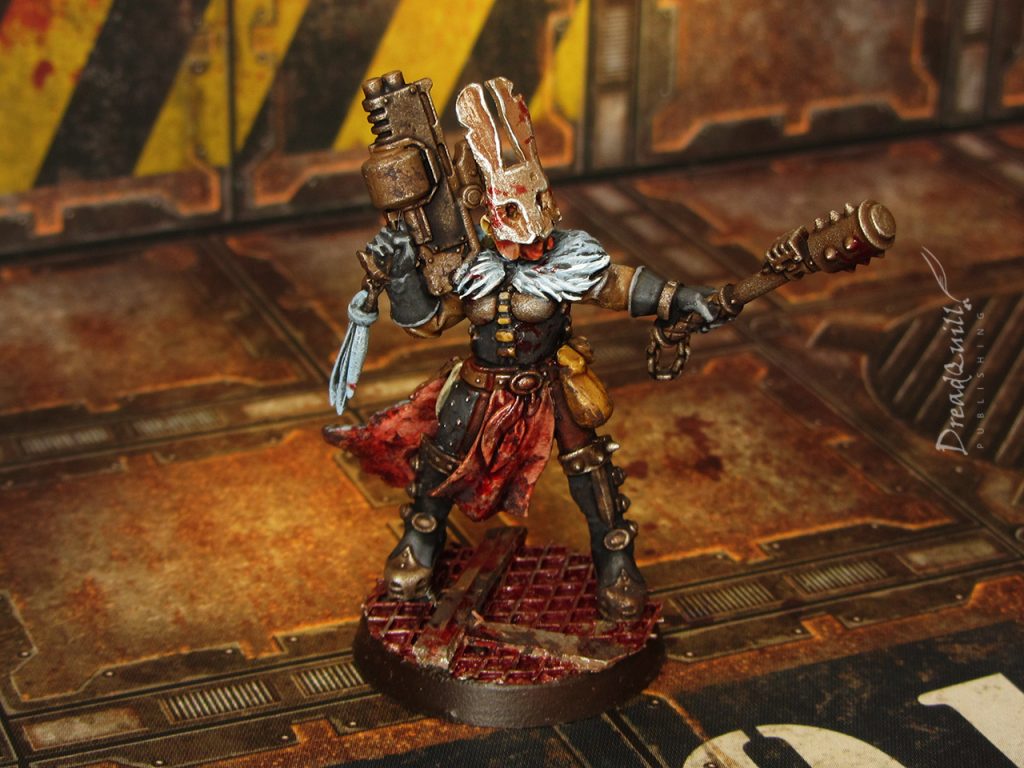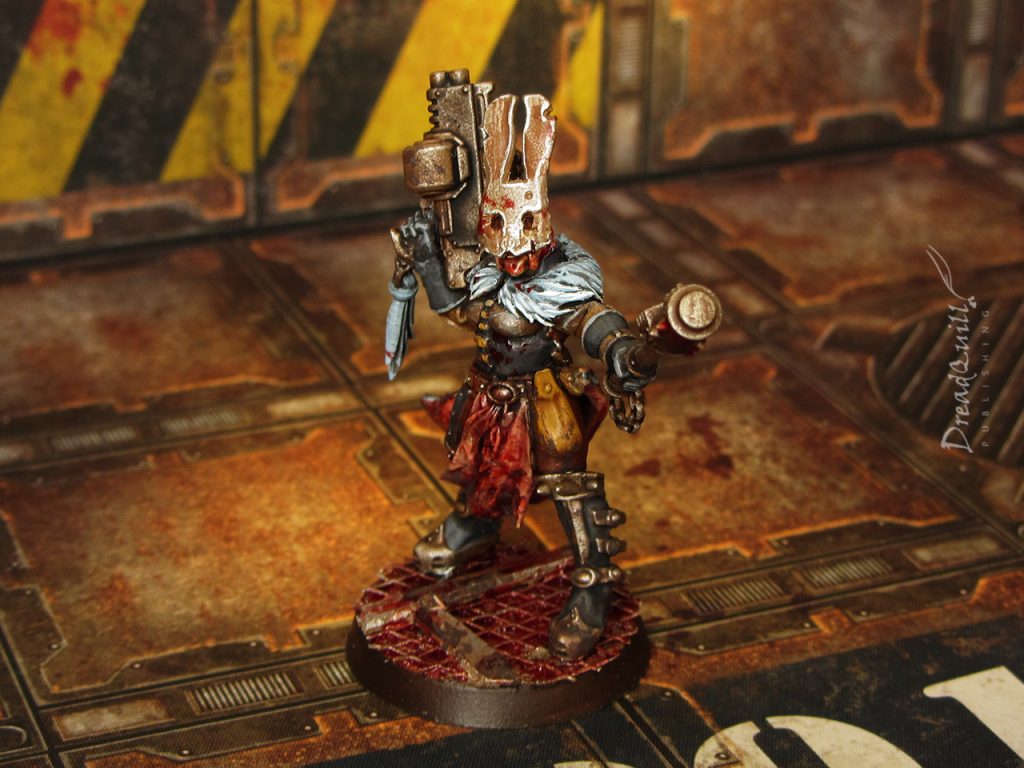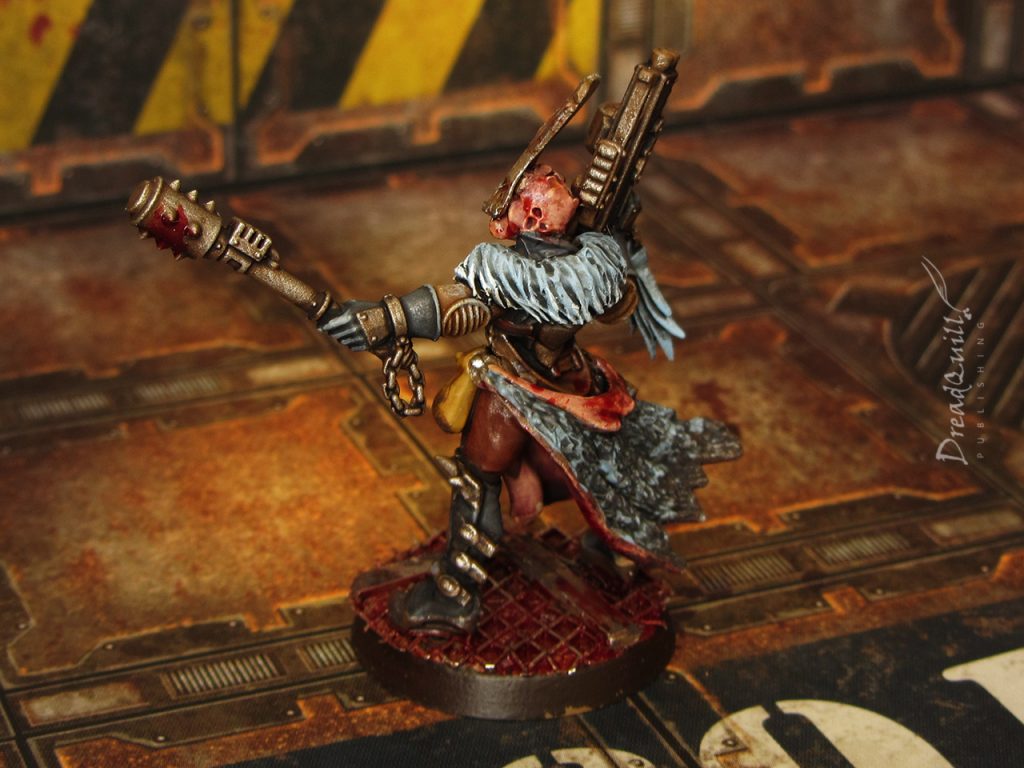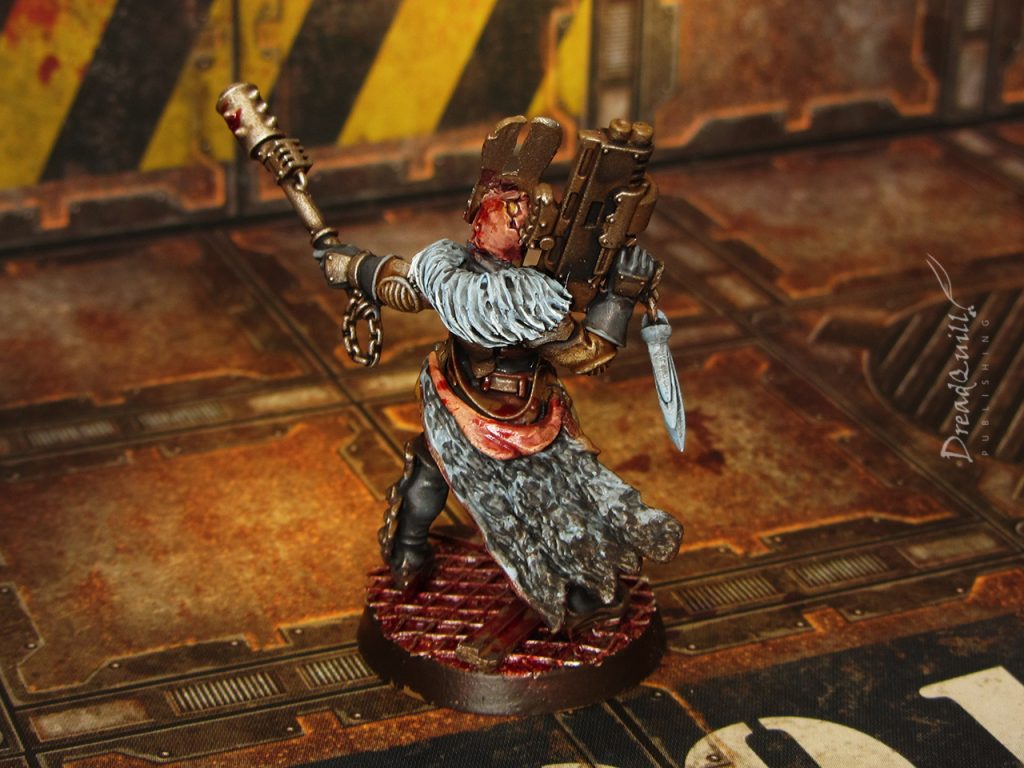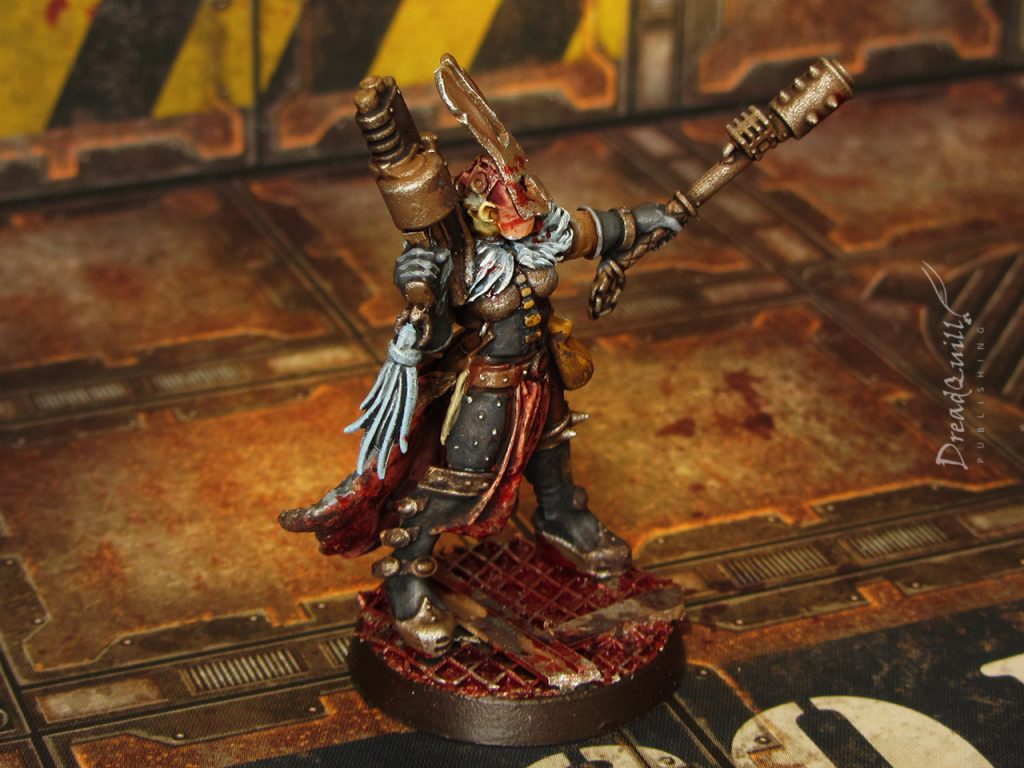 All in all I'm very pleased with how she came out. She will make a fine mini-boss, and her statline suggests she'll be light on her feet and much harder to hit than the usual lumbering slavers (hence her patron animal). Hopefully it'll give the players a run for their money (and Fate Points).
Now, I think she needs a bit of muscle…