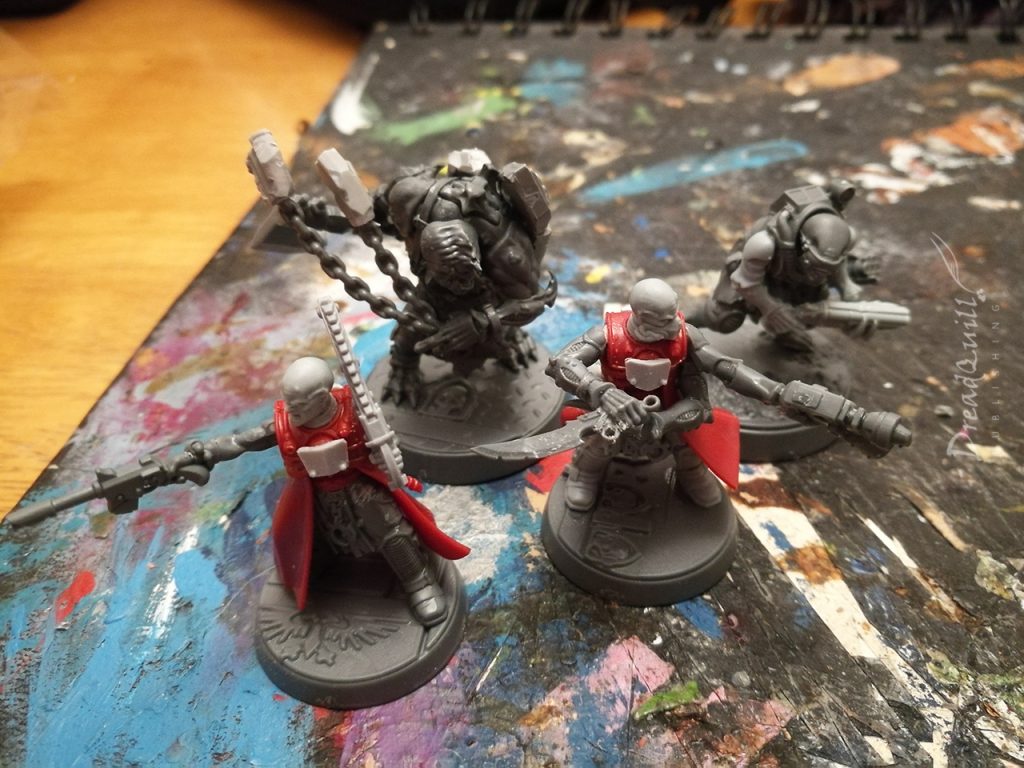 Last time we looked at the finished lot of Hive Noon as it started the campaign, and as the weeks rolled round it became apparent very quickly that there was definitely some room for improvements.
Genestealer Cults are currently one of the most exciting and janky gangs to play with – they have huge variety in their house weapons list, access to psykers, heavy hitters and the ever-hilarious familiars, but their champions really struggle with the killer combination of low movement, Toughness 3 and only 1 Wound.
The expensive poncho-wearing fellas I made for the first wave simply weren't cutting it in straight-up firefights – they would get singled out and blown away very quickly. I needed more bodies…
Calamity Gene
Frankly, if you aren't packing at least three hand flamers in a GSC gang, you're barmy. They're ludicrously cheap, give you a template Strength 3 Blaze weapon and best of all, you can shoot through your own guys with no fear of setting them on fire thanks to your Hazard Suits. Of course you still have to roll to hurt your own guy – I said their tricks would be dirty, not friendly.
I had a lot of fun making the hammer-fanning Acolyte from the previous wave and wanted something similar, this time going for the draw while firing another weapon. I was running out of regular human arms by this point, so the slightly oversized Acolyte arms would be fine. I'm also absolutely not a fan of Fighting Knives in Necromunda – they're way overpriced for what they do, but I couldn't resist the aesthetic…
I was also getting pretty good at sculpting hats at this point – I have a tutorial on how to do it in the first Hive Noon post.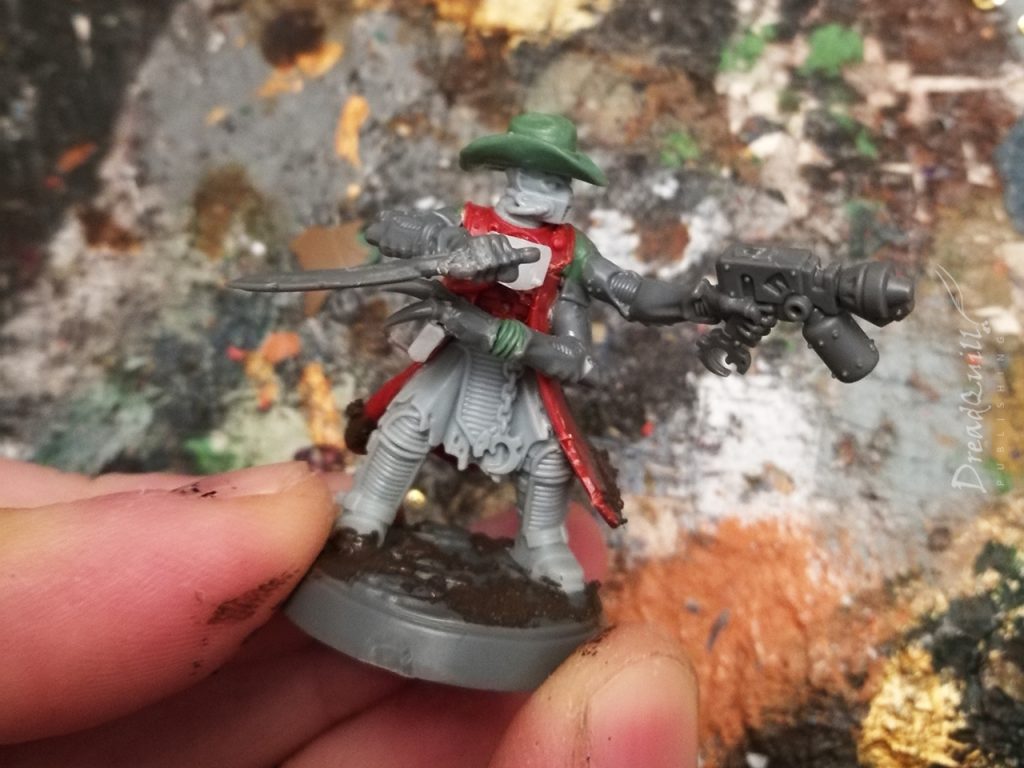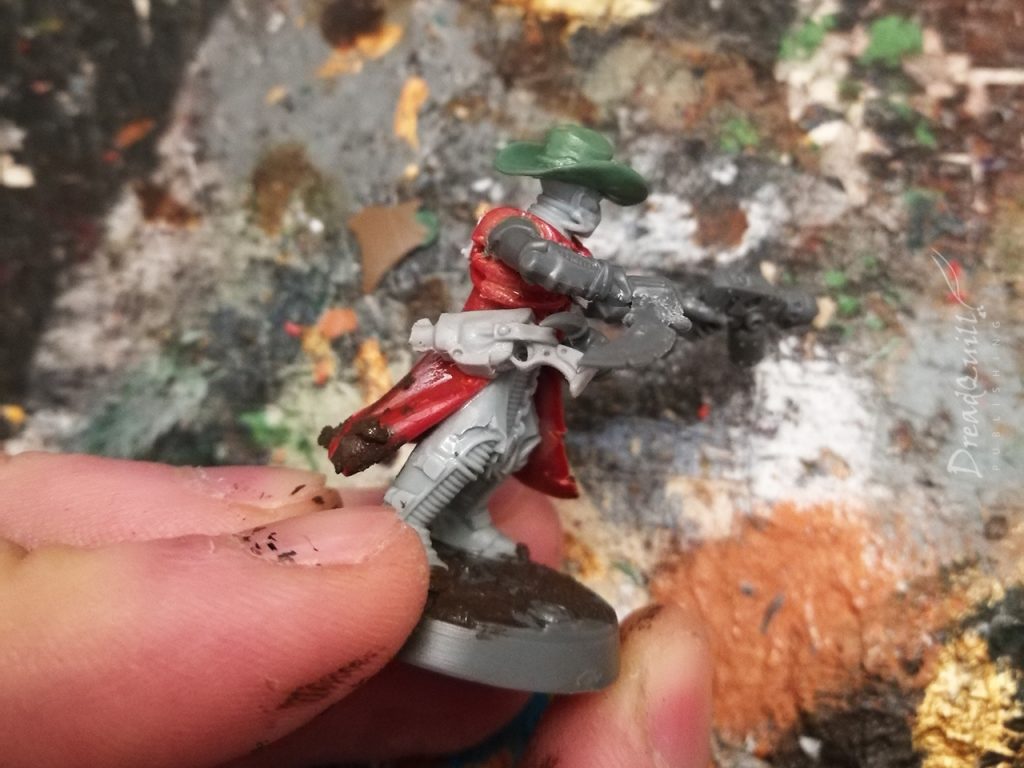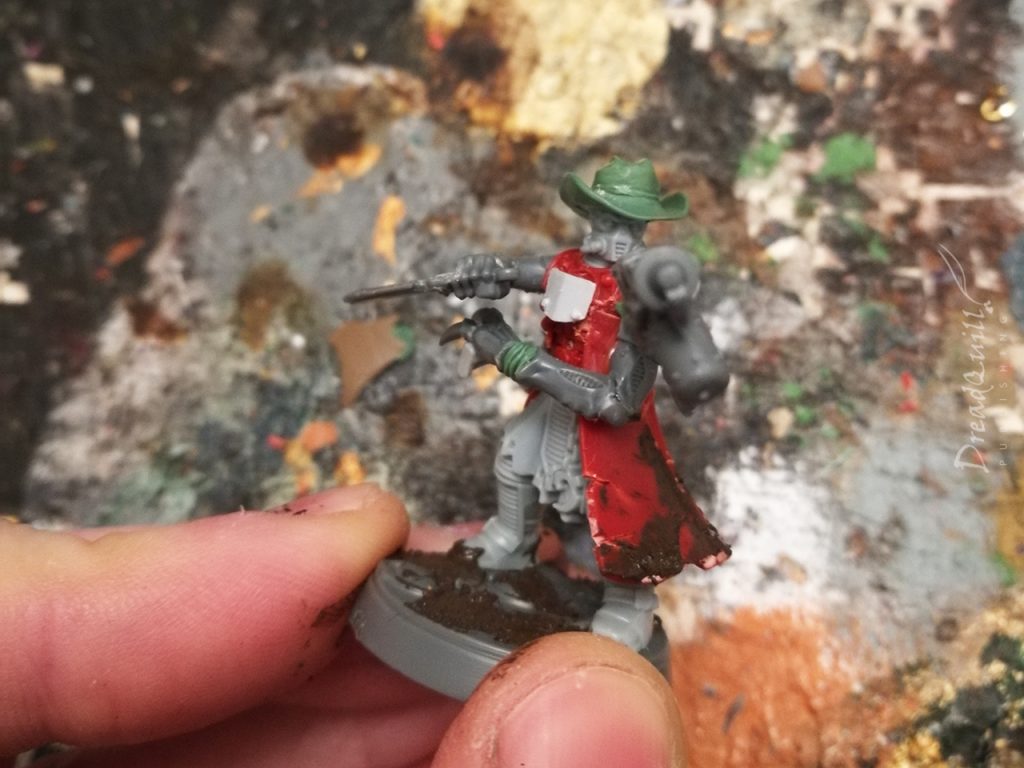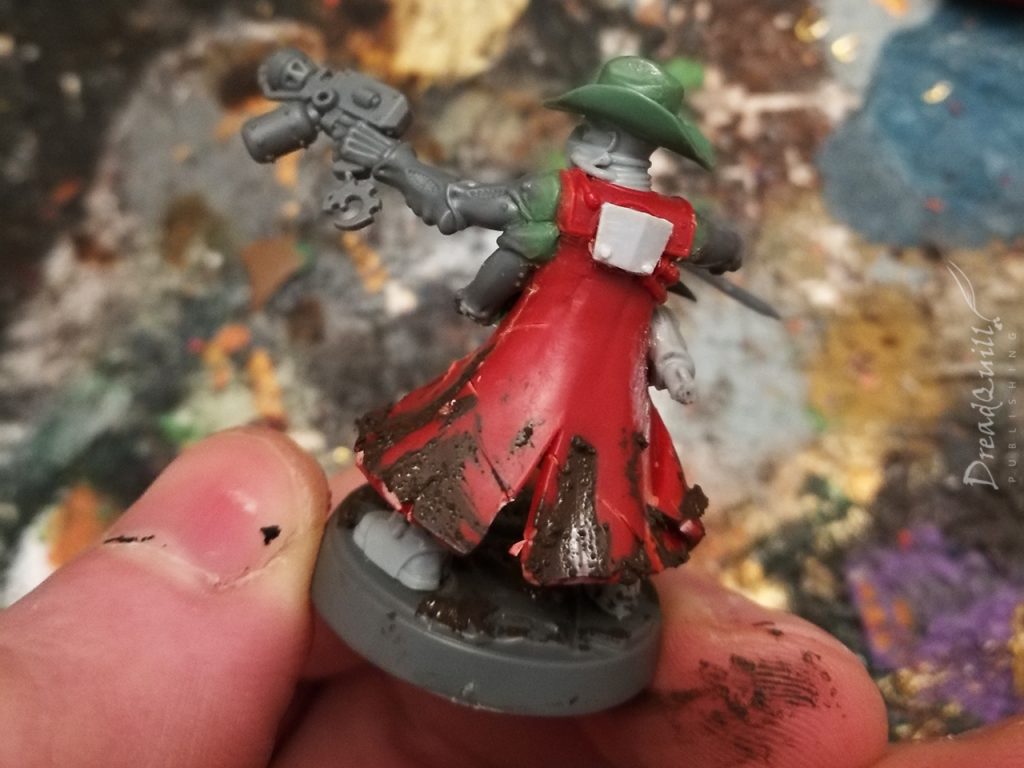 The Lone Render
I'm sorry, Acolytes can get cheap Demolition Charges and Infiltrate? Absolutely 100% yes. Give him the coach shotgun and saw down the barrels to count as a sawn-off if i so choose and we have a perfect weapon of terror. I could resist the opportunity to built a guy RAD SHADES and a big-ass bomb.
In-game this guy didn't always cause a lot of damage, but the panic he could cause by threatening to pop down a massive Strength 5, Damage 2 large blast template was worth the entry cost alone. I found enemy gangs would commit extraordinary resources to seeing this guy off the table, leaving the rest of their gang unable to stop or slow down my own gang's advance.
Note to self: run this guy with a regular shotgun next time rather than a sawn-off. Although the aesthetic is delicious, he was so rarely in range to use it.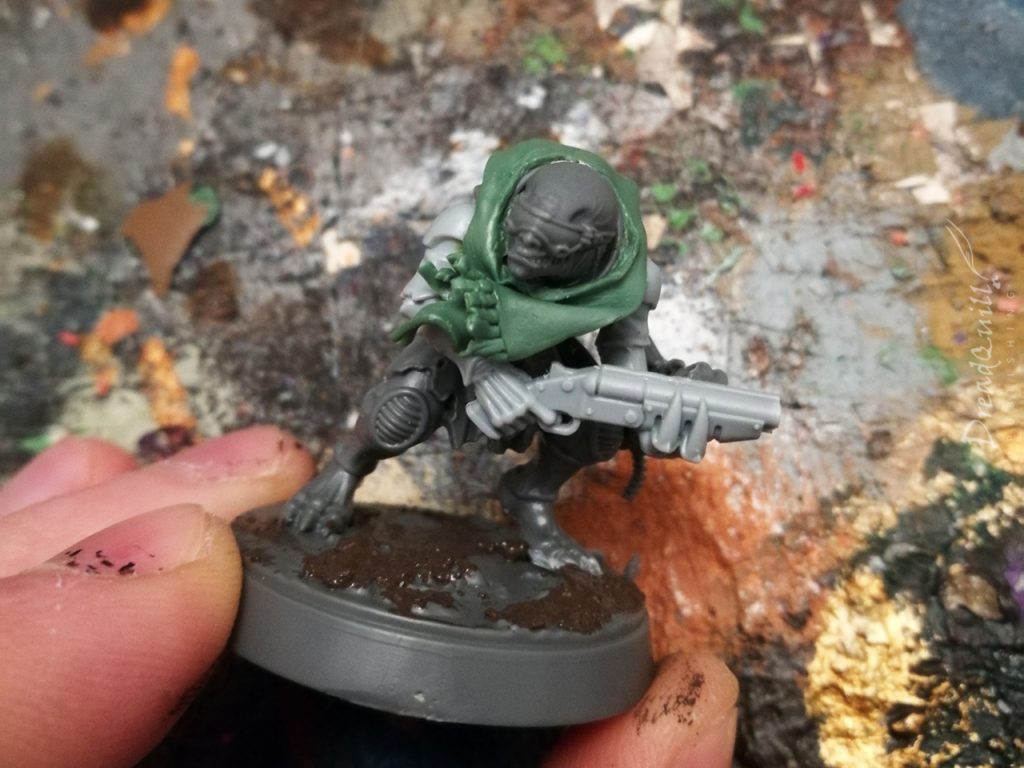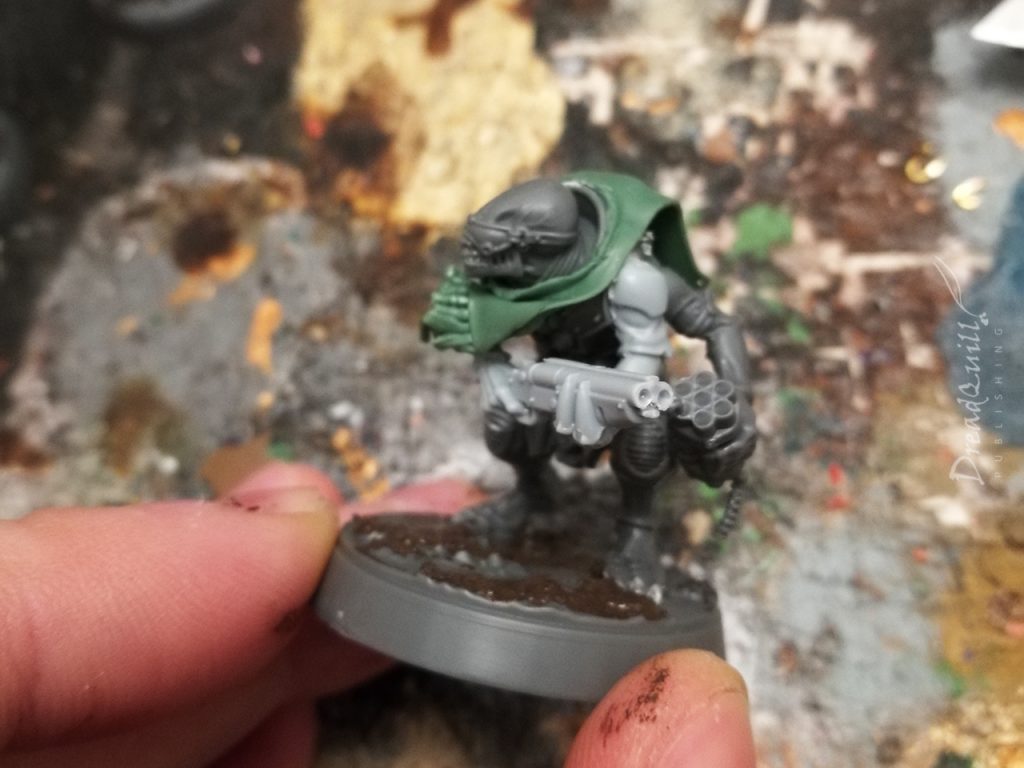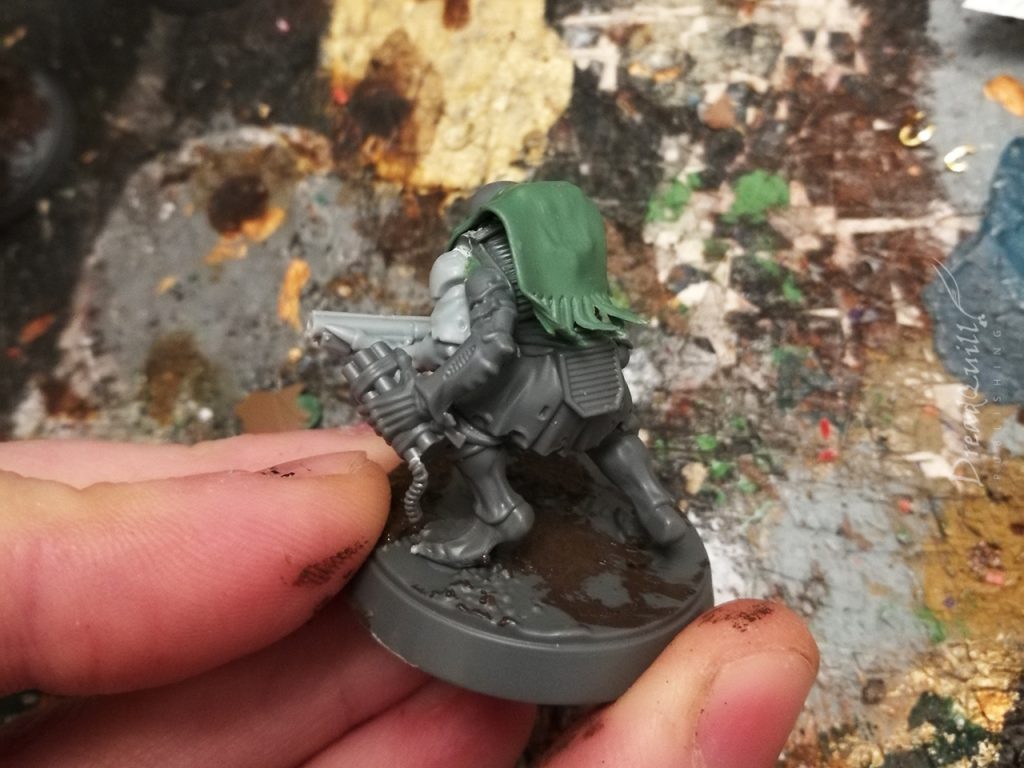 Stubber Ocelot
The origin story for the gang! The Kelermorph was finally released halfway through the campaign and I snatched him up. I thought I would need to do some complicated shenanigans with buying stub pistols, but apparently even in Killteam those weird revolver-looking things are actually autopistols and therefore easy to purchase from the gang weapon list. Definitely going in the starter gang next time I play with these chaps.
By the time I bought him with in-game creds I had been purchasing some Master-Crafted Autopistols and keeping them in the stash for just such an occasion. Holy heck – easily the best 15 credits you can ever spend. I gave him 3 of them, practically guaranteeing he'll never run out of bullets (who's got time to reload?) for a meagre 45 credits, turning him into a short range bullet-bastard who can push out up to six hits on a target per turn. With a BS of 3+ and Master-Crafted allowing him to re-roll misses, he would put people on the ground for his familiar to run over and curb stomp them.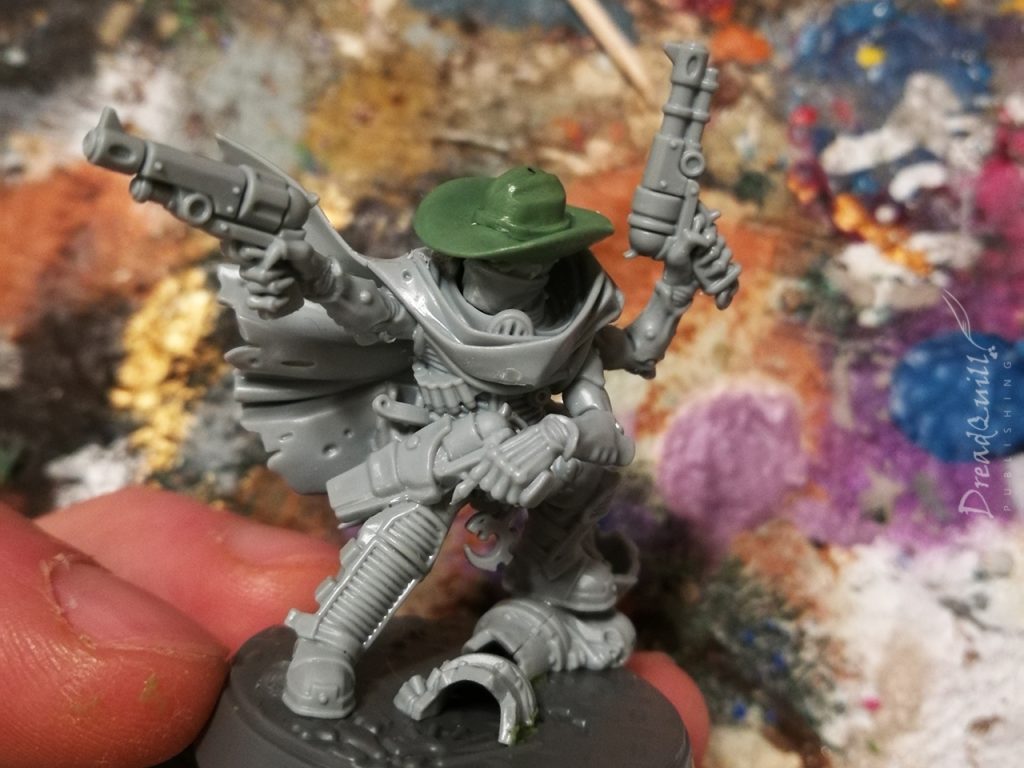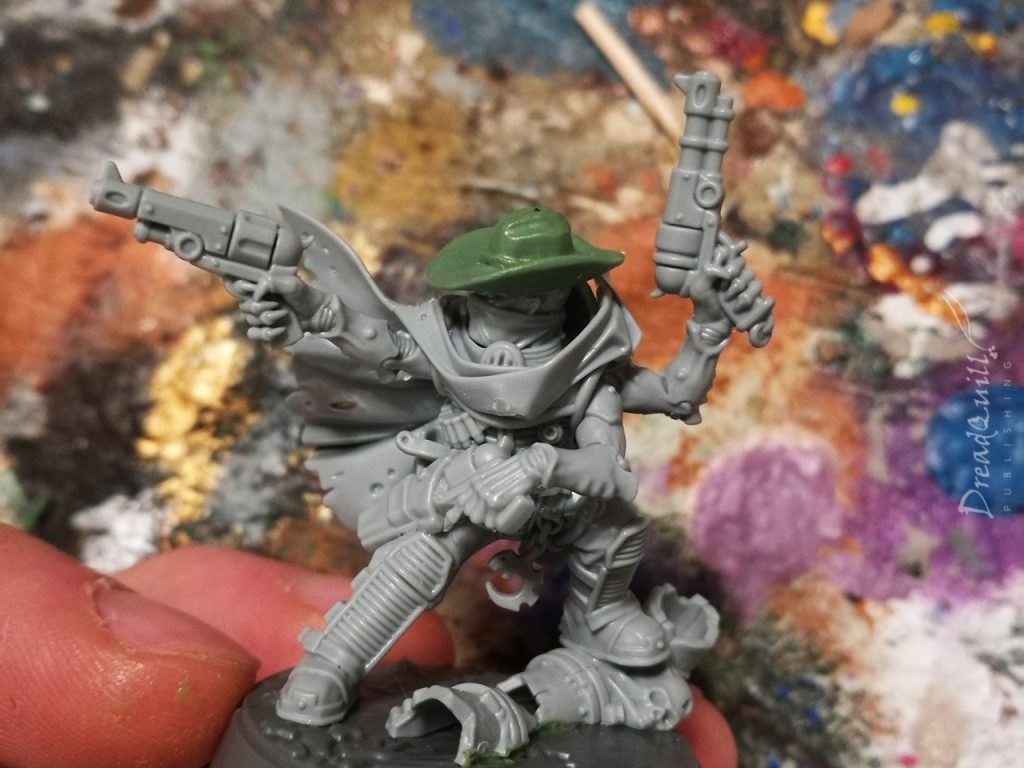 Jonah Fex
Another body, this time to take advantage of the cool sabre chainswords I picked up from Anvil Industry and hadn't got round to putting on a model yet. Chainswords are great for scrubs, the +1 to hit, Parry and Rending gives regular mooks the edge in combat for a very respectable 25 credits.
Escher arms were used on this guy, as they looked lean and lanky enough to work with the GSC aesthetic, plus I really liked the long-handled las pistol and thought it suited the gang's theme.
Green Stuff moustache was, of course, a necessity.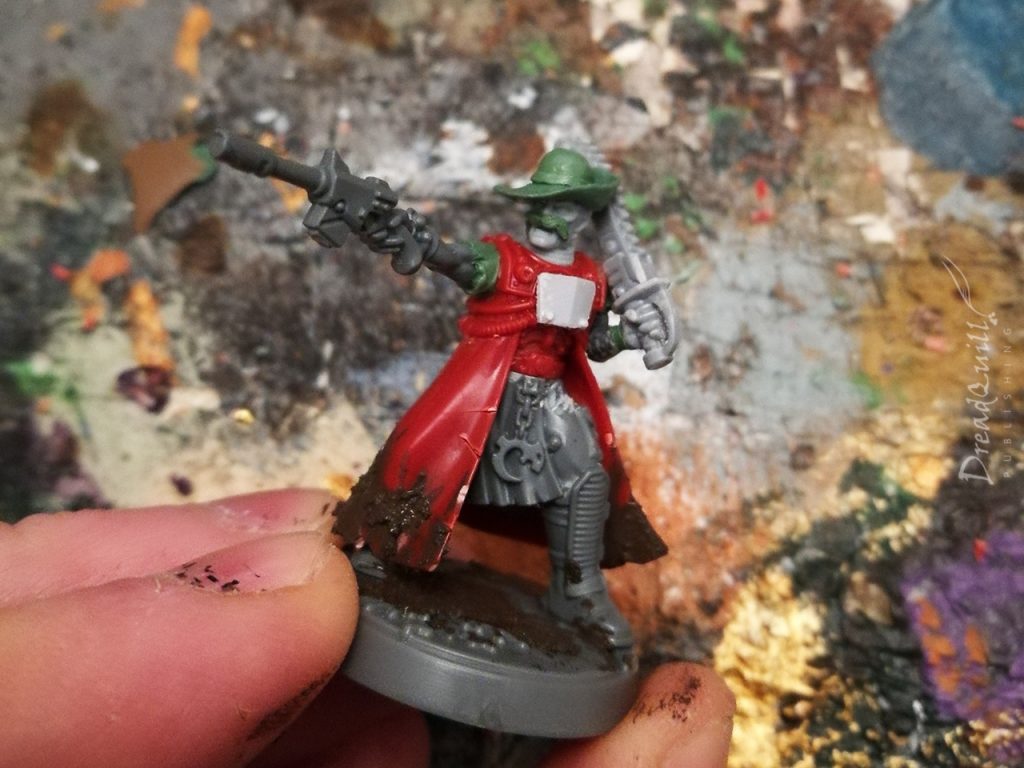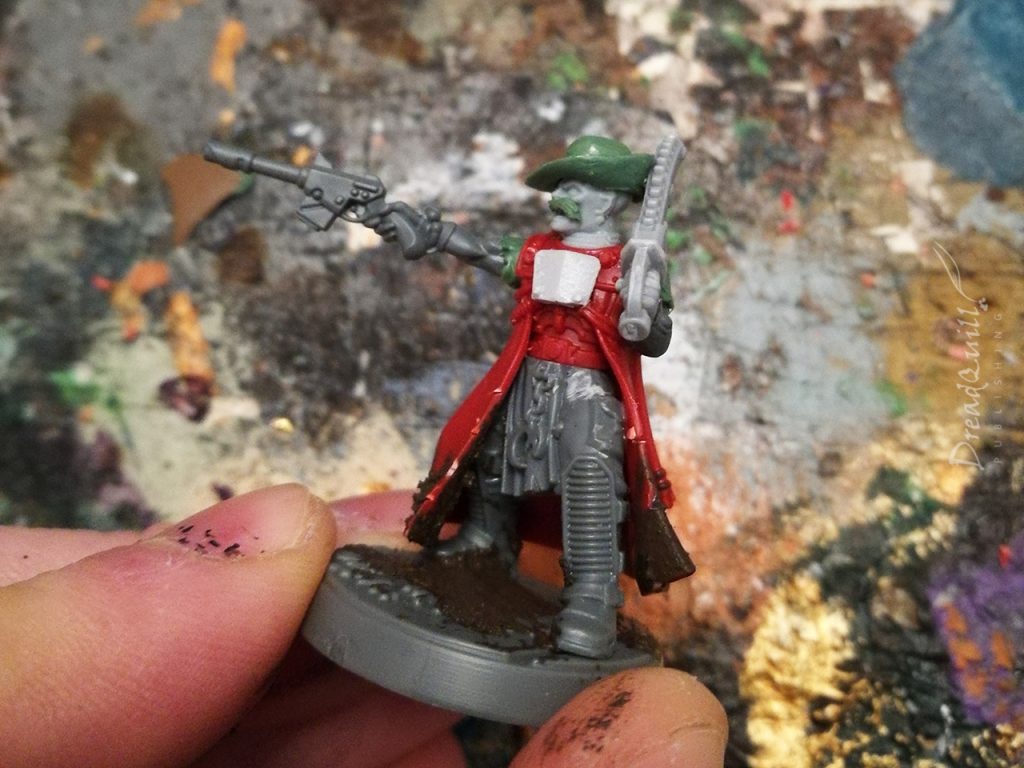 Strong Wayne
Genuinely can't believe it took me this long to pick up an Aberrant! I picked him up late to the party, not particularly impressed by the two-handed hammer or power pick combo that the stock models give you.
I equipped him with a cheap axe and flail, 30 credits total. +1 Strength with both weapons, one has +1 to hit and Flexible, the other has Disarm, and taking both pumps his Attacks up to 4 when he charges. Turns him into a machine that turns gangers into paté. He played 4 games and racked up 8 kills – he's definitely coming on the roster earlier on next time!
I wanted to go for a hangman/executioner vibe with a big axe and noose, but I couldn't get the noose to look convincingly like a flail. A bit of rooting through my bits box found some old Warhammer Fantasy tombstones that would work great as makeshift armour just lashed to his side, and little bits of the stone left over would be great attached to a length of chain! It gave him a great sense of motion, even if it did make him look a little busy before he got undercoated.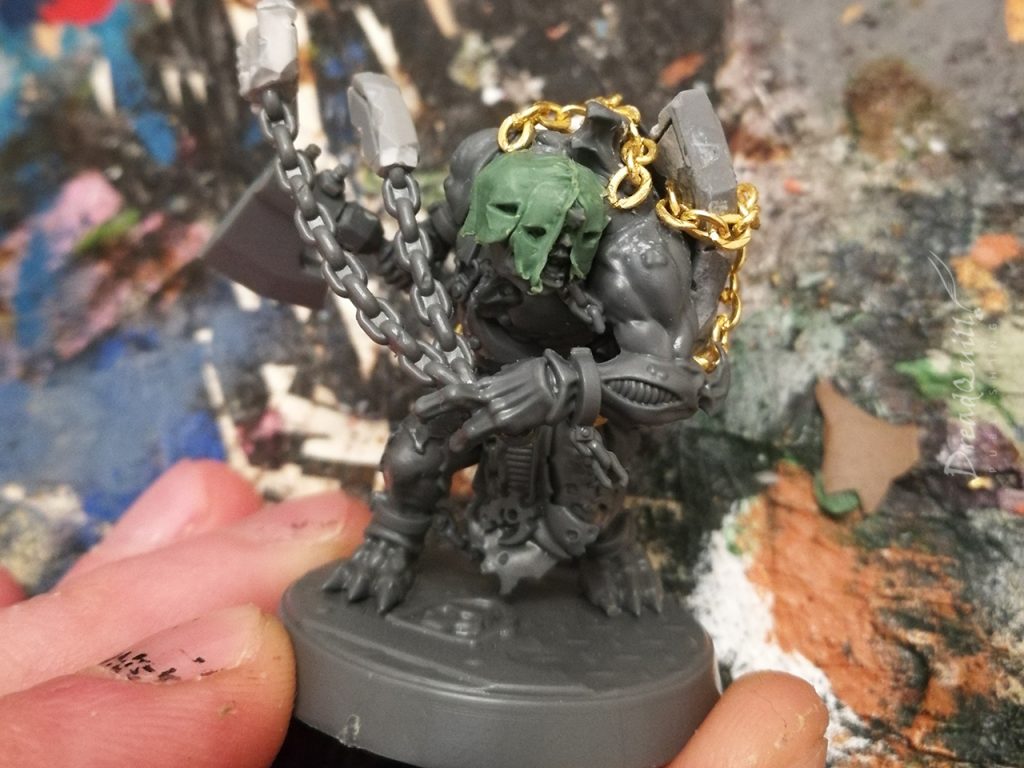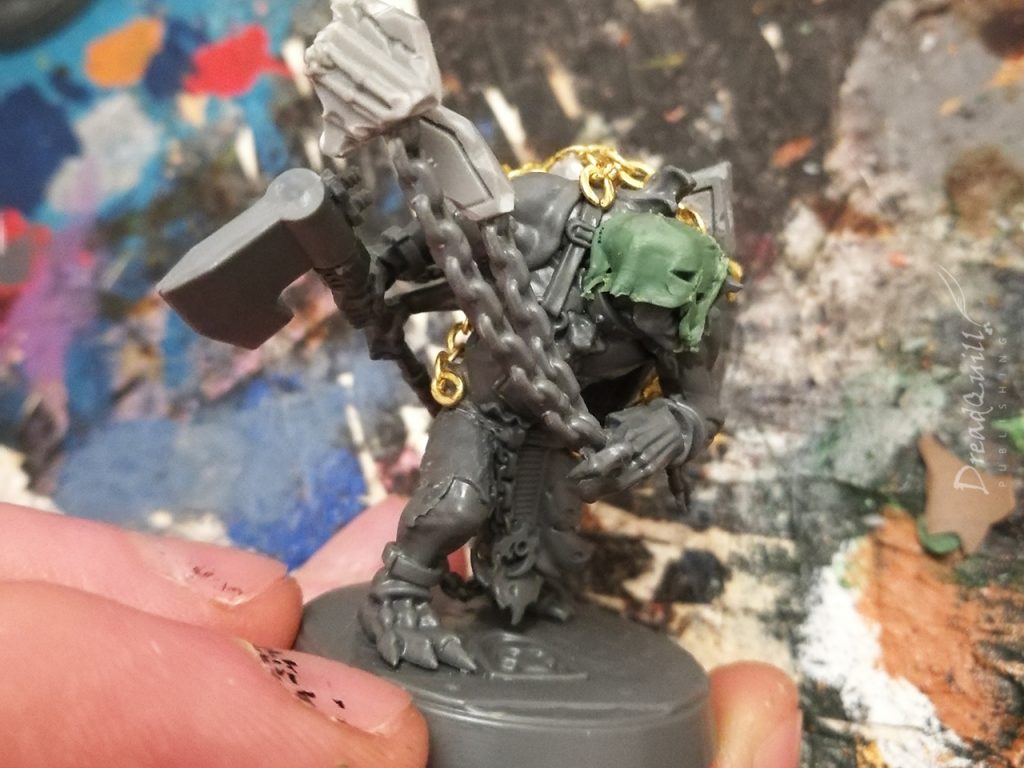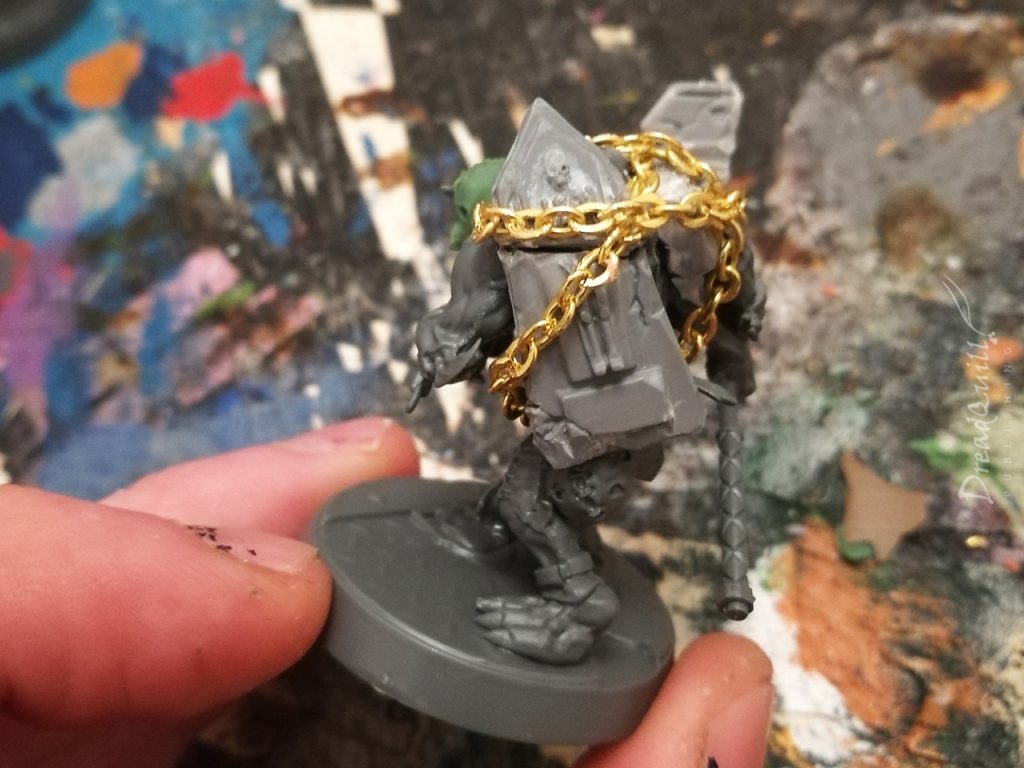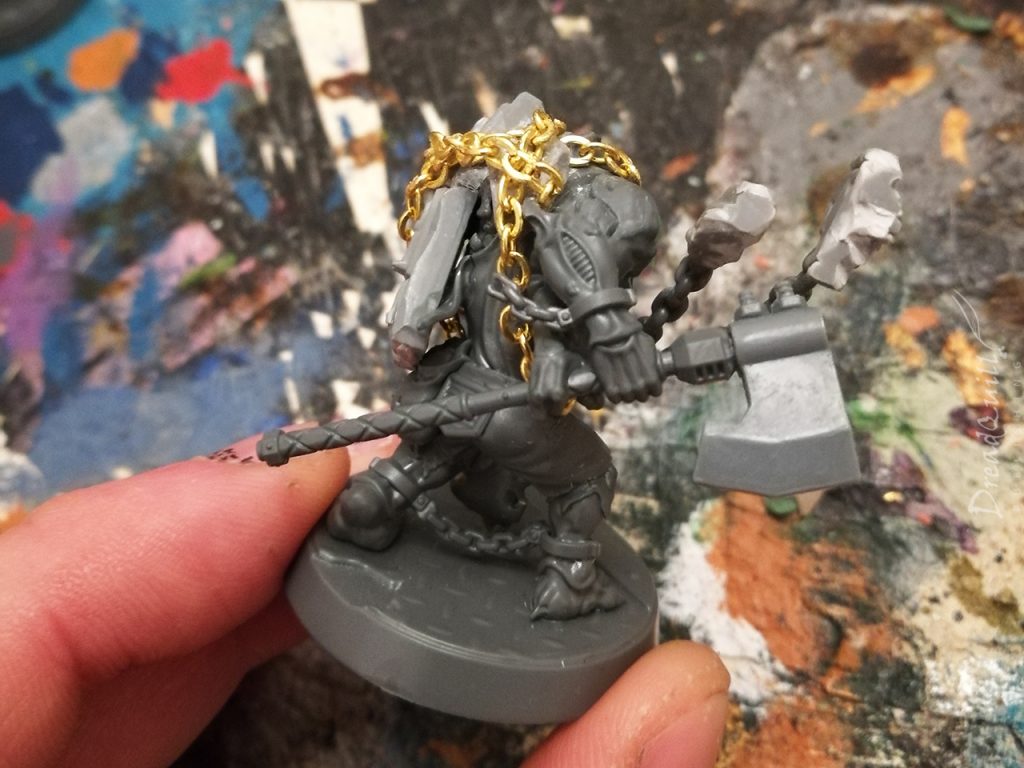 The Maw With No Name
Acolytes have terrible defense stats, so shouldn't be treated like normal Champions (ie front line fighters and weapons platforms) and instead, in my humble and evil opinion, be deployed liberally, cheaply and sneakily. Give your opponent a lot of low-value but utterly frustrating targets to play against – the key here is the Cunning skill tree that all Acolytes get access to. I used Infiltrate for the Lone Render further up, and for this guy I opted for Overwatch.
Given a cheap long-range weapon (I picked Hunting Rifle from the rare trader for the extra strength and knockback, but a store-bought Long Las will work too), a pistol or two for backup, and sit him somewhere out the way ready to cause headaches .
GSC excel at area denial – a combination of Infiltrate, Overwatch and cheap hand flamers mean you can push and pull enemy gangs to where you want them to be – forcing them out into the open to pick them off, or bunching them up so you can charge them with your combat characters. The fear of getting shot with something is often more powerful than actually getting shot by something!
I broke ranks and gave this guy a hat too – he was wearing a poncho on his legs instead of his top half and I felt his top half was missing anything westerny.
The weapon is from a 3d printed batch of 54mm scale weapons I picked up a while ago, that weirdly fit this guys hands just perfectly.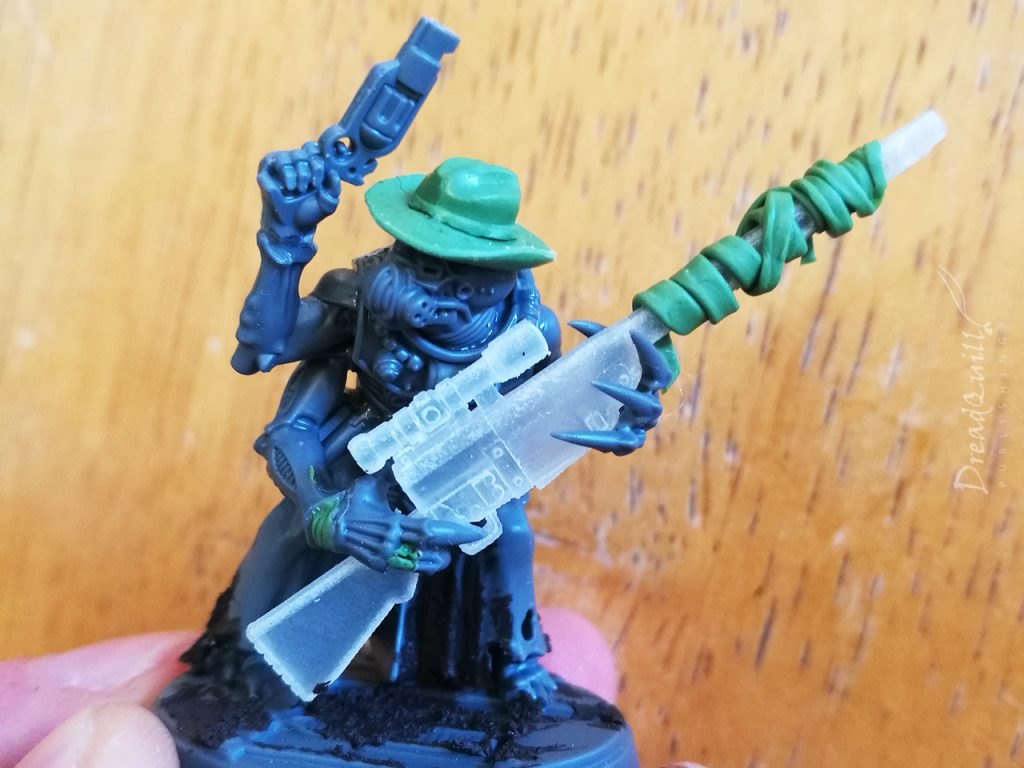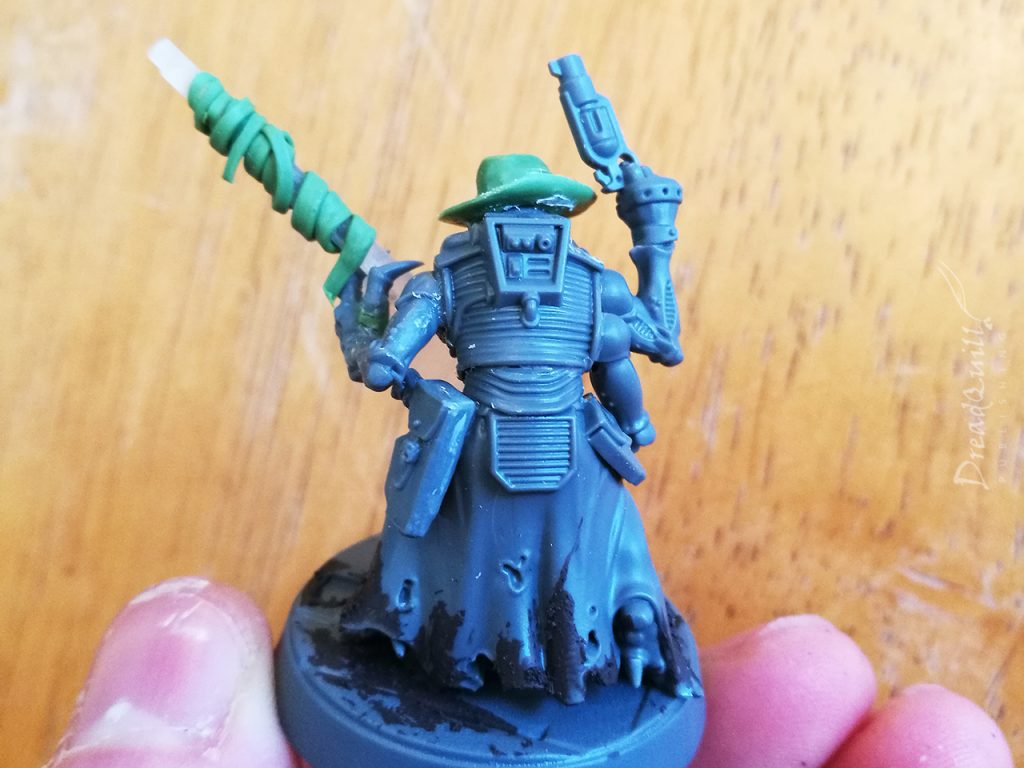 One of my favourite things about Necromunda is building models to fit the gang as it grows – usually in response to purchasing new toys for the gang, the effectiveness of certain combinations or the need for extra bodies. It's incredibly time consuming, often rushed and means many of my other projects have to go on hold, but it's extremely rewarding to watch the gang grow in this way.
Stay tuned next time for the painted pictures!