This week saw some grudge matches played out on the broken hull-plate floors of the Callowdecks – some shootouts between rival juves, a rematch between old rivals and a new stompy Brute has entered the field.
After this week, 16th Law will turn down the chance of being in the Showdown – being part of the Turf War has been great fun, but the finale will need an Arbitrator! Hopefully we'll see them again in another Turf War soon.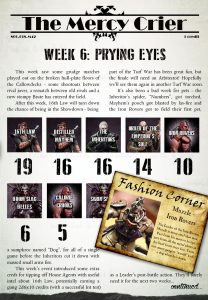 It's also been a bad week for pets – the Inheritor's spider, "Numbers", got torched, Mayhem's pooch got blasted by las-fire and the Iron Rovers got to field their first pet, a sumpkroc named "Dog", for all of a single game before the Inheritors cut it down with massed small arms fire.
This week's event introduced some extra creds for tipping off House Agents with useful intel about 16th Law, potentially earning a gang extra cash as a Leader's Post-Battle Action. They'll surely need it for the next two weeks…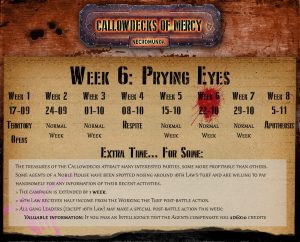 We also agreed to increase the campaign's length by 1 week due to scheduling conflicts.
Extra Time… For Some: The treasures of the Callowdecks attract many interested parties, some more profitable than others. Some agents of a Noble House have been spotted nosing around 16th Law's turf and are willing to pay handsomely for any information of their recent activities.
The campaign is extended by 1 week
16th Law receives half income from the Working the Turf Post-Battle Action
All gang Leaders (except 16th Law) may make a special Post-Battle Action this week:

Valuable Information: if you pass an Intelligence test the Agents compensate you 2d6x10 Credits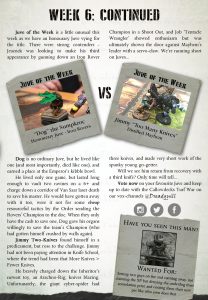 Week 6 Juve of the week
Juve of the Week is a little unusual this week as we have an honourary Juve vying for the title. There were strong contenders – Jeacock the Gammy was looking to make his third appearance by gunning down an Iron Rover Champion in a Shoot Out, and Job 'Tentacle Wrangler' showed enthusiasm but was ultimately shown the door against Mayhem's leader with a servo-claw. We're running short on Juves…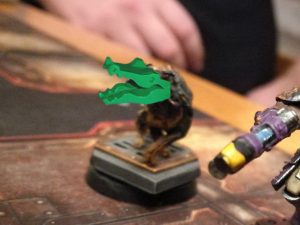 Dog is no ordinary Juve, but he lived like one (and most importantly, died like one) and earned a place at the Emperor's kibble bowl.
He lived only one game, but lasted long enough to vault two ravines on a 6+ and charge down a corridor of Van Saar laser death to save his master.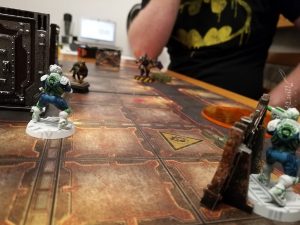 He would have gotten away with it too, were it not for some cheap resourceful tactics by the Order sending the Rovers' Champion to the doc. When they only had the cash to save one, Dog gave his organs willingly to save the team's Champion (who had gotten himself crushed by walls again).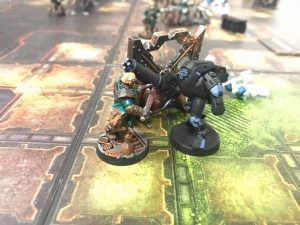 Jimmy Two-Knives found himself in a predicament, but rose to the challenge in a way only a Juve with Two Knives could. Jimmy had not been paying attention in Knife School, where he would have learned that the trend of the campaign was More Knives > Fewer Knives.
He bravely charged down the Inheritor's newest toy, an Arachno-Rig, knives blazing. Unfortunately the giant cyber-spider had three knives, and made very short work of the spunky young go-getter.
Will we see him return from recovery with a third knife? Only time will tell…
Vote for your favourite Juve of the Week on both our regular vox channels:
Fashion Corner – Muzzle of the Iron Rovers
The Leader of the Iron Rovers, Muzzle is more steel than man. Part from his massive biceps, part from all the metal plates in his head from stray fire. It turns out that many gangers would kick a dog when he's down.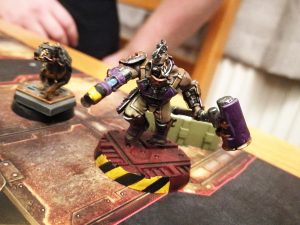 Other highlights
We had two Shootouts and another three-way Escape The Pit with the Inheritors, Iron Rovers and the Order, and rounded the week off with a Stand-Off between the Inheritors and Distilled Mayhem.
Shootout – 16th Law vs The Order of the Emperor's Sole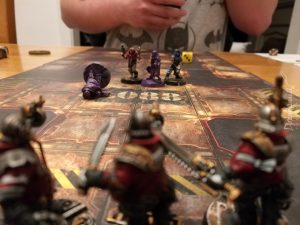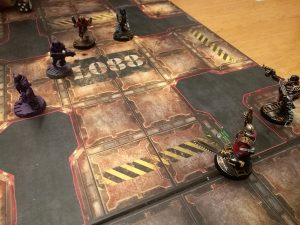 shootout – iron rovers vs the order of the emperor's sole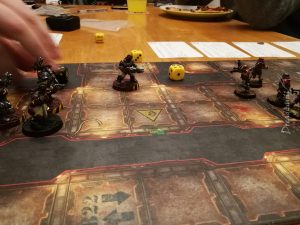 Escape the pit – the inheritors, Iron Rovers and the Order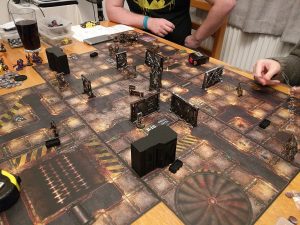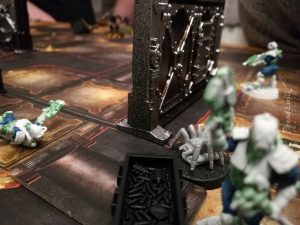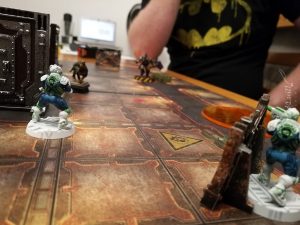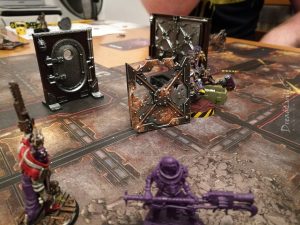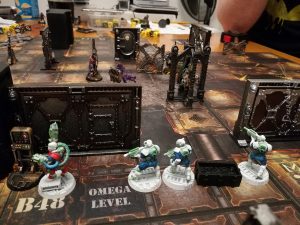 shootout – distilled mayhem vs the inheritors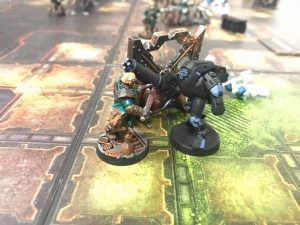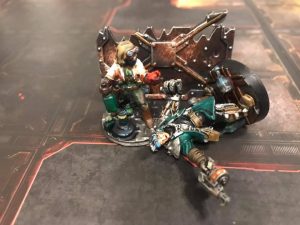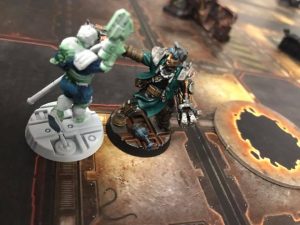 Don't forget to follow us for more updates and to vote for your favourite Juve of the Week on both our regular vox channels: