Our Dark Heresy group was coming to the conclusion of an important chapter and the beginning of the end for the campaign. We had spent the best part of seven sessions on the planet of Brimstone, a planet of our own devising in our little patch of space, the Onus Region.
The planet was a planned stop-off for the Acolytes to tie up some loose ends from a previous mission, specifically tracking down and stopping the Arch-Heretek Hieronymous Vyle, from enacting any more atrocities against the Imperium of Man. He is a master geneticist, genius cryptographer and bitter rival of the Adeptus Mechanicus as an organisation, believing they are too short-sighted and wrapped up in bureaucracy to achieve any meaningful progress.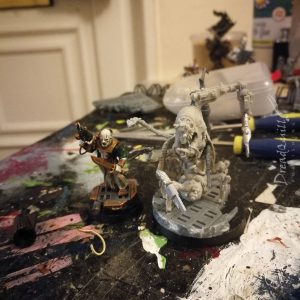 His plan was simple: flee the purge of the Kreato Affair to the quiet, technologically backwards planet of Brimstone – the last place the Inquisition would think of looking for a radical techpriest. There he would work on his Symbiote – his Magnum Opus – to strike back at the Adeptus Mechanicus for what the crimes he believed to be the most heinous; conservatism and myopia.
The Symbiote was a poor man's take on the Obliterator Virus, and worked by fusing to flesh and metal, taking over the host body and forcing it to undergo transformations and binding it through synaptic link to its master. I'll be doing a piece on Vyle's Symbiote another time as it deserves its own article rather than being strung along with their boss.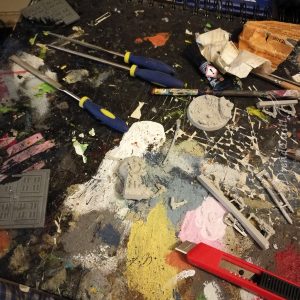 Vyle never had any artwork for him, nor did he have much of a description when the players met him almost three years of real time ago, before he escaped and set up on Brimstone, so I had a blank canvas to work with. I had also developed a spin-off cult for a Necromunda gang called the Scions of Vyle, so I had a starting point for aesthetic – drab green robes and polished bronze.
I needed a suitably eerie, icky model to use as a base, and the 'Tech Master Baltazar' from Hitech Miniatures fitted the bill perfectly. I loved the idea of this eerie, decrepit lump of flesh being propelled along by these weird spidery legs and covered in mechadendrites. Time to blow the dust off some of my guitar cabling.
The kit arrived and I was pleasantly surprised with its quality, requiring very little trimming to remove flash or mould lines at all. My only gripe was that the back and base of the walking unit were flat and featureless, so the further off the base I wanted to pin it, the more obvious it would be that someone just stopped modelling anything underneath it. I also had my concerns about pinning the incredibly fiddly legs to the walker and to the base without damaging both. I build my minis to be played with, so they need to be sturdy.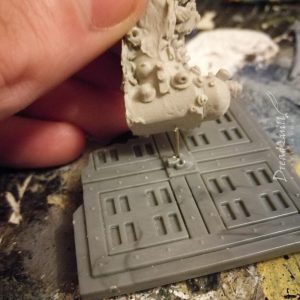 A fish around in my bits box turned up some more Cities of Death terrain tiles, and one had a very convenient raised skull in the centre. When mounted at a particular angle, I could have a single massive pin that ran from the body through the base, and raised just enough from the ground to give the appearance that it isn't touching.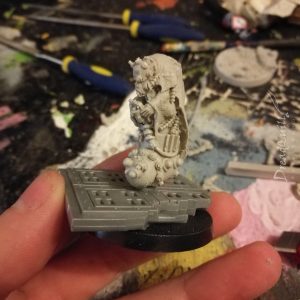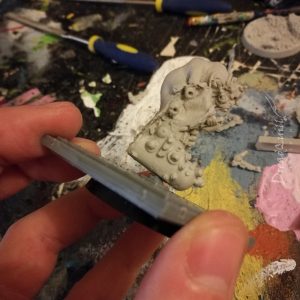 After feeling confident in my massive pin job, I didn't feel so bad about not pinning the legs. They weren't structurally integral, so I thought I would do my fingers some favours and avoid pinning them, just a copious amount of superglue in the recesses.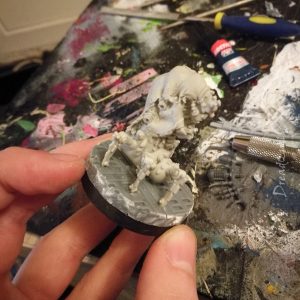 Another pleasing aspect of the model that I hadn't noticed in the thumbnail on the website is that it has an odd number of legs – three on one side and two on the other. It gave it this wonderful lopsided look that to me, epitomises Adeptus Mechanicus high fashion.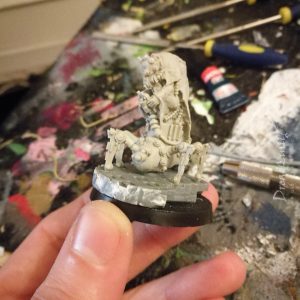 I wasn't sure what equipment I wanted to give him at this stage, rule of cool was going to guide my hand. The only thing I knew I wanted to definitely have was a big tank of horrid goo strapped to his back that he could squirt at foes – perhaps a kind of super-concentrated liquid Symbiote? Either way, it would be miserable to anyone who was caught up in it, doling out toxic damage, corruption points, infection and maybe even mutation. A GM can dream right?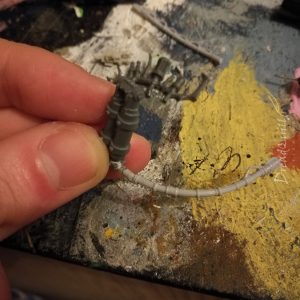 I have a bunch of tanks lying around of flamers from various vehicle kits, I'm not sure exactly what this one was from – a sentinel perhaps? The nozzle and mechadendrite was from a Forgeworld Mechanicum servitor I had bits-ordered some time ago to pump up the amount of Mechanicus bits in my collection. This arm I tried to just bend with copious gentle rubbing between forefinger and thumb to built up a bit of heat. This was my second attempt, the first ended pretty snappily.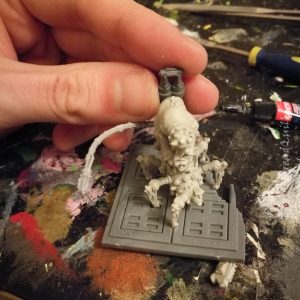 I positioned it on the back of the model to see how much it changed the silhouette, and I could already see my multi-limbed metal bastard coming together. I wouldn't attach this just yet, as it would form the 'outer' rim of details, and would just be a pain in the ass to work around at this point. It gets to sit on the side while I work on other gribbly bits.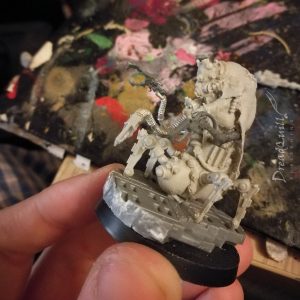 The first round of 'inner' mechadendrites was an exercise in patience and bending. There were a conspicuous number of 'holes' in the model where it looked like limbs could be attached to, and were already the perfect width of a paperclip, so pinning things into them was a dream. With one on the left side and two on the right, it seemed natural to fill them all with mechadendrites.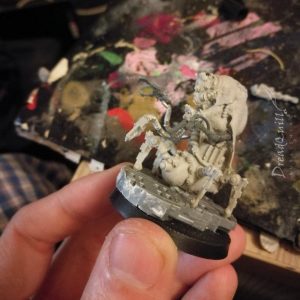 Dark Eldar Talos bits stand in, once again, for brilliant biomechanical parts for edgy AdMechs, and a couple of their pinchers would work very nicely to manipulators. Vyle's real, original hands are too busy operating dataslates and poring over files and reports, he has all his other extendo-limbs to operate heavy machinery and backhand rude PCs who interrupt his Machiavellian schemes.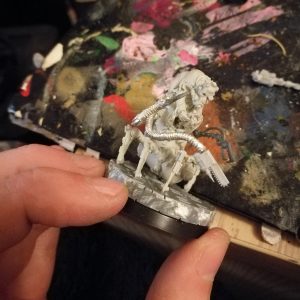 I debated over what 'ends' to give his mechadendrites, as I had many blades, saws, injectors and guns to choose from. Although he would be an able combatant, I wanted his tools to be just that – tools first. Manipulators and medical instruments would be fished out from various places, including more Forgeworld Mechanicum and Dark Eldar bits.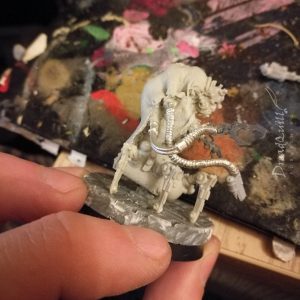 The mechadendrites themselves were from the Inquisitor-scale Delphan Gruss model, of which I had a few tubes handy. Normally I prefer working with resin over white metal, but these had the malleability I was looking for to get plenty of bends without singeing my fingers with a hair dryer. A tip to budding Mechanicus modellers: always give your tentacles two bends at different angles to give them a more realistic feel – a bend along a single axis doesn't look great.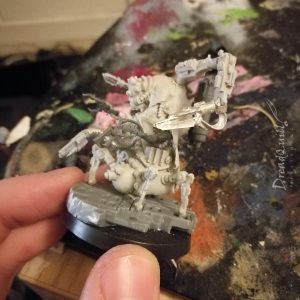 I couldn't find anything else to add to the model without making it look too busy, so I started mounting the 'outer' layer of mechadendrites. These consisted of the goo-squirter I made earlier, and the heavy mechanical arm that came with the model. I wasn't a particular fan of the big round claw it came with, so I wanted to change that out for something a bit more subtle. One of the power blade utensils from the Delphan Gruss kit fitted the bill perfectly.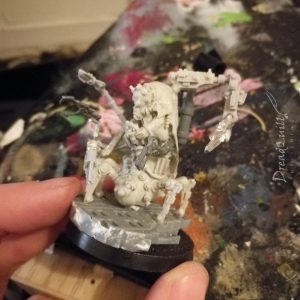 Having the arm stick out to the far left was a dangerous move, as it had the potential of unbalancing the silhouette of the model too much. With the addition of the backpack and goo-squirter on the other side, it balanced very nicely.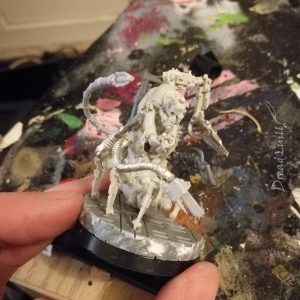 I was quite proud of this, given it took me only half an evening. Normally I navel-gaze on large projects like this due to having too many options, but with the Big Day rapidly closing on me, time was not a luxury I had. He needed to be finished, primed and based in less than 24 hours!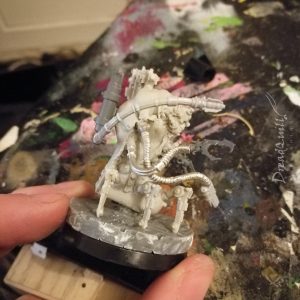 There was still something missing, but I couldn't put my finger on it. The backpack stuck out from the back of the model and didn't sit particularly well. I figured it was so he could jettison it quickly if needs be, but just by itself didn't look integrated into the rest of the model. A quick rummage through the Dark Eldar section of my bits box again pulled up one of the bio-injector spines from the Talos kit again, which fit far too well.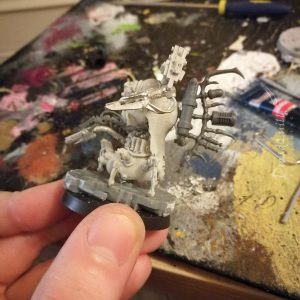 It was ridiculous and over the top, but it had that back banner aesthetic that I'm very fond of in my 40k imagery. It also helped tie in the whole 'weird science' vibe I was going for, as I had planned on painting it a similar flesh tone to the rest of his body. Is it his spine? What are those weird injectors and vials for? Spo0oky.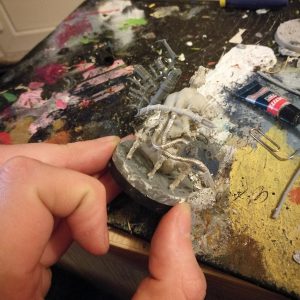 I was dead happy with it at this point. It was suitably imposing (mounted on a 54mm base) so it was clearly a centrepiece, and had all the aesthetics to tie it in with the existing Vyle models while also standing out from them. I knew I wouldn't get enough time to paint it up fully for the game, but I would have just enough time to base him and wash him, so at least he would be coloured for the Grand Finale.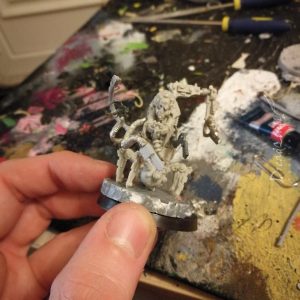 Finally we have him standing next to one of his minions, a Scion of Vyle. His base is going to be populated heavily with these guys, along with some Symbiotes in various stages of maturity.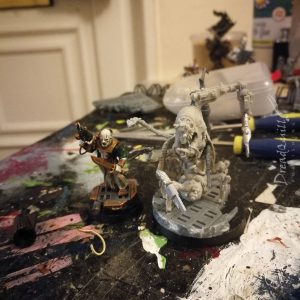 Dead chuffed with how he turned out, and set a scary precedent for the concept of making models for all my bad guys. Scary because this particular bad guy was never intended to make it out alive, so I was hoping he put up a spectacular fight before going down!
Luckily he did, and the finale was epic and tense – a battle through an underground evil lair, culminating in a shoot out in a missile silo minutes from blast-off and a duel on a snow-spattered mountain top for control of the last ship off the mountain while the base undergoes a self destruct sequence in the background.
But that's another story for another time.