Batten down the hatches, sharpen your boarding axes and say your prayers to the Emperor, the Crimson Wake Reavers have you in their sights…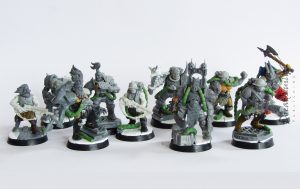 This project was immense fun. The premise was simple; I need bad guys, and lots of them. From our games of Inquisitor to Dark Heresy to Rogue Trader, even making NPC appearances in the odd game of Necromunda, the Crimson Wake have generously given their lives time and time in the name of being good Bad Guys, and I felt I owed it to the little champs to immortalise them in paint and plastic.
This project is perhaps the first sizeable modelling project I've completed that had no parts purchased specifically for the job. I wanted around a dozen members of the void-prowling Chaos pirate group, the Crimson Wake, and I was fortunate late last year to get a few big plastic bags of decade-old tatty models that needed rehoming. The models were in pretty bad nick – outrageous plastic glue accidents, interesting conversion attempts, paint that looks like it was applied with a trowel, the works. The upside was the sheer quantity – if you were to buy those today you would easily be set back around a grand.
I cleaned up all the metal models, flogged them on ebay for some hobby funds, and set about salvaging whatever plastic I could from the mix; Imperial Guardsmen, fantasy beastmen, loads of classic Empire bits, Chaos models that I forgot existed. What could be saved was snipped apart and distributed among my bits boxes, ready for the grand assemblage.
I had eyeballed some parts that would fit together very nicely, and decided I was going to just dive straight in, randomly matching bodies, legs and heads together to make my Chaos Reavers. I only had one goal in mind; to make them as varied as I could to represent many different kinds of baddies that might pop up in campaigns; from bedraggled voidsmen barely showing any signs of Chaos taint that could be hanging around in spaceport bars holding valuable information, all the way up to Chaos pirate captains and bloodthirsty ultra-warriors kitted out in ancient armoured void suits from millennia ago.
Let's have a little look at some of these goons.
This was one of the first guys I put together and still one of my favourites. He captures that haggard, salty seadog look with a bit of weirdness from the right knee downwards. Given the time, energy and money, I'd make a dozen more like this guy to populate the spaceports and rotgut taverns of the 41st millennium, but he'll have to do for now.
The shotgun is from Victoria Miniatures, picked up for a massive Necromunda bits part order and I still had a bunch lying around.
This guy was another relatively normal-looking Reaver – I still wanted a few models that could just about pass as non-Chaos worshipping loonies. As I was assembling them, I realised that I was going to need some unifying features to make the motley lot look more like a motley crew than a motley mob, so I devised a rebreather system. Nothing says Space Man like a backpack with tubes on it, right?
Most of the backpacks were made from classic plastic Space Marine backpacks with some of the nozzles chopped off, and the rebreather mouthpieces were made from cut-down space marine heads, leaving just the front part of the mask. The head is from the Trench Irregular set from Anvil Industries. I rolled out some sausages of green stuff for the tubes, let them set for about 20 minutes, then rolled them across some corrugated plastic to produce the ribbing effect. Leave them for another 10/20 minutes and they were springy enough to keep their ribs, but pliable enough to be bent, cut and glued into shape.
Time to get weird! I started experimenting with plastic Chaos Space Marine parts. I liked the armoured aesthetic, but I didn't want my Reavers to just look like space marines, I wanted them to have a flavour of their own, so this was my first foray into using just enough CSM parts to add that asymmetric weirdness without being overt.
It was also at this point I realised that the topless Chaos Marauder torsos would work just fine if I shaved the nipples off and painted it to look like armour. Parts for the parts god!
They were going to need some support weapons too, and I played with the idea of a rocket or grenade launcher for a while. The model looked very cool, but I couldn't justify the use of long ranged anti-tank weaponry on close-quarters fighters. A nice Imperial Guard heavy flamer would fit the bill, and with an excess of weird pipes going into his rebreather and his ammo tank raises questions about what exactly is being fired from that flamer after all…
Moving on to some heavy hitters, this guy was assembled almost entirely out of classic fantasy Chaos warrior parts, with a heavy pistol from Anvil and a Nurgley-looking shoulder pad to complete the look. I really liked the idea that this ancient warrior of a thousand battles still has the best damn boots on the ship.
I was very much hoping at this point that a nice paint job would offset the goofiness of the whole crew, but that's what Chaos is there for right?
This guy was actually one of my earlier experiments with a rebreather. I nailed the concept of the mouthpiece, but ran into a problem trying to attach the backpack – the shoulder pads I had selected for MAXIMUM 40K were overmaximum and nothing could fit on his back. I had a rummage round for something suitable, I think they are flamer tanks from some infantry kit? By this point I was really enjoying the mismatched void suit aesthetic – classic Chaos Warrior legs and left arm, Chaos Marauder torso and head, Khorne Berzerker right arm and a heavy caliber pistol from Anvil.
The felt I lacked diversity in the work force, and needed some more Definitely Chaos guys, rather than Suspiciously Chaos. I wanted someone who, when they arrived on the board, left no doubt as to their alignment. I had the flaming head from the Empire Flagellants that was kicking around my bits box begging for a body. Legs and torso were easy to assemble, but I wanted something weird and wacky for his armament. A Plaguebearer left arm was suitable gribbly, and there was quite tight competition for the right, eventually settling on the weird tentacle double arm from the plastic Chaos Spawn kit.
It was at this point that I decided I was going to have a Lot Of Fun(tm) painting fire, as I'd never done it before. Oh, my sweet summer child.
I had some Khorne Berzerker legs to hand from the Bag o' Doom and wanted someone with a bit more momentum than the others I had assembled. Axe nice and high, bolt pistol from Anvil out front in a run 'n' gun pose, I really like this one for its simplicity. It was tricky to see the model come together with so many half-painted plastic bits, but I assured myself it would come together after they were sprayed. A horny head from the classic plastic Chaos Space Marines finished the 'head first charge' look I was going for.
One more 'normal' guy to round things off, as I had many armoured and voidsuited thugs who would not be out of place by the Captain's side, but I needed another scummy-looking mutant who could skulk around in the underways and maintenance tunnels getting intel. I have a lot of possessed heads picked up over the years, so I was desperate to use a few of them up in this project, especially the weirder ones that would have no chance of being in anything outside of a Chaos group. A plastic Ork body, legs and arms from an 'easy assemble' kit suited the hunched mutie look I was going for. I shaved down some of the iconography, added a few pointy shoulder pads and a big double-barrelled shotgun and he was done!
And finally, the magnificent Captain of the group. I had originally never intended to make a leader, so my group would never associate the models with characters too much and make it easier to chop and change them about. Unfortunately, as soon as I put the Chaos Warrior legs with the Chaos Space Marine chainmail torso, I was already sold. The massive Berzerker head I've had in my bits box fit too well, and I was already reneging on my pledge to myself for the sake of a cool model. It didn't matter, it came out far better than I'd hoped – a big bulky silhouette that should make players shudder when it thumps down onto the table top.
All in all I'm very happy with how they came out. I've had several games with them since, and they've never failed to threaten and entertain. There will be some painted pictures going up over the next few weeks, so keep an eye on us!