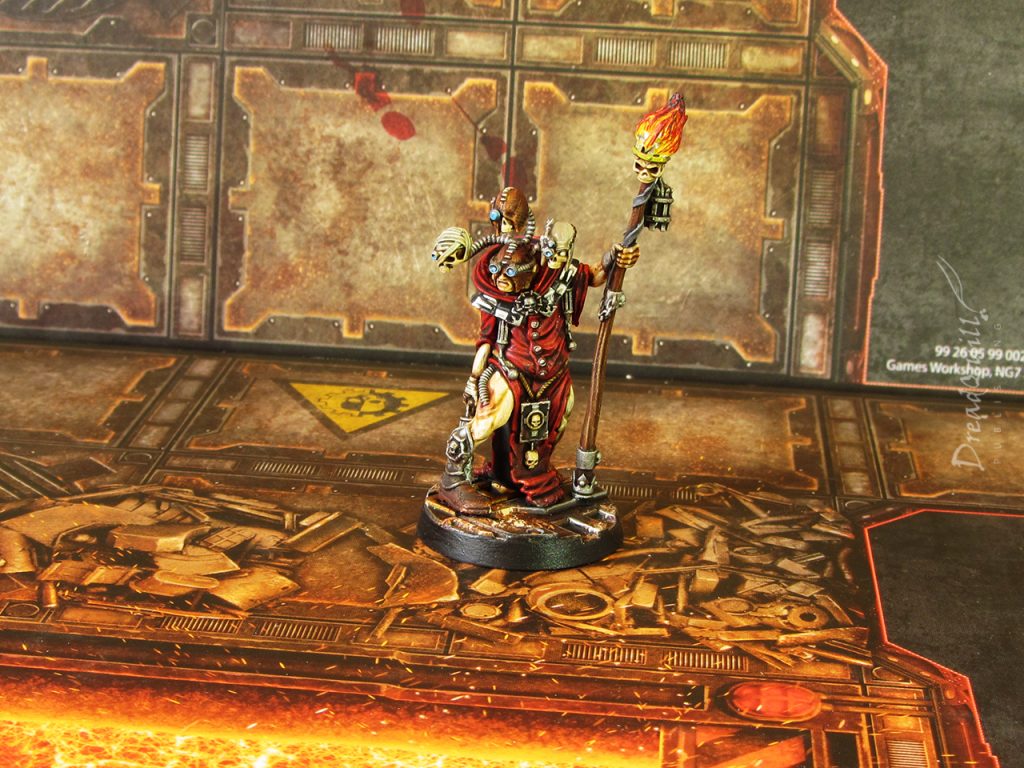 I recently got involved in a Dark Heresy 1ed game (and not one I was running for once!) which gave me a great excuse opportunity to buy another mini.
I'm obsessed with the Adeptus Mechanicus, and always excited to explore more facets of them. As the Mechanicus are basically space wizards (simultaneously hoarding secret knowledge but desperately wanting to show off how smart they are by building giant towers filled with weird inventions), I wanted to make a quintessential wizarding archetype – the doddering old genius.
I'm also a huge fan of Futurama, so after watching Bender's Big Game, I knew what needed to be done. I set about finding a mini to perfectly represent Hubert Farnsworth in the 41st millennium.
My search ended almost immediately with Artel W's offering – Preacher Ignacius Fahrnsworth. Well heck. Straight into the basket you go.
Delivery for… I. C. Wiener?
My experience with Artel was superb, starting at the point my delivery arrived.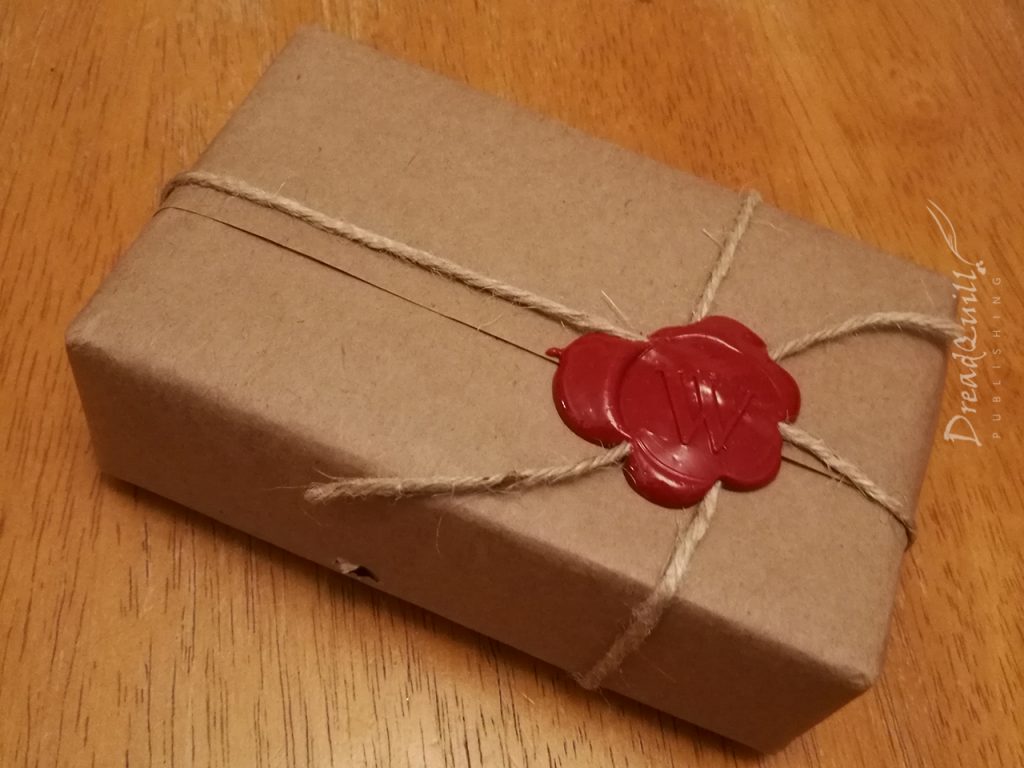 Look at it! Having ordered a couple of things from Russia with varying levels of sturdiness, I was delighted to find a hand-wrapped brown paper box plop out the jiffy bag, with a red wax 'Artel W' seal.
Mini companies take note – customer experience starts from the moment the parcel arrives!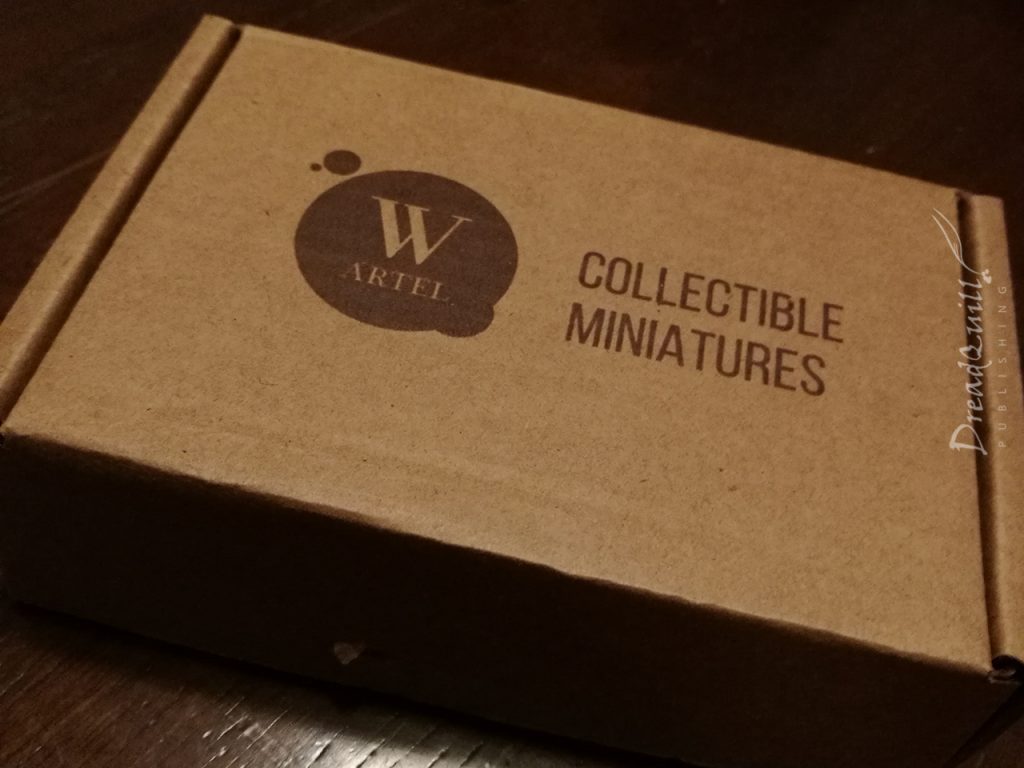 Inside was another box, clarifying the 'W' stood for Artel W.
And there he was!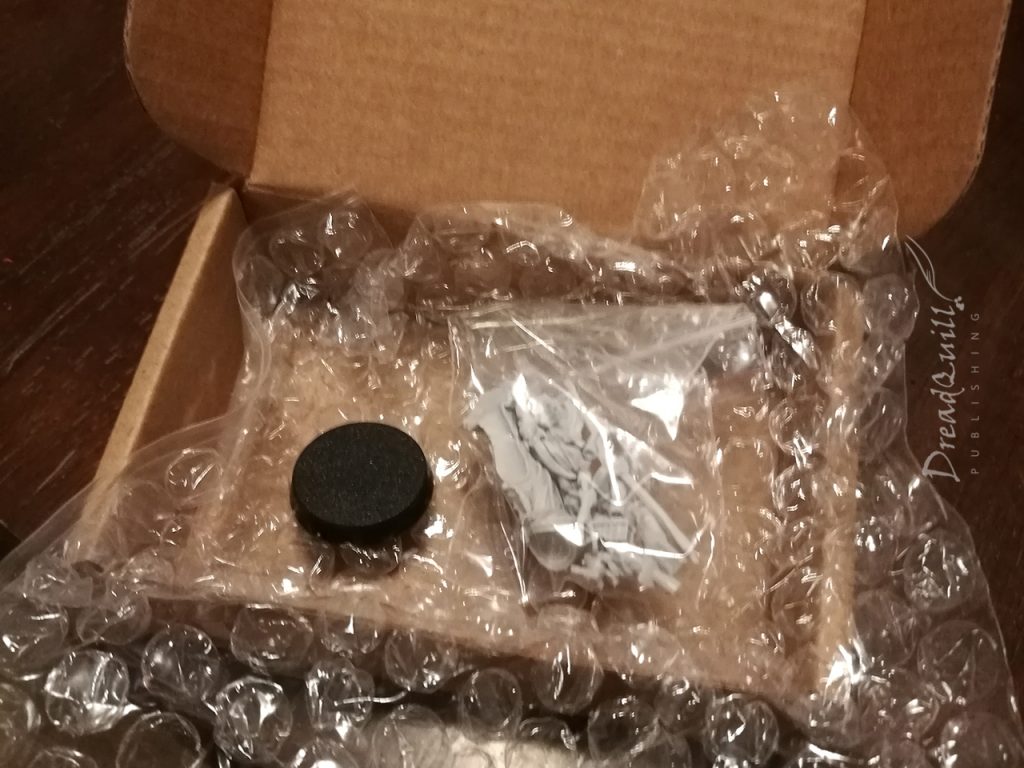 Very delicately packaged, and lots of lovely bits.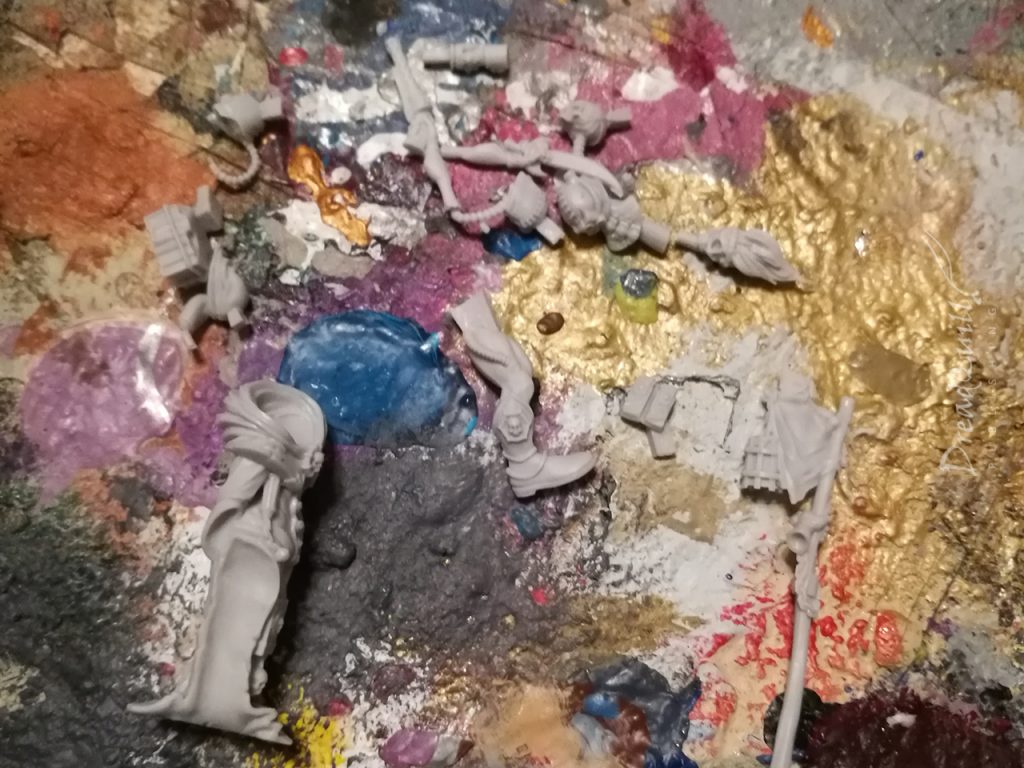 The second heap of praise I have is the quality of this fella is unparalleled – I've never put together anything quite like it. The mini is exquisitely detailed, there were no mould lines at all, and only a couple of bits of flash that needed trimming off. The actual mini itself went together like a dream, everything fitting precisely where it needed to.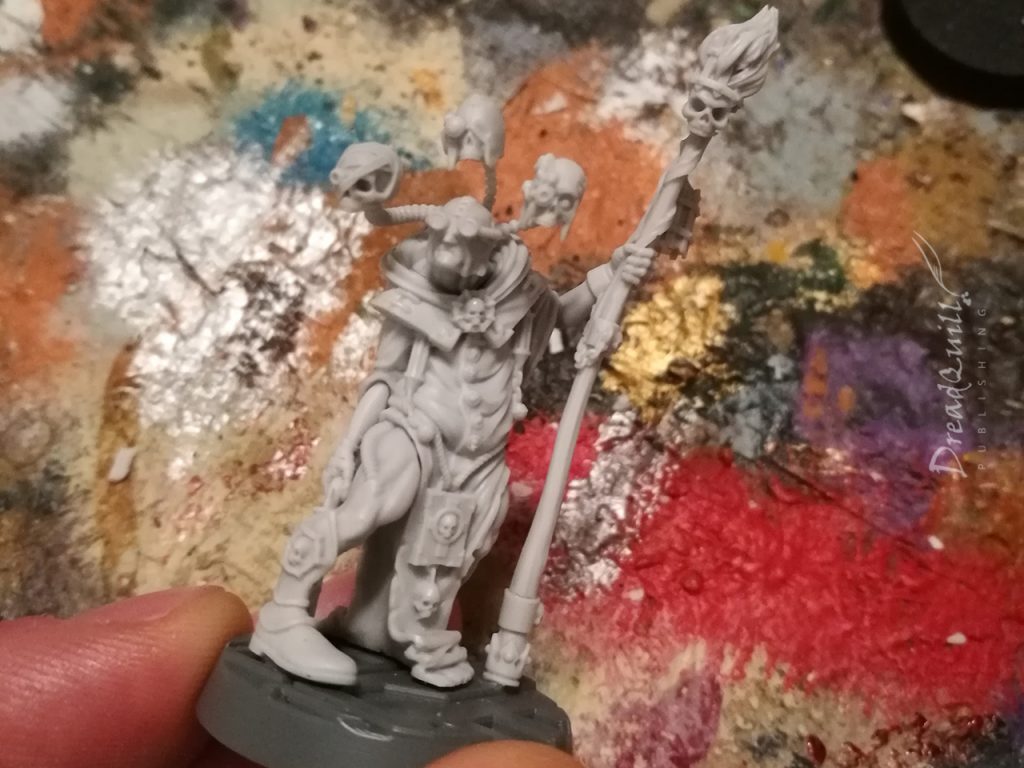 I'd assembled him within half an hour, no need for anything to be pinned. Everything felt sturdy. He even came with multiple arm options, and although I had planned on converting him somewhat (I wasn't sure what, I just have a compulsion to change things to make them my own), I couldn't bring myself to do it – the mini was just too lovely!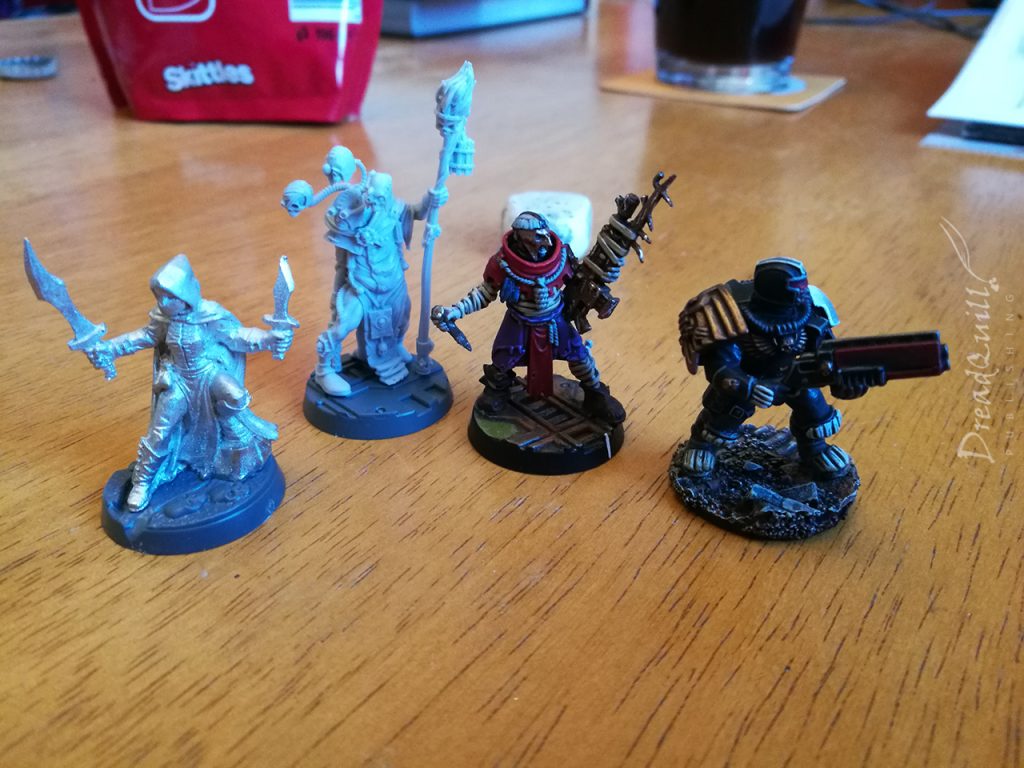 He scales up nicely to other GW minis too – here he is hanging out with the rest of the party. Enough dilly-dally, on to the paint!
Hail science!
He's an old-school Magos so he needs some old-school threads. Classic Mechanicus red, with black and white checkerboard trim (none of this fancy new cog trim).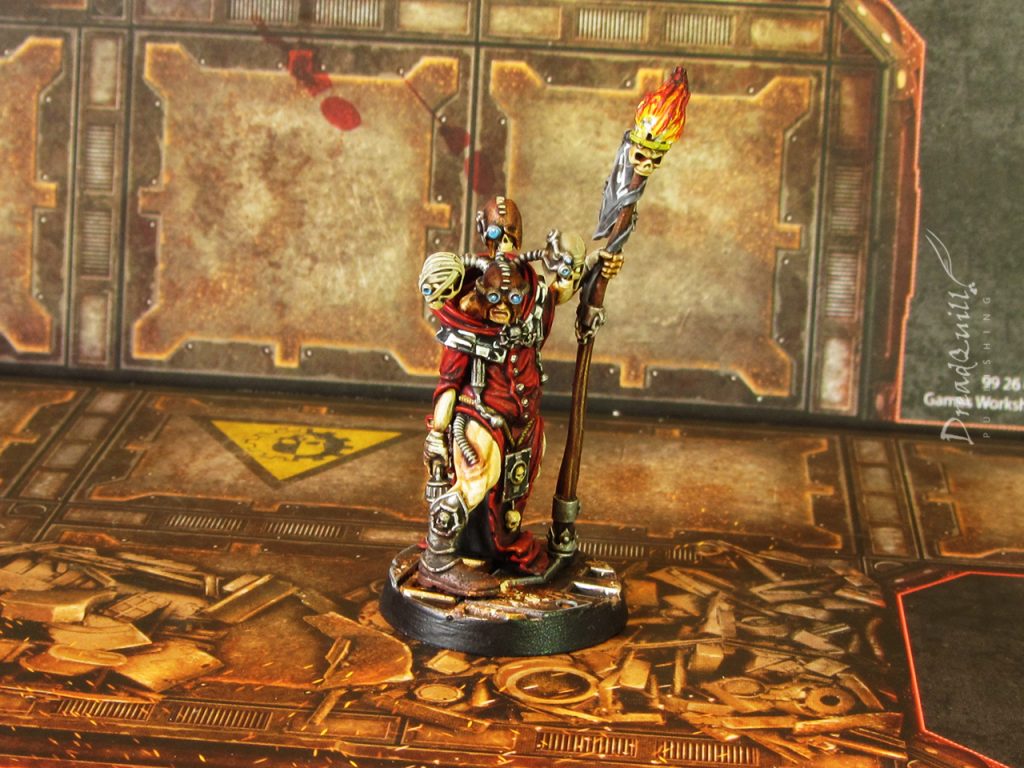 Everything was painted with the same technique – base colour > wash > base colour > lighter colour. It's simple, easy for me to remember what I've used, and works well with my high contrast/cartoony style of painting.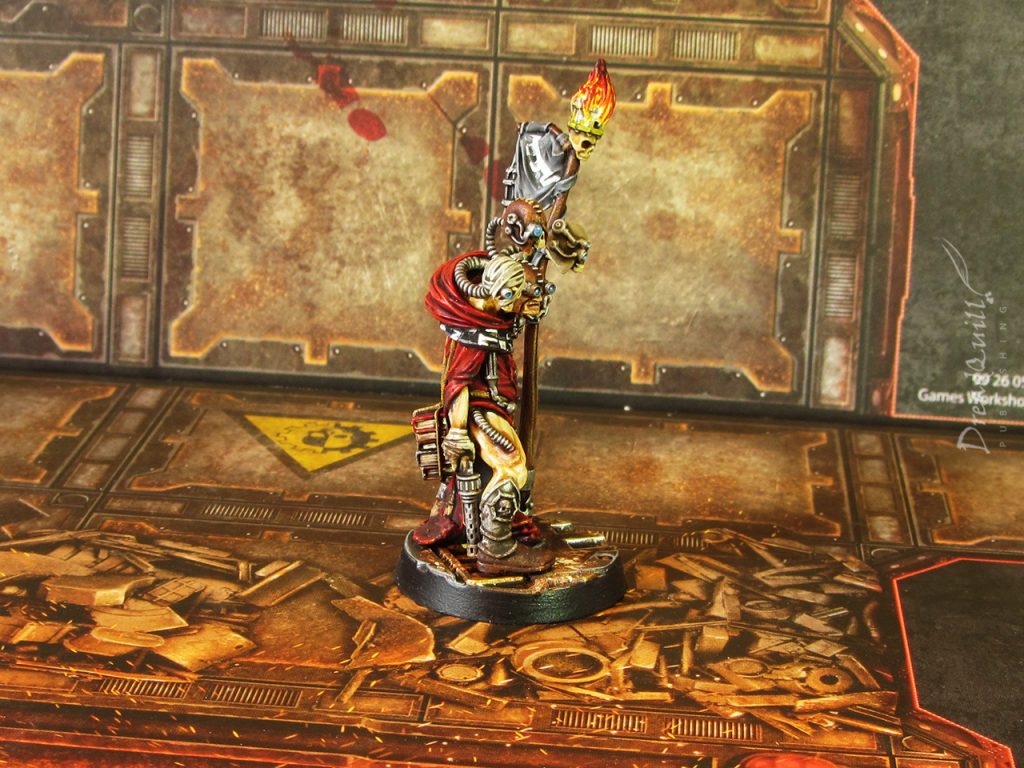 I love all the little details on the mini – I'm pretty sure all those heads are supposed to be the other Planet Express crew. He's even missing a shoe, perfect for a forgetful old Magos.
I'll definitely be using him as a hanger-on in Necromunda too… perhaps a Heretek or Rogue Doc. Maybe even as a VIP in a scenario? Always good to add to the catalogue of Citizens!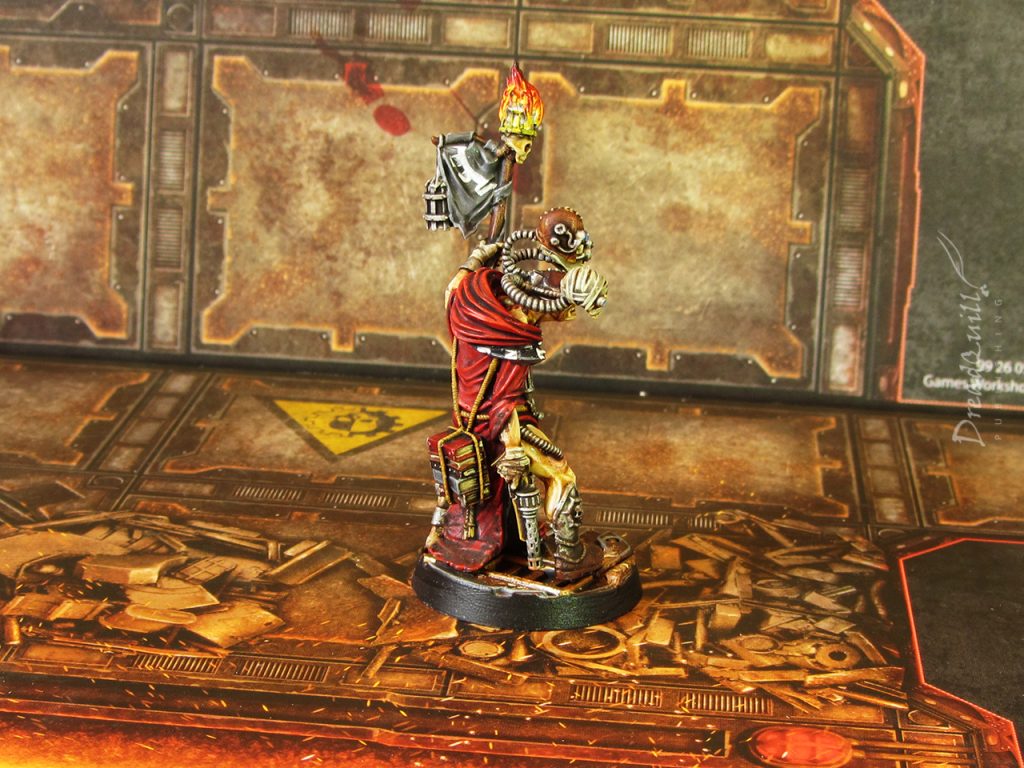 It took me a bit of trial and error to work out how the hood and mantle worked with each other – there was lots of repainting sections trying to figure out where the red bit ended and the black and white bit started.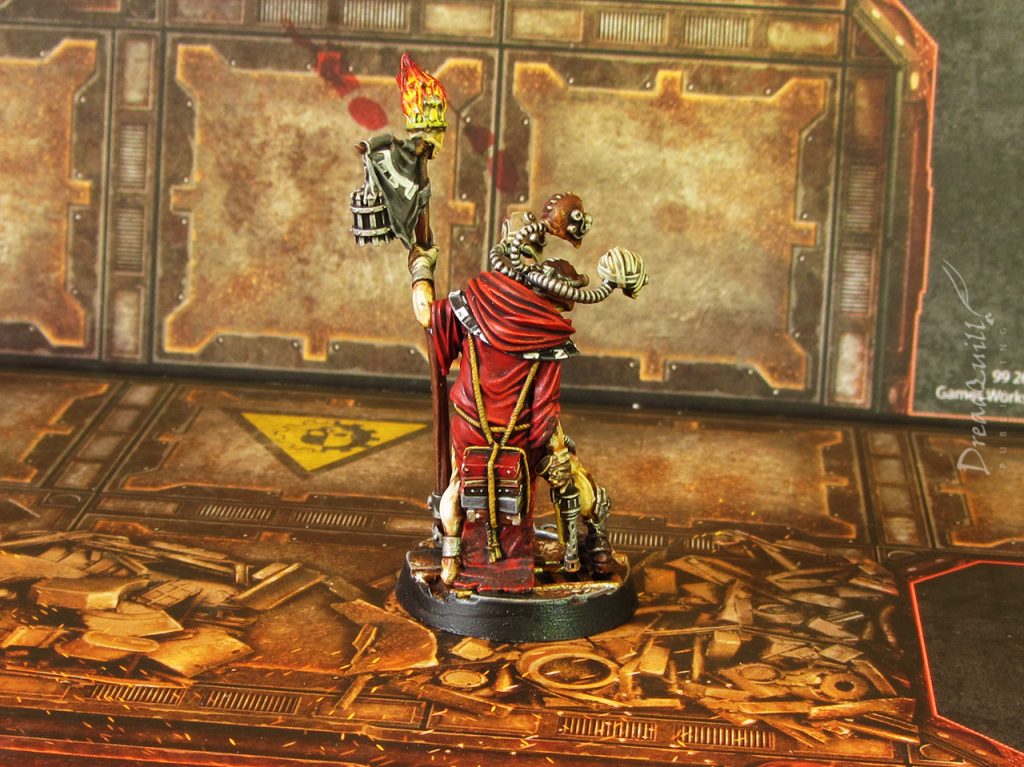 Typhus Corrosion was applied around the bottom of the robe and shoes to help mucky him up a bit and tie him into his Zone Mortalis base a bit better.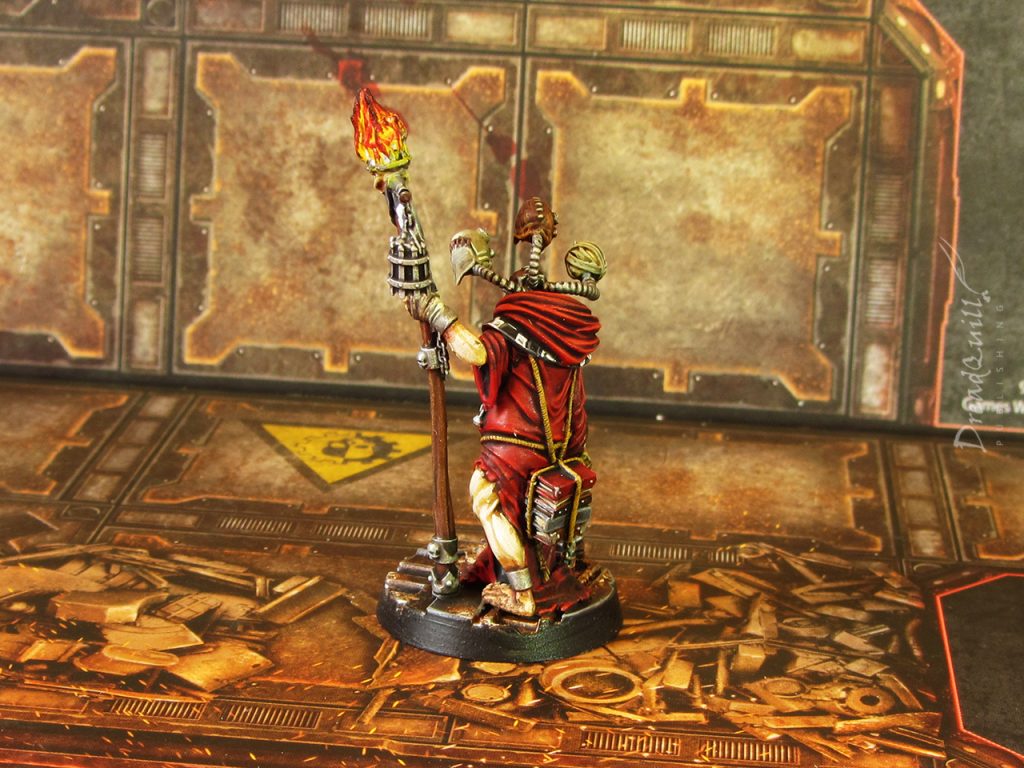 I think this was my fourth (?) time at painting fire – somehow I'd escaped almost 20 years of mini painting without having to learn how to do it, then a bunch of fire-based projects come along at once. I think I'm getting better at it, I just need to practise my Origin Source Lighting to help give it that warm glow. I tried it a bit here, but I chickened out before doing too much.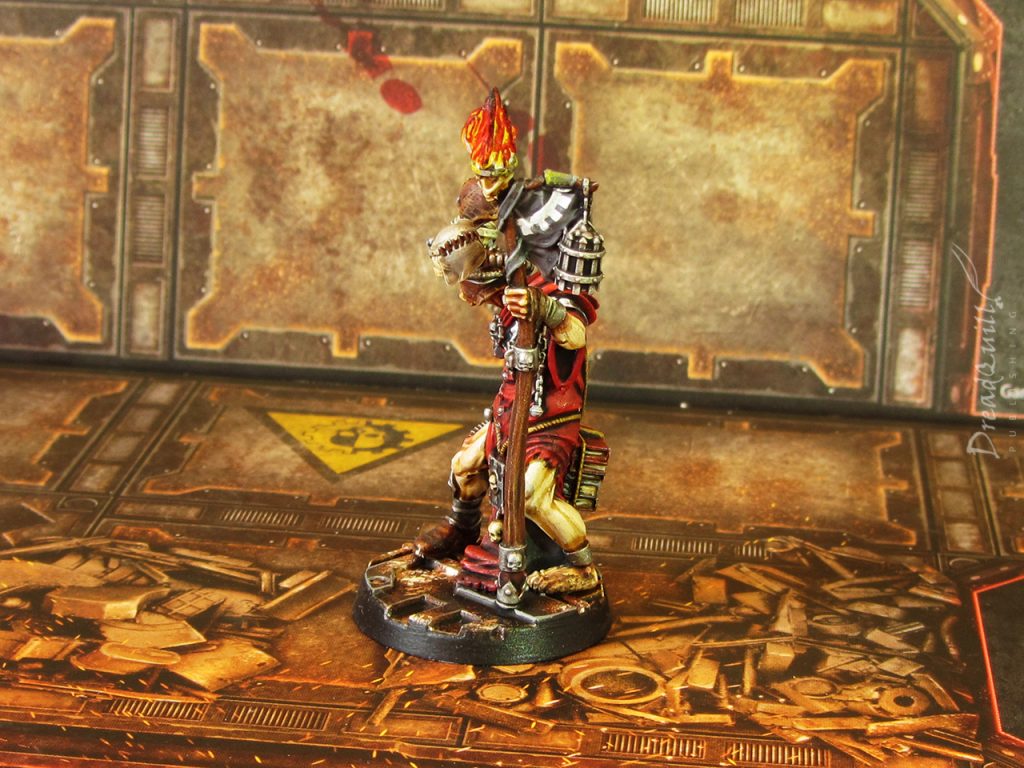 I wasn't quite sure what to do on the banner, so I went for a cog design. I'm not super excited about how it came out, so I'm blaming the waviness of it. Yeah. Finished, not perfect, right?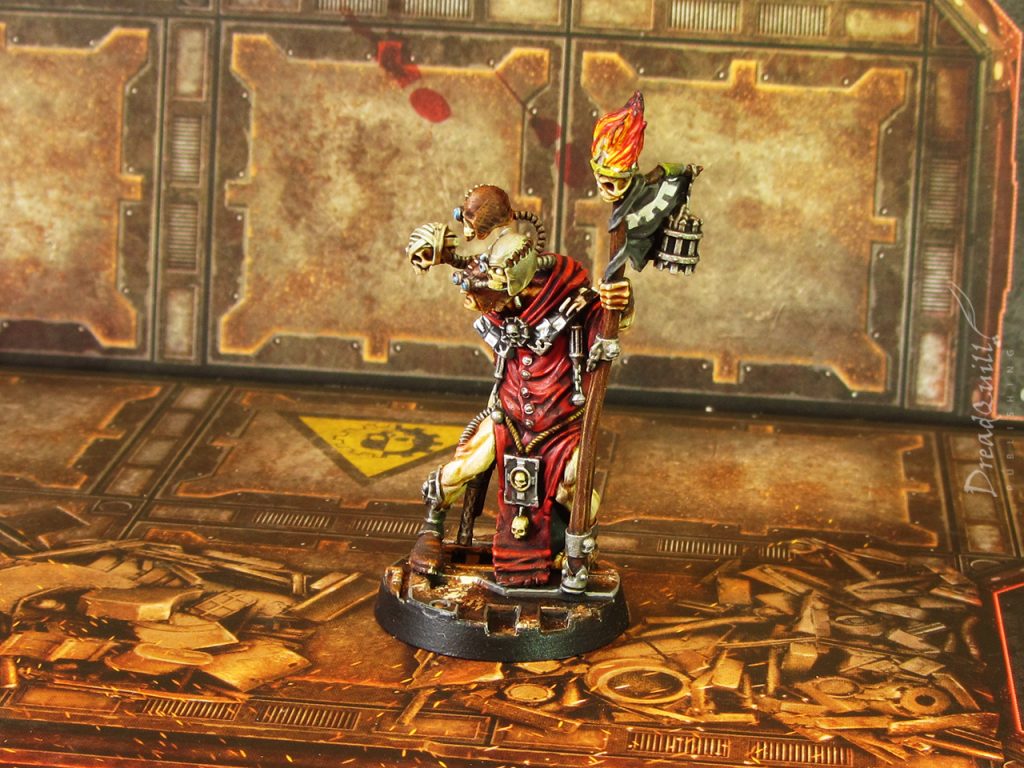 Very happy with how he turned out! It was a bit of a slog to get through, especially all the little fiddly technical freehand bits (and painting fire – boo hiss), but I'm glad I did.
Good news everyone – I will DEFINITELY be going back to Artel W for more minis in the future!