In a previous episode of the Orthesian Herald, we had our band of noble scallywags have their first bad warp jump coincide with their first daemon encounter.
I wanted to make some Ebon Geists – an interesting warp predator from the back of the Rogue Trader core rulebook. They're not affiliated with any of the four main Chaos gods, so I felt easy throwing them at the party without any of our 40k veterans being able to guess what they were up against.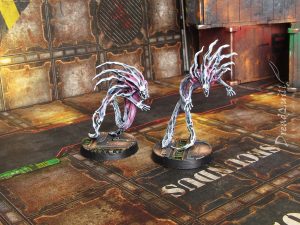 They had a spooky introduction, as the crew were responding to a faulty life support conduit deep in the underdecks of their ship. When the wall of ice from a leaking pipe came to life and shredded an armsman like an egg slice, there was considerable panic.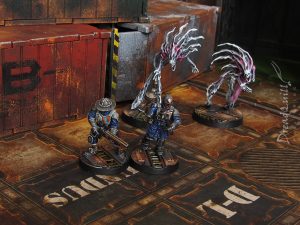 They were assembled from some parts of spirit hosts I had from my bits box, as well as a healthy helping of weird Chaos tentacles and probably a Tyranid bit or two to bulk them out.
They were assembled in an evening with copious amounts of plastic glue, so it didn't hugely matter if things didn't line up.
They needed to be painted up super quick, as I was playing on the same day as I finished making them!
A white undercoat followed by a number of different washes did the job. Blue all over, with a black wash towards the extremities and a crimson wash in the centre.
They had a good going-over with a grey-blue drybrush with a very fine drybrush of white at the extremities and they were done! I painted the bases to match my other minis, and the black rim around the edge to tidy them up was still drying as I read the intro to the game. Close call!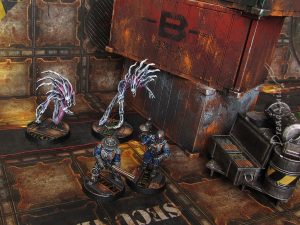 In the game they were quite brutal – a combination of Phase and Warp Weapon meant they could move about quite freely and harass players at the back of the group who thought they'd be away from melee range.
They were the cause of our first limb-loss as well, with one of them pulling our Explorator's arm clean out of its socket with an unexpectedly deadly strike.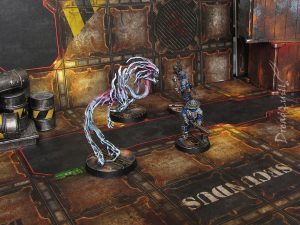 All in all I'm very pleased with how they came out for a few hours of kitbashing and washing – our players got their first taste of the warp and I managed to satiate my GM's bloodlust for a little longer!
I'll definitely be making some more of these guys for future though, I don't think two alone can threaten the party any more…