The station-complex of Mercy holds many secrets, accommodates many factions and houses many attractions to the denizens of the Nomad Stars. One such attraction is the infamous Bazaar Arenas, home to all manner of blood sports and high-octane races round its treacherous circuits.
In addition to xenos-beasts, execution victims and gangers trying to prove their worth, the arena fights are dominated by merciless Chrono-gladiators of the Death Clocks guild – cybernetic pit fighters with implanted weapons, vat-enhanced muscles and injectors filled with cocktails of lethal combat drugs. All have a death switch installed – a ticking time bomb attached to the heart that is only set back by the act of slaughter.
For a Chrono-gladiator, death is life.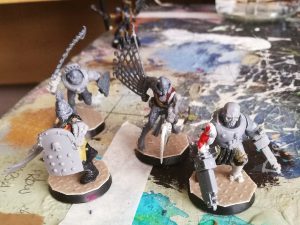 Continue reading

"Meanwhile, on the Bench: Chrono-gladiators"