We've been working with the lovely chaps at Hobgoblin 3D for quite some time now, it's been a joy and a privilege to watch them grow and paint their stuff.
They currently have a Tavern Kickstarter finishing on Friday 12 January at 23:00 UTC, and after getting my hands on it (and one or two late nights and sticky fingers assembling it) I can say it is absolutely worth the cash. You can get the deets on their kickstarter and drop them a few dollarydoos here.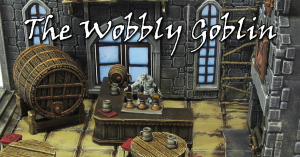 As part of their Kickstarter, they asked me if I wouldn't mind splashing some paint around on a corner diorama to indicate what it might be like when it was finished and painted. I can never resist an invitation to a bar, even if it's a tiny one.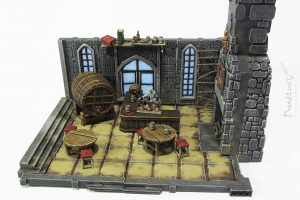 The prints are surprisingly robust. I say surprisingly, because every piece has been dropped at least once, and if it was any other material it would be showing some wear and tear by now.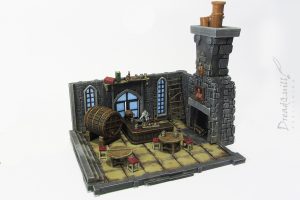 After getting to grips with the whole tavern when I helped the guys out with a photo shoot before Christmas, it struck me how bleedin' big it was inside. The actual render was still very much a prototype, one of my main criticisms was that it didn't have enough character – too many right angles and straight edges. They showed me the 3D render of what the finished article would look like and all my concerns were quashed.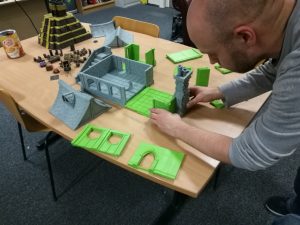 The sections inside are a nice grid, so it's clear the whole thing was designed from the ground up with bar brawls in mind. With so many campaigns starting off in a local tavern, it's a wonder there aren't more tavern scenics built with the malicious intent of players in mind…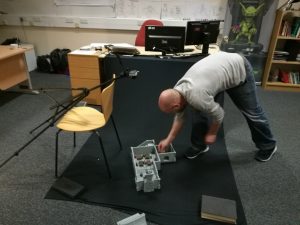 I used to have concerns with 3D printed terrain with the layering effect potentially making drybrushing a lot harder, but on the few sections the striations are noticeable, it only adds to the effect. An injection moulded flat surface would have no texture to pick up the paint, and this makes it quick and easy to add colour to a big model.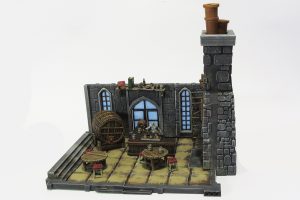 This project has definitely confirmed in my mind that I need to invest in a decent airbrush. Tools and techniques used for painting figures only scale up so far, and when I inevitably paint the whole tavern, I don't want to be sitting there for hours drybrushing tiny bricks across a million different wall sections.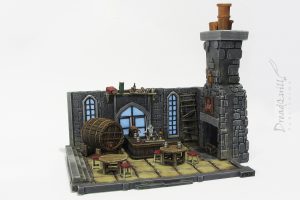 I also realised mere minutes before I was about to start taking photos that the picture frame hanging above the fireplace was still blank. I despise freehanding at the best of times, and when I'm on a tight deadline and just about to start shooting I despise it the most. Luckily my trusty PC Gamer was to hand, and we now have a very attractive portrait hanging above the mantlepiece of the Wobbly Goblin. Can you tell what it is?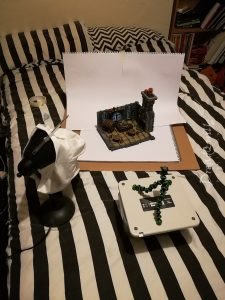 Finally, no MOTB would be complete without a picture of my overly-expensive professional setup. I know, try not to feel too shamed in this opulent display of wealth and arrogance.
A £4 chef's hat from ebay, a Bic biro and some bluetack formed the perfect diffuser for my bedside lamp, a 5 year old camera and some sheets of A3 paper masking taped to some cans of deoderant is all you need to get started!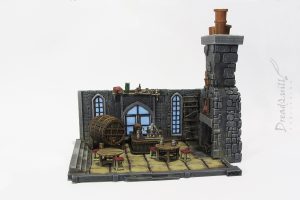 I am stoked to see what they're going to do with the range next, and once I get my hands on an airbrush you bet I'll be attacking the next tavern they print out.
Check out the Hobgoblin 3d Raghaven Hamlet here.