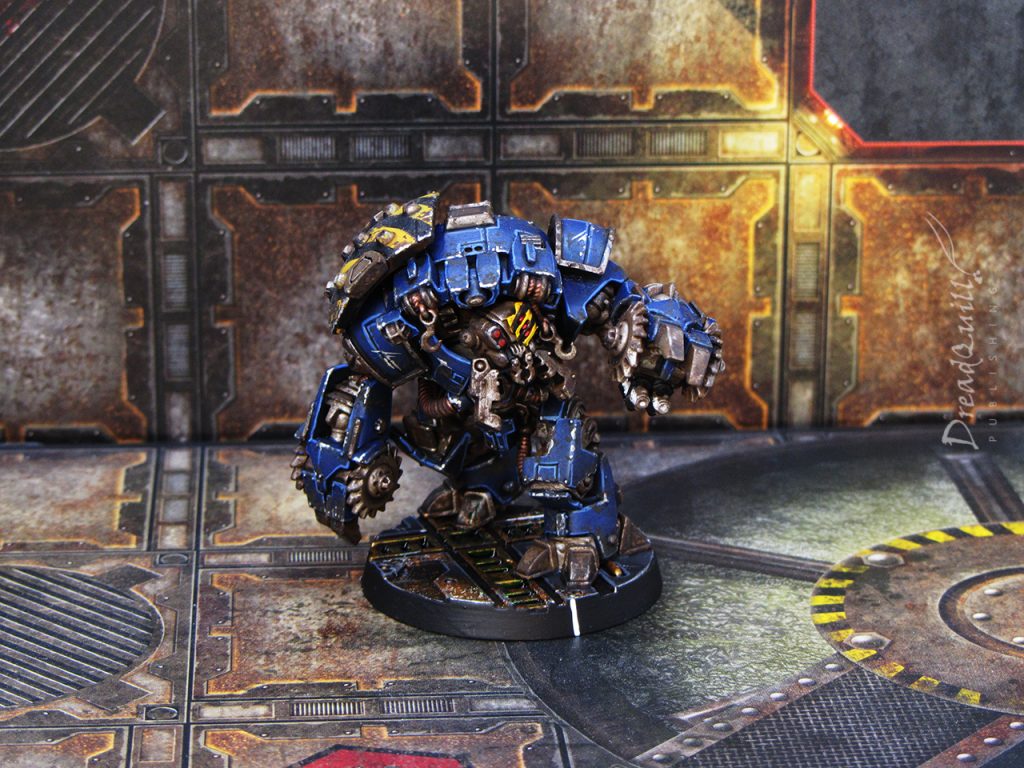 This is a rarity – I buy something, I build it from the box, and it gets painted. No conversions, no elaborate paint jobs, no carving it up for bits… What's got into me?
When the Ambots were released in the World That Was almost two years ago, I fell in love with them. Multi-part plastic robot alien kit? Sign me the heck up. I split the box with a friend and took home my very own am-bot.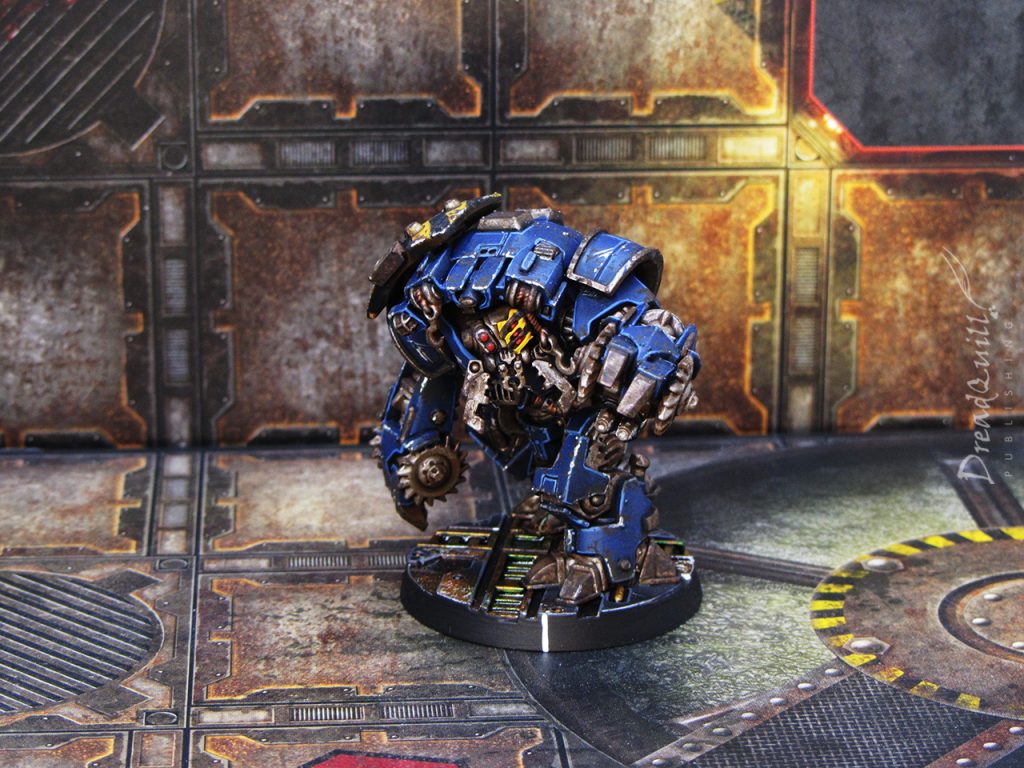 The ambot was introduced before the Ambull miniature from Blackstone Fortress (sadly discontinued already), and the first in-game mention of Ambulls since the Dark Heresy RPG reintroduced them in the Creatures' Anathema monster manual back in the noughties.
We'd just had Ambulls rock up in our Rogue Trader campaign and I'd used some DnD miniatures to build my very own Ambulls so I was stoked to see them returning in an official capacity!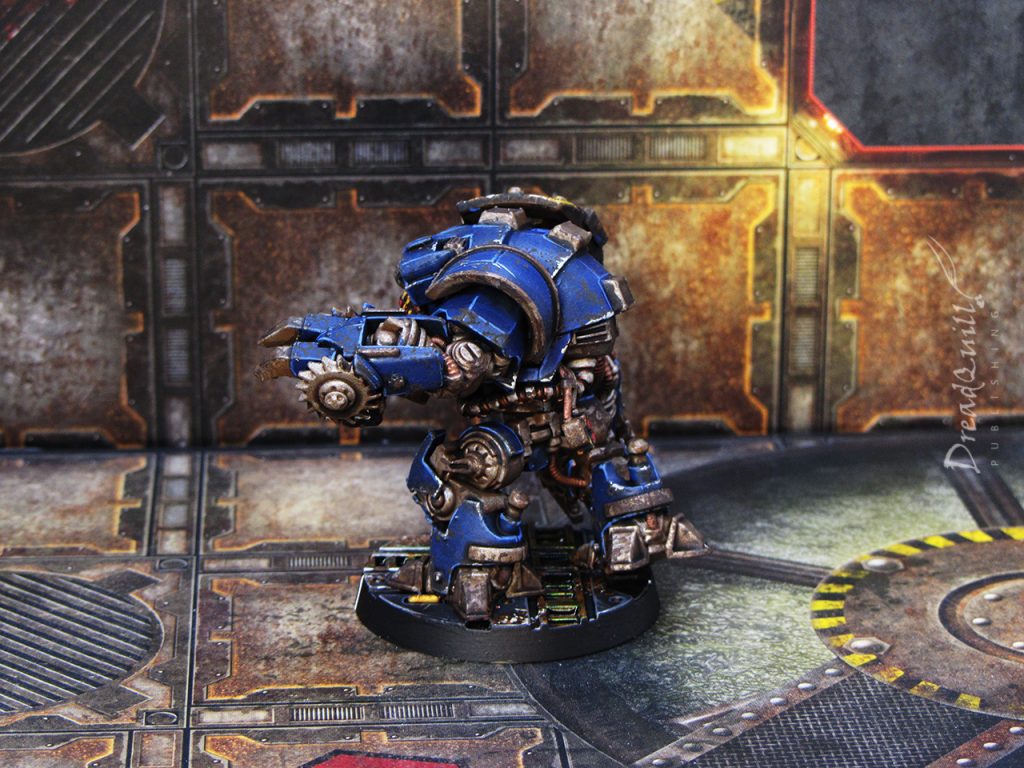 The model went together very pleasingly, with lots of little odds and ends that make it so great for conversions.
I didn't realise that each sprue comes with two sets of legs, so I assumed one of the sets of legs I had belonged to my friend, so I soldiered on with the goofy set. Had I known, I would have likely picked the other set to avoid the slightly awkward tick-tocking stance.
It's not the end of the world, and it does mean I have another set of cool heavy industrial legs for use in other projects.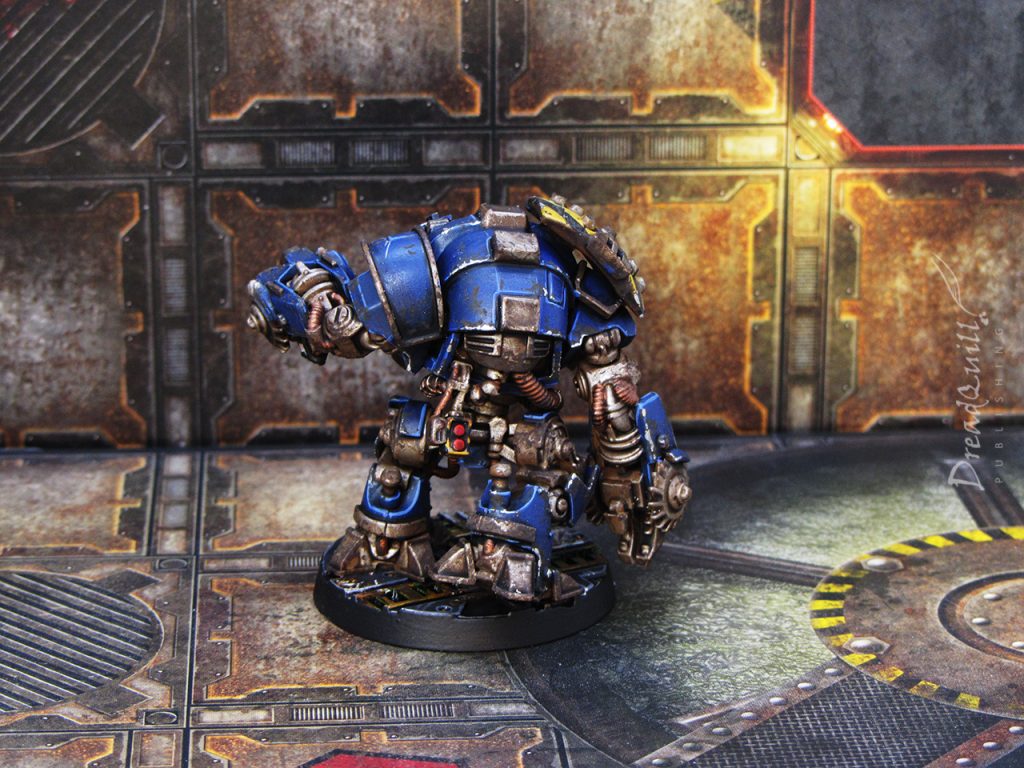 Sadly it sat on the shelf for another two years. My Necromunda campaign at the time never had an ambot crop up in it (there were lots of converted Ogryns though!) and without it having a "purpose" it never found its way to the top of my to-do list. Then of course 2020 rolled round and everything ground to a halt.
Aside from all the awfulness of 2020 (and 2021 aka 2020 2: Electric Boogaloo) it has helped give me some breathing room and perspective on my hobby. Previously I'd been creating and painting for a purpose – deadlines to meet, games to run, villains to put on the board for regularly scheduled RPG nights. I'd never painted anything solely for display or fun – having a competition run at my local FLGS Asgard Wargames helped kick me in the pants and start painting things for the hell of it again.
And it's been a hoot!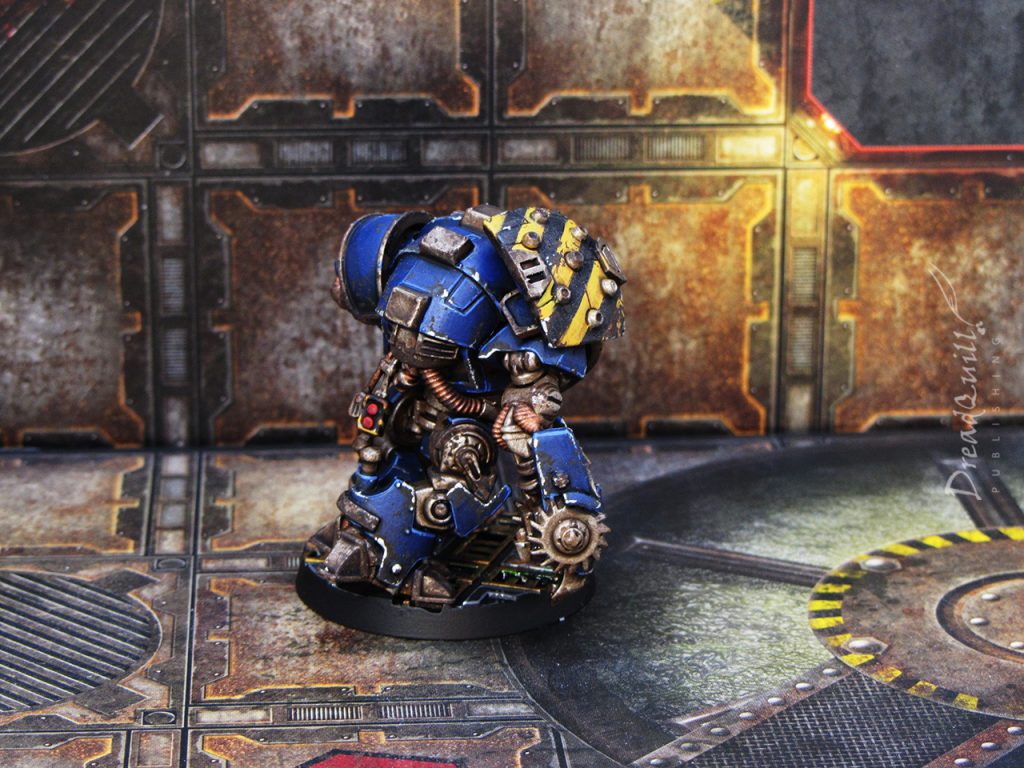 I wanted a "normal" paint job for this guy, which meant no elaborate backstories or freehanding iconography or trying to tie it into an existing gang colour scheme. I also wanted to try using colours I don't normally paint with – namely blue.
It was undercoated Army Painter Tan Leather and all the metallic bits were roughly drybrushed with Ironbreaker. Block colours went on next – Cantor Blue for the panels, Brass Scorpion for the tubes and cables, Iyanden Yellow for the hazard panels, a cheeky bit of Mephiston Red for the eyes and buttons. Black stripes are painted onto the hazard panels just before washing.
Everything then gets washed! Agrax Earthshade for the metals and hazard panels, Nuln Oil for the other areas.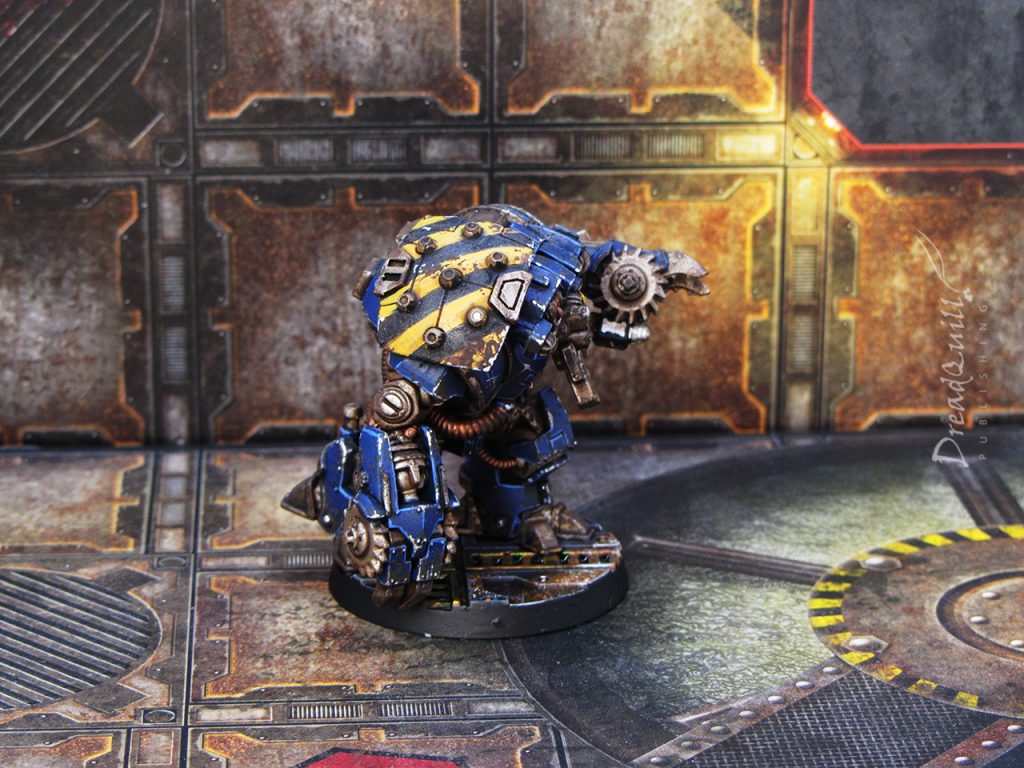 Once dry, the panels get wet-blended back up to their original colour with the help of my new love, Lahmiam Medium. I used to use water for wet blending, but this stuff makes it so much simpler. The blue edges get highlighted with a lighter blue and the hazard stripes get touched up with their original colour. I never claimed my process was fancy!
Then my favourite part – weathering! I kept it dead simple this time – tear off a bit of sponge about the size of a fingernail and dip it in Typhus Corrosion with a pair of tweezers. Wipe a bit off, then gently dab dab dab on corners and edges.
When that's dry, I touched up any edgees with Ironbreaker again to look like exposed metal, and the job was done!
I finished off the base to match my other Necromunda minis – a variety of metals and greys, washed black, then brown/orange/pale flesh stippled over the top to look like corrosion.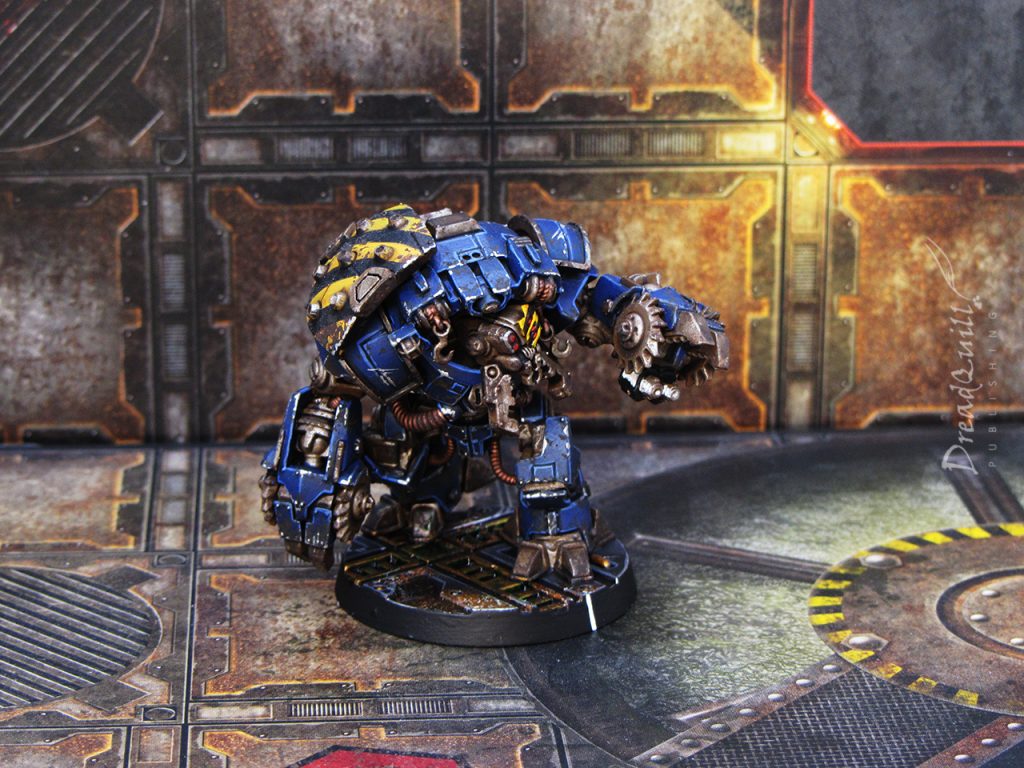 It took me about 2-3 evenings, including drying time, and I'm very happy with the outcome. It's not something I spent ages on, I didn't go the extra mile to painstakingly convert it to something unique, and I didn't agonise over the paint job.
And you know what? I loved every second of it.