With a triumphant, haunting cry, a titanic creature bursts into realspace, a wave of pure warp energy following in its wake.
The augers shriek in protest. The great void creature is nearly five times the length of the vessel with the mass of a small station. Its sleek body is pockmarked with strange lights and lashed with deep scars, and it propels itself through the void on massive pinions.
It lets out another fearsome psychic wail and banks through the asteroid field to bear down on the Unbroken Resolve, its terrible vantablack jaws open wide.
Creatures of the void sea
What's space without vast, unfathomable creatures borne from the dark between the stars?
Our Rogue Trader campaign is packed with exploring the stars, and while the 40k universe has plenty of strange aliens to interact with, sometimes you just want something really alien.
Every space game needs space whales, and with our adventurers travelling to a domain called 'The Void Sea', it was a perfect opportunity to come up with a very large encounter.
Life, uh, finds a way
Many moons ago I picked up a pile of cheap dinosaur toys with the express interest of using them as a basis for conversions. I was sure there was something I could do with this lad.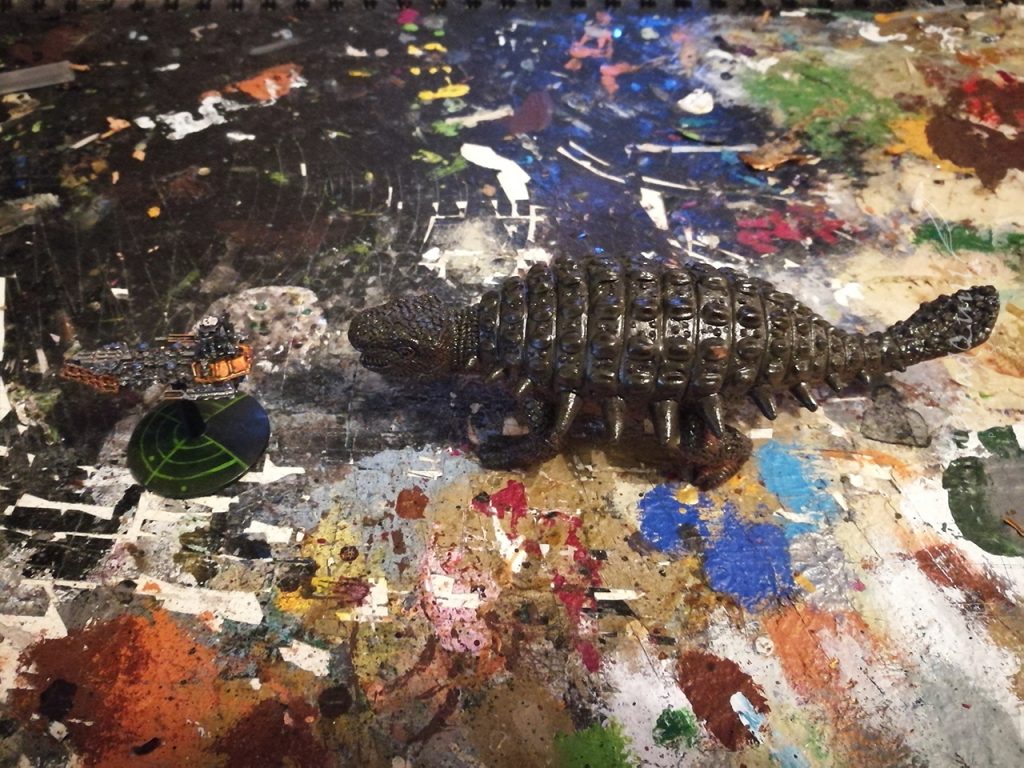 The head was obviously not intimidating enough, and his lil leggies had to go, but the shape was good and it was covered in lots of interesting bumps that would paint up nicely.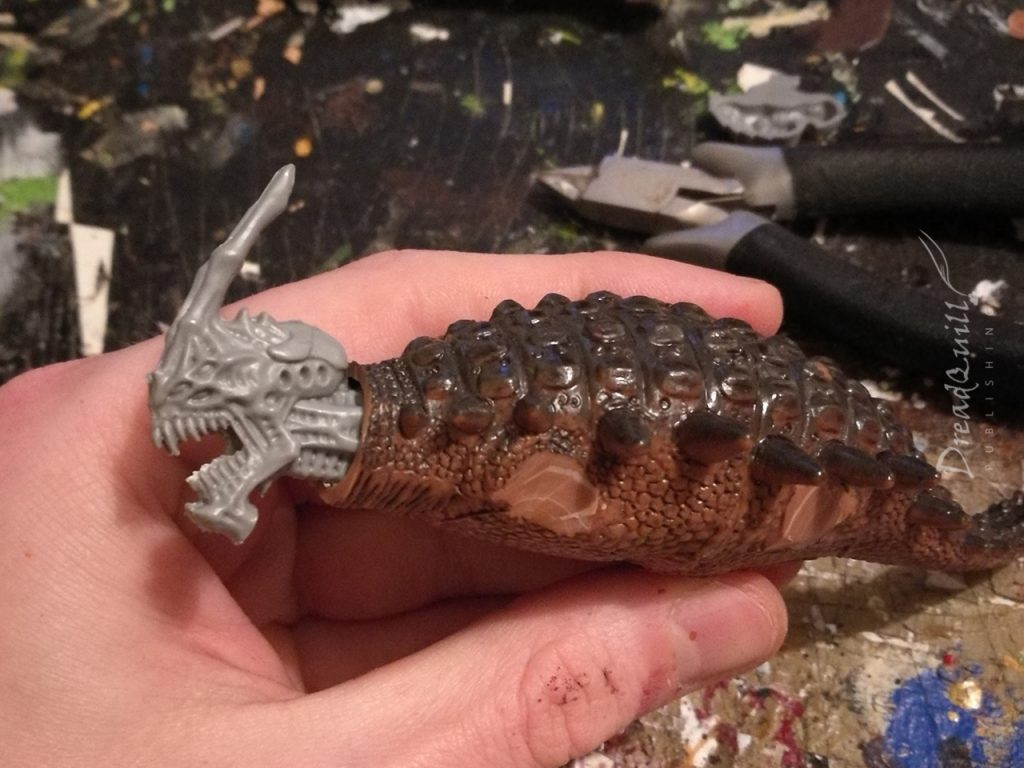 Tyranid bits are a classic, although you have to be careful disguising them if you want to make a non-Nid creature. This is the enhanced senses biomorph from the old plastic Carnifex, the multiple eyes and big antenna seem perfect for tracking prey in the depths of space.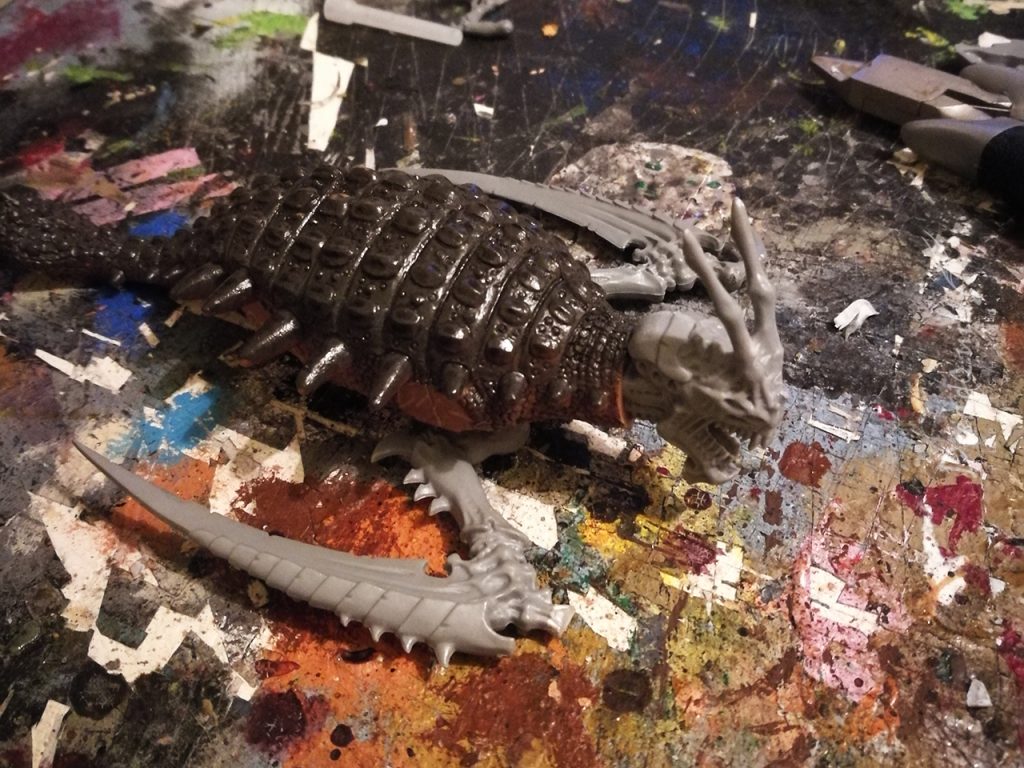 I wanted something that looked like flippers or wings – something to propel him through vacuum on strange alien biology. Some nice Tyranid scything talons fit the bill, and mounted sideways gave him lots of lovely girth.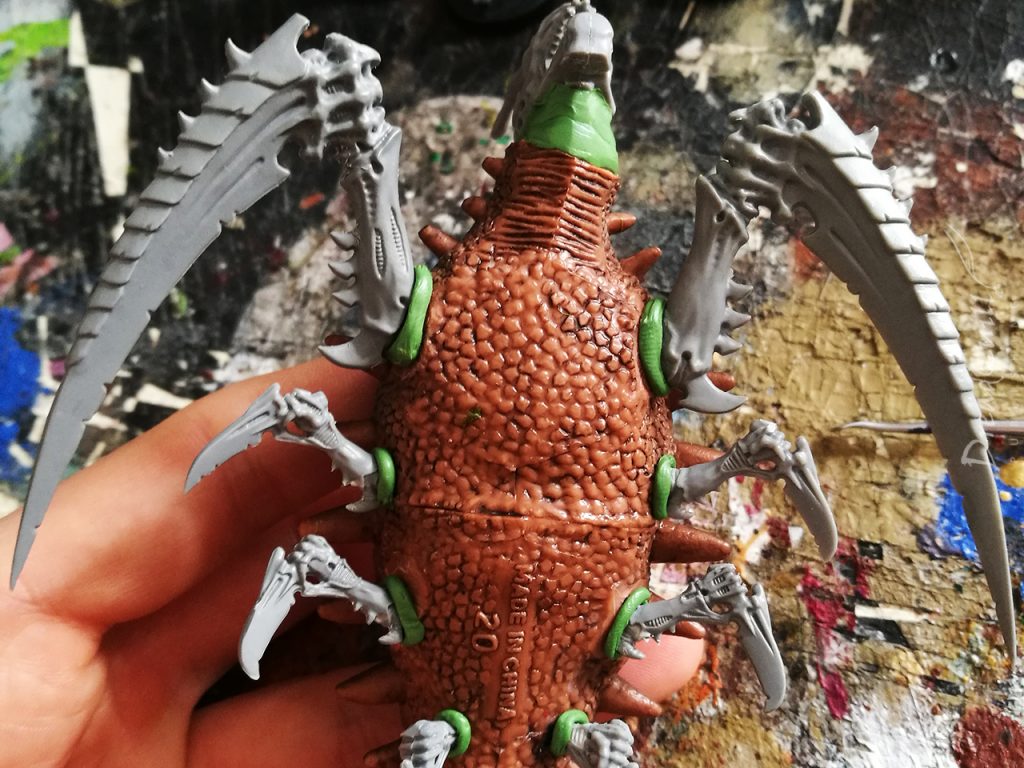 Even more yranid bits for the underbelly, this time like the extra leggies on the underside of a horseshoe crab. There was a lot of Tyranid pieces in this build, so I'd have to be careful painting them to avoid making this creature look like a Tyranid.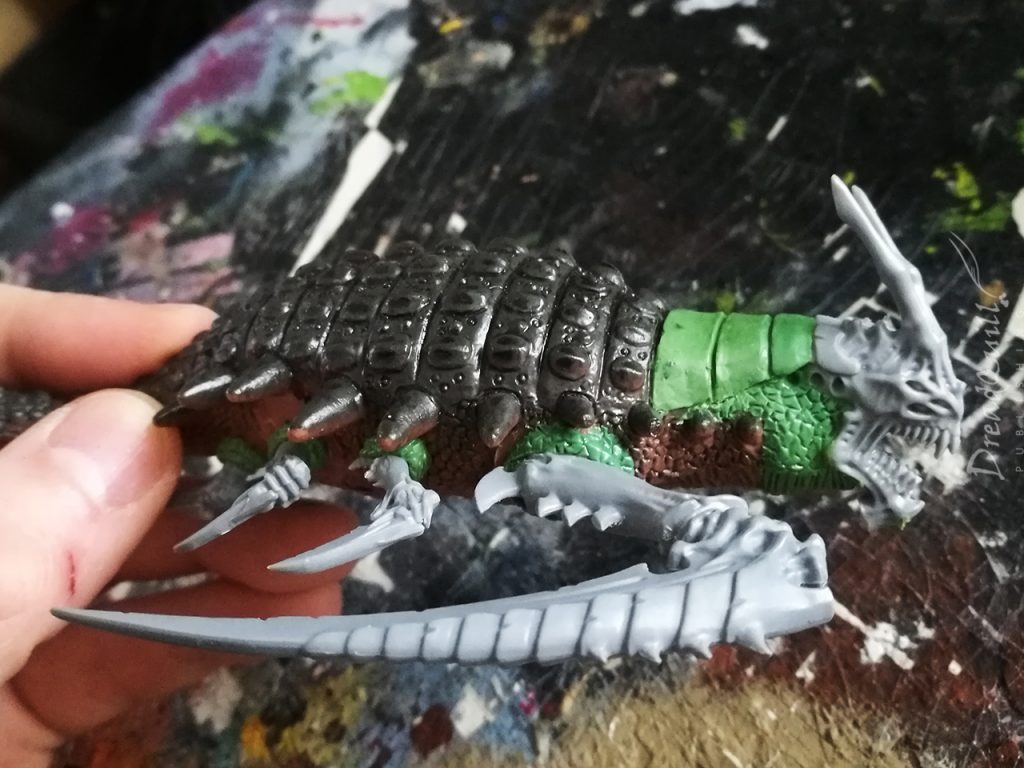 Blending the bits together with some green stuff did the trick. It helped smooth the joins between the legs and the body, and made the head look like it was part of a whole rather than an angry turtle.
I did my best to match the patterns of the shell and blend it into the remnant of the armour plate on the head, disguising the Tyranid origin a little better.
Time for paint!
Colours of the deep
Ugly undersea fish were my inspiration for this, and a chance to paint with some of the brighter colours in my collection.
I love how a basecoat can pull together a modelling project, and bringing out some of the textures with a simple pinky/purple drybrush was a delight.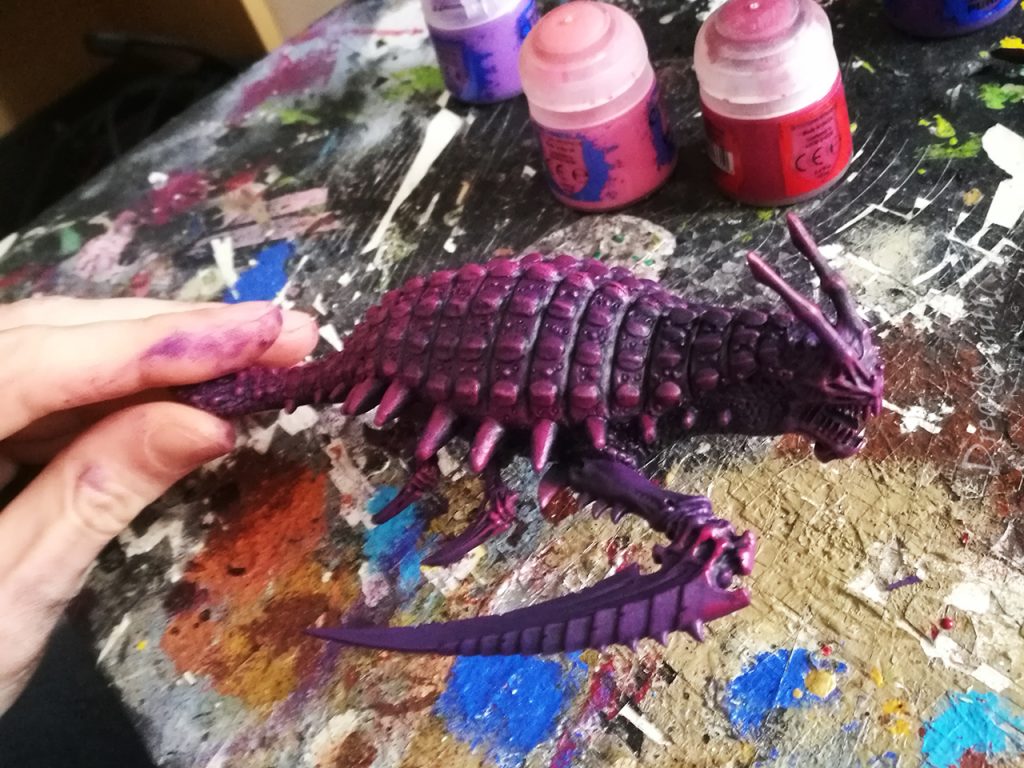 I was imagining different biologies and what could sustain a creature this size in the nothingness of space. Perhaps its main prey (space jellyfish!) have inbuilt solar reactors, generating food from nuclear energy in a similar way plants do, so this big boi has to feed to keep its own plasma drive equivalent running.
It does mean a player's spaceship would look an awful lot like a big, delicious jellyfish…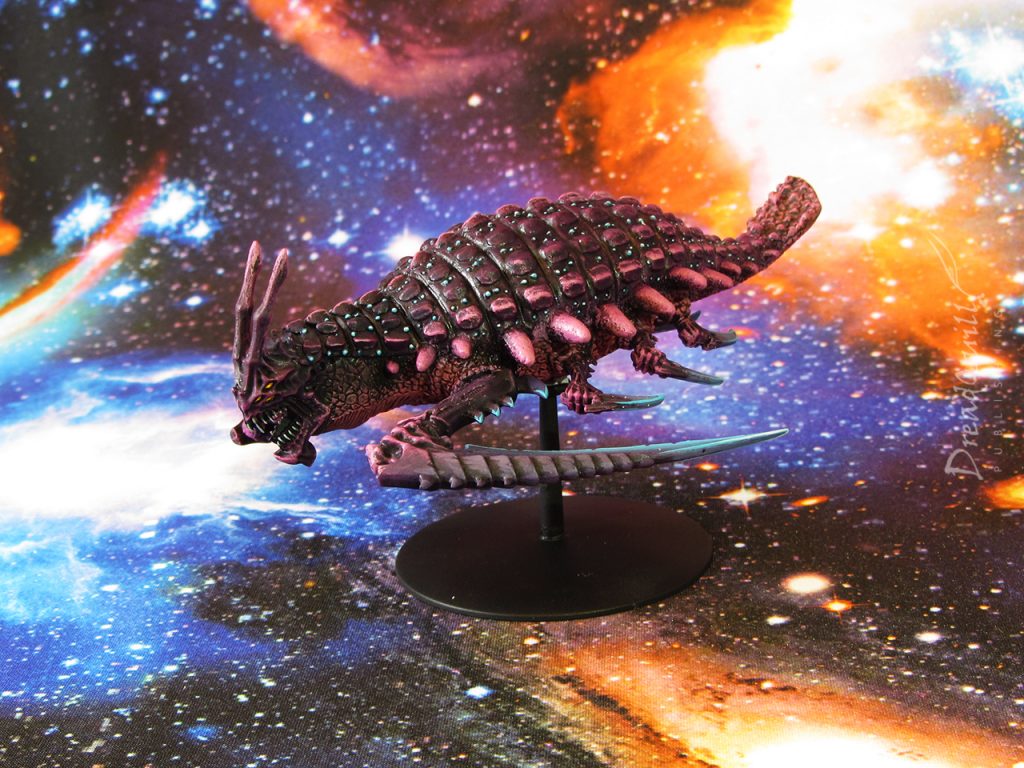 The paintjob was a simple one – drybrush everything purple and pink, darken down some areas with washes, then pick out the key details.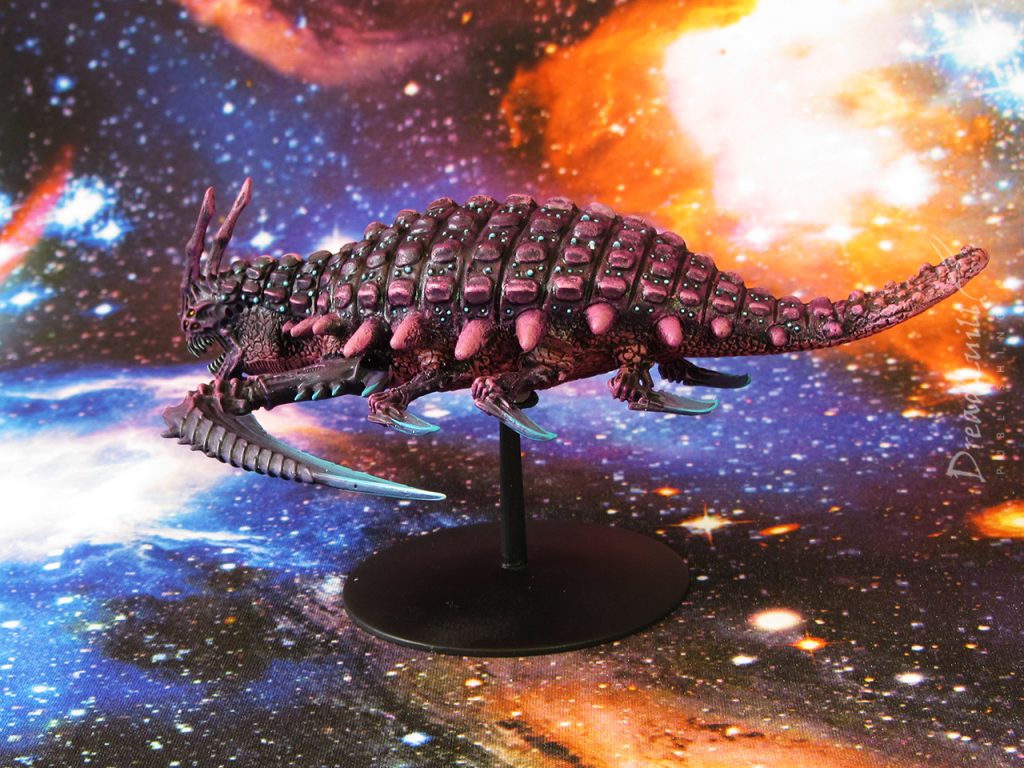 I tried my hand at blending between the pink and blue areas, but it turned into an indistinguishable grey so I don't think that worked very well. The extreme blue highlights are enough to tell the story, so you don't really notice the failed colour blend.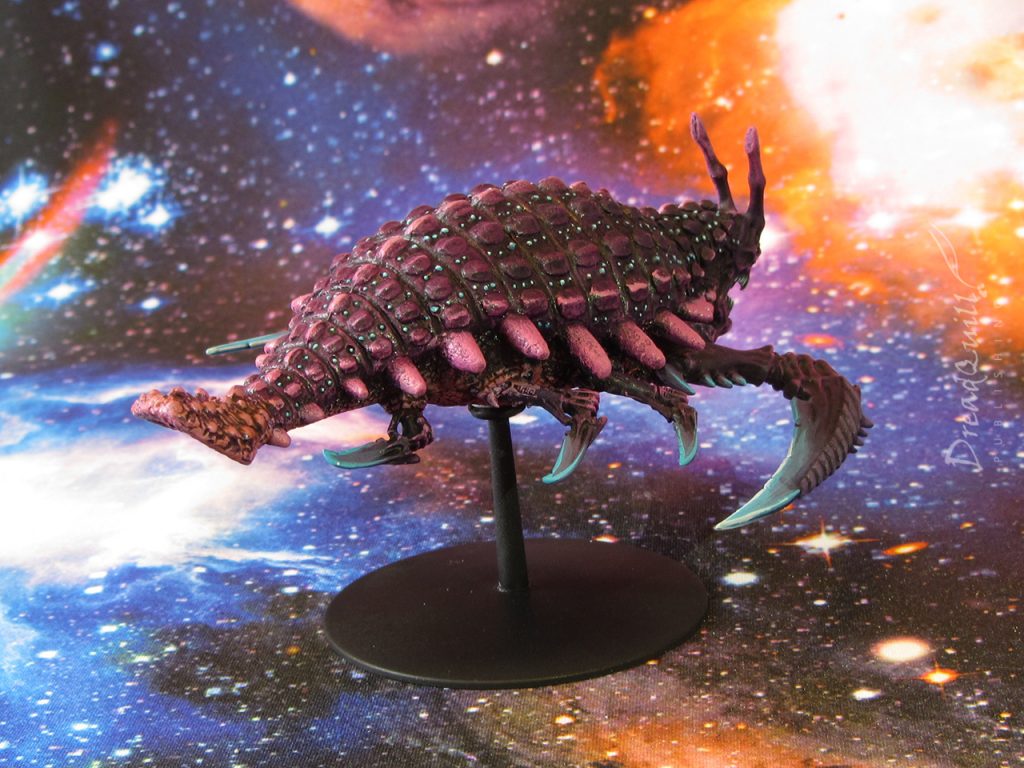 It's got this lovely angry fish/turtle feel to it, I'm very happy with how all the separate pieces came together to make something quite frightening.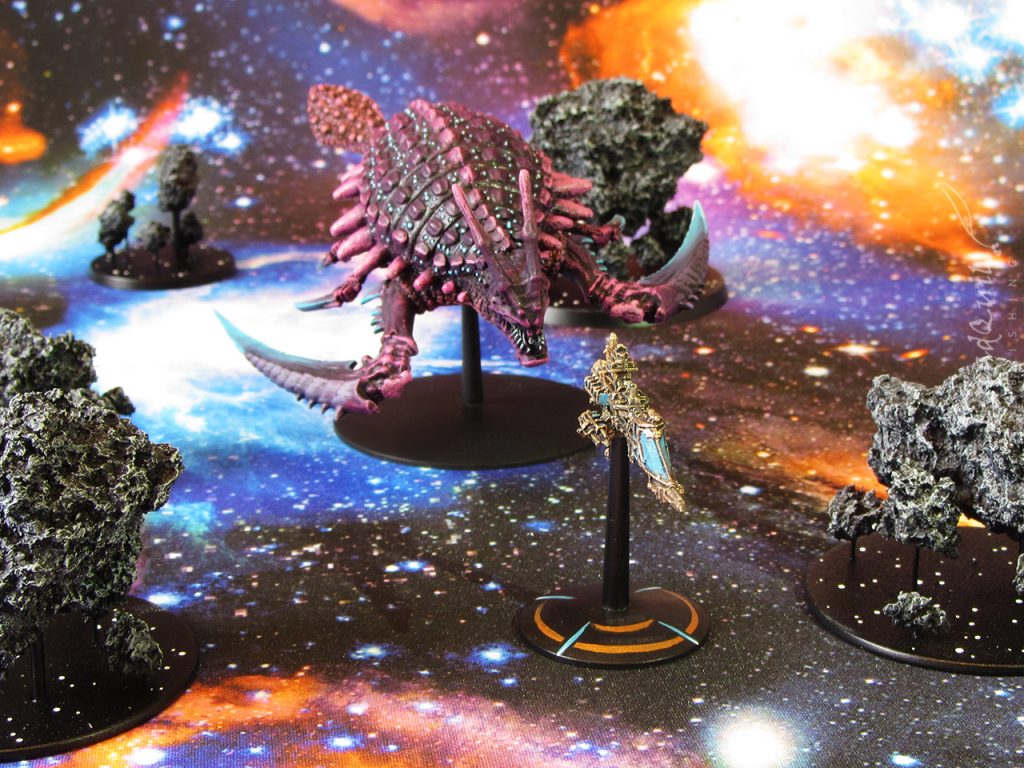 I did't want them to kill it, just drive it off. It's psychic as well (naturally), so the Astropath would be able to pick up weird signals from it. After wounding it, I'd want it to limp away crying for its mummy.
Wait, so this was just a small one?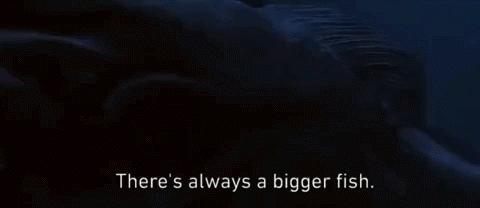 Every victory should always come with a sense of dread in the Void Sea.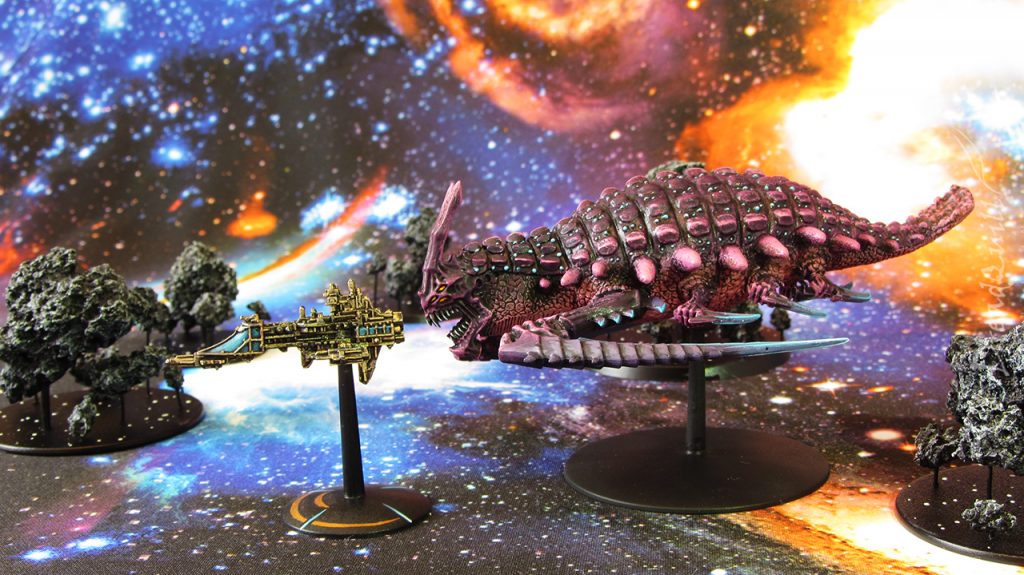 Overall I'm extremely happy with how this project turned out! It cost me 90p in dinosaurs, helped reduce the size of the bits box, and made for a thrilling session.
It's got me thinking what else could be lurking out there…