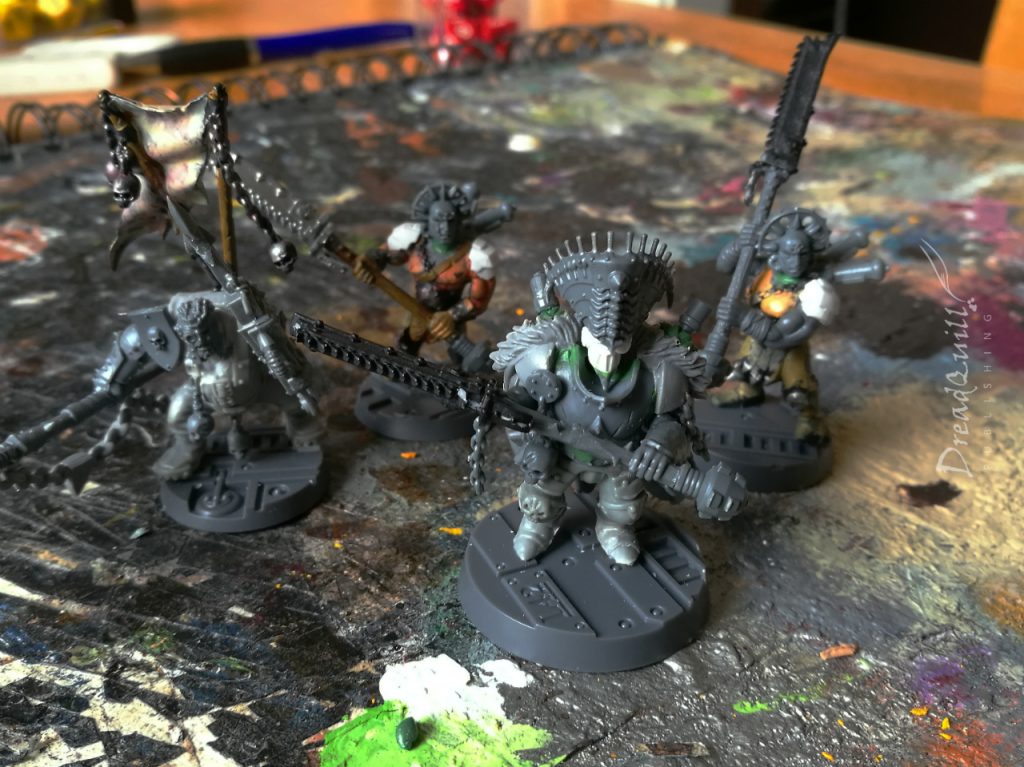 One of the aspects I enjoy about Necromunda is the modelling challenges it presents.
Since the addition of the Book of Peril, you can ally with Guilds and criminal organisations to unlock unique boons and deploy small squads (called entourages) alongside your current gang.
These entourages usually consist of a leader, a champion, and 1-3 pleb-level fighters. They'll usually be equipped with a very particular set of skills and equipment, meaning there are no real out-of-the-box options (yet!) available for them. I'd love to see some plastic kits, especially for the Bioshock-esque Water Siphoning Guild, but I can't imagine those kinds of kits are high on GW's agenda.
One of the alliances available is the Slave Guild, replete with Slaver Entourage. They provide some interesting bonuses to gangs they are allied with, but I was mostly interested in seeing if I could kitbash four drugged-up chain glaive-wielding goons from whatever I could find in my bits box. Game on!
Pit Fighters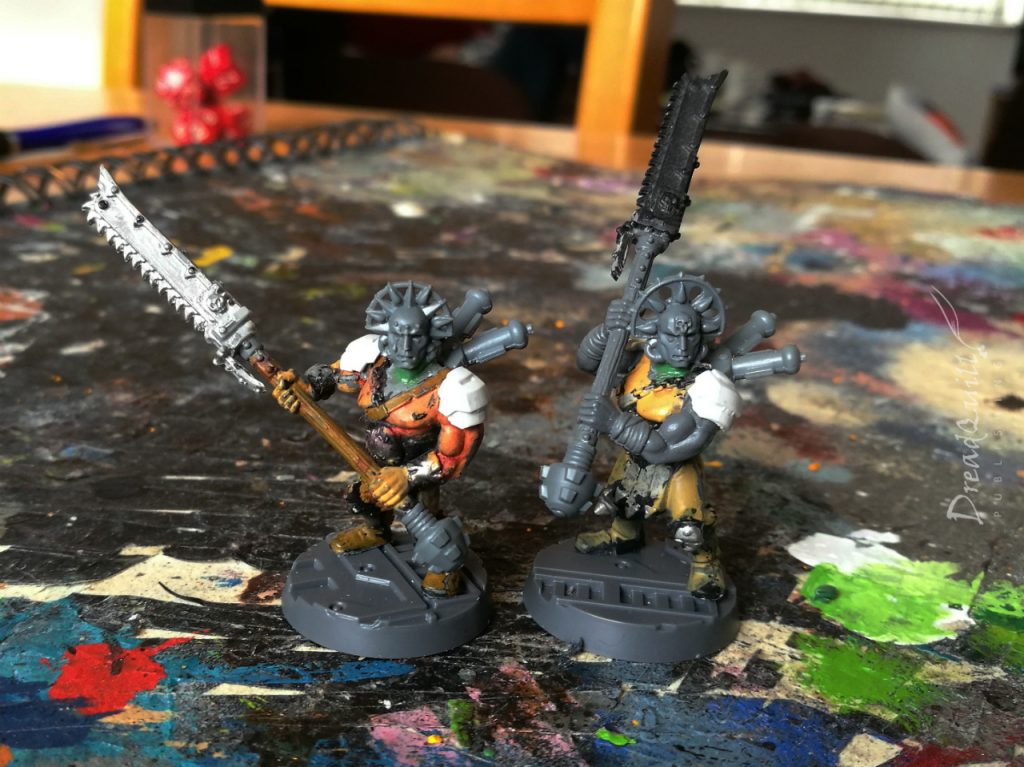 "Principal among the Chain Lords' charges are pit slaves, often heavily augmented so that they might better entertain the crowds of the arenas. These warriors, often psycho-conditioned for maximum aggression and loyalty, are as hounds upon the leash, ready to be loosed should a word be spoken or gesture be made."
The first models I put together were the bodyguards. I already had these guys planned in my head, using reclaimed Chaos Marauder bodies and heads from the Blood Angels Honour Guard set.
The book says are armed with chain glaives, flak armour and a stimm-slug stash – straightforward equipment and an uncomplicated build. Chainswords from classic Chaos Space Marines were chosen for their more non-standard and brutal aesthetic.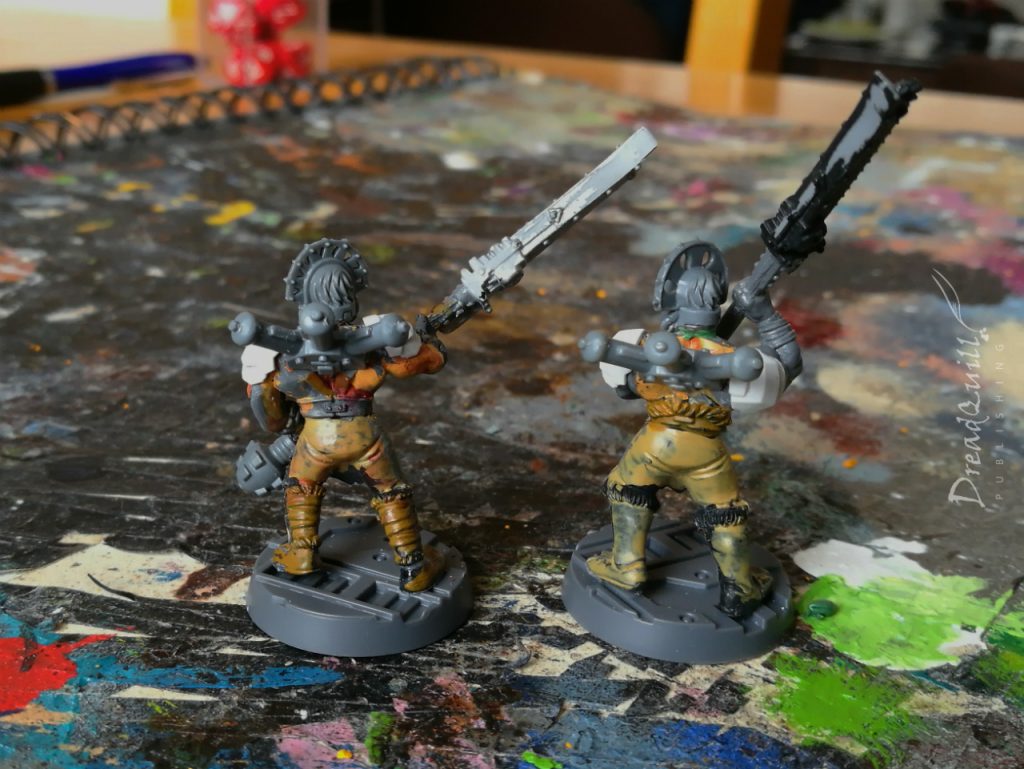 Shoulder pads came from Anvil Industry, very useful for hiding the awkward shoulder joints and giving them a bit more techno-bulk. I don't have enough pipes, tubes and vials in my collection for a stimm-slug stash on the both of them, so I pressed some vehicle smoke launchers into service instead. I'll be painting them to look like liquid-filled injectors, hopefully highlighting the fact that they're both combat drug-addled lunatics.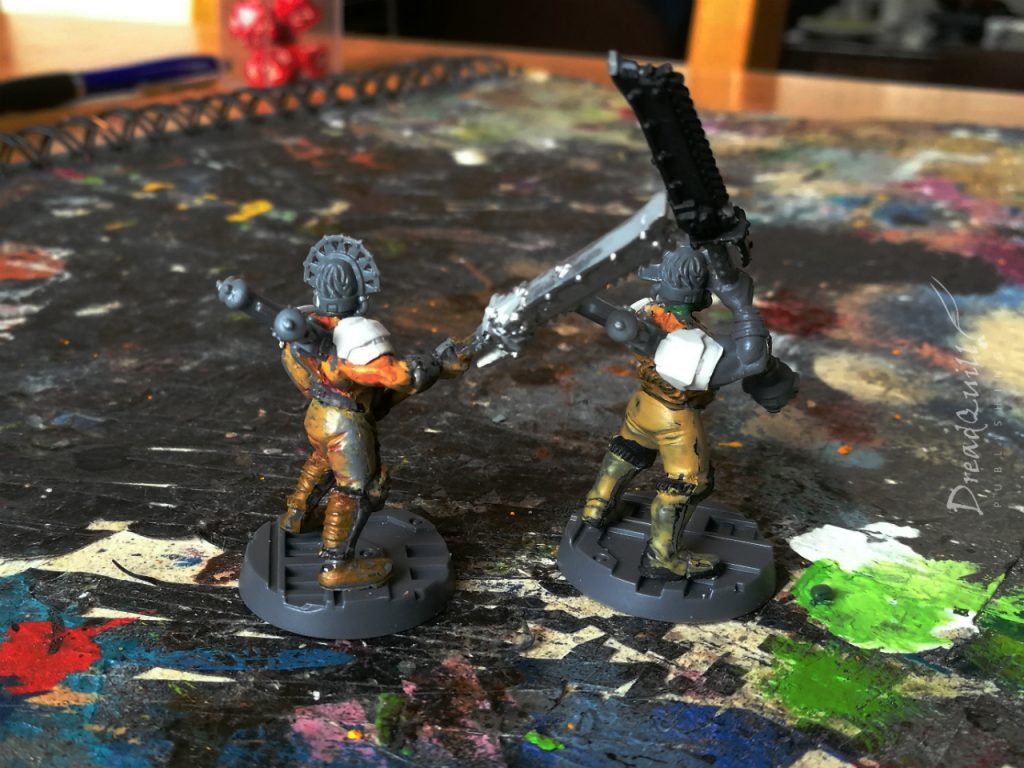 I've never used combat drugs in my regular gang, so being forced to have them provided some interesting opportunities. I ran the numbers on the equipment combinations they have – with the Versatile trait of their chain glaives, the one turn bonus movement of 2 provided by the Stimm-slug stash, they can have a minimum charge range of 10 inches! Not something I'd want to be on the receiving end of…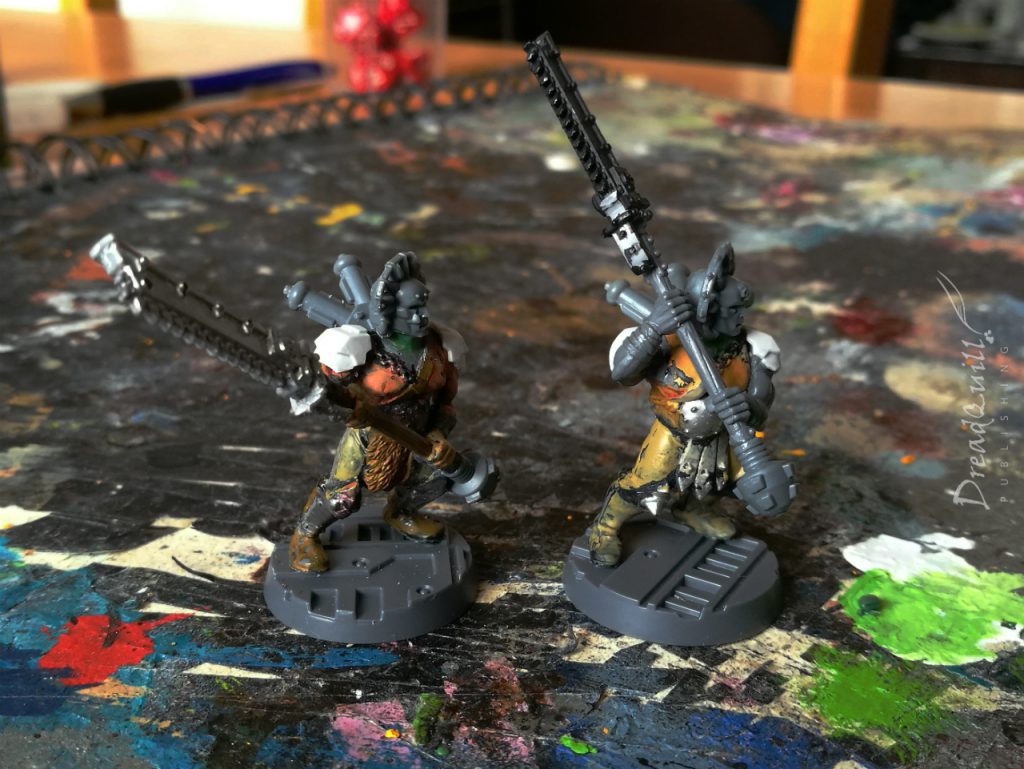 Finally I added a techno-pommel to the base of their weapons. I think they're from an Adeptus Mechanicus sprue, but I had enough of them to go round. They added some more weight and height to the weapons, and gave it a more duelling-weapon aesthetic that reminded me of the classic 54mm Sergeant Stone model: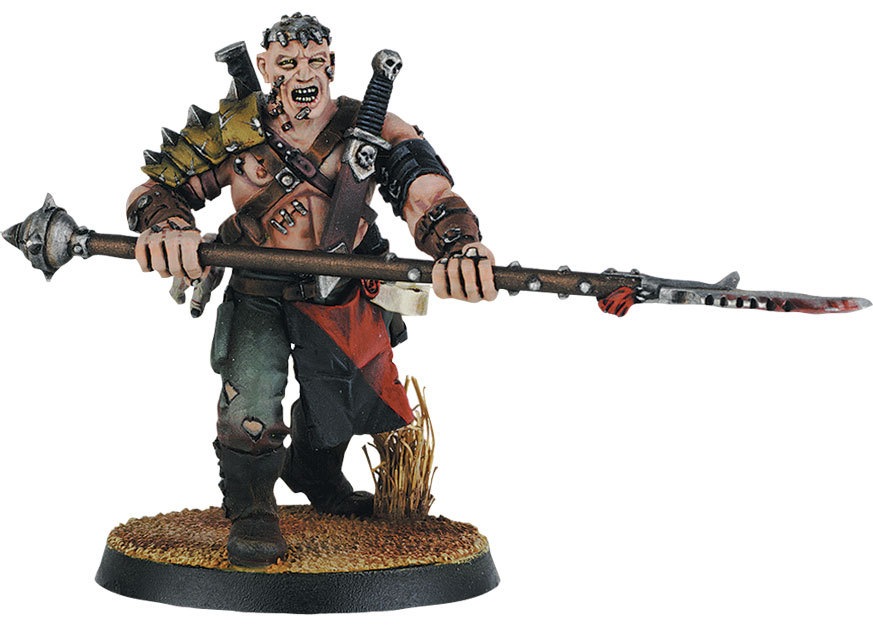 The Shakleman – Guild Factorum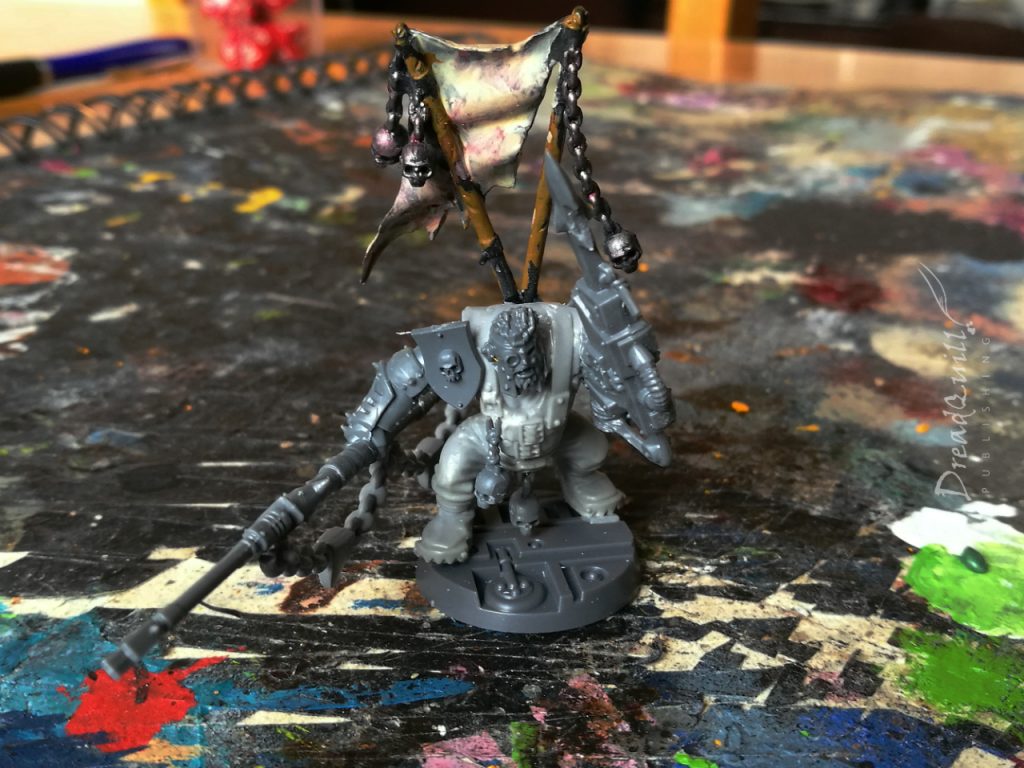 "Shaklemen are the bloated fight masters and slave drivers of the Merchants Guild, readily dealing in both human flesh and human misery."
The hardest of the four minis to put together, mostly due to the eclectic mix of equipment and skills they possessed.
The Shakleman is armed with a shock stave and harpoon launcher, flak armour and a cult icon, and has the Disarm skill.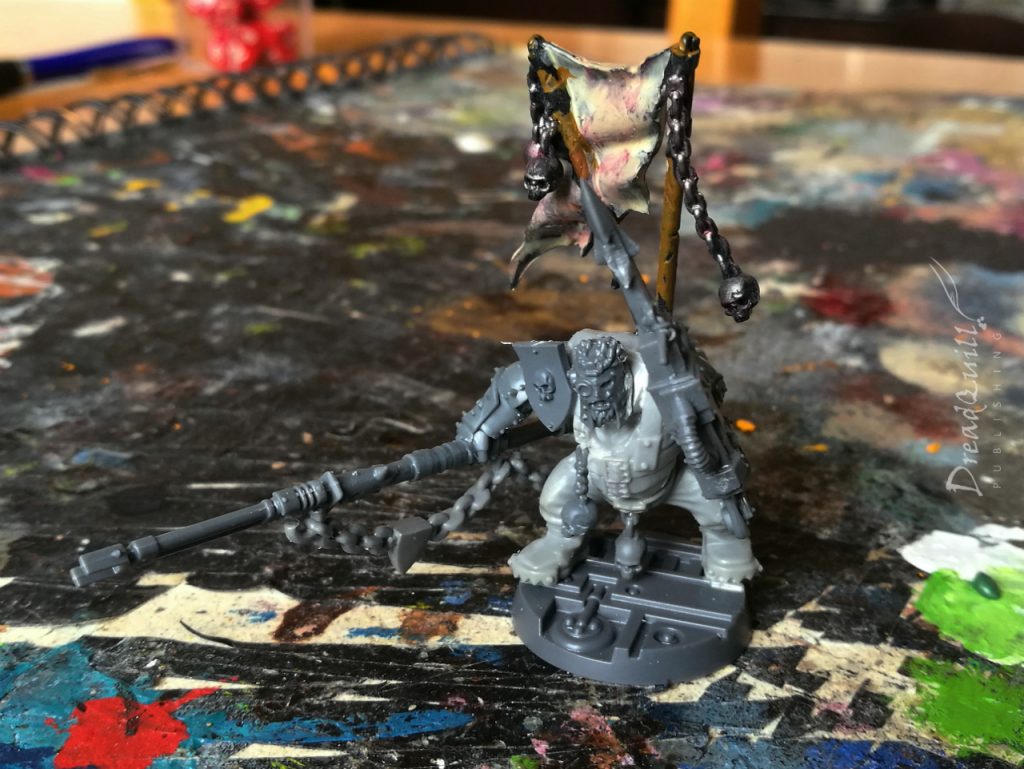 The harpoon launcher was a tricky bit to figure out, but otherwise I had a very particular vision of Igor from the (excellently cheesy) 2004 Van Helsing film. The arm of a Khornate Knight with the blade swapped for an AdMech taser goad made for a fine (and ludicrously large) shock stave.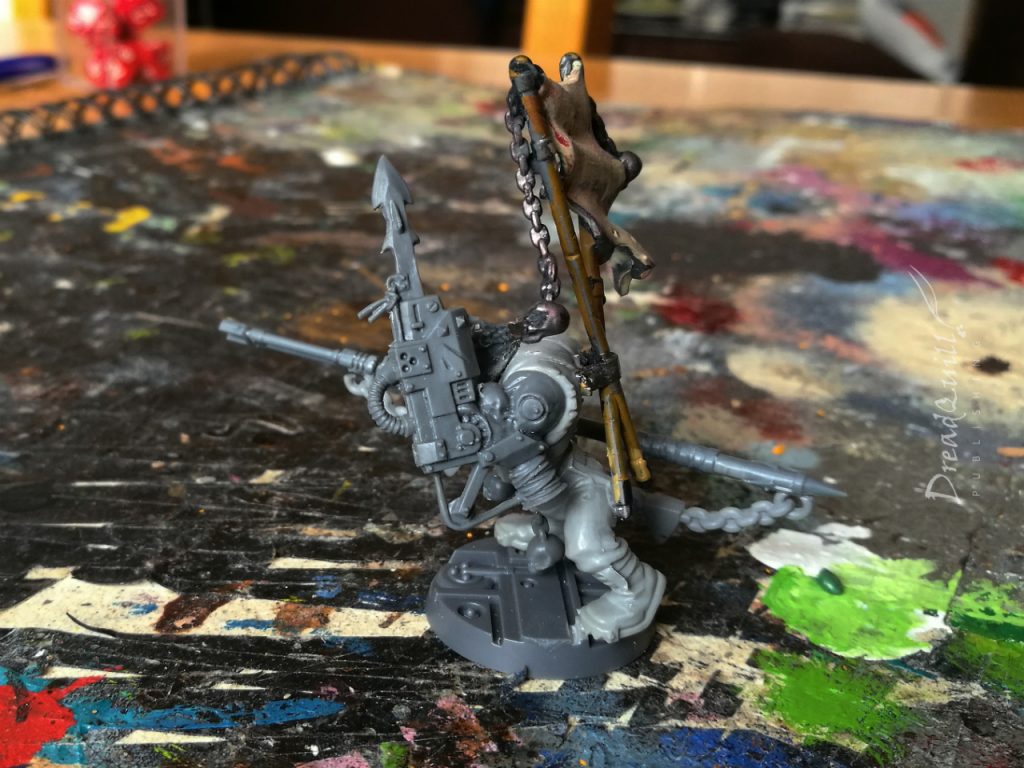 The only other ready-made harpoon I had in my collection is the chunky launcher from the Orlock plastic kit (which makes for an excellent one-handed weapon if you're huge) but I couldn't figure out a way of attaching it to his back. Luckily, some Ork gubbins had me covered, and one of the Nob weapons just so happens to be this ramshackle-looking implanted harpoon gun.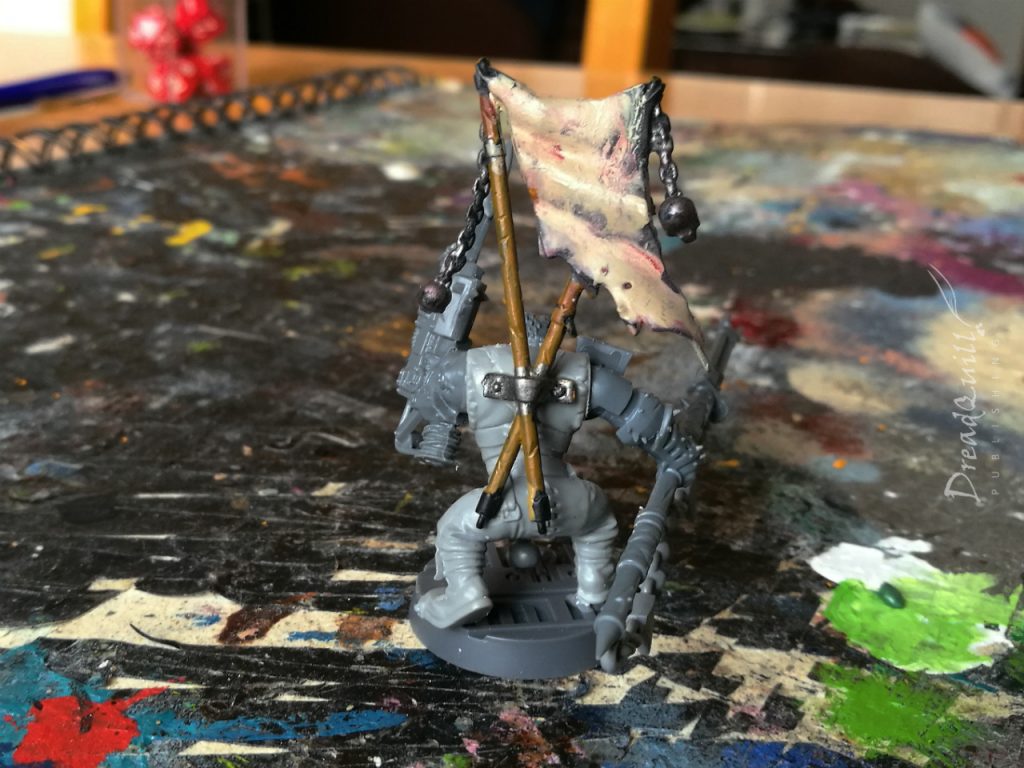 I think I used up my entire collection of chains for this crew, but it was so much fun finding new parts of the models I could hang more chains from! The back banner came from either a Skaven or Chaos kit, with most the chains coming from Empire Flagellants.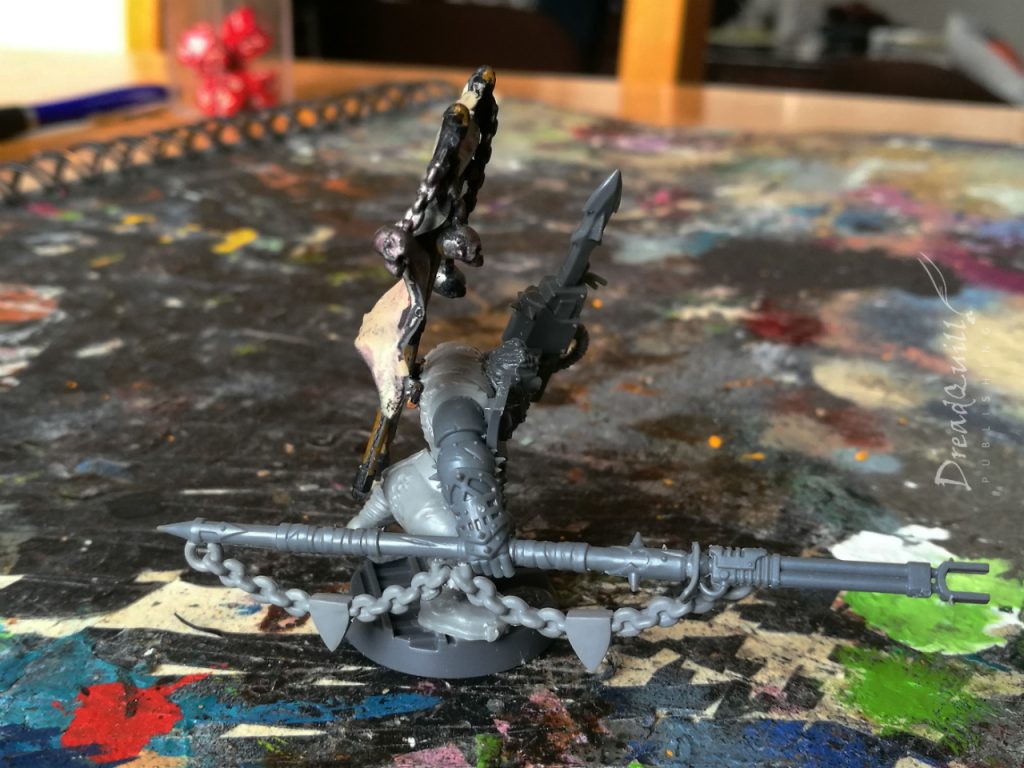 In an effort to make it a little less chaos-y, I tried adding more chains (!) from the Bretonnian men-at-arms kit with some heraldry shields on it. I'm hoping to come up with some kind of Guild crest that I can recreate across the different minis, tying them together with some similar colours.
The head came from some classic Chaos cultists from the Dark Vengeance set, removed from its body for another spooky project but fit perfectly on the hunched Ork physique. Roll on the primer!
The Chain Lord – Guild Procurator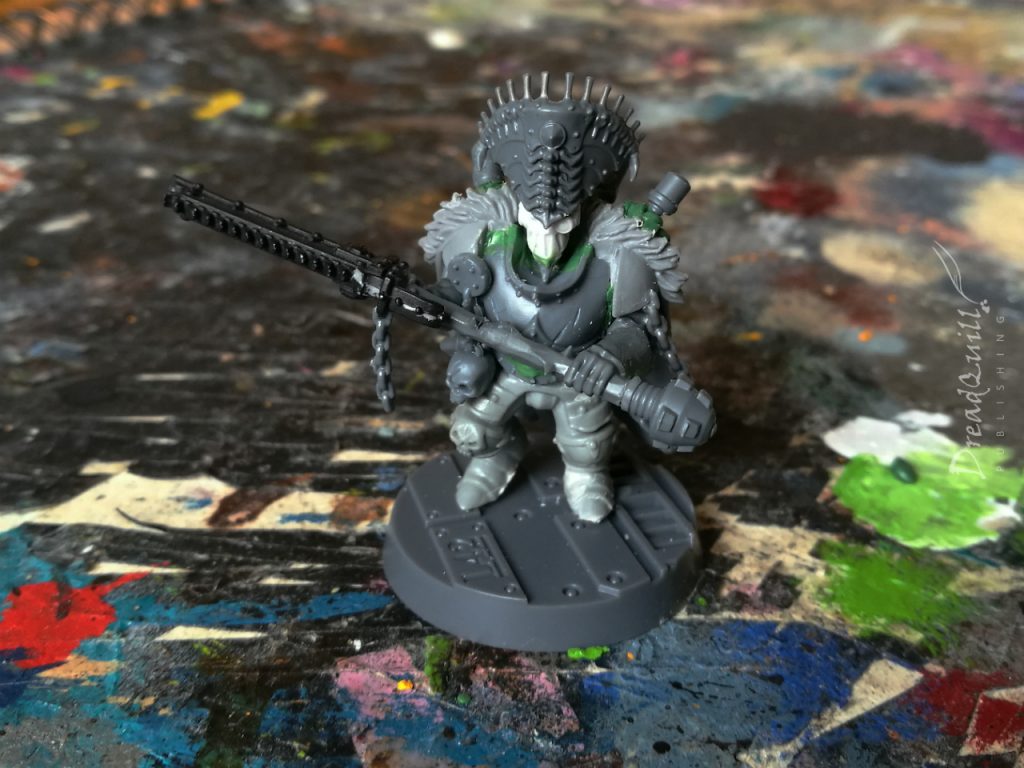 "Chain Lords are often huge and idle souls who have never had to lift a finger for their own comfort, their needs constantly seen to by a gaggle of servants. Hung with chains and trinkets, Chain Lords are nonetheless dangerous adversaries, their wealth affording them many hidden weapons and fiendish augmentations."
For some reason, the description gave me this image: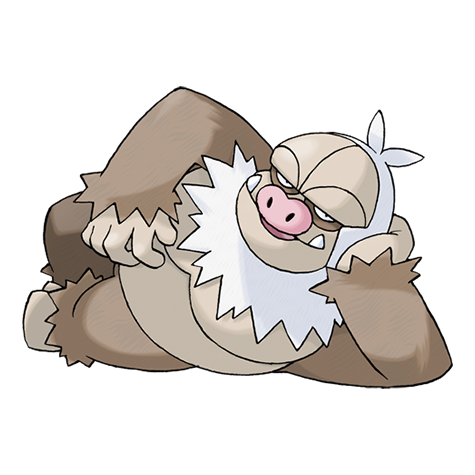 The Chain Lord also is the only delegate with a choice of equipment – either a chain glaive OR a chain axe and shock whip. I'd already built a few chain glaives for the pit fighters, and I didn't have any suitable shock whip that would look good with the chunky, static pose of the Chaos Warrior I used as a base, so chain glaive it was!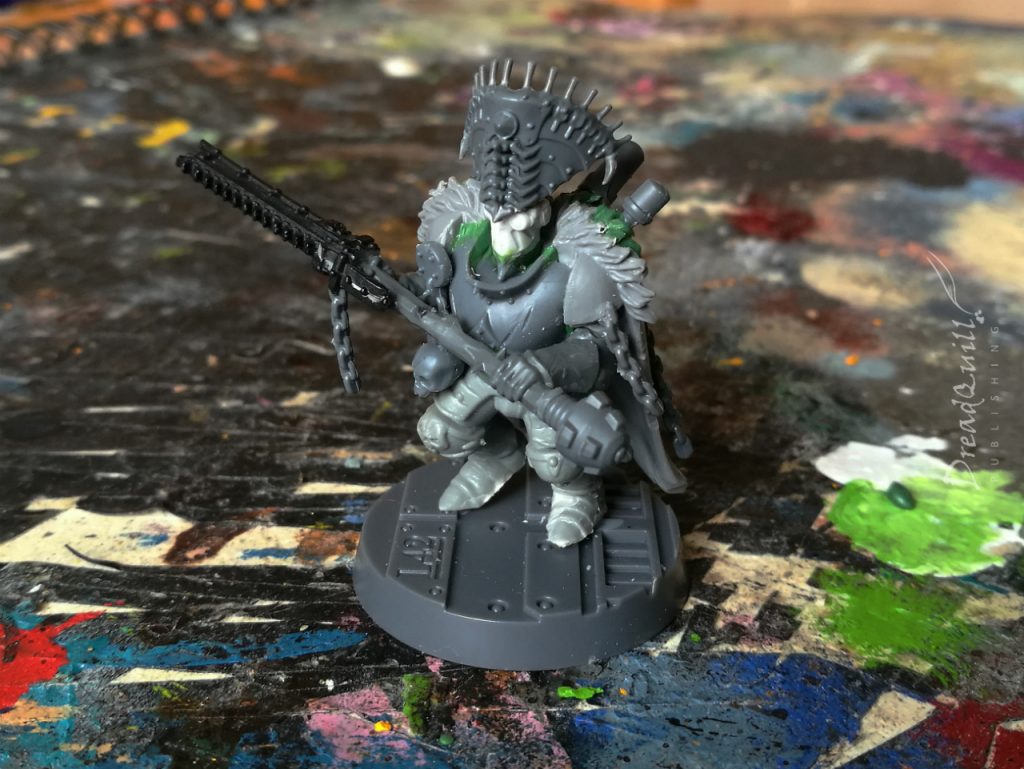 The body was made from the back of a Chaos Warrior, complete with shoulder pads, and the armoured torso of a Khornate Knight. I'd had the parts kicking about my bits box for some time and couldn't resist the opportunity. The legs were also Chaos-sourced, but this time from the now-vintage original plastic boxed set of Chaos Warriors.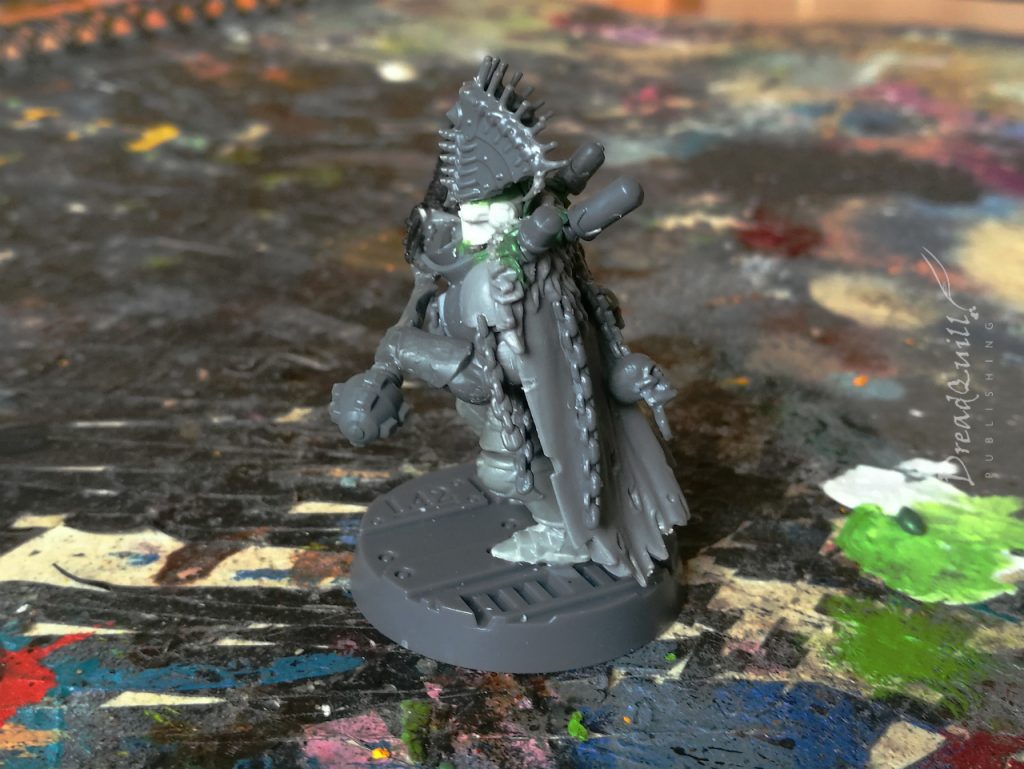 Obviously he was going to get covered in chains – he's not called "Guy with some chains" or "Chain Intern". What I wasn't sure how to represent was the stimm-slug stash. I'd used smoke launchers for the pit fighters, but I wanted something a little less industrial looking for the boss.
Luckily I still had some miscellaneous Dark Eldar vials from the Talos kit that would look cool poking through the fur of the cloak, so they got glued on in a fairly random way and the fur re-added with putty to make them look more integral.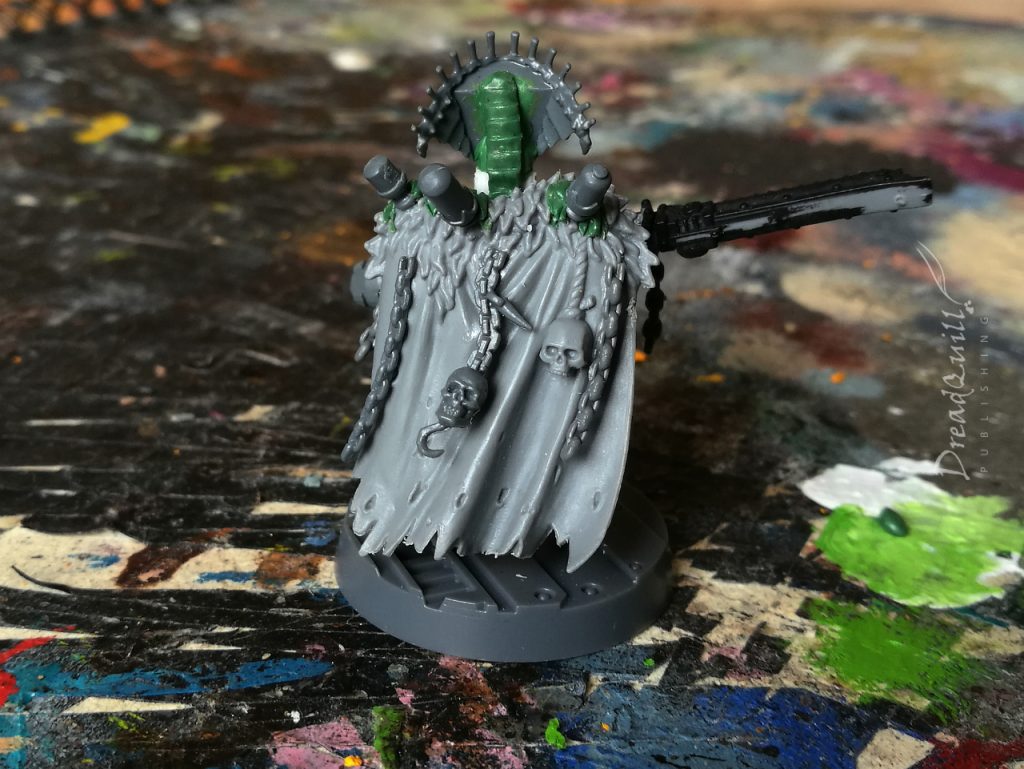 The head was the hardest part – finding something that looked both dangerous, ornate, somewhat idle. I had images of the God-King from Zack Snyder's 300 but didn't know how to translate that very well. I had two head options, and I put it to a Twitter poll:

The left head coming from Neferata, Mortarch of Blood, acquired during a bits swap, and a bionic head from Anvil Industry. Both had essences I liked – the one on the left had the 'space pharaoh' vibe I was going for, but the bionic head had the 'fiendish augmentation' flavour I so craved.
Nearly all the comments were for both, so I did both! I trimmed the fancy headpiece and metal beard (the most important element) off the head on the left and stuck it to the head on the right, filling in the gaps with some more green stuff.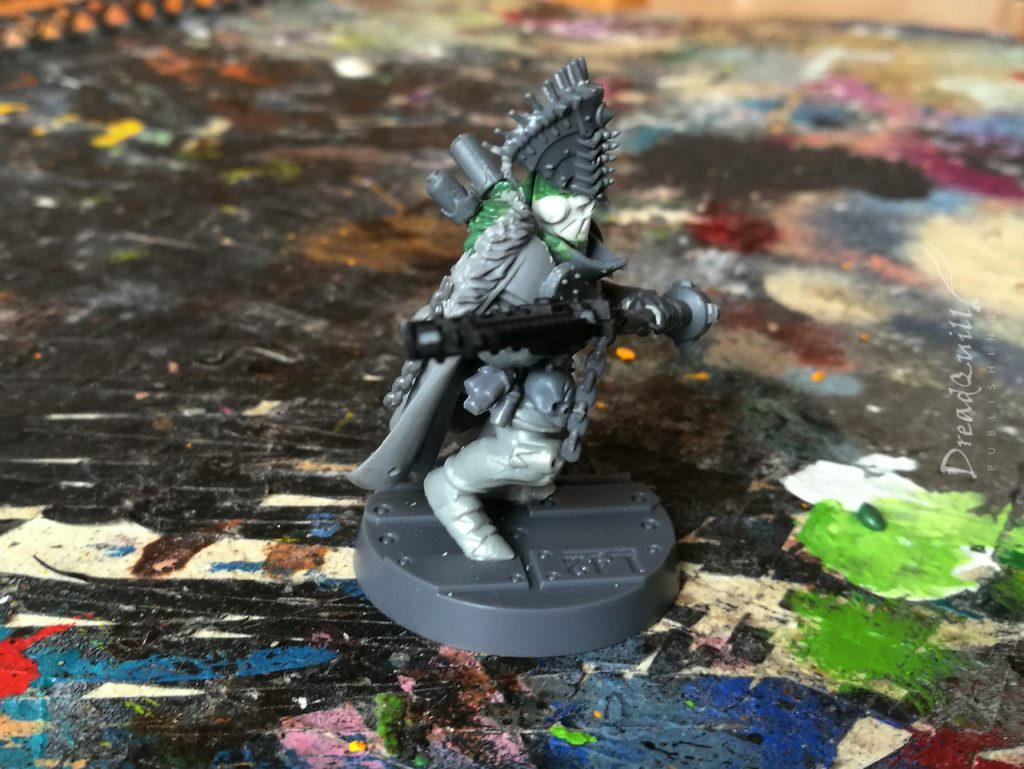 All that was left was to add a few accessories, more chains (!) and fill some of the more heinous gaps with green stuff. Ready for priming!